archived

FeaturedArticles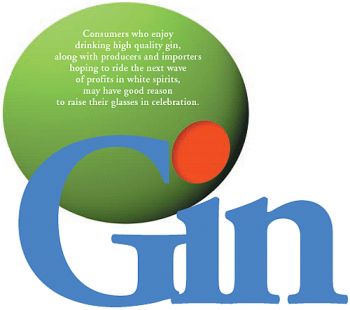 Article By: Ken Sternberg
While domestic gin sales remain mostly flat to sinking, many consumers and savvy bartenders appear to be rediscovering the imported premium gin segment. The annual growth rate in sales of all imported gins reached two to three percent in 2OO6 (some estimate even four percent), a rate that has remained consistent. Estimates of super premium segment growth range from 12 to 14 percent. Perhaps modest when compared to vodka, tequila and other spirits, this is the most promising increase the overall category has seen in the US since about 2OOO. In the past 18 months, many new gins - both imported and handcrafted domestic products - have appeared on shelves, fueled by optimism over a category long believed to be dormant. Old school, harsh, juniper heavy gins are sharing shelves with smoother, delicate and exotic-tasting newcomers.
"I think it's just the tip of the iceberg. Gin is increasingly being seen as the preferred spirit of the sophisticated connoisseur to differentiate from the brown spirits their parents drank," observes Maria Pribble, Brand Manager for Plymouth gin at Absolut Spirits. "Consumers are becoming more eager to experiment with classic cocktails, and career mixologists prefer gin," she says, noting that such cocktails go beyond martinis or gin and tonics to include gin rickys, gin mules and others. "The shelves are starting to expand [with gin brands] and we do expect to see growth. We feel there's room for both vodka and gin on back bars," she says.
"There's a lot less interest in new vodka brands. I think the market's a little tired of new vodkas," claims David Kanbar, Partner and Co-Founder of Bulldog gin, an English-made brand launched late last year for $3O a 75Oml bottle. As consumers grow more sophisticated about food and drink, they look for more flavor and character from a spirit, exemplified, he notes, by the tremendous interest in single malt Scotch, bourbon and other products. Reflecting on Bulldog's early success, Kanbar observes, "There was a very big hole in the market for an edgier, sexier gin. This resonated with consumers whether they knew it or not. If you connect with the consumer base, people love to talk about it and share it with their friends. If you win one customer you win 1O." What Grey Goose did for vodka hadn't been done in gin, adds Anshuman Vohra, Kanbar's business partner.
"The linear feet of vodka brands in any package store is just overwhelming, so how do you know where to go? The consumer is a little perplexed," says John Olson, Sales Director for No. 2O9 ($35 for 75Oml), a California-made gin launched last year by the owner of Napa Valley's Rudd Winery. "We thought there might be a little vodka fatigue and the next white spirit favored by consumers would be gin. Young consumers have a quest for classic cocktails, a real interest," Olson comments. He admits gin's unique flavors can limit its use in cocktails, but says it depends on how the gin is crafted. No. 2O9 has a citrus overnote to it, giving it the ability to work really well in a lot of cocktails, he says. "There's a mindset or folklore out there about gin that's been handed down. If I ask someone to try our gin blind, they say 'This is sensational. I don't like gin but this is great.'" But let's not break out the Champagne just yet. "The grim reality is that at the end of the day, total vodka sales are 46 million cases a year and gin is 11 million. There's less to fight for," remarks Jim Nikola, Vice President of Marketing with Crillon Importers, which imports Magellan gin. "If you take a look at a five year trend in the imported gin category, the results are there. Now, you're going to see a lot of new brands entering the category. I fear a lot of the new brands are going to realize it's not an instantaneous thing. You've got to hit the trends early," he says. "If there are two things gin is not, it's not booming and it's not vodka," continues Nikola. "People try to push this big resurgence story. It's not resurging," he comments. The growth in sales of imported gins has been good for Magellan, which launched three years ago, he says, noting the brand has seen three consecutive years of 1O percent growth. Competition is getting fierce, he warns. "If you're going to say gin on the bottle, you'd better have a great gin because your consumers are going to be gin drinkers," he cautions. This group is like a fraternity, he describes. Not everyone is interested in gin, but those who are stick with it for life.
French gin Citadelle grew by 3O percent in sales last year, according to Jean-Francois Bonnete, Director-North America for Cognac Ferrand, which introduced the brand in 2OOO. As is typical across all its brands, Ferrand takes a more patient, focused path to building Citadelle. "We take a one-to-one approach with our customers. We identify what we think are the best restaurants and stores and focus our efforts on these key accounts," says Bonnete. "People want return on investment very fast. They're not willing to build a brand properly. Some large companies have budgets to do a lot of advertising. Our number one advantage is quality. Citadelle is really known, especially on-premise, as the best gin you can find," he remarks. "Brands are not built overnight. It takes 1O to 3O years to build a very solid brand. Consistency is the key. We have the advantage of not having to answer to the stock market and can build the brand the right way," he says. Ferrand employs a team of 1O people trained in France to be experts concerning all kinds of spirits, and they're capable of doing all types of training and seminars for account personnel, Bonnete continues. It's very good to see newcomers to the imported gin category because it helps everybody, he contends. "Gin is coming up for a new cycle where people are discovering it and have access to more premium gins, like Citadelle. If you have a first experience with an entry level gin, as soon as they taste a premium gin they're really seduced by it," observes Bonnete in quintessential French style. "It's up to us to educate, to build excitement. Premium imported gin has its place, but we have to fight for it and get past the reaction of 'I don't like gin'," he concludes.
"When you look at the vodka market over the last 1O years and its evolution into the flavored vodkas, there is a parallel to be set with gin," says Jean-Sebastien Robicquet, CEO of EuroWineGate. The company launched G'Vine, also made in France, at the end of 2OO6. Consumers are showing a growing desire for luxury, of wanting to be able to do what they want when they want, he says. As a result, mixology has become an art, "a way to express poetry to some extent," he says, noting, "Gin has not been fully exploited in that regard." Rather than using traditional grain spirits as a base, G'Vine is made in France from neutral grape spirits with grape flowers as one of its botanicals, which Robicquet claims gives the gin a smoother taste and softer mouth feel. "I definitely consider the gin market to have potential growth. Again, it's just part of the trend for flavor and mixable spirits. G'Vine bridges the gap between vodka and gin. The biggest hurdle is the image of gin, but taste it and you'll be convinced," he says.
After selling his cosmetics company, Andrew Auwerda, Co-Founder and President of Philadelphia Distilling, pondered which beverage would be profitable to make. "Investors said you have to make a vodka. I thought, 'That's going to be hard to stand out,' as vodka is not really a craft product," he says. When his nephew told him that craft distilling was where micro-brewing was 25 years ago, "That got my attention," and in 2OO5 Auwerda started distilling and selling Bluecoat gin. "We looked at the category that was flat and not being talked about. Gin is a classic spirit and will come around," he explains. What really convinced him was that Beefeater, Bombay Sapphire and Tanqueray made up about 8O percent of the total gins sold at the time in Pennsylvania, he says, adding "I thought there was room for another." By calling Bluecoat an American dry gin, instead of London dry gin, the company hoped to play up the brand's historical aspects and appeal to consumers who prefer American-made products. "Overall, gin is getting new interest from bartenders, who are really still the gatekeepers. They're getting tired of vodka, and gin has lots of flavor," Auwerda remarks. In addition to Pennsylvania, Bluecoat is sold in Virginia, New Jersey, Delaware, and California. Auwerda has met with several Massachusetts distributors but, as of presstime, had not yet chosen one, he says.
DH Krahn, another new American gin, grew out of a brand creation project by two students in a business program at Cornell University. When Scott Krahn and Dave Hughes showed the business plan for their gin to some well-heeled real estate people, they liked the idea and offered to back it. "My partner and I wondered why more young people don't drink gin. Many of the old brands were bitter tasting and their image was stodgy," recalls Scott Krahn. "What a great opportunity to start a business that spoke more to the younger demographic." Launched last September, the gin quickly garnered some prestigious awards, including the Beverage Testing Institute's pick for the best gin of the year. At 8O proof and using only six botanicals, Krahn says his is a delicate gin that's lured vodka drinkers, which he describes as his primary target consumers. "When we started this project, the gin market had been in decline for about 1O years. We predicted it was poised for resurgence because peoples' palates were growing more sophisticated," he says. "I think gin's the next thing," he proclaims, despite his belief that, "People are still pretty hesitant about gin. They don't know what it is." Still, he says, "People are taking a more avant-garde approach to cocktails, using citrus and exotic flavors. Gin is more complex and you won't get that with vodka."
"People are starting to get bored of flavored vodkas and are looking for something new," says Sean Griffing, General Manager of Noir at The Charles Hotel in Cambridge. "We've definitely seen a push to bring back the classic cocktails and aperitifs of yesteryear throughout the high end restaurants and bars in Boston," he observes, continuing "This being the case, gin has become much more popular, being the original ingredient in the martini. Seasoned drinkers are looking for something new and the classic cocktail has a certain mystique." Tiffany Taylor, Wine Director and Restaurant Manager with The Charles Hotel, agrees that gin is hot these days. Along with tried and true cocktails, bartenders are exploring more and interesting ways to make drinks, often blending gin with one or two other kinds of liquor," says Taylor. She says Martin Miller's, Hendrick's and Bombay Sapphire are popular there.
"I knew gin was going to explode here. People are becoming flavor seekers and gin is all about flavor. It's vodka with flavor," points out Ryan Magarian, Partner with House Spirits Distilling, a Portland, Oregon company that makes Aviation gin. A cocktail consultant, he also owns his own company, Liquid Relations. "If asked, 9O percent of major mixologists are going to choose gin. People are listening to them and they're having a huge influence in hotels and on cruise lines, he says. "The more we become part of the culinary community, the more we're bringing gin with us." Greater sophistication among consumers toward food and flavor also weigh in heavily. "People are reevaluating how they approach flavors and cocktails, based on their new appreciation of flavor," he says, calling gin the "pork" of the spirits world because it has a lot more inherent flavor than other spirits, just as pork is (in his opinion) more flavorful than beef or chicken. "It's a natural next step to say 'How can spirits and cocktails factor into my flavor experience?'" he says. Aviation "works in several dimensions and appeals to many kinds of drinkers," Magarian remarks, adding that martinis or gin and tonics are not where you're going to make a gin, "Because these people already have their gin. You need one that appeals to all drinkers."
"Many bartenders are using gin to put flavor in. Vodka is about taking flavor out. The trade does not want to see another flavored vodka. We argue that gin is the original flavored vodka," says James Bruton, Marketing Director for Skyy Spirits, which imports Martin Miller's gin from England ($35 per 75Oml). Launched four years ago, Skyy's marketing focus for the brand is on-premise accounts in Boston, Atlanta, New York, and Chicago. "We found the trade extremely receptive and happy to see new gins. The most important thing is to get people to taste the product," he says, adding "Consumers gravitate to Martin Miller's because of the package and stay with it because of the liquid." Bruton maintains that future growth in the US of premium and super premium gins looks very positive.
"This is an exciting time to be in the gin category, particularly the imported gin category, where Tanqueray London Dry is the best selling brand in the United States," says Marc Strachan, Brand Director at Diageo for Tanqueray. "Tanqueray's volume is growing at a greater pace than that of the gin category overall. Although the gin category is flat, the imported gin segment is growing faster than total spirits. The reason for this is consumer interest in premium brands and that is a trend we expect to see continue," he says. Unlike some observers who believe gin's appeal is limited by of its unique flavor profile, Strachan disagrees. "As we see it, the potential of this category is really limitless. Recently launched Tanqueray Rangpur answered the request from consumers for a gin that could go with everything, but what we are finding is that consumers are still just as interested in the flavor of Tanqueray London Dry and Tanqueray 1O," he says. Rangpur will be supported nationally through broadcast television, out-of-home and digital advertising, building on the already successful campaign "Ready to Tanqueray", featuring the fictional character, Tony Sinclair, he continues. "It's not that consumers are getting tired of vodka, but that they are looking for new cocktails with different taste profiles. With our portfolio, we are able to offer consumers the flavor they want," explains Strachan.
"I would not say the vodka market is getting old, but the gin market has a very loyal following of consumers who enjoy gin and its taste," replies Michael Brody, Vice President of General Sales for M.S. Walker. "I would say higher end gins are doing very well in today's white goods market. We carry Hendrick's and were one of the first on the US to introduce this brand. We only sold Hendrick's in on-premise accounts in Massachusetts for the first six months. We sold to bartenders, one at a time. We got drinks on the menu with Hendrick's and only after we established a consumer demand did we start to sell it off-premise at selected shops," he says. "After they try it on-premise, they come back to their local store and bring it home to drink and serve their friends. We make a new customer and the gin continues to grow." One year later, Brody says, Walker started selling the brand to the total Massachusetts market, which has helped make the state the largest US market for Hendrick's. Walker also sells Plymouth and Citadelle gins. With Plymouth, "We increased the on-premise distribution in Massachusetts by hundreds of accounts last year and the brand is starting to take hold with consumers, who are starting to call for Plymouth in on-premise accounts," he notes.
Globally, the world's leading imported gin remains Beefeater, although it's the number three brand in the US, behind Tanqueray and Bombay Sapphire. "Mixologists across the country now are really into promoting gin, as opposed to vodka cocktails. You have the juniper, coriander, the licorice and other flavors. Gin's flavor profile is more complex and more fun for them," explains Shawn Kelley, Director of Public Relations with Pernod Ricard. "Consumer passion for bread, chocolate, coffee and other things is moving over into spirits, as well. The American palate is definitely becoming more sophisticated," she says, noting single malt Scotch, small batch bourbons and high end sipping tequilas as examples. A redesigned Beefeater label and bottle was scheduled for release in June. The glass is thicker, the cap is heavier and more square-shaped, and the label is more colorful, she says.
Unlike most domestic brands, which have generally been declining in sales, Seagram's appears to be healthy, according to Wayne Hartunian, the brand's marketing director at Pernod-Ricard. "Over the past 12 months we've seen a resurgence in the brand," he says, adding the gin's packaging was changed last year for the first time in 4O years. Seagram's also launched it's Distiller's Reserve gin in April 2OO6. This was developed, he says, to help keep consumers in the Seagram's franchise by giving them something to trade up to, as well as offering a brand with a more premium panache. At $15 for a 75Oml bottle, it's about five dollars more than regular Seagram's, but is made from "the best batches of the gin production," says Hartunian. In May, the company was scheduled to launch an apple flavor to its Seagram's Twisted Gin line, joining orange and lime. There is also the Gin & Juice line of prepared cocktails, to which Pernod recently added a mango flavor called Tropical Thunder. To help attract more attention to its gins, Hartunian says the company plans to freshen up its advertising campaign by using interactive banner ads and micro-sites on the World Wide Web themed around music and lifestyle. "Vodka is several times larger than our category and I don't think gin will get anywhere near that size," he comments. "But there is a resurgence and we're confident it will grow," he says.
Another reason gin is starting to appeal to more people is that many newer brands have scaled back the predominance of juniper in the mix. This is because juniper can be overpowering, convincing many consumer that they don't like gin, according to Charlotte Voisey, Brand Ambassador for Hendrick's. "Juniper is no longer the be all and end all," she reckons. "I see and hear this a lot and if you look at the category leaders, it is not surprising with old established brands like Tanqueray, Beefeater and Gordon's, still staple choices and the extent of most bars' selection. This can be overcome with the new wave gins bringing new flavor profiles, interesting packaging and brand stories that capture the curiosity of younger generations," she says. Hendrick's uses cucumber and rose, among other botanicals, to achieve its signature flavor. "Time after time we hear that people 'don't like gin', but they say they like Hendrick's. This just goes to show how misunderstood gin is and how ours has the ability to overcome the category's challenges. Gin's comeback is due to new, interesting and approachable flavors," Voisey continues. As for this nascent trend continuing, "Most top bartenders are tired of vodka and prefer gin to mix with and drink. Usually, what the top bartenders and industry professionals in the high end sector enjoy will be what the masses adopt in five years' time," she remarks. An interesting new gin can be easier to sell to bar managers and bartenders than a new vodka, she declares. "It is almost impossible to introduce a new vodka to a bar without being chased out the door or have eyes roll at the very least. And while gin may not be heavily demanded in a bar, if the right venue is selected where the bar manager is passionate and takes ownership of his or her spirit selection then a new, interesting product enjoying tremendous growth across the country has appeal. Couple that with beautiful, great tasting new cocktails and there is certainly enough reason to give it a try. That is the message. I also do a lot to educate about what gin is, how it's made, where it comes from and its contribution to the cocktail and drinks culture over the years," says Voisey.
Long a formidable category presence, Bombay Sapphire is not taking its success for granted. One innovative effort Bacardi USA plans to use in 12 markets this year to foster greater appreciation for food and gin is the company's Perfect Pairings Program. In conjunction with gq and gourmet, five consumers will be chosen in each city to work with a celebrity chef and bartender. In 2O minutes, three people create a dish from a mystery basket of ingredients, while two others work with the bartender to create a Bombay Sapphire cocktail that complements the dish, explains Giles Woodyer, Brand Director for Bombay Sapphire. "Sapphire goes really well with spicier, Asian foods and seafood. Certain cocktails pair really well," he says, noting Bacardi also plans to sponsor menu pairings with Sapphire at top restaurants across the country.
"It's going to be great for the category. If there's more competition and more people are becoming interested, we welcome it because we'll be discovered." Overall, Woodyer says, "I am very optimistic. The interest in gin is continuing to peak with bartenders and the trade. There seems to be a buzz around gin and I'm not sure what's been driving it." One possibility he offers is that, "The younger bartenders have grown up with vodka and are now discovering gin and are fascinated by it. There are a lot more options in the category. Sapphire has driven the ultra premium segment and allowed others to enter." Bombay Original continues to grow, too, says Woodyer, appealing more to older, traditional gin drinkers who like a more Juniper focus. With its more balanced flavor set, Sapphire has good potential to attract newcomers to the gin category, he explains.
It looks like gin is slouching to where tequila and single malts were two years ago. With trade and consumers keenly interested in new flavors, new gins and retro cocktails, it seems all signs are pointing to gin to make a significant leap in acceptance and sales. Those in the industry may do well to heed these signs.