archived

FeaturedArticles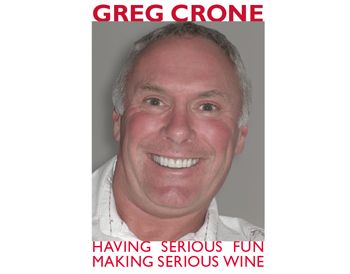 Article By: Fred Bouchard
GREG CRONE • 45 • Owner
Croney Estates & Liquid Brands, Scituate

Greg Crone's come halfway round the globe making, then selling, quality wine; now he's gone back to the Southern Hemisphere to bring good bargains to the States. He's made New Zealand wines for Brancott, marketed them for Seagram's C&E and Allied Domecq, and is now sourcing and hawking his own brands: Cigar Box, Croney Three-Ton, and Battle Axe. He's an affable bloke with an expansive manner, slight Kiwi twang, demanding work ethic, a taste for quality grapes, and a glad hand at dispensing it. Check out his web's balance of sober and silly content – "Serious Wine, Serious Fun!" (freakingawesomewines.com)

KIWI FINISHING SCHOOL We're so far from everything Down Under we have to make the Overseas Experience (OE). I traveled to the UK, around Europe, France (Champagne) and the United States. I fell in love with Napa. You know, the New Zealand wine world is very wild-west and rustic. In Napa, I loved the fancy wineries – the train, the tourism. That experience made me realize how much money had been invested in their three-dimensional billboards, that is, the wineries. I realized there and then that there had to be another way of making good wine without the capital expenditure of building a huge honking winery!

THE RIGHT STUFF Then it was off to university: what to study? Politics and history? What could I do, teach? When
I was 17, my mates were drinking beer and vodka. But I liked wine, I liked the taste!
I worked as a wine clerk 3O hours a week. I drank Yalumba, Chateau Reynella, Matua Valley, Cousino Macul Antiguas Reservas Cabernet, Bolla Valpolicella. I appreciated the good stuff but couldn't really afford it. My mother told me: "Go into the wine business. Even if they pay you nothing, think of what you'll save on buying bottles!" In many ways I wish I'd studied computers or finance, because there's not much money in wine and making wine is not as much fun as drinking it. I wanted to keep the mystique and interest factor up. Just as butchers don't want steak every night, winemakers often prefer beer. I loved wine, but wanted to get into the marketing side. It went really well; as a winemaker I made a good marketing person. I worked for a while for Glengarry then moved directly to Brancott (aka Montana) as one of many of their winemakers, making bits of everything.
I started business development for them, figuring out how to use, blend or sell off available resources.

BUYING UP VACUVINS I came to the US in 1996 when I signed a contract with Seagram to help launch their New Zealand brands. I lived in New York for seven years on a Seagram Chateau & Estates expense account. They were the largest importer of Burgundy and Bordeaux. I walked into the huge lunchroom one day because I could smell wine throughout the building. Two senior VPs were checking the warehouse inventory maturity and had nearly every single bottle of every vintage open. There must have been a thousand bottles open – First and Second Growths, everything – each with only this much [two fingers] gone. They told me to help myself! The office wasn't massive and not that many clerks were into wine big time. I had no choice but do what I did. I ran around Manhattan buying up every Vac-u-Vin stopper I could. I must have boxed up a dozen cases of open brilliant wines and popped them into the back of a rented town car for the ride to my apartment. I called up my friends, everybody. I had a case and a half of Chateau Yquem, from the golden 6Os and 7Os. I had to drink them fast before they spoiled! I also had copious bottles of Premier Cru Bordeaux that were spoiling by the hour.
I'm the only person I know who has ever made a reduction sauce for a steak from a 1983 Petrus. What a blast!

THE BRIGHTEST SAUVIGNON It was also a matter of non-intervention with the wines. Often it's what you don't do that makes for a good wine. Just because you can use malolactic fermentation doesn't mean you should. It's like a busy conductor who needs to leave space in the music. The beauty of New Zealand Sauvignon is best seen with stainless steel fermentation and clean cultured yeasts; that's when the fruit comes out and sings. You can't manipulate it by mucking about with malo and barrel aging. Good ones today are still Brancott Reserve, and also new to America, Greywackie, made by Kevin Judd, ex Cloudy Bay. I don't like Sauvignon Blancs that taste like Chardonnay, or are blended strangely with Semillon and Riesling, or use oak and become ponderous.

HUNDRED-PERCENTERS Everything I sell is 1OO% varietal. I like tastes clean and simple, bistro style rather than fancy French. I like wines to taste and look like the varietals they represent. In my opinion, Californian Pinot Noirs are too inky, too much weight, too much color, too much alcohol (14+%), too much Syrah, and not enough varietal purity. Grrr. We should be reaching to emulate top-flight Burgundies. I love Martinborough. Central Otago in a good year is very nice indeed. I like a bridge wine: a little bit of funky barnyard, but with New World ripe cherry fruit. Burgundy's usually 12.5% to 13% (ABV) – mine's 13.5%.

ALONE AGAIN NATURALLY After Chateaux & Estates was bought up and Wine & Spirits peeled off, eventually Allied Domecq bought up Brancott which, around the millennium, had a full 5O% of the New Zealand export market. By this time I was disillusioned with the corporate world; I took the golden handshake, then started consulting and went into my own thing.

LIQUID ASSETS In 2OO2 I started Liquid Brands LLC with an idea to produce the best wines possible at competitive consumer price points. I'm dedicated to quality winemaking, product consistency, intensive marketing, and careful cost control. My flagship brand Croney Estates grows and sources top Marlborough and Martinborough juice. Our vineyard contracts allow us to control cropping levels and our dedicated winemakers craft these grapes into classic varietal wines.

LEAN, NOT MEAN I do all the marketing. This year we sold 65,OOO cases. I'm lean structurally and don't carry heavy staff overheads. I'm malleable, mobile. I can buy the vineyard contract rights (25 year) and bottle within three months. They harvest to my specs; I can buy or sell the juice. I'm locked in but have no capital tied up: I mean, who has $3OM to build a winery and take a punt on it? Our brand manager is Peter Daunis at MS Walker. I hold my own import license and so cut out the importer margin and save the consumer 3O% on retail. My $1O wine is another's $14.

THE FULL MONTY I'll be importing more of my own wine eventually. I'm opening new markets as I gain inventory but I don't want to oversell. New are Florida and Texas; we're in 22 states, mainly Northeast. Distributors are contacting me, and that means a lot. Our major markets today are Boston, NYC, and Florida; the secondary markets are the Carolinas and Connecticut.

A PERFECT STORM Cigar Box Malbec is doing it all from the 7O acres I lease in Mendoza. That and our new Battle Axe Malbec, made from top-tier hand-harvested, light yielding vines, matured in French oak. Here's how everything Malbec is luckily falling into place: 1 Malbec is the new Merlot: soft, approachable, reasonable, serious. Red wine fans are not turned off, but it's very accessible to those who don't drink red wine. 2 Argentina's hot, a cool place to be. 3 The Argentine Peso is in the tank, so we benefit there. Imports are a good deal, unlike Australasia and Europe. 4 California has had two tricky vintages in a row, so those prices have risen making Argentina and Chile even better value.

PORTFOLIO EXPANSION The wine portfolio includes Sauvignon Blanc (5O acres I've been leasing in Marlborough and will soon own); Pinot Noir (only 5OO cases from Martinborough made by a good friend); Carmenere and Cabernet Sauvignon (two vineyards in Maipo & Casablanca, collectively Central Valley). We'll have a Chardonnay from Chile by the end of 2O12.

CORK WARS, CONTINUED No corks, please! I cork-finish only my big Malbec,
and may get that into screw caps sooner than later. There are no holdouts Down Under. It simply doesn't make sense to add another process that's unnecessary. I realize that sommeliers don't know what to do; they need that sense of theater. Did you know that 1O% all wines are corked (faulty), but only 1 in 1OO comes back in a restaurant recognized as such? That means a whole lot of corked or off-tasting wines leave people thinking 'wow, is this it?' It may not quite be right, not terribly off, but far from the winemakers' intention, and probably your expectation.

PUNTERS' PRIZE I love wine dinners: I hear from everyone involved who are actually tasting and critiquing the wine. That's market research you can't buy. When people say 'Where's your Chardonnay?' that's a message. If you can convert a few people into loving your wine, they'll tell others. People love to share. Reps call me and suggest a restaurant. The punter gets a great deal for $5O. In New England, we've had dinners at Equinox, Gordon's Wine (Waltham), Boston Harbor Hotel. Further afield, at James Beard Foundation (NYC), Marriott Sawgrass Resort (Florida), Sea Island (Georgia).

WHAT'S IN A BOX? The name [Cigar Box] just came to me out of the blue, really. I tried a Malbec from Cahors and it was about 2O years old. All fruit had dropped out; it fell apart within a minute of opening, but for that one moment all you got was the stink of wood and cedary tobacco. Then it oxidized – poof! Now the story's getting more embellished, but it seemed at the time like a great name for a wine, so I took it. I had to invent a brand and that was it, it came flooding back. It's a name like Toasted Head or Cupcake. It seems to resonate with folks. The name Battle Axe was a descriptor I used for years to indicate weight and color of any massive red wine. When I began making Battle Axe it was just that: a huge, serious, inky Malbec that could deal a savage blow to the unsuspecting. The name just fit.

KEEP LABELS SIMPLE Labels are billboards for what's in the bottle. Every label of mine is completely simple. People should be able to look on the shelf and tell you in a second: what, where, when. Fantastic wines are out there with terrible packaging, and vice versa. Damn shame. "Reserve" is what we sell now. Originally there was a line beneath it, but I couldn't market two tiers, so I kept the higher one only. There might be another tier below later. This one's $12, the other at $8-9. "Hand-harvested" may not make the wine better, but it does indicate care, and the image is nice. Labor is also not expensive in South America, so hand harvesting is affordable.

LEAVE IT ALONE I operate on a "quality fruit first" philosophy. Where possible, all vineyards operate using SVP [sustainable viticultural practices], which means less pesticides, herbicides and fungicides. Minimal intervention is the idea: Don't spray, avoid chemicals. It may not be the easiest route, but it makes sense. I have a little daughter Olivia; before she entered my life I was much more gung-ho about spraying and didn't really spend enough time considering the planet and the effects I would have on its future. Funny how a seven-pounder can change your attitudes.

SOUTH SHORE MOVE We lived in Cambridge and loved it, but it's not great for raising kids. Traffic and small yards are not my cuppa tea. Auckland's all about the ocean, smelling sea breezes. We get those somewhat milder winters on the South Shore, misty rain replaces some snow storms. And good schools for our daughter. Route 93 is a drag, but what can you do?

THE CRONEY FACTOR I make everyone aware that I try to cut unnecessary links of chain that cost consumers money, like importers and brokers who aren't doing much for you. I may not make the best Sauvignon or Cabernet ever made, but it's the best at this price. One smaller retailer in Cohasset sells a pallet a month. "Regular buyers," he says. I'm presuming people know that I care. I don't suffer people being snobby or sommeliers who lord it. I'd rather talk to an honest restaurateur or retailer than a jumped-up wine waiter or wine snob. What puts a smile on my face is when I overhear people talk about my wine and how much they enjoy it. Makes me proud.