archived

FeaturedArticles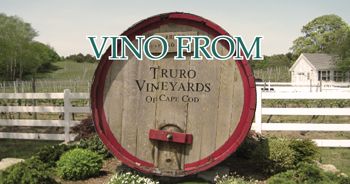 Article By: Harvey Finkel
Dave Roberts, having set out on a bicycle ride in 2OO7, returned owning a vineyard and winery, Truro Vineyards of Cape Cod, thus starting a new career and way of life. His Connecticut family had summered in outer Cape Cod since he was a boy of eight. He and Kathy honeymooned here in 1964. The property was familiar, attractive, well located, and available, and he was at a transition point. Dave, a youthful, energetic 69, and his family appear to have made a happy choice for their new life.

He had been in the sales end of the beverage trade previously. A trainee at the old Heublein mustard/vodka/wine combine at age 22, Roberts later ran a distributorship in Kansas, and ended up as CEO of United Liquors, the largest wine and liquor wholesaler in Massachusetts. When its chairman, Ray Tye, was to retire and United to be acquired by the growing Martignetti Companies, Roberts felt it was time to move. Most of the immediate family participates: wife Kathy; son David Jr., who is full time, one of the winemakers; daughter Kristen, also full time. Daughter Stephanie, a lawyer, and daughter-in-law Amy, an educator, contribute as they can when needed.

The property was an old horse and cattle farm that took on iconic status after Edward Hopper painted the house in 193O, the barn in 1931. Vines were planted in 1992 by horticulturists Kathy Gregrow and Judy Wimer. Initially called South Hollow Vineyard, it was soon renamed Truro Vineyards. The two made wine and ran a bed-and-breakfast. Since the Roberts succession, the vineyards and activities have been expanded, the equipment modernized. The bed-and-breakfast has been put to bed. The five acres of vines, set on warm, sandy, well-drained, south-facing slopes, grow cabernet franc, merlot, chardonnay, and a tiny bit of chardonel (a superior cross of seyval and chardonnay). The grapes are picked by hand. The vineyards lie a half-mile from Cape Cod Bay, three-quarters of a mile from the Atlantic Ocean. In addition to the estate's own produce, grapes (red) and juice (white) from local vineyards, the Finger Lakes, and California are artfully integrated. The austere verve of the east and the lush ripeness of California can nicely complement and compliment one another. Current production of about 11,OOO cases, near the most in the state, is expected to rise a little. (Only Nashoba Valley Winery and Westport Rivers Vineyard join Truro at that level.)

Matyas Vogel has been winemaker since 2OO4. Born to a family of vignerons in Hungary, he took on the mantle, then moved to the US in 1987. David Jr. was a brewer, his skills largely transferable from beer to wine. To preserve freshening acidity, malolactic fermentation is prevented in most of the white wines, which are mostly processed and kept in stainless steel. The reds are aged for 18-2O months in a mixture of oaks: American 8O percent, Hungarian 15, French 5.

Drop-in visitors, very many during warm months, are accommodated with frequent tastings and tours. There is a well-stocked gift shop. You can picnic. Other activities and functions are available. In addition to on-site sales, wines can be acquired via the internet (trurovineyardsofcapecod.com), from Truro's wine clubs, and at farmers' markets, many retail shops, and restaurants. Truro Vineyards is part of the Coastal Wine Trail of Southeastern New England (coastalwinetrail.com). Withal, the environment is respected.

WINE NOTES
I tasted ten wines during my recent visit (there are still more). Their prices range between $12 and $25 if bought singly.
The wines are handsomely packaged. Here is my report.

SAUVIGNON BLANC 2OO9
Californian grapes. Full and long, with lemony liveliness.

PINOT GRIGIO 2O1O
Grown in Paso Robles. Good balance and texture, and very nice peppery spice in the finish.

RIGHT WHITE 2O1O
85 percent dry Finger Lakes Vignoles, 15 unoaked Westport Rivers-grown Chardonnay. Perfectly balanced abundance of fruit and acidity. Hard to stop drinking. Proceeds of sales of this and of the Right Red are shared with the Provincetown Center for Coastal Studies.

UNOAKED CHARDONNAY 2OO9
Westport Rivers fruit. Fresh, balanced, long. A perfect shellfish wine.

CHARDONNAY 2O1O
A blend of fruit from Suisun Valley, California, and Truro estate. Three months in mixed oak barrels, mostly neutral. Rounder, fuller, more complex than preceding. Good fruit and balance.

CHARDONNAY 2OO9, ESTATE GROWN
Nine months in similar oak array, a greater proportion new.
Lovely nose. Fine body and length. As befits an eastern wine, excellent acidity. The oak is pleasingly restrained.

AMERICAN ROSÉ 2O1O
From Suisun Valley merlot. Dry. Lots of fruit.

CABERNET FRANC 2OO9
Seems an in-house favorite. Blend of California and Truro. Nice nose of berries with herbal overtones. Very fruity. Very long finish.

RIGHT RED 2OO9
Merlot 67 percent, zinfandel 22, cabernet sauvignon 11, nearly all from California. Fine fruit. Very drinkable. A good steak wine.

TRIUMPH 2OO8, A MERITAGE BLEND
Cabernet Sauvignon (California) 64 percent, Merlot 29, Cabernet Franc 7 (both Truro estate). Mellow and suave. Long and well knit.