archived

FeaturedArticles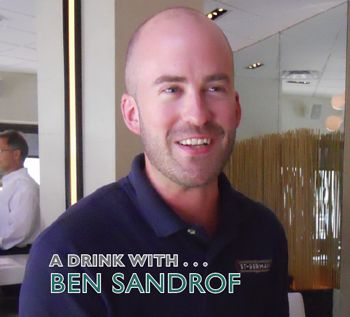 Article By: Brandy Rand
Ben Sandrof
Northeast Sales Manager, St-Germain (Cooper Spirits)
BEN SANDROF is someone who knows the world of wine and spirits from all sides of the business. From crafting the perfect cocktail to attending sales meetings, he's represented brands from behind the bar as well as out in front, working as both a distributor and now a supplier. He still maintains the easygoing charm of a seasoned hospitality expert, a trait usually lost in transition from on-premise to office. Sandrof has a unique perspective on the business of selling and growing brands. With strong relationships among an inner circle of bartenders, he also balances a managerial role at Cooper Spirits and still slings the occasional drink to connect with consumers. For this rising industry star, the journey is the fun part.


BRANDY RAND You started your career behind the bar then moved to a distributor and now you are on the supplier side. Was this always the career path you had in mind for yourself?
BEN SANDROF Definitely not. I didn't have any one particular path. When I decided to make a move from bartending full time, I wanted a lateral move in the same industry. I got to talking with a friend over at MS Walker and opportunity knocked. It's a great company with an amazing portfolio. I handled a bunch of restaurants in Boston, Cambridge and Somerville, helping them stay stocked with product, writing wine lists and working on back bar selections. I did that for two years when the job at Cooper Spirits opened up. I have been friends with Rob Cooper for a long time now and he runs an amazing company. Change has always been good to me in the past so I figured I'd give it a shot. Also, with Cooper Spirits I get to work with Horizon Beverage, learn their book and work with their talented sales team.

BR What's your favorite part of this business now that you've experienced all sides?
BS Finding ways to be creative, meeting talented people and experiencing what they are capable of. It is inspiring to see someone get to the point of mastering a craft and love what they do. I see more and more of that in the restaurant world today.

BR Any advice for bartenders who want to move to the "corporate" side?
BS: Don't rush it. Make sure it's what you want. It's very different from working in restaurants – something that gets ingrained in a person if they have been doing it for a while. My recommendation is to find someone who knows a ton about what you want to do and learn from them for a few years. You'd be surprised how much more there is to know, and how helpful that can be in the future! Don't ever get complacent; keep pushing yourself to do new things.

BR Biggest culture shock when you went from a night job to a day job was . . .
BS Weekends and (relative) nights off. Going out on a Saturday has never been less appealing to me – all the restaurants are jammed busy! It's nice to see, but most of the time I like them a little quieter . . . or at least be able to get a table!

BR What is your role at Cooper Spirits?
BS Northeast Sales Manager. I cover 5 states (VT, NH, ME, MA and RI). I work with the distributors to help them sell more St-Germain on and off premise. I also focus on educating restaurant staff about St-Germain to increase awareness and knowledge.

BR St-Germain is ubiquitous at nearly every bar in Boston. What makes the brand so popular with bartenders?
BS First and foremost it's delicious; flavors of honeysuckle, pear, peach and citrus translate really well with a variety of flavors. The lightness of flavor and low sugar content make it incredibly versatile.

BR Anything new and exciting things you'll be working on?
BS We're ramping up to launch Hochstadter's Slow and Low, a rock and rye of unparalleled quality. It's a blend of six and ten year old rye whiskey infused with citrus peel, a little rock candy syrup and bittering agents. It's basically an Old Fashioned in a bottle; delicious.

BR You still guest bartend at a few places – is it purely for fun?
BS Yes. Sometimes I'll do it as a favor but even then it's a lot of fun. I love it. I find it very satisfying to make drinks and tend a bar. I can't seem to kick the habit! I am picking up a couple of shifts at Sam Treadway's BackBar that opened recently in Union Square (Somerville) in the next month or so. We'll see what happens after that!

BR If you weren't in the spirits business, what would you be doing?
BS I might be a chef or part of the front of house in a restaurant somewhere. I'm a big fan of restaurants and how they operate; plus, I started out as a cook and I happen to love cooking. I like the idea of being a writer or an artist. Maybe later on in life I will have time for that. I recently planted a garden and am looking forward to working on that this summer. I love growing my own food, even on a small scale- herbs, tomatoes, lettuce- nothing crazy so far.

BR What was your first memorable cocktail experience, the one that made you say "wow" when you tasted the drink?
BS A friend of mine made me check out No.9 Park. I went along to see what the "fancy bar" was all about. John Gertsen made me a Tom Collins – an incredibly simple drink – that completely changed my perception of what was possible with cocktails. It's gin, fresh lemon, simple syrup and soda water done in a tall glass with ice. The kicker was the orange oil over the top. It takes the drink to another level. That was the first eye opener. The second was a Ramos Gin Fizz also made by John which, to date, is probably the best drink I have ever tasted. (Thanks John!)

BR Perfect cocktail of the moment for you these
days is . . .
BS Why, the St-Germain cocktail of course! Yes, I work for St-Germain. With that said, this drink is a perfect aperitif. It is refreshing and delicious without being cloying or sweet. It's versatile enough (and low in alcohol), to be drunk any time of day:
2 parts sparkling wine
2 parts sparkling water
1.5 parts St-Germain
poured in a tall glass over ice.
garnished with a large lemon twist.
stir.