archived

FeaturedArticles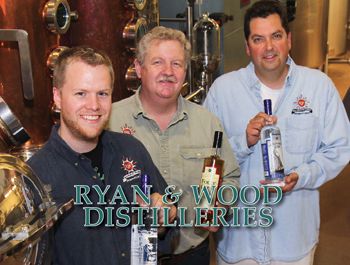 Article By: Lew Bryson
"You ever been up to see Bob Ryan, taste his whiskey?" Jeremy Goldberg and I were sharing a couple pints at his Cape Ann Brewery one beautiful Gloucester morning last year, talking about how the town was developing and sustaining local businesses. I didn't even know there was a distillery in town, let alone that it was making whiskey. Goldberg was pretty insistent that this was something I had to go see. So I got directions, finished my beer, and headed up to the little industrial park where Ryan and Wood Distilleries straddles the side of the hill – offices and gift shop above, distillery and barrel-aging down below.

Bob Ryan is a big man, middle-aged but with the energy and optimism of a younger man, and we hit it off immediately. Within ten minutes we were sampling his excellent rye whiskey and the authentic Massachusetts character of his Folly Cove rum, talking about barrel strategies, and looking over every inch of the place. That's the kind of guy Ryan is; he involves you in his excitement.
When I came back recently to do this story, it was because I kept hearing so much about these Gloucester-born spirits.
Ryan Maloney Owner of Julio's Liquors in Westborough: "You get wrapped up in Bob's enthusiasm. His wife, Kathy, is great too, she keeps him in check, keeps him on topic. We sell everything he'll sell to us: gin, vodka, rum, and of course, the rye. We try to do as much as we can to help out and promote local products. It's a bonus when someone has that same level of enthusiasm and a great product to back it up."

Mary Reilly, Co-Founder of Enzo Restaurant & Bar in Newburyport: "There's something really wonderful in working with something that's made by someone I know, something very special about that. It's fantastic that I can call Kathy or Bob and ask them about what they're doing. You're talking to The Guy, and that's priceless. And the vodka's great, the gin makes a good cocktail, the rum's good, and the rye whiskey is just fantastic. Nothing worse than being served something artisanal that's awful!"
Charlie Gaeta, who tends bar at The Blue Ox in Lynn: "I went up there with our sous chef. I was really interested in the gin and the rye whiskey. Bob gave me the tour, and it was so much about history! He was super interesting. There's lots of stuff that's local that's not so good; this is excellent. We carry a few local guys, but this rye, this gin, are unique products we're pumped to have. They've shaped how we run the restaurant."

Remember, these guys are paying Ryan, not the other way round.

FISH TO RUM
Ryan's story is a long one . . . but Kathy kept him on topic. He's authentic Gloucester, and worked in the fishing business run by his father, "Slugger" Ryan. Slugger had taken over the business when the processing company left town, and Bob grew up in it. They developed a Japanese connection, and that, Bob said, "was how I got involved in the high-value fish, got me involved in a bigger chain." He learned about developing close ties to smaller, high-value retailers.

But the business was changing, getting more cutthroat. In 1988, they sold out to a couple local guys who'd worked for them, and, Bob said with a grin, "I went into banking." All the local banks had been bought up, so he got together with some local businesses and opened a commercial bank. That went well, but Bob didn't like his position as the compliance officer – "the enforcer" – so as soon as he found a replacement, he got back into seafood processing . . . but he was looking for something more permanent, a way to create manufacturing jobs.

The seafood processing business was up and running, so Bob sold his interest. He's flush, he's looking for the right opportunity…and at a Friday happy hour, he gets to talking to his nephew, Dave Wood, about an article Dave had seen about craft distilling. This was 2OO5. A few months later, Bob got lucky, and wound up driving American Distilling Institute founder Bill Owens all over New England, visiting seven small distilleries.

"Bill told me, 'Just hold my briefcase and keep your mouth shut,' so I did," Bob recalled. "It was great. I got in the backdoor, learned what not to do. I learned about the still makers, the mid-level brokers in grain and bottles that were starting up. I saw how these guys were on farms and extending the natural value of what they grew."

The values Bob decided to leverage were colonial tradition – the rum traditions of Medford and Newburyport – and agritourism. "There were 65 rum distillers in Medford at one point, and 'old Caldwell' rum was made in Newburyport. Mystic was a rum port," Bob said. "Rum was going to be what we made, and we were going cooperate on tourism."

GOOD FOR THE AGE
But for some reason – and Bob didn't really give me a good reason other than 'I like whiskey' — the very first thing they made on their brand-new Holstein still was rye whiskey. They tucked it away in 15-, 3O-, and 52-gallon barrels, and started making Folly Cove rum, Beauport vodka, and Knockabout gin. Bob said they didn't taste any whiskey until 2 years had passed, and it was an eye-opener. "My God, the 52s were doing just what we wanted!" he said, recalling the moment. "Apparently, we're whiskey makers." Most everyone who's had it agrees: Ryan and Wood rye whiskey is great whiskey for the age (and the price).

"Look," Bob said, "the first thing I'd tell a retailer about any of our spirits is, it's salable. You won't be embarrassed when you show your customers this local spirit. We're not here to make bad products, but we do make our products. So we make a gin: the juniper has to be dominant, but ours has more citrus, and there are two different cinnamons in there, and it has a lighter viscosity.

"We're giving our retailers variety to sell," he said. "We give them consumer choice and local pride."

Mary Reilly ate that up, as it played right into the whole idea of Enzo. "We've made an effort to use local suppliers whenever possible," she said, "so I wanted to put local spirits on our cocktail list. I knew about Ryan and Wood, and Gloucester's not far. We said, 'Let's walk the walk.' It helps that they're good. We make a signature drink with the rum, the Caldwell Smash. Sorry, it's a secret recipe, the only one we won't share!" (She did share the Granville and the Cloister cocktail recipes; see sidebar)

Charlie Gaeta got hooked on the barrel chunks sold in the distillery gift shop; Bob gave him a sample when he first visited. "We have a signature filet mignon we'd been smoking with mesquite, applewood, just cold smoking it to get some more flavor," he said. "I took the barrel chunks into the chef, and he tried [them] with the steak; he loved it, the best flavor they got. We have it on special every day, Ryan and Wood wood-smoked filet. Can you imagine having a rye Manhattan with a steak smoked with the barrels the whiskey was made in?"

Recognizing that you can't make it selling to ten hand-picked accounts, Bob's got his son Doug working on sales and promotion (when he doesn't have him working on paperwork; Doug has a law degree from Northeastern and has passed the bar in Massachusetts). "Sometimes it helps to have a guy like myself," Doug notes, "who can see eye-to-eye with bartenders and restaurant managers who are closer to my age than my old man's. But it's a family business; I do everything that needs doing, from the legal work to hefting big sacks of grain.

"It's cool to be able to make something from raw ingredients," he says, "then hand-deliver it to a customer and come back later than night and enjoy it with my friends in a delicious cocktail. All of that can take place right down the street from the distillery, or on Newbury Street in Boston. It's exciting to be a part of growing a business, especially with my name on the bottle."

Bob worked the high end of the fish business; now he and his family are working the high end of spirits. "We're not making Sunday morning screwdrivers," he said, leaning back with a satisfied grin. "We're making Sunday night dinner cocktails." That's the gist of the story at Ryan and Wood Distilleries . . . but if you stop by, Bob will give you plenty more.


LOCAL COCKTAIL FLAVOR
Mary Reilly delivered two cocktails made with Knockabout and Beauport. No Ryan and Wood whiskey cocktails; "We mostly sell that straight," she said.

"We found THE CLOISTER in an old bar book and really liked the way it worked with Knockabout," Reilly said. (Bob also noted that "a dollop" of Knockabout makes a great addition to a mimosa.)
build in an iced cocktail shaker:
1½ ounces of Knockabout gin
½ ounce of yellow Chartreuse
1 ounce of grapefruit juice
¼ ounce of lemon juice
¼ ounce of rich simple syrup (2:1 sugar: water syrup)
shake until very cold and strain into cocktail glass.
garnish with grapefruit twist.

"THE GRANVILLE was inspired by the Courtesan Cocktail, a modern cocktail designed by Philip Duff," Reilly explained. "We swapped out creme de cassis in favor of creme Yvette."
build in an iced cocktail mixing glass:
2 ounces of white wine (Reilly uses Arneis from Northern Italy,
try a Sauvignon Blanc or other similar wine)
1 ounce of Beauport vodka
½ ounce of St Germain
¼ ounce of Creme Yvette
stir until very cold and strain into a cocktail glass.
garnish with a lemon twist.