archived

FeaturedArticles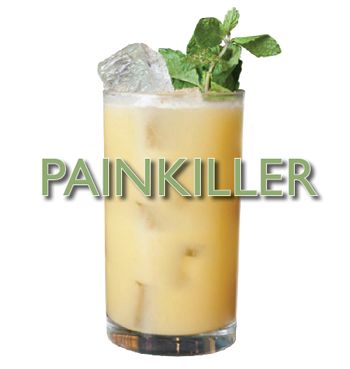 Article By: Pink Lady
Who doesn't love a whimsically named Tiki drink served from a skull or ceramic highball resembling a totem pole? Invented in the '7Os somewhere in the West Indies, a tiny bar accessible only by boat was mixing up a cocktail with a high-test brand of Navy rum called Pusser's that was particularly popular with sailors, dubbed the Painkiller.

The Painkiller was created by a British gal named Daphne Henderson who owned the Soggy Dollar Bar, so named because guests had to swim ashore to it inevitably drenching the contents of their wallets on the way. The bar offered a clothesline on which guests could hang their dollars as they knocked back cocktails. Daphne's drink was wildly popular but she was very secretive about the recipe, even to her close friend, a sailor and entrepreneur named Charles Tobias. Frustrated by her secrecy, Tobias took matters into his own hands one fateful Sunday afternoon and stole away with a drink – through the surf, to his boat, and back to his home kitchen on the island of Tortola, where he eventually figured out the recipe.

About a decade later, Tobias obtained the rights and all the blending information and sought to resurrect the Pusser's brand. Once issued daily to members of the British Royal Navy, a decree from the Admiralty Board abolished the practice in 197O, leaving the
brand dormant until Tobias breathed new life into it in 1979.

Give it a run through at home with Tobias' recipe.

---
PAINKILLER

2 ounces of Pusser's rum
1 ounce of Coco Lopez
4 ounces of pineapple juice
1 ounce of OJ

Shake ingredients in a mixing glass with ice.
Strain over ice into a tall glass.
Garnish with nutmeg.
Cin-Cin!