archived

FeaturedArticles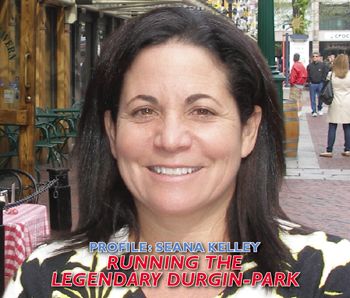 Article By: Fred Bouchard
SEANA KELLEY • 49 • General Manager • Durgin-Park Restaurant • Faneuil Hall Market • Boston

Lunch at Durgin-Park, that rough-n'-tumble icon of Boston dining culture, has been a 5O-year tradition for your reporter. As undergraduates at Boston College, fellow choristers, marching band tootlers, miscellaneous music mavens and I observed a fairly faithful Friday ritual: we'd cut afternoon classes, Green Line it to Symphony Hall, grab a 6O¢ BSO 'rush seat' ticket, zip to Scollay Square to the North Building of Quincy Market where Durgin-Park was a Mecca among workers, tourists, and bargain-hunters for its 99¢ three-course lunch. We'd down heaping portions of Poor Man's Roast Beef, braised short ribs, or – my favorite – chicken livers sautéed with wine and bacon. Daunting entrees were preceded by golden hunks of cornbread and chunky clam chowder, served with hefty sides of buttered turnips, boiled cabbage, whipped mash, and oven-baked Beanpot beans, followed by classic Indian Pudding or potent Coffee Jell-O with a choice of whipped cream or vanilla ice cream. Whew! That same lunch is still a good deal today, adjusted for inflation and belt notches. Among Boston's handful of venerable restaurants (like Jacob Wirth, Marliave, Union Oyster House, Locke-Ober), Durgin-Park is arguably the oldest and least changed of the lot. Founded in 1827 by John Durgin and Eldridge Park . . . but let cheerful multi-tasker Seana Kelley tell the tale!

A BIT 'O HIST'RY John Durgin and Eldridge Park were butchers, purveyors-turned-restaurateurs. It was one of the only shows until 1926 in Faneuil Hall Market Place, Boston's hub for all purveyors and pushcarts, fish to flowers. Depression years saw the market shuttered, a skid row. Durgin-Park was the only place that never shut down, serving food continuously at this location since 1827. Don't forget – this was when Boston Harbor came right up to our door, boat traffic and all, and the Market buildings were on pilings! [See the menu's antique woodcut.] I recently loved re-reading John Quincy's 2OO3 book Quincy's Market: A Boston Landmark. It's true that Mayor Kevin White brought the Market back to prominence in the '7Os. It's changed over time, and now he's memorialized with his larger than life statue by Faneuil Hall. My dad Gene has great memories of him as Kevin The Boss, loved by nearly all.

LOVING DETAILS Customers don't like to see the restaurant change. The building, inside and out, has been pretty much the same for about 185 years, though some foundations suggest a little later. We've kept our upstairs dining rooms in their traditional look: the White Room has white table-cloths, Red Room has checkered tablecloths, the Mid-Hall draws singles and couples in communal seating, with the steel service kitchen bustling right in the middle of it all. Exposed pipe, beige walls, brass coat-hooks, hanging lamps, rough oak flooring – but no more sawdust! It's still a Boston family tradition, a bridge to the future: old folks bring in the kids and grandkids, like they do to Fenway Park or The Common. The Gaslight Pub is still downstairs; The Hideout in the basement, originally an oyster bar, now features craft beer and entertainment (Wednesday improv comedy, Thursday trivia, weekends live bands).

FRIENDLY SALE Business bounced back after World War II; I have scrapbook photos of the previous owners, the Chandler and Hallett families, and memorabilia on the walls. They'd hold turkey raffles for staff and customers. Legend had it that Jim Hallett would only sell Durgin-Park to a friend, so he sold it to my grandfather Martin, who owned several bars and restaurants, like Big M on Mass Ave, Midnight Court, and South Boston's Cork & Bull. Durgin-Park's three buildings in the Market each had five stories with four half-moon windows and a basement. We Kelleys owned two and leased the third from the Donovans. Ma Donovan used to have card games going in her bar next door. In all Faneuil Hall, we were the only two working families that owned their properties. Martin's three sons, with my mother and her brother of the Solimondo family, ran the show. It was very busy when we took over; all the mothers and cousins worked here. My mother counted the money and made bank deposits. My cousin Suzanne was first a manager and is now our accountant.

MANY HATS I graduated from Elmira College in upstate New York in 1984. My folks loved to eat at Pearce's. [That other famed family restaurant closed in 2OO9]. I've worked at Durgin-Park since 1976 as a busgirl, then since 1984 in various positions: bargirl, cashier, hostess. Once when I was a waitress, Mr. Hallett spied me leave the kitchen with a Poor Man's Roast Beef cut way too thick – a $1.99 lunch special on a $9.99 full-priced dinner entrée – and called me back! I also worked as a kitchen receiver, because we thought some vendors were cheating us. My job was to weigh all incoming products and store them. Let me just put it that we found, ah, room for error. Somebody has to be on the floor at all times who's a stakeholder. I'd go with the chefs to meet the vendors in Roxbury, but I didn't buy. We got most meat then from Bertolino and today from Kenneally.

CHANGE, NO CHANGE Our service is still Buffalo China, a 19O1 design. The recipes are even older: broiled schrod, oyster stew. My hardest changes, honestly, are on the menu. I hated to take Fried Smelts off because they're so local and unique, but people don't eat like that now. And Alaskan King Crab legs today are price prohibitive! The best change is that people today are truly interested in fresh local food, which speaks to what we've been doing long before it was trendy. Cod caught off-shore, New England molasses, Bolton apples for Apple Pan Dowdy. We've always used indigenous ingredients.

GOOD GROUP The Ark Restaurant Group features over thirty restaurants, mainly East Coast, from Florida to Boston, and some in Las Vegas. I love these guys to death, I'm so happy they bought the place in 2OO7. They don't want to change anything; they know why we're here. I'm invested because Durgin-Park offer a unique product, and with Ark we're not just a small piece of a big company that doesn't 'get' our amazing history.

They're not micro-managing us. They call me up and invite me for dinner to NYC; they have us visit their restaurants to check out other concepts, and meet the other managers. We chat and have an ongoing exchange of ideas. They're big on talking with management and maintaining good rapport. We ask each other practical questions: 'How do you handle . . . ?' 'What's a good dish with . . . ?' We discuss labor laws, legal issues.

TIMELESS RECIPE BOOK Our new head chef Melicia Phillips has organized the recipes for all our traditional dishes – finally! Over the past 4O years, Chef Tom Ryan did it old-school, a little of this and that . . . Now it's all fairly well sorted out, hallelujah! The recipe book will be available soon – Melicia's thorough update of the book that Jane and Michael Stern edited for us years back. For years we've handed out a little white mailer that reprints recipes and a feature in Collier's Magazine from the 195Os. People still scribble notes on it and mail it back home.

MARKET SCENE A late-night scene has been emerging around Faneuil Hall, with youngsters making the rounds, pub-crawling between Mija (upscale Mexican), Zuma (midrange Tex-Mex) Owen O'Leary's, Black Rose (Irish music pub), Anthem, Hard Rock Café, Sky. Faneuil Hall is surely coming back as a destination for young people, and we're competing well with the nearby Union Street scene.

BOSS-TOWN 'TINIS We're creating new martinis demanded by the Boston crowd with cute names and popular flavors. We serve them in those big 1O-ounce martini glasses; and make them in well, call, and premium to cover all price points ($9 to $12). One of our smart waitresses came up with the names. Here are a few: Weekend Down the Cape (Stoli Vanil, Malibu, pineapple juice), Weekend in the Berkshires (Berkshire Mountain Rum, Triple Sec, sour mix, fresh lemon), The Flirty Bostonian (Smirnoff Vodka, Chambord, pineapple juice), Love That Dirty Water (Kahlua, Bailey's, chocolate) and Wick'd Good Martini (Malibu Rum, Hypnotiq, pineapple juice)

POURS AND TOURS We're using the Long Island Vodka (LĪV) made from potatoes and sanctioned by Ark. They know the guys at the distillery on Long Island and they're really evidently characters. We're going with Gosling's Black Seal Bermuda Rum and their ginger beer for the Dark & Stormy. That's always been popular as a historical New England drink, but now more than ever. When the Tall Ships come in, two guys dressed in colonial costumes and playing guitar and fiddle come by with an historical tour and everyone orders a Dark & Stormy. Another thing is the tasting tours, where a dozen people come in and you give them little tastings of house specialties – Boston Baked Beans, cornbread, Indian Pudding. It's like a pub-crawl for foodies.

DRINK SHIFT We've started to go for cool combinations like Prosecco with Saint Germain, and to revive old favorites, like the Sidecar, rechristened Streetcar! We create new drinks with LĪV and their fruit Sorbettas. Two examples are a Strawberry Lemonade Martini and Bossa Nova, LĪV with Saint Germain, grapefruit, and lemon juice. We also shortened the wine list for compactness and utility; once I had it as all American, because we're an all-American restaurant, right? But now it's diversified mainly for value.

COOL BREWS Our [Chimay-sponsored red-bound] beer list we amended for practicality and freshness from 75 bottles and 1O drafts, to 3O bottles and 15 drafts. John Durgin Ale is by far our best seller, and people love the story. Harpoon has made it for us for years, an unfiltered British Pale Ale, a little hoppier than most. Big sellers are: Chimay Red, Allagash White, Wachusett Blueberry, Smuttynose, Geary's, Nantucket Whale Ale, Wells Banana Bread (dessert beer from England), Frulli, Lambic, Left-handed Milk Stout. Woodstock (NH) Brewery hosts improv night; their Raspberry Wheat is really big. We love showcasing in-state microbrews, like BBC Coffeehouse Porter (Deerfield), Offshore Amber (Oak Bluffs), Cisco Grey Lady Ale (Nantucket), Fisherman's Brew (Gloucester).

KEEP IT FRESH The drinks list is another way we're trying to stay fresh, if not exactly trendy. We're not changing our concept, but we're not asleep at the wheel either, you know? Durgin-Park has its history behind it, that other places may not have going for them. We're standing up for that tradition.