archived

FeaturedArticles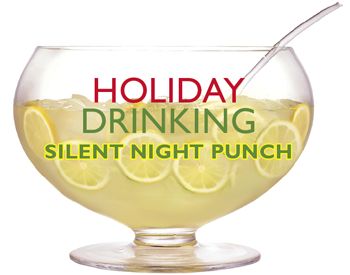 Article By: Pink Lady
Your holiday dance card is surely full of fetes, parties and soirees. Chances are that for at least one such occasion, you're tasked with bringing something delicious. Why not come armed with punch? We LUPEC ladies are fond of following very traditional recipes for our punches. Why not? If a barroom full of the Sons of Liberty could get down with a bowl, we can too. Especially here in old New England.

This recipe is a riff on David Wondrich's Whallop Bowl, or a basic template for a 17th century bowl of punch. I invented it a few years back when faced with the challenging task of getting a room full of people happily tipsy whilst doing as little work at the party as possible.

---

SILENT NIGHT PUNCH
A variation on a classic 18th-century recipe for a bowl of punch
by Kirsten Amann – aka Pink Lady

2 green tea bags
8 lemons
1¾ cups of sugar
1 liter of Pierre Ferrand Ambre cognac
1 375ml bottle of Plantation 5-year-old rum
6 ounces of Green Chartreuse
6 ounces of Benedictine

Two days before the party, fill a small metal bowl (sized to scale with the punch bowl) with water and stash it in the freezer.
A few hours before [or the night before], steep green tea bags in two cups water for 5 minutes.
Set aside to cool. peel 8 lemons – place the peels in a large bowl. squeeze the peeled lemons and set juice aside.
Muddle peels in sugar until oil is absorbed. add tea, cognac, dark rum, Green Chartreuse, and Benedictine to bowl.
Stir until sugar is dissolved. add four cups of cold water and refrigerate.
Just before serving add 12ounces of fresh-squeezed lemon juice to the alcohol-sugar-tea mixture. Pop the ice from the metal bowl.
Add it to the punch bowl. serve it in punch glasses with a little fresh nutmeg grated over the top.

Serves about 4O people.