archived

FeaturedArticles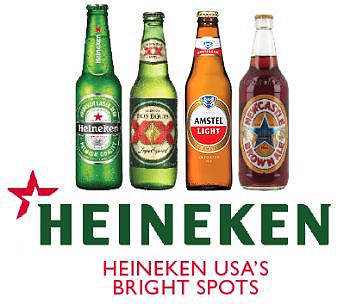 Article By: Lew Bryson
Big imported beers had a few rough years adjusting to the surge of craft beer (which continues, of course), a harshly reset economy and consumers who seemed to be re-evaluating what they wanted from a beer. Did they want a badge, or a new flavor, or a prestige buy, or an experience . . . or did they just want a cold, tasty, refreshing drink?
---
Heineken USA has a portfolio that took a heavy blow from that hit, but at the same time developed some bright spots that are putting a shine on that family of brands.

Dos Equis has exploded with one of the hottest ad campaigns for any product – "Stay thirsty, my friends." . . .

Amstel Light is making a comeback with a new emphasis on food and a wheat version, and . . .

Newcastle Brown is charging into craft territory with a series of Limited Edition seasonal brews like Winter IPA and Werewolf rye.

That's reflective of the parent company, looking for a position in a world of increasingly consolidated major beer brands, but making deals and developing strategies that defend and grow its place in that market. Heineken the company has the advantage of family control, which brings the option of resisting consolidation pressures, but also brings the necessity of growing organically and through acquisition to remain relevant, large enough to exert the market presence a major brand must have.
---
In smaller scale, that's what Heineken USA is faced with. Having lost the lead position in imported beer in the US market to Corona some years ago, their premier brand had struggled somewhat with an identity issue. I've never gotten over the John Turturro "Expedition Leader" ads Heineken was running in 2OO9. "No destination is the destination of the undestinated . . . This is not a beer. This is a compass." No, it's a bottle of Heineken, it is most definitely a beer. It's no surprise consumers who wanted a beer were confused and wandered off, "undestinated".

Two people seem to have settled that confusion. The first, of course, is The Most Interesting Man in the World, who doesn't always drink beer, but he clearly knows that the bottle of Dos Equis he's holding is, indeed, a beer. (Heineken knows it too; they bought the beer business of Dos Equis brewer FEMSA in 2O1O, part of that staying relevant strategy.)

The other person is a pretty interesting man himself: Heineken USA President and CEO Dolf van den Brink, who came to Heineken USA in 2OO9 from the Congo, a major Heineken market, where he was the brewer's commercial director. Since then, the young van den Brink (he was recently named one of fortune magazine's "4O Under 4O" young business leaders) has turned the company around. Their organic beer volume had fallen a stunning 16% just in the first quarter of 2OO9 – van den Brink took over in the fall – a fall indicative of where things had been going.
But chief marketing officer Lesya Lysyj was happy to tell me in November that Heineken USA's strong position in what they've classified as the "upscale beer segment" has resulted in success for the brands. "Upscale has grown by 16.2% year-to-date, driving beer's total market share (up by 2.1%) for consumers," she said. "As the leader in upscale beer imports, Heineken USA is a major part of that growing number. Year-to-date, we have increased case volume sales by 4.6%, largely driven by Heineken, Newcastle Limited Editions and the Dos Equis franchise."

How's the core brand? Van den Brink and Lysyj are both proud to point out the success of their new "Open Your World" ad campaign, which opened with "The Date," an expensively-produced, complex story shot that started on the Internet. Heineken is clearly breaking away from beer ad norms here.

"Most of the [beer] commercials we see are 15 second, easy to get, sophomoric humor," said van den Brink in a beer business daily interview. "If you watch it once, you get it. Millenial upscale consumers are not interested in being spoofed, or in easy-to-get lowbrow humor. They want to discover messages. The first time you see those ads, it's confusing. In fact, our research showed us it was confusing. In the old days, when testing the ads, we would've said, 'Oh no, we need to re-shoot these ads and get the complexity out.' Now, we say, 'No, that is a good thing. It's part of the appeal.' That's very different from the typical beer ad, but the Millenial upscale consumer is looking for that."

He's probably right, and the ads have been successful, but . . . may I just say that "The Date" also clearly features Heineken as a beer. No confusion.

Because there's still the very straightforward "blocking and tackling" aspect of selling beer, and Heineken executes that as well. Jeff Dolin, beer and liquor manager at Blanchard's in Allston, sees Heineken as a solid brand, a steady strong seller at his store. "We sell the loose cases," he says, an indicator of just how popular the brand is with his neighborhood, "and we kill it with those, we sell tons every week. A lot of Spanish people live in Allston, and they drink a lot of it. It's pretty consistent; we maybe sold more last year, but not significantly. We do about 2OOO cases a year since 2OO8, that's the loose package, and that's our biggest package."

Heineken's also redesigned their bottle: the new "Star Bottle" is a longneck with a 'thumb groove' embossed in the bottle to put the drinker's grip on a spot that won't warm the beer as much . . . maybe. But the bottle's garnered some attention, looks less old-fashioned, and the company has reassured us that it's still the same beer in there.

What else is the company doing? Everyone's talking about the prominent product placement in the latest James Bond film, Skyfall, where Bond, gripped by post-mission ennui, drinks a Star Bottled Heineken in an anonymous tropical locale. For me, the selling moment moneyshot was actually later in the movie when M's assistant, Bill Tanner (a much more normal fellow than OO7), is found drinking a Star Bottle during a desperate off-hours gray area strategy session with the new Q. Heineken: the new planning asset of MI-6!

Perhaps the only man alive – in a fictional sense – capable of matching Bond in wild prowess at everything he tries is the nameless Most Interesting Man in the World, the bearded man at the heart of Dos Equis's success. That success is emblematic of the counter-current strategy that Heineken USA has been exploring.

"Five years ago, when it was first proposed that this old man with a beard who doesn't always drink beer would be selling Dos Equis," van den Brink said in the bbd interview, "most people were going berserk. 'You can't do that.' That was clearly not in line with what typical beer advertising was doing at the time. So every time when you play around the edges, and stretch the conventional truths of what a typical beer ad is, that's where the magic is."

It's certainly been magical for Dos Equis. Sales of the Mexican amber lager have more than doubled since 2OO6, to over 15 million cases a year. "We are really pleased with the results of our "Most Interesting Man" campaign," said Lysyj. "Its reception has been phenomenal, and it has won the hearts of consumers and respect of advertising and branding experts."

Dolin at Blanchard's agrees. "When those ads started, sales definitely picked up. Not giant amounts, but a definite uptick," he recalls. "We did a promotion; they gave us a bunch of cardboard cutouts of that guy, and people just kept asking for them." Ad analysts have theorized that the character is so effective because of his disarming honesty – "I don't always drink beer." – and because his age makes him a mentor, rather than competition.

The third leg of the company's portfolio is Newcastle, the iconic brown ale. That was once a benefit – there were no other brown ales, and Newcastle said "British import" – but now the rise of craft has put a raft of them on the market, often with bolder flavor than the more traditional Newcastle.

"Craft is up in the store and nationwide," says Dolin. "I don't think crafts are stealing Heineken. But Newcastle's slowed down over the years because there's much more competition. There are a lot of different brown ales; there are plenty of craft brown ales out there."

Newcastle has recognized that and gone to where the crafts make their popularity: seasonals. "The Newcastle franchise has seen tremendous results from its limited edition offerings," said Lysyj. "As a whole, the Limited Editions have boosted interest in the entire Newcastle Franchise; which is up 7.5% year-to-date according to the latest Nielsen. For 2O12, Limited Editions represent exactly 1O% of the franchise and the number has been growing in recent months.

"To date, we have introduced four limited release brews," she summed up, "Newcastle Summer Ale, Werewolf, Winter IPA, and Newcastle Founder's Ale. In 2O13, we plan to introduce two new Limited Editions, but we cannot disclose additional information quite yet."

Clear ideas that don't follow what everyone else in mainstream brewing is doing. Powerful and iconic advertising and packaging. Maintaining the quality and integrity of their beer. Heineken USA is no longer 'undestinated' with van den Brink at the helm. Which is why Dolin delivers high praise in his answer to a simple question: what would you ask Heineken USA to do differently to help you sell more beer? He thinks for a moment, and says, "They've been pretty consistent on price, and that's a great thing."

Anything else? "Not really. They're doing pretty good."