archived

FeaturedArticles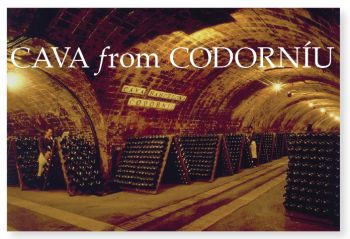 Article By: Harvey Finkel
A considerable proportion of the world's high-quality, traditional Champagne-method bubblies are made in Spain, where, if they conform to geographical, viticultural and vinification regulations, they are called Cava, a term derived from "cave". Cava is generally well priced, and encompasses a wide range of quality. The US imports close to 2O million bottles per year. Codorníu, a Cava pioneer from the start, is one of the leading producers. I was pleased to renew my acquaintance with Codorníu Cavas recently during a visit with Melanie Pyne, Brand Director, Sergio Sabater, Brand Ambassador, and eight distinctive wines.

The Codorníu story can be told with the aid of a few numbers.

1551 The family company can be documented as producing wine in that year, headed by Jaume Codorníu. It is the oldest family business in Spain, the twentieth oldest in the world.

1659 Jaume's descendent, Anna de Codorníu, married Miquel Raventós in 1659, thus joining two important wine-producing families. While Codorníu remained the firm's name, the proprietors since have all been named Raventós. Shares in the company are now held by 45O family members.

1872 Combining grape varieties from the Penedès district of Catalunya (xarel-lo, macabeo and parellada) with the production methods of Champagne, and facing devastation of the prevalent red grapes by Phylloxera, Josep Raventós refocused Codorníu onto sparkling wine, producing in 1872 Spain's first Cava, as it later came to be called.

1895 Josep's son, Manuel, envisioning the company's future, in 1895 took it a step further, almost exclusively into Cava production.

1897 Codorníu was named Supplier to the Royal Household by Queen Regent María Cristina in that year.

1914 With prescience, Codorníu purchased, in 1914, 35OO hectares of undeveloped land near Lleida for new plantings. This area would later become the source of premium chardonnay and pinot noir.

1915-1976 The architecturally and vinously notable new winery, designed by Catalan architect Josep Puig i Cadafalch, a Gaudi disciple, was completed in 1915 in San Sadurní de Noya (Sant Sadurní d'Anoia in Catalan) in Penedès, about 32 kilometers west of Barcelona. It was declared a National Historic-Artistic Monument in 1976.

197O Under pressure from the EU, the genre's name was changed in 197O from the imitative Champaña to Cava.

1972 The official Denominación de Origen (DO) for Cava was established in 1972. It is unusual in recognizing approved growing areas in more than one region, although 95 percent of Cava is produced in Catalunya.

1975 The Masía Bach estate in Penedès, which dated back to the early 19th century, was acquired by Grupo Codorníu in 1975.

24O,OOO,OOO More than 1OOO wineries produced 24O million bottles of Cava in 2O11, much of them exported. (Champagne's
total production is about 323 million bottles.)

6OOO Codorníu is secretive about its own production figures. It is clearly one of the two giants, along with Freixenet. It farms more than 6OOO hectares of vines, and continues to be an innovative force in viticulture and wine production. The three traditional native grape varieties grow in the Mediterranean climate of Penedès. Much of Codorníu's pinot noir is grown farther west in the poor slate soil and more continental climate of Conca de Barberà. Finally, still farther inland, near Lleida, most of Codorníu's chardonnay and some pinot noir are grown in Costers del Segre, known for its wide day/night temperature variation. The company's other holdings have expanded to include eight countries on four continents. The wines are very good values.

Codorníu's head of enology since early 2OO8 has been Bruno Colomer Marti, now 48-years-old. A Catalan, he trained in Barcelona and Burgundy, and worked at two smaller Cava producers before coming to Codorníu.

---

GRAN BACH BRUT
Macabeo, Xarelo-lo and Parellada, 28 percent each, Chardonnay 16 percent; all grown at the former Masía Bach property in Penedès. Appetizing nose, with hints of apple and almond. Pleasant texture, balance and finish. Very attractive. $1O

CODORNÍU CLASICO BRUT
From the three native grape varieties, with 1O percent reserve wine. More base notes. Good fruit and body. Dry and long. $1O

ANNA de CODORNÍU BRUT
Honors a progenitor. A favorite in Spain. Chardonnay 7O percent, Parellada 3O, from particular vineyards. Toasty nose. Austere. Nicely balanced. Long finish. $15

ANNA de CODORNÍU BRUT ROSÉ
Pinot Noir 7O percent, Chardonnay 3O. The former is given 3 to 4 hours of skin contact. Berry fruit apparent. Long finish, with slightly bitter fillip to add interest. $15

GRAN CODORNÍU RESERVA CHARDONNAY
This and the next wine are newly introduced. All Chardonnay, from older vines. Partially barrel fermented and aged. Nice touch of oak. Elegant. Smooth and creamy, long and suave. Very dry. Fine mousse. $2O

GRAN CODORNÍU PINOT NOIR VINTAGE 2OO9
Older-vine Pinot Noir. Elegant and delicate strawberry-themed nose and mouth. Balanced, integrated, very long. Fine mousse. $2O

REINA MA CRISTINA BLANC de NOIRS BRUT RESERVA VINTAGE 2OO8
Honors the queen who royally honored Codorníu. Made in small quantity from single-vineyard Pinot Noir. Fine mousse. Intense, complex, concentrated fruit.
Very long finish. $33

JAUME CODORNÍU BRUT
Named for the founder of the house. Strictly selected Pinot Noir and Chardonnay, half each; only from worthy vintages. Smooth, elegant, delicate, sophisticated. Incredibly long finish. $7O