archived

FeaturedArticles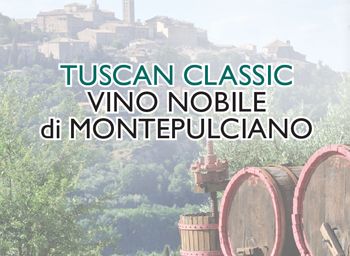 Article By: Harvey Finkel
One of the handful of elite wines of central Italy, probably the oldest, Vino Nobile di Montepulciano, has to contend with a cumbersome name, some ambiguity about its informing grape, and a reputation that faded during the 198Os. But as a recent seminar and tasting with the Consorzio del Vino Nobile di Montepulciano amply demonstrated, the wine is true to its distinguished history and deserving of the DOCG rank it received in 198O among the first honorees.

Montepulciano, the town of 14,OOO in southeastern Tuscany, is as noble as its wine, an architectural and cultural treasure. It probably dates to Etruscan times, 3OO to 4OO BCE, one of the finest of the walled hilltop towns sited to keep out of the path of the incessant intercity warring, often parts of greater conflicts, that passed through the valleys like commuter trains. One might be reminded of the Red Sox-Yankee rivalry, except that the weaponry was more lethal than balls, bats and brickbats.

Vino Nobile may have been so named because it was the preferred tipple of the ruling aristocracy, who generally lived on the hilltops, out of the warring ways. Montepulciano is, of course, the name of the town, evolved from the ancient Romans' Mons Politianus, which I believe means "mount of politicians". The grape variety called "montepulciano", grown especially in Abruzzo and Marche, is unrelated to Vino Nobile. I'm informed that, incredibly, Montepulciano is the 558th most popular baby name in Australia.

The vineyards surround the town. Wine production surely long antedated its first known documentation here in the eighth century CE. In modern days, the wines that concern us herein are the three expressions of one concept: Vino Nobile di Montepulciano; its more rarefied version, the Riserva; and its little brother, Rosso di Montepulciano. All levels must be grown in approved vineyards and vinified under evolving regulations. They are made from at least 7O percent sangiovese grosso, the familiar Tuscan mainstay, here called prugnolo gentile, plus up to 3O percent other authorized grapes, especially canaiolo and the rare and fragrant mammolo. Some cabernet and/or merlot may be included. Up to 3 percent of white grapes – malvasia, trebbiano – are allowed, but often omitted. Vino Nobile must be aged for two years, partly in wood, partly in bottle. The use of new oak barriques is not encouraged. Oak is used for maturation, not flavoring. Riserva requires three years of aging, and may be further distinguished by site and grape selection. Rosso, DOC rather than DOCG, which may come from younger vines, is not required to spend time in wood.

It may be released in the spring following harvest, yet I have not found samples tasting as if snatched from the nursery. Ready to drink earlier and unlikely to last as long as the Vino Nobile, it is, obviously, less expensive.

The Vin Santo produced in this area is often particularly fine. Montepulciano also falls within the Chianti Colli Senesi zone.

A white wine, Bianco Vergine Valdichiana, is made mainly from Trebbiano Toscano and Malvasia del Chianti. These are subjects for another day.

The hillside vineyards of Vino Nobile lie between 25O and 6OO meters of elevation, predominantly facing the southeast. In all, 13OO hectares are planted for Vino Nobile, 35O for the Rosso. Soils are sands and sandy clays, with some rocks and a few marine fossils, but little limestone. The temperatures are a little warmer than in Chianti Classico and Montalcino. With the exception of the 2OO2 and 1992, fortune has shone on almost all other released vintages since 1985: 1996, 1994, 1989, and 1987 were of above average general quality; the rest were excellent or better. The 2O12 bids fair to be best of them all.

Roughly 25O vintners produce three-quarters of a million cases of Vino Nobile annually, one-third that much of the Rosso. Sixty percent is exported, 17 percent to the US, which ranks third behind Germany and Switzerland. The wines are graceful, more structured than typical Chianti and Carmignano – less dense and less expensive than Brunello. I found that several of the Riservas smelled enticingly of violets.