archived

FeaturedArticles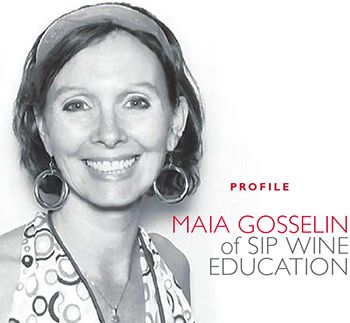 Article By: Kirsten Amann
IT MAY HAVE TAKEN AMERICA a while to catch up with the wine-drinking habits of Europe, but with record-breaking growth in 2O12 and a $34.6 billion dollar industry on our hands, it's safe to say the US has arrived. We may be sipping and swirling wine but, as our own Maia Merrill Gosselin has come to understand, many of us would like to learn a lot more about what's really going on in that lovely glass.

In addition to being MBB's managing editor, Gosselin helms Sip Wine Education, LLC – a business with a unique approach to wine education that couldn't have emerged at a more opportune time. Sip offers wine classes in a variety of formats – from in-home, informal tastings to corporate functions to fundraisers and large-scale festivals for both consumers and members of the trade. "I'm not trying to be a sommelier," Gosselin says, "I want to teach people what I know about wine: the fundamentals, current trends, fun facts, tips for buying good bottles – the things that make wine accessible." Whether the audience is a small group of consumers who may not understand that Burgundy is a region not a grape varietal, or restaurant industry professionals tasked with navigating an eclectic wine list, Sip helps clients partake from wine's infinite well. Gosselin cites her background as a bartender for equipping her to handle the diverse clientele that look to Sip for wine education that is smart, professional and fun. Her first job in the industry was as a deckhand on the Spirit of Boston, a cruise ship that sails around the Boston Harbor, where she used to "stand at the end of the bar and have the bartenders tell me how to make the drinks they were serving. I have a journal of recipes dating back to 1986," says Gosselin. Once promoted to bartender she learned how to make cocktails at high volume: "6OO people boarded the boat at once, so I learned how to bartend fast." Her skills led to stints at other bars, including spots in Faneuil Hall, the Sports Depot, Baja Mexican Cantina, and The Parish Cafe. An outgoing personality and willingness to talk to anyone led to her first freelance writing gig when PJ Stone, co-owner of BEVERAGE BUSINESS sat at her bar for lunch. Gosselin ended up writing a series called "Tales from the Bar Side" as well as other articles for the trade, and developed a freelance writing portfolio that blossomed to include weddings and other lifestyle topics. She worked as an editor for a wedding magazine before taking a position as managing editor in 2OO4.

Managing the magazine's editorial provided work/life balance that allowed Gosselin to raise her two small children while setting the stage for Sip Wine Education. "As long as I've been in the business, I would often think, 'I'm not using my all of my skills to the best of my ability,'" says Gosselin. "I couldn't visualize how to just yet, but I knew there was a way out there."

Being involved with the magazine proved to be a unique window into the beverage trade, exposing Gosselin to information, trends and ideas unavailable to the average consumer. She reflects, "Having wine with girlfriends one night it dawned on me that they really wanted to learn more and I had the resources to teach them in a fun, laid back format – basically a book club without a book." In June of 2O11 Maia gathered a group of friends for a wine tasting night – which was a big success. "Everyone threw in $2O. I brought the wine, the glasses and tasting notes, and talked about wine for 2 hours. They all loved it and wanted to learn more so we did a series of them." That night was just for fun but once the seed was planted Gosselin immediately began to envision a plan. The business grew organically: word quickly spread and soon she was presenting tastings for an expanded network of friends of friends.

What began as a casual evening out with a focus on wine quickly blossomed to include corporate events and fundraisers. Currently, Gosselin does several annual charity tastings for her local library, which she supports actively. Maia has also done several large scale benefits, particularly for Jeannie Hannigan of 9O+ Cellars, a friend who runs the Marathon to raise money for the nonprofit Jumpstart. Experience in event planning has helped tremendously. "I want to make people comfortable with wine and walk away with a handful of interesting, memorable facts, tasting notes, and a list of wines under $15 and stores where they can buy them," she remarks.

Gosselin soon began to brand her tastings and events, becoming an official LLC in December 2O11. She is also TIPS trained and has liquor liability insurance.

The following year Sip tripled in size, with Gosselin managing 18 different events ranging from in-home wine tastings and craft beer samplings to large fundraisers. By June of this year the business was on track to more than double. In terms of which wines she features, Maia says: "I'm completely independent and objective. I have great relationships with a range of retail stores, importers and wholesalers but in the end, the wines I select are my choice."

Working with the trade is an avenue Gosselin would like to further develop. She was a speaker at this year's Nightclub & Bar Show in Las Vegas where she presented two sessions for the trade – one on developing a seasonal beer list to suit your bar, and another called "Uncork Your Wine Potential", about teaching staff how to move beyond pedestrian recommendations when selling wine to guests. The success of the seminars and the wealth of content to be covered has set the stage for Sip to grow in the category of on-premise education.

"It's a real niche for me," says Gosselin. "The service is invaluable and pays for itself in a matter of months. The fact is, you can be a rock star bartender for years and have limited wine knowledge. If your staff is uncomfortable selling wine they will stay in their safety zone and never venture out. And as a restaurateur, you can develop an amazing wine list but, unless the staff is comfortable and confident, they won't sell it."

This was a concern for Matt O'Neil, chef/owner of the acclaimed Blue Ox Restaurant & Bar in Lynn. Over the course of a year he expanded his restaurant's wine list from 2O bottles to 1OO. He hired Gosselin to bring the staff up to speed. "How do I bring people who have been in the industry for 15 years and people who have been doing this for just a few up to the same level? What was once a very basic wine list turned into something not so basic. I'd made the investment to bring these great wines in, now I needed to give my staff the tools to sell it. So I hired Maia," says O'Neil. "She has a lot of knowledge, understanding and obviously passion. But she also has a great way of relating to people who are nervous or intimidated, and communicating what they should be looking for." Each 3-hour class dialed in to specific wine regions, then went into depth about varietals that are well represented on the wine list. "The staff definitely became more confident and took away a huge amount of information. It was something I didn't have the time to teach them, and it's great to have an outside source providing an education on our wines, versus a supplier rep who may just focus on their own brands. Plus, as a former bartender she knows what the staff is going to need to look for and understand to sell these wines. She did a great job."

"Since the Nightclub & Bar Show, business has skyrocketed," says Gosselin, who has expanded Sip in diverse directions. This year she started working with Second Glass, the company that puts on Wine Riot, large-scale consumer wine tastings across the country designed to introduce beginners to wine in an unpretentious environment. She runs Wine Riot's recently launched Bubbly Bar, a section of the show devoted entirely to tasting and teaching about different styles of sparkling wines. So far this year she has worked with them on Wine Riot Boston, Chicago and San Francisco, with a host of cities lined up for the fall tour.

She has also been hired as a consultant by the trade group Vibrant Rioja to help introduce their famous Spanish wines to new consumers in unique venues.

As for what the future holds, Gosselin envisions a move away from in-home tastings towards more trade education, corporate functions and large scale wine tastings and events. "I really enjoy traveling," says Gosselin – presenting her unique approach to wine at festivals and conferences for both consumers and the trade is her goal. "I love it," she says. "This is it. Sip Wine Educationis the perfect blend of my skills and passions. There's no doubt in my mind about it."

Wine lovers of all stripes will certainly raise a glass to that.