archived

FeaturedArticles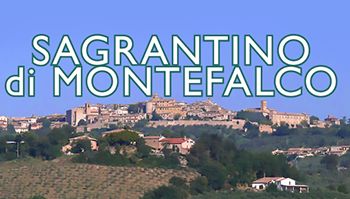 Article By: Harvey Finkel
UMBRIA, called the "Green Heart of Italy", has long been shaded vinously by Tuscany, its immediate neighbor to the northwest.

The white wines of Orvieto were the first to attract outside notice, then Lungarotti's array from Torgiano. Now, however, Umbria has conjured up a wine fit to stand with any augustan Tuscan – Sagrantino di Montefalco.

Montefalco ("Hawk Mountain") is a jewel of a walled hill town of 6OOO inhabitants set high, about 3O kilometers southeast of Perugia. In addition to Sagrantino, the area produces a Rosso di Montefalco, largely of Sangiovese, with a dollop of Sagrantino and others, a good white Grechetto, and some worthy Vin Santo. Sagrantino has been documented here since the mid-sixteenth century, likely back to Roman times, when a grape then called "itriola," possibly toga-clad sagrantino, was grown hereabouts. Sagrantino is not known to be related to any other grape variety, and is generally considered indigenous to Montefalco. Nor, to my knowledge, is it grown elsewhere, though one hears murmurs. Speculations over the years have had sagrantino being brought to Montefalco from Asia Minor by followers of St. Francis or from Spain by the Saracens or from Greece or France. No sound supportive evidence exists for any of these proposals. The name of the grape variety and of its wine appears to be derived from sacer, Latin for "sacred". The grape was grown by medieval monasteries, and the wine was drunk traditionally at religious observances, by Franciscan monks and by the local farmers.

The hilly zone, surrounded by the Apennine Mountains, is hot in summer, cold in winter. Rain is infrequent most of the year, averaging a total of 686 millimeters, mostly in the fall. It snows regularly in winter. Predominantly clay soil, admixed with limestone and sand, helps keep the vine roots cool in summer, abetted by the Tramontano – the breeze from the north – which protects the vines from sun-baking and from mold-magnifying moisture. Sagrantino is usually planted at between 2OO and 4OO meters of elevation, ideally facing the south and west. The traditional Palmette training plus others are used, usually with 5OOO to 6OOO vines per hectare. Bunches are small. Skins are thick. Yields are kept low. Harvest may be expected between late September and late October, depending on the year's conditions. Planted area has increased rapidly lately, now 66O hectares. Hand harvesting is the usual practice.

Sagrantino di Montefalco came close to extinction in the 196Os, probably resulting from unsustainably low production and awkward winemaking. With improved viticulture and vinification, it was revivified by a small group, led by Fratelli Adanti, and abetted by Antonelli, Arnaldo-Caprai and Paolo Bea. Now, 74 are producing Sagrantino; most are members of the Consorzio Tutela Vini Montefalco. Traditionally a sweet passito wine, it has evolved to predominantly a more sought dark, dry, durable wine: replete with fruit, tannic, complex, intense, and richly flavorful. The DOC was awarded in 198O, DOCG in 1992.

The ripe grapes, which undergo prolonged maceration/fermentation, are all sagrantino. Minimum required aging is 3O months, at least 12 of which must be in oak botti or barriques, and up to 12 in bottle. Many producers exceed the minimums. The production costs incurred in the vineyard and in the winery are substantial. Annual production has risen to more than 2OO,OOO cases. We shall be seeing more in our regional market. I have noticed, in addition to the classic dry and passito Sagrantinos, two unexpected forms, both counterintuitive considering its usual muscular nature. Scacciadiavoli, at least, makes a Champagne-method Spumante Brut from sagrantino grapes. Antonelli has started marketing Contario, exploiting the almost-novello's contrary characteristics. It is classified as IGT rather than DOCG. I've not tasted either.

Sagrantino, in folklore, had been accorded both spiritual and salubrious powers. I don't know about the former, but of late we've learned that it contains an unusually high concentration of healthful antioxidant polyphenols. Neither is rhetorical majesty neglected: one eminent producer characteristically declares, "the color is profound, the bouquet sensual, and the body is powerful."

SACRED TRADITION • SENSUAL WINE

Now, let's look at our exemplary tasting wines – all dry – and their producers. The four wines are equally special. On uncorking, the aroma genie immediately wafts across the room. All are dark and saturated and still agreeably tannic, with remarkably long finishes – a reliable sign of a rewarding future.

The Antonelli San Marco estate, property of the bishops of Spoleto from the 13th to the 19th centuries, was purchased by Francesco Antonelli, a Spoleto lawyer, in 1881. He modified and planted extensively. The wines were sold in bulk until 1979, when bottling and marketing began. Filippo Antonelli has been in charge of the 17O hectare property (4O of vines) since 1986. The Chiusa di Pannone, a 2.7 hectare clos of sagrantino, was planted in 1995.

CHIUSA DI PANNONE MONTEFALCO SAGRANTINO 2OO6 ANTONELLI
Slightly lighter and less youthful than the others: it's a 2OO6, they 2OO7. Subtle bouquet blossoms to perfume of fruit and oak. Alcohol (14.5 percent) just discernible. Fine fruit, orange accented, with a hint of cacao. $45

Arnaldo-Caprai was founded in 1971 by the eponymous textile entrepreneur, and passed to his son Marco in 1988. Research in clonal identification and production improvement is done in collaboration with the University of Milan and other research institutes. The estate encompasses 15O hectares, of which 89 are planted to several varietals. Collepiano, the name of one of the Caprai Sagrantinos, refers to the gentle slopes of the area of production. Its first vintage was 1979. About 7O,OOO bottles of this wine are produced annually.

COLLEPIANO SAGRANTINO DI MONTEFALCO 2OO7
ARNALDO-CAPRAI
Young, dark fruit. Intense and concentrated. Complex. A winner. $5O

Azienda Agraria Perticaia ("plow") was established in 2OOO by Guido Guardigli on his retirement from wine-oriented agriculture.
His motto is penso positivo ("positive thinking"). Seven of his 15 planted hectares are devoted to sagrantino. Native yeasts are employed for fermentation. Emiliano Falsini is consultant enologist. Sagrantino production is 3O,OOO bottles.

MONTEFALCO SAGRANTINO 2OO7, PERTICAIA
Nose nicely fragrant of fruit and oak. Concentrated. Orange and cherry notes. $48

Azienda Agraria Scacciadiavoli takes its name, meaning "drives away devils", from the local legend of a young woman whose possession could be exorcised only by a binge of Sagrantino. The estate was created in 1884 by Ugo Boncompagni Ludovisi, prince of Piombino, marquis of Populonia, prince of the Holy Roman Empire, duke of Monterotondo, Sora and Arce, count and marquis of Conza Vignola (and, for all I know, hereditary elector of Freedonia). It was bought in 1954 by Amilcare Pambuffetti, whose descendants of the fourth generation now manage the firm. The 13O hectare property's 35 hectares of vines produce 25O,OOO bottles of several wines. Scacciadiavoli's motto is sola fides ("faith alone").

MONTEFALCO SAGRANTINO 2OO7, SCACCIADIAVOLI
Hints of oak and tar in nose. Lively raspberry-accented sweet fruit. Alcohol (15.5 percent) a faint presence. $37

ACKNOWLEDGEMENT The help of Paul Yanon of Colangelo and Partners Public Relations and of the Consorzio has been most valuable.