archived

FeaturedArticles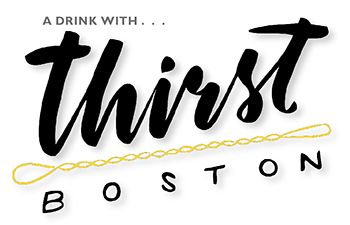 Article By: KIRSTEN AMANN
Since our founding fathers gathered around a punch bowl to sketch plans for the Revolution, this city has shown a fondness for beverage alcohol. This fall, Bostonians can raise a glass to our unique and special beverage scene at Thirst Boston, a two-day celebration of all the things Bostonians drink "from our morning coffee to our afternoon beers (don't tell) to our late night cocktails" according to the Thirst Boston mission statement.

The Thirst team is helmed by an energetic, eclectic crew of four, all of whom wear diverse professional hats. I caught up with founders Maureen Hautaniemi, TJ Connolly, Andrew Deitz, and Brandy Rand, this fall to get a better sense of what drew them to this massive project, what their personal vision for Thirst is, what they like to drink, and what lies ahead at Thirst Boston this November 1O and 11.

---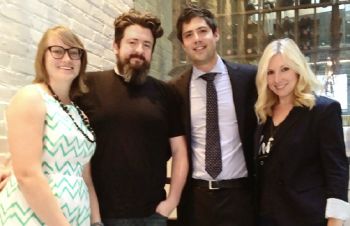 KIRSTEN AMANN Tell me about your backgrounds? How did you each find your way into this crazy industry?
MAUREEN HAUTANIEMI
I began going to school in Boston for Graphic Design, but after all my projects were food or cooking related, I sort of realized I should be focusing on something else.
TJ CONNOLLY
I've been a cocktail enthusiast for several years, dating back to a stint working the door at the former B-Side Lounge in scenic East Cambridge. My night jobs have always been tied into nightlife and entertainment, and I finally brought the day along two years ago when I joined as a founder of onthebar, a mobile app platform that links bartenders to both their regulars and spirits suppliers [MBB ?/2O13]. Thirst for me is another great way to help raise awareness of the excellent people working in the industry in our city.
ANDREW DEITZ
I have been inspired with the wine and spirits trade since I was legally allowed to drink (and possibly before). After working in restaurants through college, I walked over to BRIX Wine Shop in Boston. I explained my fascination with the trade and Carri, the owner, confessed they had been looking for a general manager. She decided to take a chance and offered me the job. I continued my career at MS Walker – managing some of the top boutique wine and craft cocktail accounts in downtown Boston. After showing my passion and devotion to their portfolio and company culture they created a hybrid position that allowed me – as the Massachusetts State On-Premise Consultant – to work with many facets of our business throughout the state. Aside from that I spend most of my time perpetuating the Boston/Martha's Vineyard born tradition of the Daiquiri Time Out.
BRANDY RAND
Well, my parents named me Brandy, so it was inevitable! I'm going on 13 years in marketing and communications in beverage alcohol – with most of it spent on the supplier side of the business. A few years ago I went out on my own as a consultant to help both small and big brands formulate strategies for success in the marketplace. I also started writing about the industry: trend analysis, category round-ups and cocktailing in general. For me, it's fascinating to uncover what people drink and why they are drinking it – perhaps a nod to my anthropology background.

KA Beyond your mission statement, why are you passionate about this project?
MH I want Thirst to be a celebration of the local drinking community. It is my dream to have a cocktail discussion that involves not only our local bartenders but also, eventually, our baristas and brewers.
TC Working on Thirst was an easy choice for me. Our mission with onthebar brings people together to enjoy cocktails, and Thirst falls right in line with that goal. When we first assembled the core group to work on Thirst I knew we had a great team with deep individual strength and proven histories in the industry, but I love working with Brandy, Maureen and Andrew because of our drive and a shared focus on delivering both small details and the big picture.
AD We have a rich, storied, and immensely talented beverage industry here in Massachusetts and it needs to be celebrated. I am constantly humbled at how intimate and supportive our local industry is. I hope in some way to showcase this phenomenon at Thirst Boston. Basically I am passionate above all else because I love my city, my state, my region, and what we do here – on either side of the bar.
BR We are fortunate to have a fantastic city steeped in drinks culture, especially in regard to spirits and craft beer. We're also a pretty tight-knit group that supports each other, and I wanted to create an event that felt like a really killer party with all my favorite brands, bartenders and friends, hanging out, sharing a drink together.
The educational component is also huge for Thirst; we curated every seminar to be relevant for both the seasoned bartender and the cocktail enthusiast, covering unique subjects that have not been overdone at other cocktail conferences. For example, I am personally obsessed with Japanese whisky, and as it's an emerging category, wanted to include it in our program because it's pretty darn cool.

KA Why Thirst? And why now?
TC We chose the name because we hope to offer a wide range of experiences to our guests. People want different things from life, but whether you arrive seeking to expand your knowledge, meet with experts or just to enjoy excellent drinks with great people, we aim to satisfy both this fall and in years to come.
AD If there is an opportunity to bring great people in the industry together in Boston then why NOT make it happen? Especially if it is in the spirit of fun and education and we can have a drink in our hand.
BR Because it's time! I think our team has been around this industry enough, collectively, to know what we like and dislike about events. We are also all very creative and passionate and dedicated – professionally and personally – to Boston's bar scene. Together we've been able to build something pretty unique with the support and input of the bartending, distributor and supplier community. All of these things make Thirst a product that was 1OO% homegrown.

KA What are your specific roles as a member of the Thirst team?
MH My skills are in organization and execution. I'm working mostly with the daily seminars (11 to 12 per day). I'm incredibly excited about the line-up, including a blind Amaro tasting, Japanese whiskey intensive and an overview of Tiki Cocktails!
TC Execution. Colorful metaphors. Copita quality assurance.
AD Much like my day job, the answer to this question is shrouded in mystery. I guess you could say I do a little bit of everything . . . and I know where the bodies are buried.
BR Taskmaster with a little mother hen in there . . . We had a marathon planning meeting at my house and I fed everyone, then perked them up with copitas of Del Maguey when the going got rough! Seriously, though, we all have various functions but work phenomenally well together as a team. And thank goodness we all have a sense of humor.

KA What's your favorite drink right now?
MH Water. Oh and also Sherry.
TC I've been enjoying some of the new spots trying vegetable sodas as cocktail ingredients. Island Creek Oyster Bar just added a great Bacardi Heritage drink based on a red bell pepper & celery soda, and the newly opened Kirkland Tap & Trotter has a cocktail of Del Maguey Vida mixed with a pineapple celery soda on the menu that's simply unbelievable.
AD Despite my deep love affair with the combination of rum, lime and sugar I am still madly enamored with drinking both red and white burgundy. When a bottle of that juice is showing right, time stands still.
BR Anything bitter and brown.

KA What is your guilty pleasure cocktail?
MH Negronifico – negroni mixed with Pacifico!
TC Bud Light Lime.
AD A Pina Colada. Shut up, they are actually delicious.
BR A Miami Vice – a blend of a daiquiri and a Pina Colada. The sweeter, the better. Umbrella and little plastic monkey a must.

KA What cocktail deserves to be forgotten?
TC I don't know that anything good has ever come from a story that started with booze and energy drinks.
AD The Long Island Iced Tea. This drink doesn't even make sense. With so many simpler and tastier ways to get drunk quickly how was this even invented?
BR Cement Mixer. It ruined my 21st birthday.

KA How will Thirst be different from the other cocktail conferences across the country?
MH It's been a true collaboration. We want to highlight and celebrate the local bartenders and their ingredients while also showing off our city and everything we love about it.
TC I'm hoping we'll be able to reflect the cooperative spirit of Boston's industry people to those both locals and those traveling from elsewhere to be a part of it. We have a strong core of individuals in Boston that keeps growing year-to-year and I'm excited to be part of providing a stage for experienced veterans and fresh young talent to work together.
AD Let me know after you come! Boston is a unique city and we are a peculiar group putting this together. Inevitably a little of our insanity should shine through making this a conference unlike the rest.
KA Who is your icon?
MH Scott Baird of Trick Dog in San Francisco – that dude rocks!
TC Josh Childs.
AD Sir Winston Churchill. He handled some of the most daunting tasks in European history with a pint glass of Pol Roger twice a day.
BR I have to say Julia Child because, like me, she's a fan of a vermouth-heavy gin martini, otherwise known as the Upside-Down Martini. I also really appreciate great modern-day cocktail writers like Derek Brown, Jason Wilson, Robert Simonson and Michael Dietsch who cut through the fluff and shoot straight.
MH Scott Baird of Trick Dog in SF. That dude rocks.