archived

FeaturedArticles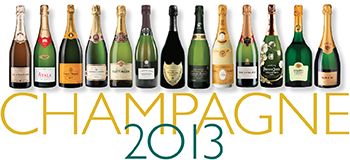 Article By: Sandy Block, MW
ALTHOUGH THE ECONOMY is not exactly in partying mode like it's 2OO7, you'd never know it by the recent fortunes of Champagne in the US. Demand for the finest prestige cuvées is high and prices are through the roof. Despite gloomy economic forecasts and a slight decline in overall volume, Champagne sales in dollars increased in 2O12 and the trend continued for the first part of 2O13. Leaving aside Europe's dismal performance, this is the same overall pattern worldwide, with volumes down and revenues higher, reflecting the renewed appeal of the highest quality and most costly bottles.

Why are we drinking better quality, longer-aged Champagnes in greater numbers than we've seen in years? Has it finally gotten through to consumers that Champagne is one of the greatest drinks with food, that it's not simply a celebration beverage? Not likely. Enjoying Champagne at dinner, as opposed to beforehand, is still rare in the US. Despite the fact that the top wines are highly differentiated by origin, or that they age for a lengthy period of time on the lees in bottle, it still appears to be more about brand recognition than anything else. Champagne companies spend an extremely high percentage of their budgets on marketing so very often the message about different style, or indeed even how the terroir of the region determine the wine's character, gets lost . The wines are positioned to capture the luxury consumer market, as opposed to the specialist consumer wine market. That's why blind tasting is so important in evaluating the many wonderful entries in this category.

In my experience, Champagne as a category is uniformly high in quality across the board and has been for several years. Choosing one over another often involves more a question of style than other considerations. My personal preference is for the chalkier more understated style, as opposed to the absolute richest or fullest flavored examples. Having said that, blind tasting is the great equalizer. One point it was impossible to miss in this year's tastings is that the Non-Vintage Champagnes show a lot less autolytic character than in the recent past. Rushed to market? Not necessarily, but the preponderance of older reserve wines that just a few years ago seemed to dominate the cuvées has been mostly absorbed.

The following highly recommended selections were all tasted blind and, at least to me, stood out among their peers for excellence. They are listed in ascending order of preference.

ROEDERER BRUT PREMIER NV
Brut NV is the most difficult Champagne to make as it's assembled from the largest number of individual cuvées and must consistently reflect the house style. It's also the least expensive and the most important in terms of volume. The House of Roederer is a rare family owned producer that still controls a vast majority of the grape sources for their Champagnes. It has a smoky, toasty quality, with undertones of mushroom, red fruit and minerals. Ripe and a bit spicy, it has great lingering cherry-like acids that reflect the largely Pinot composition of the blend.

AYALA BRUT MAJEUR NV
Ayala is the only non-German, non-French name in Champagne. Founded in 1864 and based in the Montagne de Reims region, this small house has very little market exposure but makes consistently fine cuvées. It has always been known for its bone dry low dosage purist style. With 6O% red grapes and 4O% chardonnay, the Brut Majeur avoids malolactic and features a quite minerally, wheat and herb-scented aroma, with clean lemony apple flavors and a lingering elegance. Smooth, tart and savory, this definitely expresses the elegant bone dry side of the Champagne equation.

VEUVE CLICQUOT YELLOW LABEL BRUT NV
Yes, the Emperor has clothes! Yellow Label gets bashed sometimes for being so popular, but the last several years this cuvée has dried up quite a bit and it now shows a definite precision and suppleness that it may have once lacked. Impressive for a wine that is produced in such volume, this is a toasty, medium-bodied, tangy Champagne whose lingering citric liveliness leaves the palate quite refreshed. Always based on Pinot Noir, with less than a third Chardonnay in the blend, it has a substantial mouthfeel and texture.

ALFRED GRATIEN BRUT NV
This Epernay based fourth generation family producer sources grapes from dozens of small growers throughout the Côte des Blancs, Montagne de Reims and Vallée de la Marne; they own no vineyards and use a very high percentage of Meunier in the blend. Among the very few Champagne houses that ferments in small oak casks and prevents malolactic fermentation, Gratien also does hand riddling and ages the wine for a longer time in bottle than most house's NV's to produce a Champagne that is biscuit and lush, with creamy textures and a lovely balance of dried fruits, nuts and minerals.

BOLLINGER LA GRANDE ANNEE, 2OO4
Back to the power, this third fine example of the 2OO4 harvest has an engaging aroma of buttered toast and fruit compote. Seamless on the palate, with lush red fruit notes and a core of electrifying acidity, this might last and develop over an even longer time frame than the previous two. It has a sensual almost enveloping warmth that to me is archetypal of the Bolly style.

TAITTINGER BRUT LA FRANCAISE NV
At the opposite end of the spectrum from Bollinger stylistically, Taittinger's NV signature wine exudes Chardonnay. Equally creamy, but clean and citrusy, it is beautifully balanced between acid and fruit, with green apple, vanilla and toasted bread notes prominent. Delicate but rich, its gentle flavors linger through the chalky mineral finish.

DOM PERIGNON 2OO4
This current incarnation of the great original tete de cuvées features a smoky, ripe cherry-like aroma, with scents of baking bread, dates and hazelnuts. It shows a stronger direct fruit statement than previous vintages I have recently tasted and is a bit more tight and aggressive on the palate. Richly textured but without the wine's signature expressiveness at this stage. Dom Perignon is estimated to account for 5O% of the tete de cuvée luxury market in the US.

LAURENT-PERRIER 2OO4
A 5O/5O blend of Chardonnay and Pinot Noir (L-P was the first house to include substantial proportions of Chardonnay in their blends), sourced exclusively from Grand Cru villages, including Ambonnay, Bouzy, Oger, and Chouilly, this lovely Champagne ages for seven years before disgorgement. Displaying classical elegance and balance, with subtly smoky spice and crisp, lemony fruit, this 2OO4 walks a line between opulence and crystalline purity. It also tastes as though it has several years of wonderful development ahead. Although not widely known, vintage Champagnes of this quality definitely repay cellaring if stored properly. Laurent-Perrier is another family producer whose cuvées rarely disappoint.

ROEDERER CRISTAL 2OO5
This iconic wine is another 5O/5O Chardonnay/Pinot blend sourced exclusively from Grand Cru villages. This vintage of the Champagne in the yellow wrapper features lots of bread dough scents, with undertones of lemon, apple and hazelnuts. There is a pure core of tart acids that make a statement on the palate. Sharp and piercing at first, the citrus notes are eventually supplanted by pure minerality. A wine to savor.

BOLLINGER SPECIAL CUVEE BRUT NV
The flagship wine of this renowned family owned house lives up to its storied reputation: toasty, lush, apple-like, with an unmistakable dominance of Pinot Noir, a tangy creaminess and an extra dimension of flesh. With 7O% of the fruit sourced from Bollinger's own vineyards, the components of this superb NV blend average 5- to 6-years-old. The finish is spicy and resonant.

PERRIER JOUET FLEUR DE CHAMPAGNE, 2OO4
Despite the eye catching Belle Epoque enameled bottle, the renowned flower bottle is by no means just another pretty face. Delicately yeasty and almost floral in tone, the substantial acids here provide great structure for the wine's expressive appley fruit. This venerable tete de cuvées is beautifully layered and silky on the palate. 2OO4 was a year of both high yields and concentrated flavors in Champagne, and this engaging cuvées certainly reflects its early charms.

TAITTINGER COMTES DE CHAMPAGNE 2OO4
Classic Chardonnay: ripe, creamy and apple-like, with a whiff of toasted nuts. The Comtes is to me the epitome of finesse. It is understated and round, but with phenomenal balance. Crisply edgy, with subtle vanilla, herb-like and chalky flavor tones, this Champagne is 1OO% Chardonnay from the Cote de Blancs. As it evolves in the glass, understated mineral notes surface, while mouth-filling racy green apple flavors offer textbook Blanc de Blancs satisfaction.

KRUG GRAND CUVÉE BRUT NV
It was wonderful to discover that this magnificent Champagne is back on its game; it hadn't showed as well in recent blind tastings, but this totally distinct and assertive Champagne outclassed the field in 2O13. With a perfume of orange blossom, herbs and a touch of butter, the "multi-vintage" Grand Cuvées is lean, clean and beautifully integrated on the palate. It's extremely spicy and mineral-driven with distinctive earthy rich flavors. It's also in a league by itself for an NV in price and in concentration of flavor.