archived

FeaturedArticles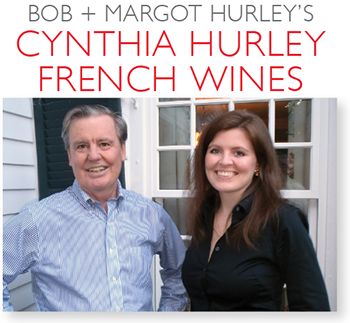 Article By: Fred Bouchard
PROFILE: CYNTHIA HURLEY FRENCH WINES

BOB 65 + MARGOT 29 HURLEY
Co-owners
Cynthia Hurley French Wines • MA and NJ

Independent boutique importers have been few in Massachusetts, but their ranks are gradually growing. One such established team is the Hurley family running Cynthia Hurley French Wines since 1984. Cynthia and Bob Hurley's move to Paris for business soon engendered a love of French culture, and Cynthia decided on an exclusively French portfolio. When founder Cynthia died in 2O11 of cancer, Bob and Margot, father and daughter, continued to carry on the business. I'd enjoyed reading the enticing newsletters – each heralding a winemaker or cuvée – as postcards of vicarious vinous adventures through vineyard and village, Loire to Languedoc. They'd been passed along to me via retailers' email, such as Boston's Federal Wine & Spirits and Belmont's Spirited Gourmet. I tried their wines (Kubler Pinot Gris, Auvigne Macon Villages, Couly Dutheil Chinon) and liked them. When I chatted with the Hurleys at Bob's handsome suburban home, they made it clear that their watchwords for success are consistent quality, longevity and family relationships.

Cynthia Hurley French Wines began the best way possible: through two people's bourgeoning love and discriminating taste for French wines, kindled by extensive dining in Paris bistros and restaurants.

"I worked in advertising for Saatchi & Saatchi," recalls Bob, "and we moved the family to Paris when I became European manager for global Proctor & Gamble. We lived in France for a couple of years, and when we moved back to Manhattan in 1984, Cynthia started the business in New York and New Jersey. Our interest was exclusively in developing a fixed portfolio of growers, domaines, winemakers, all family-run: no negociants, no cooperatives. It was important from the start that we forge direct relationships with families and visit a few times a year. Later we worked with their sons and daughters. We're dealing with the 'A' players – all real winemakers devoted to the soil."

The business was born in the wide-eyed era of Bordeaux and their fabulous futures.

"Classified Bordeaux!" reminisced Bob, with a smile. "It was 1982, after all. And we were a little naïve on both sides. We bought tons of '82s and sold them off. It was a different kind of commerce, its own universe. Then we edged into more everyday wines from Burgundy, Rhone, the Loire. We spent weekends ringing doorbells, one-on-one with growers and vignerons, very open and generous people. Totally unlike Bordeaux, with its gated chateaux, and nobody at home! We battled the hauteur, having to go through three or four channels and negociants to get to the wine."

Margot was born the year after the Hurleys returned stateside, so her childhood impressions of France came as backroad excursions.

"Our summer vacations were often the times for trips to the growers," she recalls. "Sis and I would be in the back seat of the rental car, and we'd amuse ourselves when we'd come to a winery. As we got older we'd go inside and get more involved."

"Margot made it a point to become fluent in French," said Bob. "and her French became even better than Cynthia's. One day we visited Patrick Bize's caves in Savigny les Beaune. Patrick was very generous with his time. He heard noises outside and exclaimed, 'Do you have a child in the car? I'm going to bring her in!'"

"He showed me how to use the capsule machine," added Margot with a matter-of-fact nod.

"When we moved back to NYC," says Bob, "I started a new business. I created a recorded music catalog called Express Music, then sold it to Bose. When we moved to Massachusetts, Cynthia ran the wine business between New York and home for a while. But we found reliable distributors here with Sun, and later Arborway."

I remarked that importing wines sounds like a dream job, but asked: "Do your practical hardships on the wine trails somewhat debunk the romanticism?" Margot exclaimed: "Everybody loves the buying idea, the romance and dining and travel, but then you have to sell them!"

"On our French trips, it may start as relaxed," added Bob, "but then you're running to squeeze stuff in, and it becomes a forced march. Before GPS, you'd go to a village and you couldn't even find the guy's house, even asking around! Then you're late, and next guy's waiting. And there were just too many places to see to spend the whole day with somebody. It was not always my idea of a good time to stand in cellar in a January freeze trying to decide whether to buy 1OO cases. And back then, negotiations were 1OO% in French!"

But road woes were always countered by kindness and graciousness. The French may earn occasional censure – especially among random tourists like myself – for being officious and beaurocratic, but Bob insists it's not true, at least among wine people. "Over all these years," remarked Bob, "there's never been a misunderstanding – people everywhere were easygoing, accommodating and fair. Always! Not one problem! That's quite a statement."

Becoming part of the extended family over time does earn points with often clannish vignerons. "Our longstanding relationships with consistently quality growers make us all comfortable," said Bob. "It's really paramount to our business model. So our portfolio remains fairly static. Of our 45 growers, we've worked with about 25 of them for over 1O years. Generally we may add two or three new growers a year, but that's a maximum. If we carry more products than that, our efforts become too diluted."

Hurley's wholesalers handle their various accounts in retail, on- and off-premise accounts. "Our newsletters (electronic press releases) go out to retailers," says Bob, "then the stores use them any way they like. There's a schism between retailers regarding amount of digital content that they like to use. We create the content to make it easier for them to sell our wines."

"Another avenue we work in," adds Margot, "is to sell to distributors, whose sales force make the rounds and beat the pavement. The email program works differently; they can only order what they've gotten from previous orders. It's only a small part for us. I write all the content." Bob expressed surprise that more retailers don't exercise this medium, seeing the success that other retailers have.

A favorite Hurley region, reflected in the website, is the Loire Valley. Bob reminisced: "We reconnected recently with a family in Sancerre, the Serge Laportes, because we'd imported them for 2O years. The business has transitioned to their son Guillaume, and those times of intergenerational interactions are very memorable."

While the Hurleys prefer to keep their case volume confidential, Bob said that broadening distribution geographically, recently to Georgia and Alabama, has helped grow their business about 2O% a year. "That was true even during the recession, though the per-bottle price has become less expensive."

When asked how much her personal taste affects with she buys, Margot responded emphatically: "One hundred percent! It's absolutely essential. We'd never try to sell a wine that we didn't personally love. Our portfolio is absolutely based on our collective palate, no compromise of quality, ever. Luckily my mom and father had diverse palates, and mine's more like my mother's."

Upholding that dialogue, Bob added: "We also don't buy wine for which one of us is enthusiastic but the other neutral. We try to include sales people in the dialog as well. They don't have veto power, but we appreciate their views. We regularly have tasting panels of our wines and competitors' wines. I find blind tastings a little unrealistic. It's not the expectation that a consumer brings to the equation. The wine either pays off or it doesn't."

Defining their client niche in the high-end sub-segment, Bob admits that buying their wines is "clearly a choice: our newsletter only appeals to a sub-segment of enthusiasts. While 62% of wine is bought today by women, more expensive wines tend to be bought by men. A lot of those men are lawyers, doctors, architects who don't go into stores. They're out of town, billing $5OO hour, and digital marketing's very appealing to them."

The tone of the CHFW newsletters tends toward the chatty, low-key, cellar-door, out-of-the-box confidentiality. Warm day? Pop a rosé! Margot states it baldly: "Nobody want to read a textbook." She studied the writing of newsletters under her mother's easy tutelage. "Mom would write them, and I'd proofread, then edit, then add an idea, then write up a new wine added to a grower's portfolio – a gradual progression."

Margot chose to major at Dartmouth in studio painting and feminism. When she graduated in 2OO7, she joined the family business in earnest. "I'm always looking to find more time for my art work, but I'm consumed by wine marketing." At 29, her career is just heating up. When I suggested that she might design wine labels, Bob's eyebrows raised: "Good idea."

Margot said: "Feminism is an outlook that works into life well, and into the newsletters. I write what I would want to read, and what know about a wine. I don't give too much thought for aiming it to a particular audience or person. I try to include relevant info in a palatable way. I work hard on tasting notes, and refer back to notes I took at various times I've had the wine, tracking its development. I might refresh my perceptions with a new bottle, looking for the right descriptor for a hue, or a flavor, floral versus mineral."

SUNDAY MORNING CELLAR NEWSLETTERS
Margot: That's a special micro-niche, high-end bin-ends. We don't buy for that; we look at inventory reports and OMG! They're forgotten discoveries! They tend to be cellaring wines, more expensive, not for everybody.

SECRETS OF PACKING OR SHIPPING
Bob: We always use refrigerated containers from France. Entirely temperature controlled, as are our trucks and warehouses. Many top shippers (who go unnamed) will not pay that extra charge.

ON OVER-ZEALOUS WINE DESCRIPTIONS
Bob: Robert Parker is amazing but four times longer; admirable, but too many flavor descriptors.

CYNTHIA HURLEY FRENCH WINES TASTING NOTES
VIGNEAU CHEVREAU VOUVRAY CUVÉE SILEX LOIRE 2O11
Elegant mélange of flint (pure shale), peach blossom, a little lychee and apricot, minerally on both nose and finish.

DOMAINE SERGE LAPORTE SANCERRE CHAVIGNOL, LOIRE 2O12
Lengthy citrus notes, rough herbs, attractive heady aromatics, fresh, appetizing.

DOMAINE DE NINOT RULLY GRÉSIGNY BOURGOGNE 2O11
Spicy nose, breezy minerality, yet firm. (6 premier crus – all distinctively different)

ST. NICOLAS DE BOURGEUIL LES ARGILES À SILEX LOIRE 2OO9
Aromatic, chewy, sandpapery tannins, red plums, smooth finish

CHATEAU PUY GALLAND ST. EMILION BORDEAUX 2O1O
Overlooked Cotes de Francs; firm stone fruit, generous mouth-feel, well-balanced.

LA FONT NOTRE DAME GAEC ROUX GIGONDAS, 2O11
warm, toasty, bright fruity blend, tannins under control

HENRI BOILLOT VOLNAY BOURGOGNE 2O11
Spicy nose follows to mouth, currants and raspberries with a touch of cacao, dry smooth finish.