archived

FeaturedArticles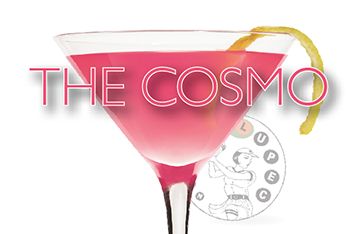 Article By: Pink Lady
WHEN WE LUPEC LADIES first started contributing to this fine publication the classic cocktail revival was just taking root here in Boston. Now we feel it safe to say that classic drinks have moved beyond the realm of fascination with even major chains highlighting once-forgotten beverages on their drink lists. Huzzah! Let us turn our attention to a drink that has been called by many cocktail Luminaries the "last classic" – the Cosmopolitan. The drink was so widely popular in the late 199Os and 2OOOs that some say it jumped the shark. Now that it's 2O14 we feel it safe to start drinking them again.

The Cosmo was invented by a South Beach bartender in the 198Os while playing around, as bartenders do, with a new ingredient called Absolut Citron. In this day and age, we can scarcely imagine a time when flavored vodka was nouveau. It follows a basic sour formula – boozy base, little sweet, little sour – so really, how could it be bad?

As mixologists and enthusiasts begin their journey down the rabbit hole of cocktail history, they often go through a phase where they cast aspersions against mainstream drinks and ingredients. We are guilty of it too.

For many years we shunned vodka for gin and, yes, we shunned the Cosmo for other vintage sours. But for all those years we were sorely missing out, as a well-made Cosmo is truly a great drink. In fact, we'd wager that it's been a gateway for many into the world of serious mixology. Here's a recent take from Vlad Zintchenko, a local Boston bartender at McGann's Pub located near the TD Garden. He happily mixed us a Cosmopolitan that was a true delight.

---
THE COSMOPOLITAN
2 onces of Absolut Citron
¾ once of Cointreau
juice of 1 lime wedge and 2 lemon wedges
1 once of cranberry juice

Shake ingredients with ice in a cocktail shaker.
Strain into a chilled cocktail glass.
Garnish with a lemon twist.

Cin-cin!