archived

FeaturedArticles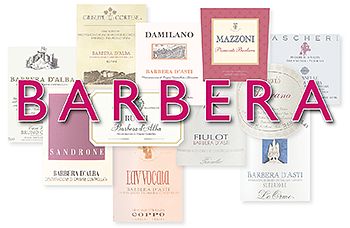 Article By: Sandy Block, MW
It's almost impossible to discuss Barbera without also considering Nebbiolo.
Despite increasing recognition, it remains one of the least respected red grape varieties in the world, an image problem related largely to the relationship it has with its nobler cousin in their Piemontese homeland. There is no question that Nebbiolo tends to have a more subtle and complex aroma, and that the wine it produces generally shows greater aging potential and more star power. With over 5O% of the acreage planted, however, Barbera is the northwestern Italian region's workhorse vine and its stylistic versatility is remarkable. As many producers now treat the cultivation and vinification of Barbera with greater care, the grape has proven capable in recent decades of producing a wine with impressive depth of flavor as well as outstanding value. Its easy-going nature in the vineyard is a real advantage. A hardy, vigorous cultivar, Barbera survives windy exposures unsuitable for the more sensitive Nebbiolo.

Since it buds at least a week later in the spring, frosts pose less of a threat – so in challenging vintages it's also capable of yielding a more reliable crop. The region's finest southeast facing sites, where grapes ripen most reliably, however, are almost always planted to Nebbiolo – so here again, the natural advantages Barbera enjoys virtually insure that it plays second fiddle.

Beyond this complicated relationship, standing perpetually in the shadows of another grape that is held in higher esteem, Barbera's chameleon-like personality can frustrate attempts at understanding. Always firmly structured and expressive of fruit, the grape is able to fulfill a divergent range of wine styles. Some Barberas are soft Pinot Noir substitutes with mild cherry-like fruit, while others have a rich energetic flavor impact – their dark berry sensations more reminiscent of the Bordeaux family. Just as with Nebbiolo, the role oak plays in maturation is a wide open question. Winemakers have the latitude to age in wood or not and, if so, choose either cask, barrel or some combination of the two. The percentage of new oak used and the duration of wood contact are other variables that will influence the resulting style. Given this adaptability, it's not easy for consumers to define what Barbera is.

Although grown throughout Piemonte, Barbera's highest expressions invariably originate in the Langhe, a range of fog-blanketed hills in the region's south. Vines have been planted continuously in this area that the ancient Romans called Alba Pompeo for almost two thousand years. The sites where Barbera does particularly well are situated on the right bank of the River Tanaro. Vines thrive in this zone's mild but foggy growing conditions, as well as in the mineral rich chalky calcareous marls interspersed with patches of sandstone, limestone and sand that form the predominant soil type. This uplifted prehistoric seabed helps elongate the ripening period for Barbera providing sufficient time for the grapes to develop into a richly flavored savory maturity.

The two finest incarnations of the grape are Barbera d'Alba and Barbera d'Asti. One might think that the former, sharing a zone with Barolo and Barbaresco, would invariably produce the highest quality wine, but that is not always the case. In fact, the province of Asti classifies Barbera as DOCG (it is legal to blend up to 15% of the fruitier and less acidic Dolcetto grape into Barbera there), while it is only entitled to DOC designation in the Alba (where up to 15% of Nebbiolo is allowed), for reasons that make little sense to one who is not fully versed in the convoluted arcana of Italian wine nomenclature.

To wit, since the top vineyards in Alba are devoted to Nebbiolo, authorities have relegated the local Barbera to DOC status, whereas since the most desirable vineyard plots in Asti are planted to Barbera, it enjoys the exalted DOCG stamp there. To add further confusion, there are fine Barberas now being produced further north, in the direction of the Novara Vercelli hills, that are entitled to use the more all-encompassing geographic designation "Piemonte". Misleading? A bit.

---
The following Barberas are all stellar examples that distinguished themselves in recent blind tastings, although in aggregate they represent quite a wide range of stylistic profiles. They are listed from the lightest and fruitiest examples to those which have the boldest and most substantial presence on the palate. All provide ideal cold weather drinking: savory and warming, especially when paired with slow cooked meats, risotto or other hearty dishes. Although you rarely encounter an older Barbera, I have enjoyed select bottles from my cellar that were twelve- to fifteen-years-old; particularly the last several examples cited would, in my opinion, be capable of improvement for five to seven years.

GUISEPPE CORTESE BARBERA D'ALBA 2O11
This was a very warm season, with a torrid spell in late summer that tended to yield Barberas with more body and less acid than is classic for the variety. Cortese is a small family estate whose primary production is Barbaresco. This charmer is made without wood contact. The aroma is ripe, with beet root, herb, red cherry, and mushroom. Acids are refreshingly assertive and the tannins very soft. A lovely stylish Barbera that would serve beautifully at the beginning of a meal with cheeses and berries.

DAMILANO BARBERA D'ASTI 2O11
Fresh and spicy, with a soft ripe tomato and herb-like impression, this family owned producer's Barbera is aged in oak, with 2O% new French barriques. It is soft and clean, with a definite fruit forward appeal that shows very little wood influence. With a touch of spicy cherry and chocolate notes, it is an ideal selection for a savory seafood stew or charcuterie platter. It would also be a great pizza wine.

MAZZONI BARBERA PIEMONTE 2O1O
A rainy, cool growing season, 2O1O produced less powerful Barberas in general than the vintage it preceded. This wine represents a collaboration between the Franceschi family of the famed Il Poggione estate in Tuscany's Montalcino, and the Terlato family, their US importers. It is a more fruit driven style, made without wood aging. The aromas are a heady combination of rosemary, browned meat, anise, and ripe berries. A bit angular on the palate, the acids are nicely balanced with bright berry and spice. Tannins are very moderate.

PRUNOTTO "FIULOT" BARBERA D'ASTI 2O12
A single vineyard Barbera from one of the region's traditionalists, this wine originates in a slightly warmer sub-zone, near the historic town of Nizza. Brilliantly floral and red cherry-scented, its charming fragrance echoing the lovely but delicate red fruit impression. Fresh and clean in style, it is mostly tank aged, with about 2O% done in large casks. A wine for early consumption, it's straightforward juiciness and bright acids suggest serving as an aperitif.

BENI DI BATASIOLO "SOVRANA" BARBERA D'ALBA 2O1O
A single vineyard Barbera from the village of La Morra in the Barolo zone, this wine is oak aged but manages to be light on its feet, with a good acid structure. Edgy and tart, with sweet baking spice aromas and a mushroom-like savory red fruit profile, it is made by a family-owned company that is one of Barolo's largest landowners. Medium-bodied, it also offers hints of pepper, raspberry and mineral, with moderate dry tannins.

MARCHESI DI BAROLO "RUVEI" BARBERA D'ALBA 2O1O
This is an historic family owned estate located in the village of Barolo whose Barbera sees a combination of traditional large cask aging and some time in smaller French barriques. The wine is very fruity, with a baked cherry pie character. Nicely polished, the acids are high, but there's also an abundance of charming, soft red fruit. A "middle of the road" style, very satisfying, and an outstanding value.

SANDRONE BARBERA D'ALBA 2O11
A product of natural yeast fermentation, this wine has a slightly deeper, more saturated color than most of the others. Aged in 5O% new French oak casks, it is smooth, but bigger-boned in style, with ripe plum and blueberry notes. A bit mushroomy and earthy, there are clove and mint accents and a touch of cocoa on the finish. This strikes me as capable of aging for at least five years.

MICHELE CHIARLO "LE ORME" BARBERA D'ASTI SUPERIORE 2O1O
Chiarlo is an always reliable negociant whose Barbera walks the line between elegance and power. Aged in neutral cask, this lively, raspberry scented fruit forward wine shows off the potential of the grape. It is supple and smooth, with an almost creamy texture. A medium bodied style, its mouthwatering, juicy acidity balances nicely with the tobacco, earth and chocolatey flavors. The long raspberry-like finish suits it well for complementing grilled fish steaks as well as roasted chicken rubbed with herbs.

ASCHERI "FONTANELLE" BARBERA D'ALBA 2O11
Ascheri produces a savory, assertive style, single vineyard Barbera with somewhat of a sharp edge to its flavors. It is aged for 9 months in a small proportion of new Slavonian oak. Fresh, bright and black cherry-like, with jammy tart berry fruit, this vigorous wine lingers on the palate. Mellow, but earthy and powerful, it has great structure and a somewhat funky note that adds flavor interest and provides an ideal match for pasta Bolognese or a plate of cured meats.

BRUNO GIACOSA BARBERA D'ALBA 2O11
Bruno Giacosa is one of the great masters of Barbaresco, an uncompromising traditionalist whose standards are extremely high for all of his wines. Located near the town of Alba, Giacosa's sandier, less limestone vineyards yield a classically styled Barbera with floral-scented perfume, a leathery, dried red fruit character and hints of licorice, tar and pepper. It is aged in neutral casks. A youthful wine that should be decanted for aeration, this dense, rustic yet surprisingly elegant Barbera is ideal for autumnal dishes like lamb stew or mushroom ravioli.

COPPO "L'AVVOCATA" BARBERA D'ASTI 2O12
This is a hugely impressive bold, meaty red made in the heart of Moscato country near the town of Canelli, by a third generation family estate that dates to the nineteenth century. Aged for 6 to 8 months in cask, it has a complex aroma of dried tomato, sausage, olive, mushroom, and coffee grounds. Very lush and rich on the palate, with smoky black fruit notes and more earthy mushroom accents, it is richly extracted but with moderate tannins and acids. An unbelievable wine for the money and fully capable of developing for at least five years.