archived

FeaturedArticles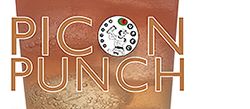 Article By: Pink Lady
The bibulous among us have so much more to thank France for than just wine: dry vermouth (also sometimes referenced as French vermouth), cognac, armagnac and calvados, as well as a whole host of other delightful proprietary liqueurs without which our cocktails would be simply too tart or too boozy.

Since we began penning this column in 2OO8, we've had the good fortune of seeing many extinct ingredients come back to life – or back into the American market – such as Creme Yvette and Bols Genever – available once again by popular demand. But there is one ingredient that we've seen fall into relative obscurity: Amer Picon. It's no longer available stateside, and this happened as recently as the last six years or so.

Amer Picon is a French bittersweet liqueur made from a proprietary recipe and known for its unique orange flavor. It was invented in 1837 by Gaetan Picon – inspired by his trips to Algeria while in the French Army and originally clocked in at 35% ABV. However, the recipe has changed significantly since then, meaning that even if we could get a bottle here in the states it would taste quite different than it did when pre-Prohibition bartenders were mixing with it. The product that is widely available in France is just 12% ABV.

It's a classic cocktail enthusiast's dilemma: you want to try this neat old cocktail but must look for a reasonable substitute to make it happen. Fortunately the Internet has many suggestions for us, including a simple make-your-own recipe created by barkeep Jamie Boudreau which uses Ramazotti as a base. There is also Torani Amer, an American made aperitif which is the same proof as the original formula and makes a delightful, albeit different cocktail.

Now push your glasses back up your nose and get to mixing. This Basque cooler will get you in the mood.

---
PICON PUNCH
1 teaspoon of fresh grenadine
2 ½ ounces of Amer Picon
or Torani Amer or whatever substitute you fancy!
Soda water
1 ounce of brandy

build over ice in a Collins glass.
top with soda water.
float brandy on top.

Vive la France!