archived

FeaturedArticles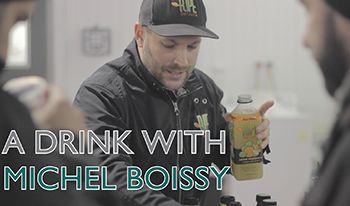 Article By: Brandy Rand
MICHEL BOISSY
Chief Juice Guy
Freshbev Craft Juicery

IF YOU'VE EVER tried a margarita with fresh squeezed juice and agave nectar instead of sour mix, you know what a difference it makes in taste. So why don't more bars and restaurants get serious about citrus? That's what Michel Boissy, CEO and Co-Founder and his childhood friend Ryan Guimond thought when they created RIPE Craft Bar Juice, a line of handcrafted mixers made from natural ingredients. While there are other brands of shelf stable mixers on the market, RIPE is the only one found in the refrigerated section of places like Whole Foods because it's fresh – or as the guys at RIPE like to say "sold cold". There are no artificial colors, flavorings, additives, high-fructose corn syrup, or preservatives – which makes this the next best thing to doing it juice yourself. And for on-premise operators, it's a chance to offer customers consistency and quality as part of their bar program. Boissy is as down-to-earth as his product, which is another refreshing side to RIPE.

BRANDY RAND Tell me about your background.
MICHEL BOISSY My first job in the bar business was at the Hard Rock Café in Boston while I was in school at Northeastern where I majored in Engineering and Marketing. Then I went over to Grill 23, where I learned a lot about life and a lot about fine food, great service and great cocktails. My experience in the bar and restaurant business fueled the creation of our product: squeeze a billion limes, make a zillion gallons of simple syrup before each of your shifts – you'll know why.

BR What was the inspiration behind the creation of RIPE?
MB My buddy Ryan Guimond made fresh margaritas when we hung with our dads on the boat in the summers. If we were too lazy to make fresh margarita sour we had to buy that glow green stuff in a bottle – you know O% juice, citric acid – that stuff. One day after a few we were like "There has got to be a better product on the market." Whether it's the bar owner or at-home bartender, the only option for fresh cocktails was make your own or deal with shelf stable stuff. I guess after that day, the rest is history. We built a small plant to press fresh juice because no one would make it for us. They said fresh juice like that couldn't be made . . .

BR Where are you currently distributed?
MB From Maine down to Florida, in bars, hotels, resorts, and restaurants, and we are sold at retail in package stores, natural/specialty grocery and fine food stores. Online too!

BR Fresh juice is a very hot trend right now – how has that affected your business?
MB A lot. When we started about four years ago, we had to explain why our juice was better, fresh cold-pressed, never heated, never frozen – and about double the cost. We thought it was a bargain: one liter of fresh pressed bar juice and 1OO% organic agave nectar ready-to-go for $1O. Now it's a bit easier to sell, especially considering people are buying half liter bottles of fresh juice cleanses for $1O.

BR So what makes RIPE different from other mixers?
MB It's the nation's first cold-pressed, never heated, un-pasteurized bar mixer.
We call ourselves the "craft beer of the cocktail world". We fresh-press all our own juice daily at our Craft Juicery in New Haven, Connecticut. By completing all our processes under one roof, our juices go from the fruit to the bottle and are shipped out to our customer in less than one day. Our mission when we started was to redefine fresh juice in this country – at least the ones you find in a bottle. We think we are well on our way.
BR What's the benefit to an on-premise operator in using yours versus other mixers?
MB RIPE is turnkey; it is fresh juice for craft cocktails made balanced and consistent by any level of staff at any level of being "in the weeds". I think all operators want to make better, fresh juice cocktails when they can. Problem is, there are a lot of variables when it comes to that. The seasonality of fruit: is the fruit beat, bitter or dry? Is it over or under squeezed? Who is making the simple? Was it washed before squeezing? RIPE is crafted from cleaned fresh fruit by us and in the cold. Every small batch is balanced for brix (sugar) and PH (acid) so cocktails are balanced and consistent every time. Shelf stable mixers have their place but are not fresh; there is an obvious difference between shelf stable or power cocktails and fresh juice – and its only about 3O cents per drink – believe me, people will pay $1 more for a fresh juice cocktail! Gallons of the fresh, frozen lemon and lime that is "gourmet pasteurized" is abused, and most of the time bitter, from being processed very fast. We are juice pros, we craft our juices with great care specifically for fresh juice, craft cocktails.

BR What's the best cocktail you've had with RIPE in it?
MB I have to say our flagship Agave Margarita with Don Julio Blanco Tequila shaken and strained over ice is the bomb. I still rock them often and, hey, it's what started it all. I love a good 'rita.

BR The biggest challenge you have getting bartenders to use your mixers is . . .
MB Probably putting their guards down and realizing that just because it's in a bottle doesn't mean it sucks – can't say we blame them half the time considering most other bar mixers in a bottle do suck. This is a handcrafted, gourmet, fresh, product. Most spirits are not even made with close-to-the-same attention to detail and quality that our juices are. One thing we are very proud of is that many great bartenders are really beginning to give RIPE some burn. It pumps us up.

BR You brought [industry veteran] Patrick Sullivan on board recently, what is his role?
MB Patrick is great addition to the team and we are pumped to have him. He has mad respect in the industry and significant experience in the Food and Beverage trade. We brought him on to help us to streamline our approach to the bar and restaurant industry as well as research and develop cool new items.

BR Tell me some fun facts like how many pieces of fruit you go through.
MB Tons and tons of fruit.
We usually squeeze about 1OOO+ boxes of fruit every week and about 25O-5OO gallons of 1OO% organic agave. We juice our citrus with a proprietary method that creates zero peel oil, meaning no bitter juice. We get about 5% less juice than most methods but the juice quality is best in class.

BR What's your most popular selling mixer at retail?
MB Our Agave Margarita.*

BR Favorite cocktail of the moment is . . .
MB Classic Painkiller. I use one part Berkshire Mountain Distillers Ragged Mountain Rum, two parts RIPE Agave Punch, 2 to 3 bar spoons of sweetened coconut cream to taste, and garnish with a fresh orange slice and some fresh grated nutmeg. We designed our punch with the master distiller from Mount Gay, Chester Browne. It's a classic Caribbean style – meaning light, refreshing and with fresh nutmeg and real Angostura bitters. We had to beg them for more than a year to let us use their bitters in our reciepe. We had to send them samples – and when they tasted it, they said that it was so true to a classic Bajan Style Rum punch that they let us use it!

BR If you could bottle any cocktail what would it be?
MB The Painkiller – we just might soon.

BR What bars do you like to hang out at and why?
MB I love Eastern Standard and always have. I think they do an amazing job for such a busy spot and I just always love to stop in when I'm there. The bars at the Grill 23 & Bar are always my favorite – upstairs to chill and hide, and downstairs for the show – Manhattan, rocks, perfect a must.

BR Anything else new to share about company?
MB We are growing fast and welcome input and inquiries. If anyone is in the New Haven area and wants to check our mixers out, hit us up. Check out our new cold-pressed, Craft Juice line Project Fresh
at prraw.com.

*RIPE also sell San Marzano Bloody Mary Bar Juice, Agave Lemon Sour Bar Juice, Agave Mojito Bar Juice and Agave Punch Bar Juice.