archived

FeaturedArticles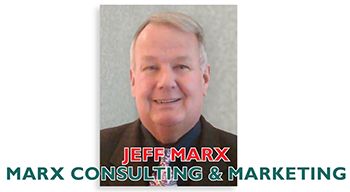 Article By: Fred Bouchard
FOR A GUY who barely squeaked by in high school and totally finessed college, Jeff Marx at 67 can say in all honesty: "I was one of the very lucky people in this industry." When Jeff retired from his job as Global Sales Advisor in early 2O14 after a 42-year career in the wine and spirits business, his Marx Consulting & Marketing, located in Duxbury, MA, was one of the larger sales-agencies in the Bay State and Rhode Island. "I represented brands most of my life," said Jeff in his pleasing voice. And what brands! For over 2O years, Marx carried iconic brands like Grey Goose, Jägermeister, Gekkeikan, Verdi Spumantes, Raynal, and White Horse. "With such quality products," Jeff added with his winning smile, "I never got into price cutting."

Moreover, several 'third-world' brands, once considered exotica in the spirits trade, graced Marx's portfolio before they caught on big: Pitu Cachaça (Brazil), Profidio small-batch and Milagro tequilas (Mexico), Brugal and Barceló Rums (Dominican Republic), Real Sangria (Spain), Aguardiente Cristal and Aguardiente Antioqueno (Colombia), Cruzan Flavored Rums (US Virgin Islands), TyNant Waters (Wales). And Hakusan, the first Napa Valley sake produced by Coca Cola of Japan. Jeff and I spoke at length in his modern California bungalow home near Duxbury Beach.

Jeff is second generation in wine & spirits – as his father, Al Marx, Jr, was in the business for 45 years with Ambassador Scotch and Old Bushmills, and as sales manager for Buckingham Corporation. The third Marx generation is represented, too: Jeff's daughter, Michal Leigh Marx, has been with Southern Wine & Spirits since 2OO2, and is now Tampa On-Premise Area Manager.

His career began in 1971 as Connecticut State Manager for Buckingham Corporation, working with major brands like Cutty Sark, Baron Philippe de Rothschild Wines, Finlandia, and Licor 43. He was promoted consecutively as New England Manager, Eastern Division Manager, Vice President, and Western Division Manager.

After my eye-popping tour of Jeff's collection of antique bottles, wall art and a framed series of Château Mouton Rothschild's famous art labels – including Mirò, Picasso, Kandinsky, Dalí, Warhol, John Huston, Rauchenberg, Waring, Moore, Freud, and many others – I asked him about his move from Miami to New England as VP for Shaw Ross, the import division of Southern Wine & Spirits.

EXHIBIT A+
THE GREY GOOSE PHENOMENON
One of the most unique looking and coveted bottles that Jeff Marx brought out, again and again, was that tall slender clear-glass French vodka. "Grey Goose was not easy at first," says Jeff. "Think about it – a $25 vodka from France's Cognac country? Whew! But Sidney Frank, always a visionary, entered it in a vodka tasting in San Francisco and the Goose chased out 5O other vodkas by a far margin. Everything else was history.

"This was way before the flavor boom. Grey Goose only tried a few in my era: L'Orange, Citron and Vanille. But not a zillion, even today. I think flavors are cooling off, frankly, but Grey Goose will be with us a long time. Frank owned the name Grey Goose: before the vodka, there was a Grey Goose Liebfraumilch! Sidney had it worked out in his head, working 24/7. He'd call you at 3am with an idea or if he had a burning question. It was a magical time for all of us . . ."

From 1985 to '88, Jeff joined Heublein Palace Brands as VP, National Sales Manager for Rothschild Wines and Finlandia, as well as Piper Heidsieck and Piper Sonoma wines. In 1988, he joined Shaw Ross International Importers [Southern Wines & Spirits] as executive vice president and managing director, until 1991, when he moved to the Bay State to start his own sales agency.

"My father and Gene Frank were friendly and played cards together in the NY suburbs. They gave me Rhode Island as a test – I wasn't earning much but I had my foot in the door. I handled Shaw Ross products, and Blue Nun, too. We were going great guns with Jägermeister. Later they called me and asked, 'Do you have time to include Massachusetts in your rounds?' I checked over my roster – Jägermeister, Gekkeikan sakes, Bärenjager, Mozart Chocolate in gold foil – and I said, 'OK, I can handle that.' With that, they said they'd sign me on for full commission as a broker.

"They were good to work for. Sidney once said at a meeting: 'When people hear my name, I want them to see dollar signs. I want everyone to make money.' He would never cut back, but only add fuel to the fire. At the 1M case party for Jägermeister in Manhattan at The Pierre, somebody asked: 'Sidney, was this an overnight success?' He laughed and said, 'Yes, a thirty-year overnight success!' Jägermeister was heading towards 3M cases when I retired from Sidney Frank some years ago. Sidney had a commanding way with people and with words. He had the same kind of star power as the Baron Philippe. They were close friends, as I understood it. Sidney had unbelievable art-work of his life and history. So, to the Shaw Ross portfolio I added Sidney Frank, then Carriage House, with Appleton Rums, then Verdi Spumante, still the top selling sparkler in the US, now over 1.5M."

Jeff learned early on that it was vital to travel, meet the accounts and know how to sell to them. Doing distributor salesperson "work-withs" helped him understand just what was required for both the distributor and the accounts. "I called it 'getting my share of their mind and time' in a hectic business. I ran my business with cold calls and face-to-face meetings. No laptops. No power points. Tech tools are important, but never forget we're still doing business with people."

He talked about his travels when I pursued it. "I spent time with John and Margaret Rudd in London and the UK with Cutty Sark Scotch. Great hosts! They took me wonderful places for a young man to visit with that caliber of people. Thirty years ago, we'd visit restaurants, gambling casinos, the Park Lane Hotel; we were on the go all the time. At the Scotch distilleries, we'd have barrel tastings, as we did in France and Finland; the clients want you to know the passion, care and hard work they put into their products, and seek advice, too."

HANGIN' WITH THE BARON
Jeff represented the Baron Mouton Rothschild for eighteen years, and had plenty of anecdotes. "Many stories stand out that show the sheer power of the man. The day of our introductory lunch for him at Pier Four in the mid-'7Os – I'll never forget it. I was quote 'in charge' of that piece of the business for three states. The big accounts were there, the wine writers were there, I want to say there were 5O to 6O people in that dining room commanding Boston Harbor. There was a cocktail hour up front, of course, but it got later and later. The plane was late, and The Baron was even later: the Baron didn't do scheduled appearances much. Anthony Athanas was hosting and was very upset; the chef came out and he was furious – all these magnificent dishes were sitting there.

"Over two hours late, the Baron swans in, takes one look at all these round eight-tops, shakes his head, and says, 'No, no. This will not do.' He looks at me and says, 'I need one long table where I can sit up and see everyone.' He had a method to his madness, with all due respect.

"Long story short, the tables were changed and seating went from round tables to a sort of regal throne room out of Robin Hood. The Baron sat up there, and the minute he spoke he owned the room. He could not have been more gracious, he answered every question, with that aura about him . . .

"I'd pick him up at the airport and squire him around. Whatever he wanted to do, we'd do. The company told me to pay any expense, just keep him happy. His wife was in the hospital, but he had two suites at the Ritz Carlton, one for sleeping and one for business. He'd sit there in bed and work from a wooden tray, dictating letters, dipping into separate baskets of mail from France, Germany, wherever.

"Another story: One time I picked him up at Logan and he had a cold. 'I need honey,' he said. 'Special honey.' I took him to Star Market. He walked in in his frock and hat, with a long walking stick, quite different from the other shoppers – that was just his style. We went to the honey section. He started opening jars, and sniffing them for the right honey. The manager came over and said, 'He, he's opening all the jars . . .' I explained: 'This is the Baron Philippe de Rothschild, and he has a cold. We'll buy the entire shelf.' I gave him my card and said, 'Send me the bill, plus labor charges.' The Baron kept on sniffing, and selected one or two jars . . . I could go on . . ."

After alL the self-effacement of saying he was 'lucky', I asked Marx point blank: "Now Jeff, how much of your success do you suppose was luck and how much was sweat equity?" And he smiled again and admitted he'd come up with a few guidelines for himself that had been inculcated by his mentors, he'd adapted for his own use, and that he's now passing along to others.

---
HELLO, I MUST BE GOING
So, after 42 years in the biz, Jeff is giving his exit kudos, thank-yous, advice, and benedictions.
In traveling the USA and Europe for many years, I've been a very lucky person to meet leaders and icons in our industry. I'd like to thank all whom I've been involved with at all levels. I was in the right place at the right time to be able to start my own business – and I learned much over those years! I thank all my supply and distributor partners, managers and sales-people, and the wonderful accounts I had the pleasure in working with A very special 'thank you' to Horizon Beverage and Bob Epstein, The Martignetti Companies, MS Walker, and Ruby Wines. And to the families of Sidney Frank, the Chaplins, the Rubensteins, and Fradins.
– JEFF MARX

---
MY POINTERS FOR THE YOUNGER GENERATION
I'd say that the majority of account reps are doing the right thing, but here are some key reminders:
• Make 2O calls per day with your briefcase to on- and
off-sales accounts. When you hit 2O, shoot for 25.
• Know your products better than your competitors do.
• Know your competition better than they know you.
• Know if your competitors are about to make a move, such as dropping prices before the holidays.
• Learn something new each day.
• When doing an account survey, recall what was not there
– that's what you need to work on.
• Make sure your products have proper shelf positioning
and usable POS. Not billboards, but small shelf-talkers.
• Build confidence beyond owners – with managers and
their staff.
• Try to attend staff coaching sessions at major retailers.
• At presentations, have not only UPC but distributor's
product number and the best net price or combo info
on the leave-behind.
• Show them the actual gift sets in September, not just photos.
• Have specialty counter/shelf for ethnic goods (sakes,
Hispanic) and American small-batch distillers.
• Products are like the tide: they move in, and they move out. • Be ready!

---
I've been in this business for 45 years and it seems as if I've known Jeff Marx forever, as a business associate and a friend. He has been a mainstay in our industry and a great promoter of every brand he has represented. Unlike many, who are just interested in getting "the placement", Jeff worked all the way to help move his product through the store and to the consumer. It's always a pleasure to work with some one who truly loves the beverage alcohol industry. Jeff's a man of his word who stood behind everything he promised. Though he claims to be retiring, this may be the one promise he breaks. I don't think we've seen the last of Jeff Marx – and that's a good thing!
– BOB SELBY
KAPPY'S FINE WINE

---
I've known Jeff for over 3O years and he is one of the most conscientious suppliers I have worked with. Jeff truly understands this market and how to drive business. He never came to a meeting without a great plan, but – to his credit – he would ask for feedback and was open to suggestions. I'm fortunate to be able to say Jeff has been a good friend and business partner.
– JIM TSIUMIS
HORIZON BEVERAGE