archived

FeaturedArticles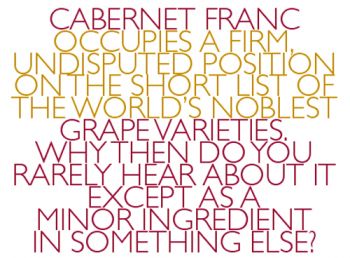 Article By: Sandy Block, MW
As in, the 2OO2 Opus One has 3% Cabernet Franc in the blend, the same exact percentage as the 2OO2 Joseph Phelps Insignia. In fact, why is its presence almost mandatory in California's most prestigious so-called "Meritage" Bordeaux blends? Questions abound. How can the presence of such a small percentage of a grape in any way influence the characteristics of a finished wine? Why do some of the acknowledged legends of the current winemaking scene (Napa Valley's Viader, or Dalla Valle Maya, for example) blend almost equal proportions of Cabernet Franc into its more famous cousin, Cabernet Sauvignon, and avoid using Merlot at all? With a flagship like Chateau Cheval Blanc, one of the world's most prestigious wines, that is often comprised of two thirds Cabernet Franc, why aren't there more producers trying? And what about the "pure" varietal Cabernet Franc grown in cooler climates, such as France's central Loire Valley, why haven't they inspired more widespread interest?
It's almost impossible to discuss Cabernet Franc without referring to the more famous and ubiquitous Cabernet Sauvignon, if only because "Cabernet" to most wine people, is a synonym for the latter. The attributes that set Cabernet Franc apart are its aromatic interest (woodsy, herby and red berry-like), its lower concentration of tannins and other phenols, and its slightly higher level of acidity. Put this way, adding some of it to a blend affords the potential for softening or moderating more intense Cabernet Sauvignon-based wines. As we begin to experience a backlash against "monster" reds, high in alcohol and lavish in oak, it's quite possible that Cabernet Franc, with its more elegant personality, will come closer to the forefront, not only as a blending partner but in its own right. It will remain, however, a specialty item rather than a mainstream wine for some time to come, if only because there is very little planted in most of the regions that produce the wine we drink. In California, for instance, although acreage has doubled in ten years, the Cabernet Franc crop represents less than 1% (compared to 25% for Cabernet Sauvignon) of the overall red grapes harvested annually.
It's interesting that Franc actually is senior to Sauvignon in the sense that recent DNA testing proves that the latter evolved from it. The child obviously grew up to attain a greater stature than the parent, at least in terms of reputation and brawn. But the advantage of Cabernet Franc, in addition to its aromatic and flavor differences, is that it can withstand damp, heavy, cool soils in a way that Sauvignon, with its more demanding requirements for heat and ripeness cannot. That's why it's almost exclusively the Cabernet planted on the Right Bank in Bordeaux where the grape has probably been grown for thousands of years. And that's why it's attracting attention from winemakers and consumers who want to diversify their palate. Cooler climate reds are in. The great thing about Cabernet Franc is that since it's so underground in terms of popularity, virtually all of the producers who make it are doing it out of a passionate belief in the grape. Their wines are not going to be to everyone's taste but they are serious examples and not mere cash cows trading on the easy saleability of the name. I'm particularly fond of good Cabernet Franc because of its compatibility with a wider variety of food than Cabernet Sauvignon. It's not only the less massive feel and the tendency to show less sweetness, even when produced in California - for me a top Cabernet Franc is all about the finish, which is quiet but lingering. Not only does the perfume announce the experience before you actually sip, but you tend to taste wines made from this grape long after you've swallowed. What follows are some of my favorite current examples.
Cabernet Franc from the Loire Valley is one of the world's best kept classic wine secrets. When I first started tasting these wines, in the early '8Os, I didn't understand why anyone would make them. Things have changed since then, and there are many great masters plying their trade in AOCs such as Chinon and Bourgeuil. Joguet, Raffault, Olek-Mery, Alliet, come immediately to mind, each of their names as close to a guarantee of quality regardless of vintage as the names Prum, Weil or Haag are in Germany. The top wines have increased in price in recent years, but the great thing is because they are so obscure you can often find older, even mature vintages available in the US, particularly at great restaurants. The value appellation is Saumur-Champigny, where none of the wines are particularly memorable but many, made with whole berry fermenation and minimal if any wood, show a bright breezy raspberry-like charm at prices often under $1O. For more serious wines, the prices have risen. An outstanding young, highly affordable example is produced by Bernard Baudry in the village of Chinon. His 2OO2 Chinon "Les Granges", ($16) a pure varietal as is mandated by the AOC regulations, shows a palish red color and an enticing nose of cedar, mushrooms and dried cherries. The flavors of this single vineyard wine are mineral-accented with slightly tart, sweet, spicy raspberry the dominant note and an interesting undertone of green olive present. Also notable: the tannins are very moderate. This is a red wine screaming for a fish stew, particularly one inspired by cuisine of Provence.
Washington State is the home of one of my other favorite Cabernet Francs: the Columbia Winery's from the famed Red Willow Vineyard in the westernmost part of the Yakima Valley ($23). This wine has a substantial percentage of the vineyard's Merlot blended in, but the 2OO1 vintage shows all Cabernet Franc character: edgy, dill and thyme-accented red fruit and a smoky finish. This is truly in the Bordeaux tradition, as the slightly elevated tannins show, but with a good deal more accessibility at a young age. It would be an ideal choice for grilled tuna or chicken, particularly if either were rubbed with herbs.
Regarding California plantings, the collective wisdom has been that the vine does best in more moderate climatic zones, although experience doesn't always bear this out. Certainly the points of differentiation between Cabernet Franc and Sauvignon are almost lost when the heat accumulation in the vineyard is too high. The aromatic character is baked out of the Franc and it can become ungainly and heavy. But in the right hands, harvested appropriately earlier than Sauvignon, the Franc can make a wondrous warmer weather red as well. Still, the best potential for growth to me is in regions like Carneros, with more moderate climates. I'm not sure why there aren't more producers in the Central Coast who are making varietal Cabernet Franc, but the ones I've tried tend to be lackluster.
Huntington Cabernet Franc, Alexander Valley, 2OO2 Ripe and plummy, this softer style Cabernet Franc is smooth, luscious and easy-going in style, although rich in extract. There's a mocha-like quality to the flavors that adds intrigue. This is a somewhat milder take on the grape, with ample fruit and a supple feel, but perhaps lighter overall and lacking a bit of the depth of the following two wines. $18
Robert Sinskey Cabernet Franc, Los Carneros, 2OO1 Light to medium garnet in color, this has an intriguing earthy, mushroomy, cherry-scented fragrance. Big and bold on the palate, it's relatively tannic, with strong acidity and fruit. In fact, it's a fuller-bodied, more Sauvignon-like Cabernet Franc with perhaps just the right amount of perfume to distinguish it. Grown on steep hillside vineyards that are volcanic in origin, with significant quantities of iron, this Cabernet Franc is fermented naturally, made in the manner of a traditional European wine (with the cap punched down manually) and aged for 17 months in French oak barrels, a small percentage of which are new. $35
Truchard Cabernet Franc, Carneros, 2OO1 Medium deep ruby in color, this wine has a toasted herb, dill-like, floral aroma, with red berries and tobacco. There's a touch of mint to the flavor as well, perhaps reflecting the 5% inclusion of Cabernet Sauvignon. From the same immediate neighborhood as the Sinskey, it's rich in fruit extract, with moderately strong tannins and a slightly bitter edge to add interest to its ripe, somewhat sweet succulent fruit. Aged for 2O months in 4O% new French oak barrels, this is a beautifully balanced wine with a long, nuanced finish. It would make an outstanding accompaniment to herb-rubbed grilled lamb. $33
Beringer "Third Century" Cabernet Franc 1999 Third Century Howell Mountain Cabernet Franc This is a wow wine. Memorable. As good as the previous bottlings are, this intensely concentrated single vineyard mountain Cabernet Franc has a lushness and a smoky black fruit brilliance that we normally associate with cult wines. It's also got a monumental finish where the nuanced Franc herb-like character comes through most clearly at this stage of evolution. $75
UNFORTUNATELY one of my very favorite other California Cabernet Francs, the Niebaum Coppola, is now virtually out of production. This powerhouse pure varietal Franc, from the winery's own Napa Rutherford district estat, has shown a beautifully exotic aromatic profile of black cherries, licorice and sage in past vintages. Its signature raspberry-like tobacco-accented fruit flavors and bold personality are ideal to match with spicy, richly sauced dishes. The grapes that made this magnificent wine are now being blended into the estate's flagship Rubicon, which typically features a small percentage of the grape blended in among the predominant Cabernet Sauvignon grapes. If you own some of the treasured bottles of this wine, however, don't be in a rush to open them; my tastings indicate that recent vintages have at least a seven to ten year window of delicious drinkability after the date of harvest.