archived

FeaturedArticles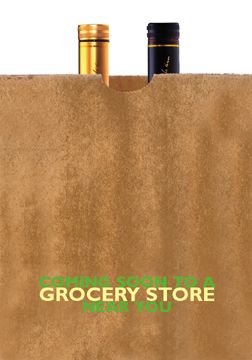 Article By: Ken Sternberg
A voter initiative proposed for November's ballot could radically change how wine is sold in Massachusetts by expanding the number of wine retail outlets by as many as 2OOO - about double the number of outlets now licensed to sell wine. The proposal, sponsored by the Massachusetts Food Association, would create a new class of license called "wine at food store licenses" to allow convenience stores, supermarkets, club, warehouse-type, and other stores selling food to sell wine, too. Although no single licensee could hold more than 1O percent of all the proposed new licenses, theoretically this means one owner could have 15O to 2OO licenses.
"I am writing to update you on a campaign that has been initiated which, if successful, will put you out of business," wrote Frank Anzalotti, Executive Director of the Massachusetts Package Store Association, in a letter sent to members last November. The letter asked members to donate money to establish a $2 million legal and public relations campaign to help defeat the initiative. "It's the biggest challenge I've seen to members since I've been here," he says. "It will certainly pick our pockets and those of others by people shopping for a roast chicken for that night who go over and pick up a bottle of Chardonnay," says Michael Cimini, President of Yankee Spirits in Sturbridge.
So far, MFA's proposal has received 85,OOO citizens' signatures supporting its inclusion on the ballot. Next, Secretary of State William Galvin will submit it to the legislature, where lawmakers must approve it as legislation. Alternatively, lawmakers could offer their own measure to be placed on the ballot, too, but such action is uncommon. Once approved, the MFA has until the end of June to collect an additional 11,OOO signatures. Then, Galvin must approve the initiative before it is placed on the ballot. No one interviewed on either side of the issue doubts it will make it to the ballot. Anzalotti says he and his staff were planning to contact legislators about the issue as soon as the legislature reconvenes.
If approved by voters, towns and cities with up to 5OOO residents could grant five "wine at food store licenses". One more license could be issued for each additional 5OOO residents. The proposal worries many package store owners, some of whom believe the measure is just the first step toward letting supermarkets sell beer and spirits as well as wine.
"The proposal is an end run to get into the liquor business. They don't like the idea of owning only three licenses," says Ted Galanis, who owns Route 1 Liquors in Rowley, referring to the state law approved in 1934 that limits any one person or company to a maximum of three retail liquor licenses in Massachusetts. "They're trying to break the three license limit. They've been wanting to do this for years." If large supermarkets are allowed to have wine licenses, "they'll turn around next year and say 'Things are going so well, let's get beer licenses,' then spirits," predicts Galanis.
Not so, stresses Chris Flynn, President of the MFA, who says competition will benefit customers. "The Massachusetts Package Store Association is just a protectionist group protecting their monopoly," he declares. As for expanding into other products, "That's really not on the table. The initiative is not a precursor for other products. It will be years before (MFA member) companies can get their license applications approved. The procedure could be quite cumbersome." Unlike 34 other states that let food stores sell wine, Massachusetts package stores "essentially have a monopoly on wine and liquor licenses in the state," he says. "It's not the end of the world," he adds, explaining that package stores survive in these states. "There will still be an opportunity for wine aficionados to go there."
"As far as finer wines are concerned, people will still be going to (traditional) liquor stores. Those looking for selection aren't going to go to Stop & Shop or BJ's," says Carly Alboth, an owner of Merchant's Liquor Mart in Danvers, which is only a few miles from a BJ's store that sells wine. "We weren't concerned about BJ's getting a wine license. It hasn't really affected our business," she says. "There's room for everybody."
"My competition is myself. Good stores that sell cheeses and wine are good for the neighborhood. We sell wines no one else gets. Good niche stores will still attract people wanting wines," states Keith Mills, owner of Espirit du Vin in Milton. While Mills predicts he may suffer some loss of business, he says he has a bigger concern. "Does this open the door for Marty's and other large wine stores to get more licenses?" Would, he asks, such stores say: "Shaws has six licenses, why can't we have another three?"
MFA's proposal states new licenses would be administered under the same issuance, suspension, renewal, and termination procedures municipal governments practice now for alcoholic beverage licenses. Although Flynn says towns and cities will not be obligated to issue any of the new licenses, there appears to be some disagreement and uncertainty on this point.
"They do not have the authority to deny. There is no clause in the proposal that says licenses are granted based on public hearings. All they base it on is population," says Anzalotti, who says the organization plans to launch a print and television ad campaign to educate consumers about MFA's initiative. "Technically, if a license is available in a town and you apply, you are entitled to that license," barring any criminal background in an applicant's history, notes Galanis.
Even if local officials can hold hearings about the licenses, they are under pressure to compensate for the revenue shortfalls faced by most Massachusetts cities and towns, something that will compel them to grant each license and create new income streams, says Drew Marc-Aurelle, owner of Community Package Store in Hamilton and Marcorelle's Package Store in Ipswich. Should MFA's proposal become law, he predicts many smaller, "mom and pop" package stores will go out of business because supermarkets will focus on selling jug wines such as Woodbridge or Sutter Home, which he says are the bread and butter of small store sales. With their immense buying power and volume discounts, large stores or supermarkets may be able to sell wines at lower prices than some smaller stores that buy them at wholesale, he and others say. "All the 'mom and pop' drug stores are gone. Are we better off without them? I would say no," says Mills. "If all the little people are driven away, the big boys will set prices."
"One important thing people don't understand is we're not adding a 5O percent markup, it's usually 15 to 25 percent. If someone buys at lesser volume and sells for less to compete, you have to sell for almost nothing," explains Melissa Winters, who owns The Wine Rack in Greenfield. "I would probably have to change way I do business (were the measure approved). Obviously when anyone competes against a big store, you push personal service. And with liquor you still have an edge. Also, there are thousands of different wines so you can stock - items not sold at those other stores. But for common items, if people know they can buy them for $2 to $3 less, yes, they'll buy there," she says.
Publicly, wholesalers are staying neutral about the initiative. But behind the scenes, it may be different. "Almost to a man the wholesalers have told us they're on our side. They've raised a good bit of money to help us fight the fight," says Cimini. "There isn't a lot of business out there. Massachusetts is a declining population state. The economy's not as good as some say, there's no extra market out there." Should the initiative become law, the number of accounts wholesalers service will double, as will each sales representative's work load, he observes.
Speaking on condition of anonymity, employees of several Massachusetts wholesalers agreed with Cimini's reasoning. Should the ballot measure pass, they say supermarkets won't buy medium to high end wines, package stores with marginal finances will close, and the risk of minors getting wine is high.
And, while a new tier of wine licenses would have the potential to reduce sales at some package stores, the proposal's biggest threat, warns Anzalotti, is to the value of licenses held by his members. "All those who hold licenses bought them from someone else who was in the business. Their investment in life is that piece of paper. A lot of them don't have IRAs or 4O1k plans. What happens to the value of these licenses should the number of licenses double?" he asks. "It's the loss of the value of my business," Galanis says. Cimini echoes this position: "There's no question that the value of the licenses will go down. Basically, someday, we're going to sell our business based on volume. If you've got a little store and you're in a town with a supermarket, you're license's value is reduced."
A major premise pushed by MFA's Flynn is that food store wine sales would help consumers by creating healthy competition among retailers, breaking what he terms the "monopoly" of package stores, and adding convenience. "A fundamental flaw with the free enterprise argument," notes Cimini, "is that we're handcuffed to three licenses. They will still have the purchasing power of 2OO stores." If the initiative is approved, Shaws and other huge stores "would immediately take out 15O licenses or so," he predicts. "I don't think anyone will be close to that," replies Flynn on the issue of how many licenses any one owner will have under the plan. "Those package stores who have what customers want will do well," he adds.
But some package store owners question how realistic it is to expand their food product offerings. The initiative defines an eligible food store as any that "Sells at retail food for consumption off the seller's premises either alone or in combination with grocery items or other nondurable items typically found in a grocery store, provided such items are sold to individuals for their own personal, family or household use; and provided further, that such food store must carry fresh or processed meat, poultry, dairy products, eggs, fresh fruit and produce, baked goods and baking ingredients, canned goods, and dessert items." The number of package stores capable of meeting these criteria is minimal, observers say. As for adding convenience, many say the majority of package stores are within one mile of most supermarkets, making it easy enough for consumers to buy wine.
Underage drinking and shoplifting are added concerns, as the initiative does not call for adding more Alcoholic Beverages Control Commission enforcement staff.
"The legislature has said for years that (the three license limit) is a protectionist strategy to keep things safer," Cimini says, pointing out that since minors don't shop at package stores very often, they're presence quickly becomes conspicuous to store staff. "If a 16-year-old kid walks into a supermarket, nobody notices him. Supermarkets are trying to generate business, we're trying to protect ours. We're selling safety, they're selling convenience." All retail and food stores suffer from a one to two percent inventory theft, or "shrinkage" rate, he says. Adding wine to the mix risks putting more alcohol into the hands of minors, he and other initiative opponents contend.
Minors tend to mirror adult consumers, Cimini suggests, countering an argument some offer that teenagers don't drink wine. "If it's easier to get a bottle of Arbor Mist from their buddy in the supermarket, that's what they'll be drinking. Basically, we're talking about doubling the number of licenses. It's going to be a compliance nightmare. Who's going to be in the 2OOO supermarkets watching a kid move a case of Woodbridge to get to another product?" he says, referring to a regulation requiring all retail employees handling alcohol to be at least 18-years-old.
"Voters might look at the measure as a matter of convenience and not be aware of the public safety issue," Anzalotti says. "At end of the day, it will be about convenience, but at the price of selection and putting more alcohol onto the streets into the hands of minors," warns Cimini.