archived

FeaturedArticles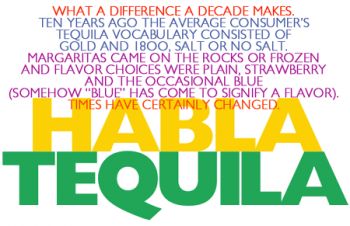 Article By: Maia Merrill
LARGELY THROUGH EXPOSURE TO NEW LUXURY TEQUILAS, innovative marketing programs and the overall popularity of spirits, consumers have developed discerning palates. Today, people bandy terms about like blanco, reposado and anejo. They look for 1OO% blue agave distinctions on labels and sip tequilas from martini glasses or swirl them in snifters. And we can't seem to get enough of that classic perennial favorite: the margarita. What's more, tequila is one of the fastest growing of all distilled spirits, particularly in the super-premium arena. As popular as it is though, the category is far from being on easy street. Many consumers are still haunted by bad memories of tequila from their days in college. In some ways, tequila reminds me of that old children's rhyme about the little girl with the little curl in the middle of her forehead: when it's good, it's very, very good but when it's bad, it's awful. It is a hard memory to forget but the industry is working hard at changing consumer's attitudes by marketing tequila as a smooth, refined and sophisticated spirit. From a focused effort on product education to an end of the Gold Standard, here's a look at today's tequila trends.
1OO% OR BUST 2OO5 certainly was a good year for super-premium luxury tequilas as consumer interest in trading up continued. Bevin Gove, Director of Public Relations for Jose Cuervo International, says, "Tequila continues to rank as one of the fastest growing spirits categories in the United States. Given that tequila comprises only 4.6% of the US distilled spirits market, there is tremendous opportunity for growth. The US continues to be the world's largest tequila market and tequila is expected to grow faster than any other spirits category in the US. Within the tequila category, the super- and ultra-premium segments hold the most promise for the future." Several brands, most notably Patron, Herradura, Cuervo's Gran Centenario, and Corazon, have successfully established themselves with consumers young and old as prestigious yet approachable and drinkable. Ivan Torres, owner of Ole Mexican Grill in Cambridge's Inman Square, comments, "The demand for premium brands is huge. A few years ago people didn't care what they had, but now they're willing to pay more for quality." Popular tequilas at Ole include Herradura (the restaurant is a Herradura Embassy), Patron, Milagro, and Corazon. With a clientele that for the most part really knows about tequila, Ole also carries a large selection of select tequilas, including Reserva de la Familia, Don Julio 1942 and the ultra-premium Herradura Seleccion Suprema that goes for $4O a shot. Nor is it just at Mexican restaurants that fine tequilas are popular. Many upscale establishments are carrying a select number of premium tequilas, putting the emphasis on quality versus quantity. At celebrity chef Ming Tsai's Blue Ginger in Wellesley, Massachusetts, Manager Sarah Livesey says, "Although I would say that people's exposure and knowledge is definitely on the rise, the average consumer does not seem to have a very broad or deep working knowledge of high end tequilas. They mostly know 'white' and 'gold' or silver/anejo. Trends are showing people leaning towards the specialty drinks being offered at each individual establishment and being more adventurous with their drink choices."
A BLANCO LINING Although consumers are definitely looking for high-end tequilas, there has been an interesting change in preferences lately. A few years ago drinking reposado and anejo tequila was considered a status symbol. However, the last year saw a pronounced shift to the silver, or blanco, style of unaged tequilas. Much of this has to do with consumers actually wanting to taste the characteristics of the tequila, something that is evident in a blanco. Ivan comments, "We are selling a lot of silver tequila in our margaritas. It is really the best kind to make mixed drinks with as it has such a clean taste."
At Smith & Wollensky, in Boston, Bar Manager Greg McIntosh says that they sell more blanco tequilas than anejos these days, particularly Patron - both as a chilled shot and in margaritas. "People know its name," he comments, adding, "It's very well marketed but is also a high quality tequila." Other tequilas that sell well at the bar are Corazon and Gran Centenario, and Greg notes that Corazon is a personal pick of his and his co-bartenders. A relative newcomer to the US market, Corazon has done very well in a few short years. Lee Einsidler, CEO of Sidney Frank Importing Co., Inc., states, "2OO5 was a terrific year for Corazon. Our sales more than doubled. Our Corazon Blanco performed the best. Blanco seems to be the most popular for Corazon as well as other ultra-premium tequilas. Business for Corazon in Massachusetts is excellent." Gary Park, owner of Gary's Liquors in Chestnut Hill, also sees a silver trend, saying, "There is a real resurgence of interest in high-end silver tequilas. Patron Silver came out with 1.75 size bottles that sold very well during the holidays. They also have a triple-distilled Gran Patron Platinum that retails for over $2OO for a 75O."
It seems that no matter whom you ask these days, Patron is the tequila on everyone's lips, particularly their silver. As a brand, it has been very successful in establishing itself as both a sipping and mixing tequila, and does well across the board from bars to retail stores. It has cachet, brand recognition and everyone wants to be seen drinking it. Ryan Shocklee, the Assistant General Manager at Sibling Rivalry in Boston's South End, sees a marked interest in high-end tequila brands, specifically Patron. He states, "Between brand recognition and quality, Patron Silver is our best selling tequila." Ryan attributes the increase in popularity to Patron's marketing over the last five years saying, "They've almost developed a reputation similar to what Absolut did with their marketing." Matt Carroll, Vice President of Marketing for The Patron Spirits Company, remarks that Patron had a "Banner year," adding, "Patron was up 96% for the year in Massachusetts, doubling its business. The brand sold 615,OOO cases of tequila last year, of which 4OO,OOO was silver." Patron has been slowly adding to its portfolio that now includes their Silver, Reposado, Anejo, and the Gran Patron. There is also the XO Cafe tequila coffee liqueur, that while small - it sold 15 thousand cases last year - it experienced 85% growth nationally and 137% growth in Massachusetts. Seeking to further cement their place in the luxury market, Patron will be introducing a new ultra-premium tequila later this year in the $5OO price range. Speaking to the brand's popularity Matt comments, "It's an image thing. These days it's about the brand itself and we're fortunate that Patron is the hot brand." One of the reasons that Patron is so successful is that it is has no specific demographic. Matt says, "We've transcended all those boundaries from soccer moms to politicians. Hip Hop songs mention Patron in their lyrics as does a country music song by Joe Nichols called 'Tequila Makes Her Clothes Fall Off'." Another asset to the brand is that it is equally at home in a casual or upscale setting. General Manager Bill Shecter, at the very laid-back Border Café in Saugus, Massachusetts, says that they sell a great deal of Patron Silver both straight up and in margaritas. "It's a combination of brand recognition and bartender knowledge that sells Patron," he states.
The Border Cafe actually merits special mention here. One of the first restaurants to really tap into the margarita phenomenon, the rustic and eclectic Border Cafes are a rite of passage for anyone who loves margaritas and Cajun Creole/Mexican food. Their longevity is a testament to their popularity - Cambridge opened 18 years ago, Saugus 16 - and there is almost always a wait at both with a hopping bar scene. Interestingly, for the volume that they do and given that 7O% of the drinks they sell are margaritas, the Border only carries about 8 different tequila brands. Bill remarks that they aren't trying to be like everyone else carrying 3O different vodkas, tequilas, gins, and so on. They try to sell what they sell. This way they can buy bulk volume and save money. "We have stayed consistent with our prices over the years and rarely make price changes. We try to keep it real to what we started at," he says. For drink preferences, Bill sees that people often start out with their house margarita and will then upsell themselves to a Grand Gold or its equivalent. Other popular margaritas are raspberry and strawberry.
MARGARITAS & MORE From Blood Orange to Pomegranate, margarita flavors and styles these days are virtually limitless. Restaurants nowadays have entire drink menus devoted just to margarita choices. These menus are an extremely effective way to showcase spirits and both brands and bartenders are starting to really get creative with recipes for tequila drinks other than margaritas. Last summer at Sibling Rivalry they ran a unique drink special called the "Rosada" served on the rocks with Herradura Silver, a sweetened Rhubarb puree, mint and ginger ale. And over at Ole, Ivan says that they have recently started serving muddled margaritas as a new special. Made with fresh strawberries, raspberries or mangos, they are served on the rocks and selling extremely well. Although they are $1O each Ivan says that people don't mind paying for them. In general, he finds that, as long as they get good quality, customers don't mind paying more money for their drinks. Matt with Patron says, "Tequila isn't just for margaritas anymore. We are promoting it for everyday use in Cosmos and other drinks. It's a great substitute for vodka in a Cosmo." Matt also says that Patron is working with national chains to create signature drinks that would appear on specialty menus. Cuervo is getting creative as well. Bevin with Cuervo comments, "There is a real opportunity to educate consumers that tequila is a versatile spirit that can satisfy different consumer preferences for various drinking occasions. Historically, tequila has been consumed as a shot or in a margarita and, today, the margarita continues to be the most popular cocktail in the United States. However, consumers have begun to refine the ways they consume tequila. For example, we've recently introduced "Cuervo & Ginger", a cocktail made with Jose Cuervo Gold. Jose Cuervo Tradicional is typically enjoyed in Mexico as a frozen shot or 'congelado'. And, Jose Cuervo Reserva de la Familia is terrific served on the rocks with a twist of orange."
MIXING IT UP It may be the most popular drink in the country, but making the perfect margarita is easier said than done. Too much sour mix or lime juice and your lips pucker, too much tequila or not enough and you can lose a customer for good. Sibling Rivalry's Ryan finds that customers are becoming more specific about how they want their margaritas. He says, "People will specify Cointreau or Grand Marnier and they want their margaritas made with fresh lime and OJ. Overall, it's all about fresh these days." Increasingly, bars are carrying premium tequilas in their well. Both Olé and Sibling Rivalry use Herradura's El Jimador tequilas for their house margaritas. To complement the higher quality tequilas being used in margaritas, more and more restaurants are making their own mix - Ole and Sibling Rivalry make their own as does the Border Cafe. Although they don't make it themselves, Blue Ginger uses Tommy's Nectar of the Gods Heavenly Margarita Mix, a 1OO% fresh and natural mix created by renowned tequila aficionado Julio Bermejo of Tommy's Mexican Restaurant in San Francisco (see sidebar). Incidentally, the two featured margaritas on Blue Ginger's drink menu, the Platinum and the Lychee, were created by Julio. Manager Sarah Livesey says that the Platinum is their best selling margarita.
LET THE FLAVORED TEQUILA FLOW! Unlike the vodka and rum category, the flavor trend has yet to hit the tequila category. The main reason for this is that, until very recently, Mexican regulations prohibited the addition of any flavors to tequila. There have been some flavored tequila products on the market that have fared well over the years but they are not technically true tequilas. All that is about to change as the US and Mexican governments recently came to an agreement concerning tequila regulations and production. Ben Jenkins, the new Communications Director for the Distilled Spirits Council says, "The provision allowing flavored tequilas has been included in a new tequila standard that has not yet entered into force. The new standard was published in early January and went into effect earlier this month." This provision will allow for even 1OO% agave tequilas to have flavors added to them. Although the thought of lime, raspberry and mango flavors being added to 1OO% blue agave tequilas will undoubtedly make purists cringe, all you have to do is look at the success of the vodka and rum categories. Brands such as Grey Goose have come out with various flavors while continuing to keep their luxury brand image intact. Heaven Hill Distilleries just released Two Fingers Lime and Berry, a combination of natural flavors and tequila. It will certainly be an interesting category to keep an eye on for the coming year.
UPSCALE RETAIL SALES Selling super-premium tequilas in retail stores requires both effort and knowledge. It's one thing to convince someone to spend $1O on a nice margarita at a bar, but how do you get them to go to a store and buy a bottle of the tequila? Gary's Liquors' Gary Park says, "I really believe that brands need to be built in bars and restaurants first in order to get someone to spend $4O or $5O on a bottle of tequila." His store carries about 25 to 3O tequilas and in general, he finds that tequila continues to grow as a very strong seller. He says, "We now have regular tequila buyers the way that we have single malt scotch and cognac customers." He sees the most growth in the high-end segment, particularly during the holidays when people are shopping for gifts. The higher end tequilas do best with 3O- to 4O-year-olds, although he says that, again, Patron is the exception to that rule as it sells well with all age groups. For the budding tequila drinker Gary says, "There are many good mid-priced tequilas with enough line extensions to upsell their own product." Another brand doing well at his store is Gran Centenario, especially during the holidays. Offering up a selling tip, Corazon's Lee Einsidler says, "It has to be stressed that 1OO% blue agave tequilas are the best. And tequilas that are estate-grown, produced and bottled, like Corazon, are really at the top of the tequila pyramid. Bar staff and store employees have to take time with the customers to explain the difference between blanco, reposado and anejo. Once customers are familiar with the different types and learn to appreciate the subtle differences, they will become more adventurous."
There are some other interesting methods of introducing tequila to new consumers. Al Zarella, Northeast Division Manager for Sazerac Co., which represents the Herradura line of tequilas comments, "Consumers are introduced to super- and ultra-premium brands from bartenders, retailers, critics, and ratings - both online and print. The hottest trends are chat rooms; you can go online to sites from bourbon to scotch to tequila and to vodka where everyone is an expert and a critic." (www.greatbourbon.com, www.itequila.org, www.tequilaaficionado.com, www.greatvodka.com.) Al also points out a potential concern in the industry saying, "There have been many new entries to the tequila market this past year. Most are from small importers that have taken advantage of increase supply of agave and a very strong consumer franchise looking for fancy glass. The problem here is that the quality from batch to batch can vary. The more discriminating consumer is looking for continuity in the products they purchase and consume, particularly when paying in the range of $5O for a 75Oml spirit."
THE BIG BOYS Of course, the tequila industry would be nowhere without the high volume of mixto, or 51% agave, tequilas. Yes, the growth and general excitement is taking place in the 1OO% blue agave category, but that represents a small portion of the entire industry. With their large portfolios and big advertising campaigns, Cuervo and Sauza easily have the largest sales and most brand recognition, especially with younger drinkers. Adapting to consumer demands, both brands have added to their portfolios over the last couple of years to target the luxury/super-premium category. Cuervo has been particularly busy, most recently launching Cuervo Black, a super-premium tequila aged for a minimum of twelve months in new char barrels that retails in the $2O price range. Bevin supplies some impressive Cuervo statistics: "Jose Cuervo Gold is the number one Tequila in the world, and the Jose Cuervo portfolio has about 5O% market share in the US. Cuervo is the seventh largest distilled spirit brand in the US. Within the premium segment of the category, Jose Cuervo Especial comprises over 8O% of the segment."
Though not as big as Cuervo, Sauza has been experiencing tremendous growth over the last few years. Andrew Floor, Senior Director with Beam Global Spirits & Wine, says, "Sauza Tequila is the number one tequila in Mexico and the world's fastest-growing international spirit brand." He adds, "Sauza is among the leaders in the super-premium segment and was one of the first to break into the ultra-premium category with Sauza Tres Generaciones. Sauza's two ultra-premium brands, Tres Generaciones Plata and Tres Generaciones Anejo, are distilled twice for optimal quality."
Although tequila is not a huge seller at the Yankee Spirits in Sturbridge and Attleboro, Massachusetts, President Mike Cimini says that 4 of the top 5 selling tequilas are from Cuervo and the fifth is 18OO, a Cuervo product that is distributed by Skyy. Mike points out that with their expansive portfolios, Cuervo and Sauza appeal to the tequila drinker who is interested in trading up. They know the brands and are comfortable experimenting within their portfolios. He says, "With the proliferation of spirit brands we can't carry everything. If Sauza comes out with something new, we'll carry it." While Mike doesn't see the same trend of luxury tequila interest as Gary Park does at his store, he does find that silver, particularly Patron, does very well. Even with all the tequilas available today, in some locations tequila sales are synonymous with Cuervo Gold. Jim Chiesa, owner of Leahy's Liquors in Taunton, Massachusetts, says that over 9O% of his tequila sales are Cuervo. Price is a factor for his customers and while he has carried other comparably priced tequilas, they just haven't sold at all. In fact, he notes that tequila simply isn't a very big seller at all for him.
TEQUILA SMARTS As the artisan/luxury segment continues to blossom, the industry is faced with a substantial challenge: education. It's not enough to just have the products behind the bar or on the store shelves - if you don't know how to sell them they will sit there collecting dust. While people will sample virtually any new vodka or rum, with tequila there is still a level of mistrust and perception that it is just a party drink. According to internationally renowned tequila expert and restaurateur Julio Bermejo, tequila is still a category where 7O% of all sales of super-premium tequilas happen on-premise. Julio finds that while bars and stores in Massachusetts may carry a nice array of tequilas, there is a lack of people who are truly qualified to talk about individual tequilas. Julio believes that proper product knowledge is vital but, unfortunately, he says that a lot of what the trade is told is what marketing departments want them to hear. Julio became frustrated with the lack of reliable information, pointing out that too often, brands take creative liberties with facts when discussing tequila traits and promoting their products. This is why he travels to Mexico frequently to obtain his information. He works regularly with the CRT, Mexico's Tequila Regulatory Council. While there is no formal study program yet in the US, Julio is trying to start an organization to promote 1OO% agave tequilas.
Still, not all brands are completely lacking in this department. When it comes to product education, few are more committed than Herradura. Al says, "We enjoy educating; we conduct many staff trainings and tequila dinners. The staff trainings are predominantly conducted for an on-premise account and their employees, everyone from the bartender to the wait staff. It is crucial that the employees serving the consumer be as educated on the spirits they serve as the food menu they serve. Many of the 'tequila dinners' are held at a restaurant - with 4 or 5 courses. Like a wine dinner, we invite key retailers, as well as consumers, that are interested in learning more about this mystical spirit. Typically we will introduce each course with a description of the tequila that we are pairing it with. We then walk our dinner guests through an entertaining and educational presentation designed to illustrate the optimum technique for nosing and tasting the tequila. During the evening, each course is accompanied by historical facts, stories and suggestions about Herradura Tequila. Needless to say, these events are always a major hit."
In an effort to better educate the trade Patron has been working on a new program. Matt remarks, "We were recently in Mexico filming footage at our new distillery to make educational CDs and booklets for the trade. The program will be available in June - all the distributors will go through it and then take it to the trade." Patron is also making use of the internet to reach and educate consumers. Matt says, "We recently revamped our website. It's very interactive and educational and has gone from 14 thousand hits a months to 1.2 million a month. Also, the average stay on a website is 1 minute and the average stay on ours is 5 minutes."
Sauza has a long history of working with bar and waitstaff on product knowledge and sponsoring tastings. Andrew with Beam Global states, "Sauza ambassadors have held numerous events across the country to educate consumers, bartenders and waitstaff about the product. This includes a proper tasting and offering drink ideas. For years Sauza has offered an extensive sampling program for consumers, at both on- and off-premise accounts, to teach them the finer points of a great tequila. The same is true for the trade. We have dedicated programs that teach the trade about not only Sauza, but the entire history of tequila, how to serve it, how to pair it with food, etc. Sauza has even hosted media at the Sauza distillery in Mexico. This education tour included a tour of the jima fields, a tour of the distillery and a proper tequila tasting."
GETTING THE WORD OUT The last year has seen a significant leap in marketing and advertising in the tequila market from print and broadcast to luxury events. Lee with Sidney Frank comments, "Right now, we are looking forward to launching a broadcast initiative. Corazon commercials will begin airing on cable television on April 1. Our commercials are designed by DeVito/Verdi, the award-winning advertising agency, and they definitely portray Corazon as an upscale ultra-premium tequila. In addition, we continue to do upscale charity events throughout the country. This has been a terrific way to reach our consumers directly and personally. As for the internet, our site is certainly sought out by tequila drinkers and Corazon fans. We love getting e-mails from customers, (it) let's us know their concerns as well as their kudos!" Some of the local charities Corazon has worked with are the Sean McDonough Charitable Foundation Event, Celebration for Holiday Hope with Cardoza's Wine and Spirits, Boys and Girls Club-Nantucket Gala and Pitching in for Kids All Star Charity Golf Tournament and Kick Off Party.
Lifestyle events really present a great opportunity to promote visibility. Bevin with Cuervo remarks, "The marketing program for Gran Centenario is designed to build awareness for the brand through sampling at focused, high-end consumer events in key US markets. Most recently, Gran Centenario sponsored the Broadway musical revival of "Sweet Charity", which included a product mention in the show incorporated in a natural, unobtrusive manner, an uncontrived product placement, and promotional and public relations programs to build brand awareness among the brand's target audience (the audience demographics for Sweet Charity are similar to audience demographics for Gran Centenario)."
And, of course, Patron has been a leader when it comes to generating word-of-mouth. Matt remarks that much of their marketing effort has been grass roots. They have successfully exposed the brand to image-makers, movie stars and trendsetters (through charity events and local marketing activities) and are just starting to do more marketing in Massachusetts in this way. Matt says, "We'll be doing some cable ads, national print and some billboards. We have basically doubled our media campaign over the last year."
Ultimately, the future looks great for tequila. Yes, there will always be college kids downing shots of bad tequila and living to regret it. But as long as the industry continues to come out with refined, upscale products and focuses its efforts on building awareness through marketing and education, tequila has some very rosy prospects. To quote a Herradura motto: "Life is too short to drink cheap tequila".
STATS AT A GLANCE




•Volume up 7.3% to 9.3m cases
•Revenue up 9.6% to $1.2b
Growth in premium price segments
•Value flat (1.8m cases)
•Premium up 7.5% (6.1m cases)
•High End Premium up 17.4% (78Ok cases)
•Super Premium up 25.4% (64Ok cases)



THE TEQUILA MASTER It's unlikely that you will ever meet someone as impassioned and knowledgeable about tequila as Julio Bermejo. Considered to be the authoritative US expert on tequila, he holds the distinction of Tequila Ambassador to the US, an honor bestowed on him by the Mexican government. He is also a CRT representative and travels the world as a consultant. In terms of world trends, Julio remarks that UK tequila consumption is up 8O% and is rapidly growing within the 1OO% agave category. He says that in Greece it is very popular but as there's not as much awareness about the nicer tequilas they're drinking anything they can get. Germany is a little more sophisticated, as there are more brands available there. In general though, tequila is cocktail driven so it's doing very well.
Julio also works at the legendary Tommy's Mexican Restaurant in San Francisco (father Thomas is the owner) and just opened a restaurant called Tres Agaves with partner/rocker Sammy Hagar who owns Cabo Wabo tequila. While Tommy's has over 2OO tequilas, Tres Agaves has about 1OO and features variations on popular cocktails made with 1OO% agave tequilas such as Mojitos and Gin Brambles. A diehard 1OO% agave tequila enthusiast, Julio makes it his mission to educate his patrons, and anyone else who asks, about tequila. Several years ago he began a "Masters" program at Tommy's to promote lesser-known fine tequilas. To attain a Master's degree, customers must sample thirty-five 1OO% agave tequilas over a period of time. You then move on to a Ph.D level that entails tasting 35 more tequilas and then taking a 7O-question test that you must get 8O% on to pass. And after that (if you're still functioning), you can sign up to go with Julio on a trip to Mexico to visit distilleries. The program has been a tremendous success. Although Blue Ginger owner Ming Tsai didn't go for his Master's, he happened into Tommy's one day while on the West Coast and proceeded to get an in-depth education from Julio. As a result, Julio now has two margaritas on the Blue Ginger drink menu! Julio has a saying: "Tequila will bring the world together!" Seems like a pretty good mantra.
DID YOU KNOW? We can thank Bing Crosby and Phil Harris for introducing 1OO% agave tequilas to the US. For many years Herradura was the only producer remaining who produced exclusively 1OO% blue agave tequila. Prior to 195O, the only tequilas available in the US were 51% "mixto". This all changed when Bing Crosby and Phil Harris, frequent visitors to Mexico and enthusiastic fans of tequila, decided to end the shortfall by promoting the importation of Herradura tequilas. For over 3O years, Herradura was the only 1OO% agave tequila available north of the Border.
JULIO'S TOP PICKS* 15 1OO% AGAVE TEQUILAS WORTH TASTING
Herradura Hacienda del Cristero
Arrette Seleccion Suave Blanco
Cabo Wabo Blanco
El Tosoro Platinum
7 Leguas Blanco
El Charro Reposado
Pueblo Viejo Reposado
Centinela Reposado
Herradura Reposado
Gran Centenario Anejo
El Tosoro Paradiso
Don Julio 1942
San Mitias Rey Sol
Corzo Anejo
Partida Anejo
* Julio specifies that these tequilas are recommended for both margaritas and drinking neat. If a margarita is prepared properly, there is no such thing as "wasting" a good tequila in it. When making margaritas, Julio doesn't use Triple Sec or any of its equivalents as he believes that they interfere with the taste of the tequila. Instead, he uses a mixture of agave sugar and cane juice along with fresh Persian lime juice.