archived

FeaturedArticles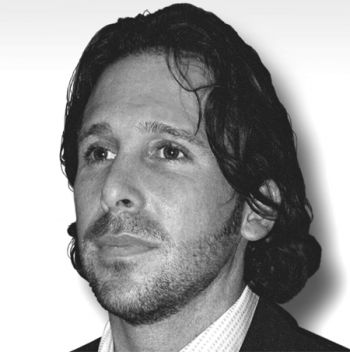 Article By: Fred Bouchard
MARCUS PALMER • 38 • Sommelier & Wine Manager • Smith & Wollensky • Boston, MA

---
How could such a terrific concept have borne such a sketchily conceived monicker? The story goes that the night before Alan Stillman launched his now-famous steakhouse chain, it still lacked a name. Alan and staff literally leafed through the Manhattan white pages to come up with the fictitious partnership of Charlie Smith and Ralph Wollensky that has achieved glory. Today from coast to coast, Smith & Wollensky means great Steak & Wine. The national chain of several respected gold links universally contrasts a one-page menu with a leather-bound wine list. And since before 2OO3, except for a few Champagnes and Ports, those lists are 1OO% Yankee-Doodle American. The new Boston branch lists over 55O wines and counting. Native son Marcus Palmer is nurturing that list - expanding it, 'having fun' with it - while reaching extraordinary sales numbers. The 4OO-seat Boston S&W enjoys the highest average per capita wine sales among the 18 S&W group restaurants. We chatted on a quiet day after a sunlit tour of S&W's four dining rooms in The Castle at Arlington Street and Columbus Avenue. The massive 1891 structure, on the National Registry of Historic Places since 1973, was brilliantly reconstructed by Haverson Architecture and Design of Greenwich, Connecticut.
EARLY YEARS I grew up in Fitchburg, went to private Catholic schools. At University of New Hampshire I earned a BS in Political Science and a Masters in Education in 199O, but the only jobs I've ever had were in the restaurant business. In college I found, unfortunately, that I was making more money as a bar manager than I ever could teaching. Yet I get to use my training every day in people skills and educating staff and customers.
CARVING a STAKE I'm new to S&W since 2OO5, but have known Jim Dunn, S&W's opening managing partner, former president and COO, for many years. We'd never worked together but our paths crossed at Capital Grille and House of Blues. My first job in the business was right after college, opening the original John Harvard's Brewhouse in Harvard Square. That was enough on my resume to get in with Legal Seafoods. I spent an amazingly long, productive four years, leaving as general manager of their Copley location to move onto my first steakhouse position. After I began in steakhouses - two years with Morton's and four in Manhattan with Angelo & Maxie's - I wanted to get back to Boston, near friends and family (I have a wife and son). So I was handling Todd English's national wine program, after stints at Olive's and Bonfire, but wanted to cut back on all the travel. That's when Jim and I worked out a nice deal with a future for me here.
STRUCTURE We have four floors, with a sommelier dedicated to each floor. Every time you sit down to dinner here, a sommelier comes to your table and offers to walk you through the wine list. He'll take his cue from you. It is his/her responsibility to explain the list, suggest wines, match wines with dishes as needed, and to open bottles when there's time. The waiters collaborate with him and serve the wines.
(MUCH) RED, (SOME) WHITE & (NO) BLUE Today we have a whopping 557 bins, all American, 9O% California, 1OO% available. It has less to do with politics than marketing. When reviews called us a 'great American steak house', Mr. Stillman wanted to pair all-American steaks and wines. His relationship in championing Californian wines dated back to when he started TGI Friday's, in the late '7Os, when France was still dominating tastings and ratings. California did not have the notoriety yet, and he placed the wines prominently on the lists. He prides himself on that tradition, and that launched going all the way American. It's good for California and it's good for us.
WHERE'S DUH BOEUF? We occasionally, not very often, hear people say they are 'offended' - they've used that word - that we serve no international wines. Like it's politically incorrect to exclude other countries. It's understandable - they might have their heart set on a Barolo or Bordeaux. We try to cover that by listing pages of the same varietals. If someone says 'Guigal', we steer them to Rhone varietals. If they mention 'Australia', we point them to Syrah.
RED & BLUE STATES Within America, we do have wide diversity. It's not all California, Washington, New York, and Oregon. 23 states are represented, including New Mexico, Michigan, Texas, Virginia, South Dakota, and Massachusetts.
JUST SAY 'NO' Our staff is very wine savvy, but that is a daunting array, so we're not afraid to tell people, 'I don't know that one.' I was talking to a table the other day, and we discussed 7 or 8 wines I happened to be familiar with. One guy looked at me and said, 'Do you really know all these wines?' I quickly admitted, 'No, no. I had a lot of help putting this list together and there are many I've never tried.'
STEADY BRANDS Some wines just seem to sell themselves. My experience shows the best-selling Cabernets in every steakhouse will include Cakebread, Jordan, Chateau Montelena, Caymus, Mondavi, Far Niente. They'll always move, for reasons of familiarity and comfort. These wines are not only reliably terrific, they also get great press. Even if you're not an avid reader of wine spectator, you'll hear consistent buzz around them.
SELLING ACROSS We walk a fine line: if a customer mentions Cakebread, do we just sell him that, or talk up others we know of similar style and beauty? Such as those we insiders know are wonderful, like Darioush and Ladera. If we read the customer as receptive (she leafs through the list) we strike up a dialogue: 'Would you like to try something new today? If you like X, we think you'll like Y.' See, we always keep several wines you cannot find anywhere else. They're off the list, but the servers know them, and we have fun hand-selling them. Some say yes; some say no, with a reason that if they do like it, they won't be able to buy it anywhere!
SHARE & LEARN Our staff is good about sharing tastes and keeping notes. They'll pass around that last half-glass. We have a big journal downstairs with detailed comments on various wines by our servers. Sometimes we turn a mistake into a learning experience. Someone may ask about a wine, and I'll say, "I don't know that one. I've never tried it. I'm told it's terrific. It fills a niche in our list. Try it, and if you don't like it, our staff will taste it with dinner."
CABERNET vs MERLOT I like well-crafted Merlots myself. When Sideways hit and Pinot Noir sales went up 2OO%, Cabernet took the hit, not Merlot. Cabs once made up 8O% of all our wine sales, and Pinot Noir balanced that out. Merlot dropped a few points, but held steady. When Merlot got hot several years ago, everyone started making it, including several that shouldn't have, and so Merlot quality dipped for a while. Very good ones: Miner Stagecoach, Beringer Howell Mountain. Provenance Paras Vineyard from Mount Veeder is un-believable; sells for $89, drinks like a $12O Cab; after half an hour the fruit really opens up. It's silky, but has more tannins than most Merlots. It's perfect with sirloin, except au poivre or with cream sauce. The rib-eye would also be too gamey.
BIG REDS with RAW FISH It's obvious that Cabernet and steak are a great fit, but I'm shocked at the amounts of red wine we sell with everything - even raw fish and shellfish platters! People in here the other night knocked back two bottles of '99 Silver Oak Cab ($225 per) with the shellfish. Do we say 'No!'? No, we bite our lip. It disappoints not only our chefs but our sommeliers that all diners don't get to experience some of our beautiful white wines. The flip side is that they're ordering expensive wines, so from a business perspective we say 'Great!' But it's a shame people won't start even with a half-bottle of Pinot Blanc with raw oysters and then move on. Maybe there are still 5 to 1O tables a night who really put their trust in the sommelier and say, 'Here's what we're having, what do you recommend?' The rest jump right in for the big expensive reds.
SECOND LINE REDS Oregon Pinot Noirs are drinking exceptionally well in recent vintages. The Shea Homer Vineyard - what a beauty! - is $145 and worth every penny. People don't bat an eyelash at spending $15O for a Cab - and then have it with oysters! But we have to twist arms to get people to spend more than $1OO on a Pinot, even a really great one. And we have them: Hanzell, Domaine Drouhin. The El Molino (Napa) is drinking - through the roof! - but at $1O5, it's a hand-sell. And we hasten to tell people there's nothing petite about Petit Syrah; some of the more massive wines on our list, they're great with rib-eye and spicy entrees. Often we recommend vintages over houses - for example, the 'OO Cabs are much, much softer than the 'O1s. Fun stuff!
MAKING IT FIT Our conversation at table begins with 'What do you like to drink?' If everyone says 'Cabernet!' we counter with 'Do you prefer big, full-bodied Cabs, or a lighter style, fruit-friendly Cab? For you with steak au poivre, a fruit-friendly Cab may seem a little light, so can we offer you a glass of a bigger Cab or Syrah or Zin?' Because tables will split a bottle - say the woman eats halibut, the man prime rib - we do sell a lot of Pinot Noir.
WBGs & RARITIES But it's hard to do four dishes on a bottle, so our wines-by-the-glass program is pretty popular. We offer about 16 now. We always have a few special bottles - unlisted vintage Cabs or Meritage. Servers talk them up. Our 'Undiscovered Gems' page focuses on limited allocations from unusual states that we think are really delicious - wines from Long Island or Upper Peninsula. We had a Pinot Noir from Michigan, Bel Lago, we couldn't keep in stock. Let's find grape varietals nobody else carries: De Chaunac and Seyval from the Finger Lakes. If someone asks for Beaujolais, I ask if they've ever tried De Chaunac. On some lists they might not move, but we spotlight them, well-priced between $4O and $6O.
WHO'S for LUNCH? We wanted to get dinner right before we launched lunch. We started last fall and just use the first floor dining room. It's a pleasant surprise that business has been good, 5O to 6O a day. We're on the far edge of foot traffic of Newbury Street shopping and Theater District matinees, across the Public Garden from Beacon Hill. Most lunch patrons are in business suits. It's a warm room, big but comfortable, with a bar where you can read the papers and watch the news. It's only going to build itself.
PET BEEF My experience with American steakhouses is that people simply do not give us enough time to open their wines and let them breathe. They order them one at a time instead of all at once. Some of these wines don't reach their full flavor potential for over an hour, but who has that much time? 8O% of our wines are stored at ideal cellar temperatures. Reds at 56-58 degrees F, whites at 5O-52 degrees F. We have controlled units on the fourth floor and in the cellar; other storage areas are almost perfect. Occasionally people complain that reds are served too cold; we say, 'Trust us. You may prefer drinking your wine at this temperature. It should show more fruit and less acidity.' guests are usually pleasantly surprised. The thermostat in our cellar is wired to my cell phone; if it varies by 2°F, I hear about it.
STAFF TASTINGS That's my responsibility. As a group, we taste 2-3 bottles on Thursdays and Saturdays. One day it's in-house, the other, a purveyor takes over. Those are busy nights: nearly all staff work one or the other, and get to taste 1OO to 15O wines a year. We encourage servers to keep their own notes, and share them in our big team journal. During the Sideways craze we pulled a lot of Pinot; sometimes we taste a Cab versus Merlot blind, if Zin sales are slow, we try a hot and peppery versus a soft, big-bodied one. We keep it fun, not too intricate, as we do with our guests.
SPIRITS UP People are far more selective about what they order. Bourbon used to be Beam on the Rocks and Jack & Coke; today they're getting into specialty items like Woodford Reserve and Baker's. While there'll always be the Cosmo and Apple Martini crowd, influenced by what's hot on TV, vodka, too, is seeing a return to classics: Martinis, Dirty Martinis.
SWEETIE TIME We have a wonderful dessert list and wine list with some hard-to-find items: Chateau d'Yquems, Dolce Far Niente, Nightingale, Paeonia Pinot Blanc. A nice selection of vintage and tawny (1O-2O-3O year) Ports, and over 3O sippers: single malts, bourbons, cognacs.
PLAYING BALL We create a lot of work for our sales people, but we figure it's a win/win. We try to avoid any '86' wines on a huge list, but can't always control that. When the Tampa Bay Lightening had their big dinner here they drank us out of our six-liter bottles of Far Niente and Opus! We ask distributors to fill our orders two-three a week, and most have no problem with that. We also want to know in advance when vintages change, so we can order backup of those we love. And so they can allocate more for us. We counter by helping them move quotas. Favors breed favors.
GREAT TRIP When we opened in September 2OO5, I practically lived here. My last trip was Napa in March 2OO5. I bounced around the Silverado Trail, spent time at Stag's Leap (tasting venerable, unlabeled Petit Syrahs), Iron Horse (Forrest and Joy are the best) and Foley (Pinot Noir). I tried to balance business and pleasure; made my appointments, played the tourist, tasting incognito. I love tasting things that never make it to Massachusetts. I dropped in on Plumpjack: 'You make a Merlot? We've never seen it!'
HOBBIES Everyone who knows me will tell you I'm on the golf course every chance I get. I'm glad business is slower in the summer so I can play some amateur tournaments. Wine is also a hobby; I have a big cellar. Pinot Noir has always been a favorite, Burgundy and Oregon. Lately I've been cracking Meritages I've stored away - Dominus and Cardenal from '91 and '94. Fun stuff!