archived

FeaturedArticles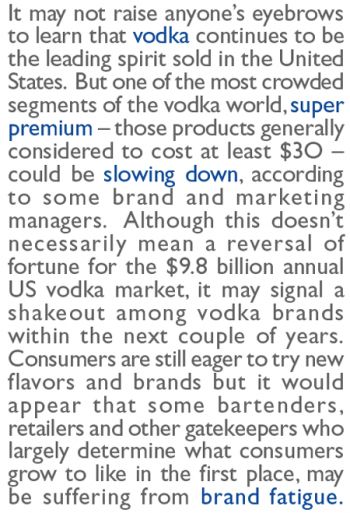 Article By: Ken Sternberg
Steeped in vodkas. "At this point it's next to impossible for me to put another vodka on the back bar. We have 26 vodkas now," comments Stephen Clark, bartender at Cuffs, the bar at Jurys Hotel in Boston's Back Bay. "Our main restriction is space. All 26 sell well." Ketel One and Grey Goose are among the brands customers call for most often, he says, noting that California's small-scale Hangar One vodka is starting to catch on, especially its lime and orange flavored products. Coca Cola and Skyy Vanilla is getting hot, as are dirty martinis, he continues. Space is a very real problem in today's competitive market. Shelves on bars are essentially considered to be prime real estate and there's not a lot of room for rent anymore. "Bar space is limited. It's also a storage issue," says Mary Palmer, General Manager for Silvertone Bar & Grille in Downtown Boston. "So many companies are coming out with their own flavors. Where does it end?" she asks. "If people are coming in and asking for a certain brand, I'm not going to deter it. But what am I going to have to sacrifice?" One of Silvertone's most popular vodkas is its own homemade raspberry-infused version, which Palmer says has developed a strong following among customers there. She also finds that unflavored vodkas are still very popular as well.
"I don't care anymore," says Eryl Williams, Bar Manager at Laurel Grill & Bar in the Back Bay, when asked how he reacts when sales representatives approach him with a new vodka. "Come back in six months and tell me it's still in the market, and I may consider buying it," he tells them. "The marketing people are realizing the end has come to buying premium (unflavored) ultra-filtered vodka. There is no taste. I'm sorry, it is supposed to have some flavor," he says, adding that if the quality of such "flavor" is high, customers enjoy drinking these vodkas mixed only with soda water. Among his top sellers, Williams says Absolut, Grey Goose, Stolichnaya, Ketel One, Belvedere, and Chopin all sell pretty evenly, with Skyy coming in at a tier below. Among flavored vodkas, black cherry-flavored Effen is doing very well, he says. So with all the different brands out there, how does anyone choose one vodka over another? "It's a name recognition thing," says Williams. "The Grey Goose advantage has been so strong people automatically think it's the best and are willing to pay $9 for a mixed drink. In a taste test they have no idea. I poured four unchilled vodkas blind and Smirnoff came out on top."
Survival of the fittest. "What's going to happen is there has to be a shakeout. I think it's happening in retail already. A retailer can't afford to carry that inventory, particularly in flavors," observes Monsell Darville, Vice President/Group Marketing Director for Bacardi USA, which purchased Grey Goose two years ago for a reported $2 billion. On premise, there's only so much back bar space, he says, prompting accounts to ask: "Do we really need 12 citrus flavored vodkas?" Still, Darville predicts total US vodka sales volume to increase from 44 million nine-liter cases now to 52 million nine-liter cases in 2OO9. "I certainly don't see vodka sales diminishing, not in the short term."
Despite Grey Goose's dramatic success, he insists he takes nothing for granted in the market. "We operate here as though we're at bottom rung trying to find ourselves on the ladder. The world is very transient. To assume that doing well three years ago is still good would be a flaw in thinking. We assume every restaurant has a new staff since last week. It's a constant world of education, of honing in on the intrinsics. We can't be naive to think there won't be brands that will have success regionally. It makes us better marketers. We devise a marketing plan, it's 5O marketing plans. We're very much a local marketing operation and understand what's going on in local markets."
Reflecting on the legacy of the brand and its creator, Darville continues: "We inherited a wonderfully successful brand from Sidney Frank and we want to improve upon it. Our tentacles probably stretch a little further in our ability to affect every market in the US. Grey Goose is coming into an already substantial, powerful portfolio." Bacardi's legacy, he says, "is our ability to build brands on premise. It's where brands are made. The Massachusetts market continues to be a very strong market for us. We believe the dynamic in the Boston area is a great incubator. It's incredibly important for us to be relevant," he remarks, noting, "That people are willing to spend $14 to $16 for a cocktail is remarkable. We're not greying nearly as much as the rest of the world." As far as the numerous, high quality smaller brands go, "It's fabulous that there is constant innovation. Will these all succeed? Probably not, but they provide the germ to take you somewhere else."
As saturated as it is, the vodka industry could potentially face a "survival of the fittest" test in the future. "There are a lot of brands in the 'All Other' category that don't sell well," remarks Susan Kilgore, Marketing Director with Pernod-Ricard and Brand Manager for Stolichnaya. "You will see marginal brands and marks eliminated." With its wide array of flavors, including blueberry (spelled "Blueberi" in Stoli's lexicon), which was scheduled to launch this month, Stolichnaya is well placed, she says, because it's been around for a long time, is known as an enduring brand and is recognized as such by consumers and the trade. "From a consumer and bartender's view, the large choice of vodka brands excites them. Growth is being driven by flavors, and Stoli is in an excellent position. There are a lot of vodkas that are inventions of marketing. Stoli is not one of them. For us, in terms of assuring we're on the shelf in five years, it's important to present our brand as an authentic choice." When Pernod-Ricard studied Allied Domecq before its purchase, Stoli was a priority, and was one of the reasons Allied was attractive, she says. Stoli actually diversified its portfolio last year with the launch of a luxury vodka offshoot, Elit. However, at nearly $5O a bottle wholesale, cost is a factor. A vodka in this price range wouldn't automatically fly off the shelves, presenting retailers and bartenders with the challenge of how to promote and sell it.
From a bartender's perspective, both Williams at Laurel and Clark at Jurys opine that selling a cocktail for nearly $2O can be a challenge. Moreover, sales representatives advise that Elit be kept refrigerated, limiting visability at the bar, Williams says. Pernod-Ricard's Kilgore notes that they will furnish accounts with Elit back bar display pieces to attract customer attention, and recommends purchasing two bottles - one would be for the back bar, the other would be kept refrigerated.
"Elit will appeal to a small percentage of consumers. We knew at the launch this would not be a mainstream, general market product. It is not designed to be placed in every on- and off-premise account, in the way that very high-end brown goods do not belong in every account," says Kilgore. "Elit's vision is to deliver, for those consumers who can and will pay $6O for a bottle and $19 for a cocktail, the ultimate vodka experience."
Bar and restaurant staff generally agree that expensive marketing programs don't necessarily get a brand into an account. "The real way to do it is drop off a couple of bottles at the bar. The bartenders drink them and talk it over, and also make drinks for their customers," says Scott Hurley, Dining Room Manager and a bartender at Tempo in Waltham, Massachusetts.
Chasing the Goose. "The vodka market is alive and well. Sometimes I wonder, as I turn down two to three ultra- premium vodkas per week, if the category is getting over-populated. But it seems that this spirits category is growing every day, so I try to pick the next Goose and add a new brand every few weeks," observes Michael Brody, Vice President of General Sales for M.S. Walker. "The Massachusetts and US markets have not lost their taste for flavored vodkas. Yes, everyone has a citrus, but that's because it is by far the most popular flavor today, used in most Cosmopolitans. Add orange, vanilla and raspberry and you have the majority of all the flavors sold today. But, there is a large group of consumers that want choice and will experiment with new flavors, if they pique their interest. We are all looking for the next big new flavor."
Although the market is crowded, Brody believes there are still plenty of opportunities for small, up-and-coming brands. "There will always be room in the vodka market for lesser known brands," he says. "When Goose was introduced it took many years of tasting to develop a following. Look at it now. Every supplier wants to find or develop the next big winner. Therefore, you introduce new brands in the hope you can discover the next one. Some of our lesser-known brands like Armadale, Citadelle, Danzka, Kutskova, Luksusowa, Ston, Vertical, and Bison have a strong and loyal following. It is simply because of their taste profile." Among up and coming category leaders, Brody points to Sweden's Svedka, which he says is developing into the next million case vodka brand in the US. Their strategy, he says, is to be the best value in the imported vodka category. Three Olives has also become successful in this arena and grows every month, he adds. Of course, standards such as Absolut cannot be dismissed.
The Absolut appeal. "We have found Absolut is as strong as ever. In the past few years, they have chosen to become the market leader in new flavors instead of adding another me-too flavor," he says. "Their Apeach is doing well and this summer they are introducing Ruby Red, a grapefruit flavor. They are also changing their ad mix to television. They are number one and will not give up this position." Brody calls Absolut's introduction of Level, its ultra premium vodka, "One of the most successful new product introductions in the business. They are still working to get this product tasted by the vodka consuming public because after one taste, they feel the quality and taste of the product will make the brand." Skyy, a long-established brand that Walker first introduced in Massachusetts, remains very strong in this market and still sells two million cases in the US each year. In March, Beam Global Spirits & Wine and Absolut's owner, Vin & Sprit, announced a marketing partnership in which Beam Global will distribute Absolut and Level in the US, while Vin & Sprit will sell Beam Global's portfolio around the world. The Swedish company also bought 49 percent stake in Beam Global's parent, Future Brands, and 1O percent equity of Jim Beam Brands for a total of $645 million.
Not to be dismissed, domestic vodka, which accounts for about 7O percent of total US sales, is also doing very well, Brody says. "Premiums like Burnett's are growing because it is a value to the imports and has the largest and best-tasting flavor lineup in the business today." Even Walker's own modestly priced vodkas, such as Caldwells, Cossack, Kimnoff, Rubinoff, Ruble, and S.S. Pierce, are still strong and have a local following. "We even added flavors to Rubinoff because our customer base demanded it," he says.
The next citrus? Trying to capitalize on the craze for a unique new flavor, Pearl Vodka recently launched Persephone, which at the time was the first pomegranate-flavored vodka available. "It is a very crowded category. We needed to break through the clutter and do something different," says Todd Nickodym, Executive Marketing Manager for Luxco, which was formerly the David Sherman Corp. "We were the first to tap into consumer trends for non-alcoholic pomegranate beverages. In something like this, being first is a tremendous advantage. Big brands are aware of Pearl, and I'll bet you'll see a few more pomegranate vodkas," he says, adding "Had we done a citrus, it would have been a lot more challenging. Imports and flavors seem to be driving the vodka category. With our limited resources, we focus on six to eight different markets where our staff is there to do promotions and tastings." The challenge now? "Is there another flavor also on the cutting edge that consumers are looking for, even though they may not know they're looking for?"
Dennis Prado, Senior Brand Manager for Vox at Beam Global, points to the brand's green apple-flavored vodka as Vox's entry into uncommon flavors. For this, as well as the unflavored Vox, the taste and quality stand on their own, he says. Vox's new point of sale materials will highlight its rating by the Beverage Testing Institute as the highest rated super premium vodka. Local sponsorships, product sampling and education, and distributor incentives will be where Vox concentrates its marketing, he says.
The craft niche. Despite widely recognized and successful brands like Grey Goose and others, one of the more fascinating and curious developments in the market has been the proliferation and consumer acceptance of small scale, very high quality vodkas such as Charbay and Hangar One. Tito's Handmade Vodka, for example, is made in Austin, Texas, primarily from corn, distributed in 46 states and sold 1O6,OOO cases last year. Joseph Herpin, the company's sales director, projects 15O,OOO cases will be sold in 2OO6. The story behind Tito's appeals to consumers, he says, because it's a small company (only seven employees) and was started by a real person, Tito Beveridge, who maxed out his credit cards in order to start his brand. He would go to stores tasting consumers and hope they liked it enough to buy a bottle. Certainly a genuine, even quaint tale. But Tito's has something going for it that most multinational mega brands don't. In 2OO1 it won the double gold medal at the World Spirits Competition in San Francisco, beating out many better known names and giving many overpaid marketing suits a reason to stop laughing at a vodka from Texas. Only last year did Tito's start advertising in the new york times and the wall street journal. Word-of-mouth remains the most effective sales tool, says Herpin, who sees brands like his in a David and Goliath marketplace scenario.
Another popular upstart is Shaker's, a vodka made from ground to bottle in Minnesota using wheat and rye grown by a farmers cooperative there. The farmers also own the distillery. Tim Clarke, CEO of Infinite Spirits, which owns Shaker's, helped build Pete's Wicked Ale into a famous brand and believes he can do the same with Shaker's. "With Pete's, the brand was built largely by word-of-mouth, and we're employing a lot of the same tactics. For Shaker's, it started with the product first, because you want people to come back to the brand. "One of its key components is American, and we wanted to give consumers an American brand. But they won't buy American unless the brand is as good or better than imports," says Clarke. "We're able to sell the product on its merits because there is something real to it. It's not just a marketing gimmick like others have. A number of brands we saw when we started aren't here anymore. You can't have 3OO-plus brands. There's only so much room on back bars. You've got to come in with two or three compelling things, not just a snazzy package and money."
This is all the more vital when, in Clarke's view, the number of new entries in the crowded vodka market is slowing. "People are trading up in this category much the same way as in beer or wine. We don't go into a given market and try to saturate it or just throw money around. To some extent, you can't play on a level playing field." Instead of a hard sell, Shaker's focuses heavily on product education, he says. "Walk them through Vodka 1O1, you're passing on knowledge to them and also providing ammunition to help them sell. This generates brand loyalty." Future plans call for Infinite Spirits to market whiskey, rum and cordials.
A taste of Nantucket. Massachusetts's own Triple Eight vodka also seems to be creating strong customer loyalty. The unfinished alcohol is sourced in The Netherlands and Italy, and finished in Nantucket at Cisco Brewers. The distillery there was used to make barrels of single malt scotch that were sold to investors to gain startup money for the company's vodka, rum and gin brands, says Jay Harman, Cisco's president. The vodka sold over $6OO,OOO last year, and Harman expects case volume in 2OO6 to reach 1O,OOO, representing over $1 million. "When we first started (in 2OO2), Grey Goose wasn't as much on the map as they are today. Absolut was really the call brand," he recalls. "Since Grey Goose was sold to Bacardi, it's become a call brand. People who first drank Grey Goose drank it to have something different. It isn't different anymore."
Harman's big focus is creating sales incentives for bartenders, and he started the Triple Eight Black Card program, for supportive bar staff who sell the most product. Incentives include a lot of themed merchandise, as well as all-expense paid trips to Nantucket and Costa Rica. Sold in 14 states, Triple Eight relies heavily on word-of-mouth publicity spread by visitors to its facility. Aspen, Vail and New York City are among the next markets Harman says he is considering. "We're not even a speck on the sales map for huge brands. It's just a matter of time and all about the quality of the product. In Massachusetts there's a 'Drink locally' sort of mentality," he says.
Triple Eight's newest entry, a cranberry vodka, seems to have been well-received in the local market, adds Matt Lambo, the brand's marketing manager. "We didn't have any extra incentive to get on drink lists, but we're on about 1O different menus since being launched. Bartenders like it, it's new and they want to do new things with it," he says. Made from Nantucket cranberries, Lambo explains that the distiller leaves the natural color and flavor in vodka. "That really sets it apart on the shelf and in peoples' minds when they try it. Even before it hit their lips they know it's completely different." At Tempo, Hurley says Triple Eight's cranberry, as well as their unflavored vodka, are both received very well with customers. He adds that being made from corn is another niche that differentiates the brand.
A finessed new Finn. Making a return after years of a low-key market presence some might describe as invisible, is Finlandia, which is owned by Brown Forman. "We had many types of campaigns, inconsistent investment levels and positioning in the US. Since 1996, Brown Forman did not make the best moves with Finlandia," says Mark Overdyk, Brown Forman's Global General Manager for the brand. "We basically got eclipsed by others." Until last year, when Brown Forman bought the remaining 2O percent on Finlandia, "We weren't calling the shots," he says. Like leading competitors who have a genuine story to tell, Finlandia's new campaign touts its purity and authenticity, as well as the grain and water from which it is made. "We're not asking people to drink it because it's from Finland, but because of the purity of the product," he notes. "We're trying to be real, not driven by image. Most people are not that knowledgeable about what they drink. When people say something is quintuple distilled, what does that mean? If you tell customers it's made from pure glacial spring water, they understand that. The more people ask about that type of stuff, the better off we're going to be," says Overdyk.
The Russians are coming. One of the more intriguing new entries in the high-level vodka segment may be Zyr (pronounced zeer), a Russian vodka introduced into Massachusetts in March. David Katz, a New Jersey-born Russian history scholar and president of Zyr's importer, Symphony Imports, moved to Boston during March and April to personally visit accounts, conduct seminars and hand sell the product. "How can you develop a winning strategy for Boston and Massachusetts without living there?" he asks. At first, Katz says he imagined calling his vodka Another. This way, when he entered a new account trying to sell it and the owner exclaimed "Another vodka?" Katz would reply: "Oh, you've heard of it?" But after some thought, Zyr won out. "Consumers don't want gimmicks. They want quality, not just the best seller," he says. "If it tastes better or makes a better cocktail, there's always room for innovation. With Zyr, it's a simple premise: You're a bartender, retailer or consumer - what vodka do you enjoy today? Let's taste them side by side. No gimmicks, not marketing spiel. Just taste tests. We do a lot of store tastings and a lot of events."
Vox, Level and other major brands typically launch multimillion dollar magazine advertisements, partner with large wholesalers in major markets and pay their sales staff $2O for every three bottles of product they sell, claims Katz. "People may read about it in magazines, but bartenders don't know it. If they haven't tried it, you're dead because they won't introduce it to their customers." Katz believes that direct, personal tasting with bar and restaurant staff gets through in a crowded market, a tactic he says worked in Florida, Connecticut and New York City. In addition to Zyr, Imperia is another new, self-described luxury vodka from Russia that Shaw-Ross launched in the US last September. The $35 vodka is the brainchild of Russian financier Roustam Tariko.
When vodka met sake. And then there are the hybrids, such as Hpnotiq, and two vodka-sake blends, Wokka Sake and Wasabe. Keith Harvell, Northeast Regional Manager for Pasternak Wines, which distributes Wokka Sake, calls it a heavily on-premise product because bartenders love using it to create imaginative cocktails. Not a sweet beverage, he says Wokka Sake has a subtle Asian fruit taste. "It's our intention to create a bar brand with Wokka Sake. We've got a big campaign coming up on the East Coast, very guerilla style, to really engage the consumer. Unless consumers ask for it, you're not going to have a business very long," says Tim Day, the product's creator and marketing director with Extreme Spirits in England. "The market is super saturated. If you took five top selling vodkas and made a mixed drink, I don't think you would be able to tell them apart. We are vodka sake, a new category." The product launched here last September, though Harvell says it will be re-launched this spring with United Liquors.
Asked how he chooses a new vodka to sell at Bauer Wine & Spirits in Boston, Manager John Stepanski cautions that it can't be too obscure, and the staff must like it. "There's a whole mess of people out there who want what's new and different, something everyone hasn't heard of. This time Hangar One, next time Jean Marc XO. But people also want a recognized name to show they serve quality."
"I sell a lot of Rubinoff and Popov. Older customers in their 5Os and 6Os are going to go for the cheapest vodka they can," says Melissa Winters, owner of The Wine Rack in Greenfield, Massachusetts. "Once you get above that level the Smirnoff probably sells the best. When you get to the top shelf, I sell a lot of Grey Goose and I carry the Jean Marc XO for $5O. It's the most expensive in the store and I think it's the best. The way I decide on bringing in a new product is by what my customers ask for. I just brought in Three Olives because several people asked for it."
Is the market hip-deep in vodkas? No doubt. Can new brands penetrate the crowd and achieve success even if they're not Grey Goose? Yes, but only through lots of smart, innovative outreach. And as smaller brands have shown, even with a modest budget, a loyal customer base is won by authentic, excellent-tasting products and an ability to engage the target clientele. And don't neglect bar and restaurant staff or they'll never recommend your product.