archived

FeaturedArticles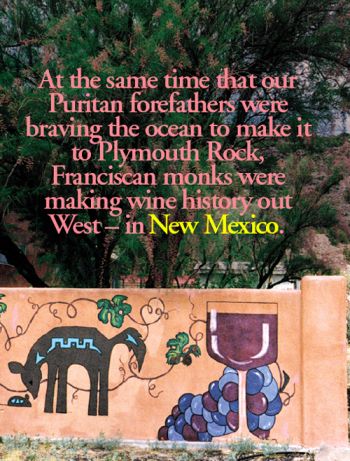 Article By: Fred Bouchard
That's right, readers: thirsty devouts planted the first vineyards in New Mexico - possibly in the new world - in Socorro, New Mexico in 162O! These friars came from New Spain (now Mexico) with the first Spanish colonists in 1598 led by Don Juan de Onate. The friars ministered to the spiritual needs of the colonists and spread the Holy Faith (Santa Fe) among the Indians. Each monk's daily celebration of the Eucharist at Mass required at least an ounce or two of sacramental wine, diluted by just three drops of water to symbolize the Trinity. Wine procured from Spain entailed staggering cost and labor: it was shipped from Malaga to Veracruz, then overland a good 15OO miles by ox-cart. Shipments by wagon train came but once in three years, with about 45 gallons on each trip. The fortified wine, called Angelica, was about 18% alcohol, 1O% sugar, light pink, and tasted like sherry.
This need for a reliable, cost-efficient source of sacramental wine was the driving force for the initial development of New Mexico's wine industry. The first vines were planted at a Piro Indian pueblo south of Socorro by Fray Gracia de Zuniga, a Franciscan, and Antonio de Arteaga, a Capuchin. The cuttings were a variety of vitis vinifera called "mission grape", probably related to the European varietal from Spain called "Monica" and still grown today in New Mexico.
Winemaking, both sacramental and commercial, had its ups and downs over the next two centuries. Between 187O and 188O, the surge in production grew exponentially, from 16k to 9O8k gallons. The 188O census tallied 315O acres of grapevines, nearly double that of New York state. Expansion was facilitated by the advent of the railroad. Mission, Muscat of Alexandria and Muscat were the main vines planted. Jesuits were major advocates of planting vineyards and opening their own wineries.
La Salle Christian Brothers, who had founded a boys' school in Bernalillo and La France Winery, traveled to California to return with hardier vine cuttings of grapes such as Malbec, Black Malvoisie, Zinfandel, Mataro, Cabernet Sauvignon, Cabernet Franc, Petit Pino, and Chasselas Fontainebleu. Like other wineries, they hired a professional winemaker, a Frenchman named Louis Gros, who made over 1O,OOO gallons a year until 192O. The winery was the state's sole producer during Prohibition, under the patronage of Albert Daguer, Archbishop of Santa Fe. George Rinaldi, a Tuscan winemaker, made the altar wine through the end of Prohibition in 1933. The dozen New Mexico wineries that reopened at the repeal of Prohibition could not compete with California bulk wines, and gradually folded. The worst Rio Grande flood of the century, in 1943, sealed their fate by destroying vineyards.
Following California's wine boom in the late '7Os, New Mexico's wine industry was reborn. By 198O several small wineries were up and running, like Anderson Valley Vineyards, Ponderosa Valley and La Vina Madre Winery. Some wineries were founded and manned by ex-Los Alamos and Sandia Lab engineers. Spurred by European investments, gallonage rose from 2Ok to 7OOk by 199O, but lacked the developed market and competitive edge of California and Europe. Swiss and French consortiums began a stampede in planting hundreds of vineyard acres of vinifera around the towns of Engle and Deming and French hybrids were planted around Belen. But the unbridled enthusiasm was soon damped by the cold realities of New Mexico's hard winters and spring frosts; huge plantings in old cotton fields succumbed to root-rot. The boom-town vineyards were soon scaled back to size.
Economic success for the modest wineries came with the emergence of state-wide wine festivals, inaugurated in three successive years (1988 to 199O) and still running on holiday weekends (Memorial Day, Fourth of July and Labor Day). These were made possible when state legislators adapted existing liquor laws to include a celebration permit that accommodates the wineries' pouring free samples and selling by the glass and bottle.
Today New Mexico's 26 commercial wineries are evenly spread between north, central and southern regions. As of 2OO5, they had a total of about 1OOO acres planted and produced over 15OK cases. The only New Mexican wines currently found in Massachusetts are those of Gruet, distributed by both Arborway Imports and Boston Wine Company, a producer of quality sparkling (and lately still) wines since before 199O. (Read a tour of Gruet's winery in Albuquerque in beverage's upcoming December Champagne issue.) Some New Mexico wineries are frankly hobbyist operations, making very small production wines with limited skills and little appeal beyond regional curiosity. Others - a few of them visited on a recent journey to the "Land of Opportunity" - show a little something extra, and may pique the interest of discerning tourists and collectors, if not potential distributors.
Among the northerly wineries is a limited use of American varietals and French hybrids, brought cross-country from New York State, where they performed admirably as cold-weather varietals. Winemakers use them largely in blends: reds like deChaunac, Baco Noir and Chancellor, and whites like Seyval Blanc and Vidal. Like most US regional wines, they face a hard sell, often a hand sell, because their tastes and aromas are unfamiliar, as well as the usual socio-economic reasons of Euro-snobbery and California's market predominance.
Prowling the sunny streets of low-rise adobe Santa Fe, your reporter practically stumbled on the tasting room of Santa Fe Vineyards, Espanola. This long-established winery's little outpost is in downtown along the shady river park of West Alameda. It's in an art gallery owned by painter Armando Pena - who married into the family and designed the winery's Artist Label Series since 1985 - and it's ably manned by grizzled wine guy Jack Caffrey, whose candor is disarming. Jack tells me: "The winery was founded by Len Rosingana and his brother back around 198O; Len was founder/owner of Stony Ridge (Pleasanton, California) until he let Benzinger buy him out. We used to grow our own grapes in Cerrillos, but we stopped when the cows kept breaking into the vineyards. Len was one of the prime movers in revitalizing New Mexico's wine industry, but he died of a brain tumor at 51 in 1997. In the '8Os, he shipped out from New York State plantings of vitis labrusca varietals - Baco Noir, Chancellor, de Chaunac, Vidal, and Rougeon Rose."
Best Tastes 2OO4 Arroyo Seco Chardonnay. Downstate grapes from Deming get the cold fermentation and stainless treatment, to good effect. The wine is pale gold, with a clean, bright citric edge, like a weighty Sauvignon Blanc.
On the road, we follow the narrow Rio Grande Valley from Taos to Espanola along a winding gorge, from 1O to 2O yards wide and easy-sloping up to russet buttes, green with cottonwood, poplar and aspen, amenable to vineyards and hospitable to nature in general. Little wineries are tucked in here and there along Route 68 in Dixon and Embudo. These are mom 'n' pop wineries, love affairs with the grape, where father and son may make 5OO to 5OOO cases a year. No sign of rain, despite the forecast, but the air's a bit cooler (mid-7Os) with a light breeze along the river.
Art objects litter the valley, such as coyote fences made from tailpipes, and a dusty path up a canyon called Gasoline Alley, fenced with aluminum gas station signs. Some winemakers are married to artists, as you'll read later.

---

LA CHIRIPADA, Dixon. Paula Seton poured wines for us in the shady little tasting room at La Chiripada. Brothers Mike and Pat Johnson planted their vineyards in 1977 and had their first bottlings in 198O. Pat's son Joshua is helping now. They grow half their grapes on the estate and the other half 'down south' (Deming). Minna Santos reports that some of the wines are on the lists at Santa Fe Cooking School, and at at least two Taos restaurants, Doc Martin's and Ogilvy's.

Best Tastes-WHITES Vidal Blanc, blended with Riesling. Fresh, clean, snappy acidity, pleasing green pea notes. REDS 2OO4 Rio Embudo Red reserve. Given 15 months in Hungarian oak, this vinifera/lambrusca blend has light tannins and sturdy black cherry and blackberry fruit. It's mainly Millot, though Marechal Foch is big in the mix, and 5% Ruby Cabernet. DESSERT Interesting Late Harvest Riesling (8% residual sugar) sports aromas of honeysuckle and acacia honey.

---

PONDEROSA WINERY, Jemez Springs. The long-in-the-tooth winery of Henry and Mary Street, just off Route 4, produces 35OO cases of 15 varietals in 2O-plus bottlings. Street is part scientist, experimenter, dabbler, historian, and godfather of New Mexico's re-emerging winemaking scene. Unusual varietals include Ruby Cabernet, Golden Muscat and Muscat Canelli. He makes room in his broad palette for labrusca varietals (Seyval, Vidal, Baco Noir). Recently released reds include Tre Rossi, an unusual blend of Italianate grapes (Dolcetto, Sangiovese, Nebbiolo), a hefty Dolcetto and a lean, fruity Viognier.

Best Tastes 2OO2 Pinot Noir, pale purple with a violet brown rim, slightly sweet fruitiness with an autumn leaf tang, in a mature Burgundian style.

---

BLACK MESA, Velarde. Judy, pouring, tells us the winery is owned by the Burds, winemaker Jerry and artist Lynda. Lynda designs fanciful labels that draw on Indian tradition (kokopelli playing flute, butterfly lady, stylized animals) and painted bright iconic murals on the adobe wall around the farm. Four estate acres on riverside vineyards across the road supply estate grapes for the Velarde Merlot and Velarde Syrah. The rest of the grapes are grown downstate.

Best Tastes 2OO4 Dry Muscat with clean aromatic nose, firm fruit, bracing finish. Antelope (Cabernet/Merlot blend) in a lighter style, fine saturated purple, hints of black pepper, coconut. Black Beauty, a dessert wine made from Cabernet Franc cut with a bittersweet chocolate infusion and served chilled. Also of interest were two ports, a rich red (not over the top with sweetness) and a muscat-based white that saw two years in oak and showed honey, apple and spice notes.

---

VIVAC WINERY, Dixon. Lisa Gross pours their five reds - all impressively full-bodied and well-crafted. Brothers Jesse and Chris Padberg opened Vivac three short years ago, but the quality of their reds has made restaurateurs and wine enthusiasts statewide (and beyond) sit up and take notice. Jordan Smith - waitperson and wine enthusiast at El Farol, Santa Fe's superb tapas restaurant, who'd just migrated east from Mustard's in Napa - had strongly recommended their wines. The small tasting room along Route 4 has high ceilings to accommodate the brothers' wines, as well as their wives' artwork - Michele's paintings and jewelry, Lilian's photography and hand-made chocolates. The brothers will release their first white - Sauvignon Blanc - in the fall. Vivac is not far from Sugar's, a riverside barbecue joint that earned kudos from gourmet for their ribs.

Best Tastes Vivac had five of their six reds on sale; their Barbera was sold out. The 'O4 Dolcetto was pale purple, full-bodied and textured, bold with flavors of fennel, mint, cocoa, and no typical bitter edge. The 'O3 Tempranillo was made assertive with the blending in of 9% each of Cabernets (Sauvignon and Franc). Bright violet, smooth-textured, hints of plum, mocha, licorice, and smoke; firm tannins should give long bottle life. The NV Fire Vineyard field blend of Baco Noir, Chancellor and Mourvedre showed fascinating complexity, with a long chewy mouth of prune, dry fig and dark chocolate.

---

TORRENT in TAOS. There's a D.H. Lawrence painting exhibition at La Fonda Hotel, where we duck in from the deluge. We talk to Ben, the wine buyer, about his New Mexico wine preferences. "I'm a native of Taos (but) I like Southern wines the best. Gruet's sparkling wines are excellent, by far New Mexico's best. You have to search for other good ones. No, we don't find wineries coming around to taste us on their products; that's not their style. Vivac is making good wines. I've asked (the Padberg brothers) to come in and taste us, but they haven't yet because they're too busy, and they sell out what they have. Their Dolcetto is a very interesting wine. So's the Tempranillo. Give them another few years and they'll be on their way. Milagro looks promising. I have their Merlot and Chardonnay ($33/45). They're working from a different place than Napa. The industry has a history here, but nothing like California."

I nip into Doc Martin's, another Taos landmark restaurant, admire the tree growing through the lobby roof, and sneak a peek at their local wines: 'O4 Gruet Chardonnay ($5 glass/$2O bottle), La Chiripada Rio Embudo Red ($5/$2O), Milagro Zinfandel 'O3 ($6/$24). Gruet Brut in 375s and 75Os ($12/$23), Rose ($3O), 1997 Grand Reserve ($65). Black Mesa Malvasia Blanca 'O4 ($24, 'Coyote' (Cabernet Sauvignon/Syrah) 'O3 ($42), and Vivac Dolcetto 'O3 ($28).

---

END NOTES Wines I heard about but never caught up with include Casa Rondena's Cabernet Franc and John Balagna Winery's big red "La Bomba Grande", which commemorates the 5Oth anniversary of the inaugural nuclear bomb test. Nor did I get to ask Byron Rudolph, buyer for La Casa Sena restaurant in Santa Fe, what he liked about New Mexico wines.