archived

FeaturedArticles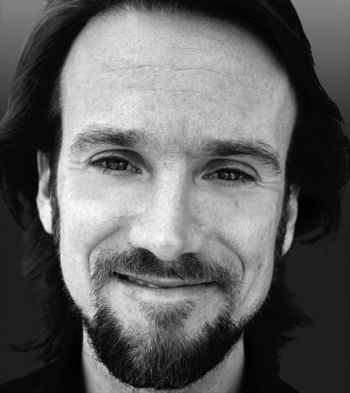 Article By: Fred Bouchard
MICHAEL AHEARN • 34 • Head Bartender • Stella • Boston's South End
---
Michael could be having a bad day - worked 'til 3, up at 6 to mind sis' kids, bar's a mess, distributors are delivering waaaaay too early - but he's upbeat, animated, witty, and his hair looks great. We're in Stella's spiffy white plastic bar, huge white acoustic panels baffling a high black ceiling. Bar wines are mostly Italian whites and reds, like yummy blends Monferrato La Ghersa and Falesco Vitiano. Dozen vodkas and single malts surround a Hi-Def screen. Ahearn says candidly, "Any night of the week between 6:3O and 11 this place is jumpin'." It's only Tuesday at 11am, but, fueled by java, Michael is moving smoothly through the glassware, cleaning as we talk.
---
LIFE on the WICKED STAGE I was raised a Catholic schoolboy in Roslindale. I went to Boston Latin (199O). I studied acting and theater - BA from Fairly-Dickenson College in New Jersey - went into broadcasting, got into acting, directed and produced shows. I started a theater company called Thanks, Mom! Productions. Guess where we got the start-up money? But it was more than that - inspiration, too. We won Best Off-Off-Broadway Play in 1999. I took waiting jobs (like Contrapunto) so that when I had a show up I could get my shifts covered. It's much easier to get a waiting job than a bartender's job. I spent way more money than I had and left New York to pay off my credit cards - and I've done it! The beauty of Boston is that when you get off work at midnight, there's hardly any place to go and spend money; it keeps you honest.
THANK GOD it's FRIDAY My first drink was probably peppermint schnapps stolen from my mother's cabinet. To put myself through college, I started off at 18 waiting tables from the bottom up - 3O to 35 hours a week at The Ground Round. Then I went to TGI Friday's. Snicker if you like, but if you want to learn how to bartend when you're 21, there's no better place. Training takes six weeks. You learn to make 3OO drinks, take tests, learn 'flair' (like flipping bottles). Before you'd get a shift you'd do pour tests. They pulled out this contraption that measures pours - 2, 1.5, 1 ounce - and you had to hit five of each, exactly on point. Laugh, but it was rigorous. I tell these kids who come in and want a job: "No experience? No way!" They say, "But I went to bartending school!" I say, "Great - waste of money!" I've never, ever heard of anyone getting hired out of bartending school. It's a racket! I tell them: "Go learn the basics at Friday's or Chili's." If you're competent, you'll rise above it and move on.
BAR STOCK You can either do this job or you can't - I come from stock that has done this. My grandfather was a bartender until he was ninety. Grandpa's Aunt Kitty Carr had a speakeasy during Prohibition in South Boston called The Kiddie Car. My grandmother was a hostess; that's where they met. They've been married 7O years and are still together. He's got the right kind of personality: he likes to talk to people, make them feel good. He's interested in them.
5O% MIXOLOGY, 5O% PSYCHOLOGY The old adage that your bartender's your psychiatrist is really true. People tell you their problems and ask your advice. I can't tell you how many people come in here and, when their date disappears to the rest room, ask me, "So what do you think?" Others come in and want to know all about you. I try to keep the focus completely off me, and tell them, truthfully, that my life is not very exciting. Sure, they hit on you; it's part of the job. It's a delicate situation. You don't want to offend anybody.
REAL DEAL The truth is, you can pour a lousy drink and still be a great bartender. It's amazing how rarely you get the real deal. By that I mean, somebody who can entertain, keep people happy, remember their names, remember their drinks, and be fast and efficient. When you pick your bar staff, you play to their strengths: this one is good with people, put him on point; this one's really fast but not great with eye contact, put him on the service bar. That's where you generally start the new kid.
CURRENT ROLE Stella, the restaurant, is a year old, and Stella (chef/owner Evan Deluty's baby) is 2O months old. Tonight there'll be me, the bar back in the middle, and a bartender on the point. My assignment tonight will be to mix drinks for the 2OO+ diners in both rooms and the patio and every one in the first four seats at the bar up to this tap. But I've been bartending 14 years. Here we do pour more wine than the average restaurant; nevertheless mixed drinks are hot: I'll be pouring gallons of mojitos and sangria will flow. But any busy service bartender prays for orders of glasses of wine, and if you ask experienced bartenders what's their favorite drink, they may say: 'Bottle o' beer?'
VODY and SOUL I'm a vodka guy. My drink creations tend to be vodka based. One we call 'Fresca' tastes like the soda, but is a cocktail with Skyy Citrus, fresh lime and grapefruit juice, topped with Sprite over rocks in a Collins glass. I like to make drinks where you can't taste the alcohol. I myself like vodka best, pure and simple - with soda. My new favorite is Reyka. Awesome. Minerally. Crisp. Clean. I love Gray Goose. I don't know if it's better made, but it sure is smoother. So is Triple Eight from Nantucket. Vodka is our biggest carry: Ketel One, Gray Goose, Stoli, in a bunch of flavors. The market's flooded with vodkas now - it's crazy. You only have so much space on your bar; you have to feel out your patrons, see what they want. They request things all the time, but something's gotta go. And of course people hear the buzz, read about things on-line, are well-informed about everything, the information's literally at hand.
GIN is MY SIN We get requests for Hendrick's Gin martinis with cucumber, too, that reflects its flavor. But you'd have to force me to drink it. Truth be told, my eighth grade buddies and I had a free afternoon and we decided to steal some gin from our parents. We poured it in a Sprite bottle and drank it. Warm. At lunch. I can't even smell gin now; when I make a gin martini I hold my nose. Once burned on gin, you never go back. A lot of people feel that way about Southern Comfort, too.
WINE TIME The sangria is mine, it's my favorite drink to make, to sell, to get people excited about. We changed the recipe this month, and sales spiked. There's five different spirits in the mix; the wine base right now is a Burgundy, but it doesn't reward using a terrific wine, because you'll lose the nuances. When I first started making it here, we ordered Spanish wine, but we couldn't tell the difference. I marinate it for days with tiny bits of chopped pineapple, orange and apple. The infusion process swaps the flavors of fruit and alcohol, so you don't taste the alcohol, but you may feel it when you stand up! I think the infusion craze has played itself out. I see a return to classic cocktails: Manhattans, Rob Roys, Vodka Stingers. Our Southern Sidecar has Maker's Mark Bourbon, not brandy. For our summer drinks menu, we're bringing back Pimms Cup, with long Italian cucumbers that we'll cut with a flourish.
I'VE GOT YOUR (BAR)BACK When somebody's hungry, they may not be thinking rationally and may anger easily. The other night, my barback Walter handled a situation beautifully, defusing the customer's anger before it got out of hand; he totally took the problem away. Whew! That's genius, but it's the job: not to inform or educate, but to make people happy. He's the greatest guy in the world. This place can't run without him. He's the kind of guy who, when I'm pouring the end of a bottle, is standing behind me with a full one. Oh, and meanwhile, he can make any drink on the line. He's invaluable, really: we've negotiated a higher percentage of tip-out for him.
DRINKS REFLECT FOOD (Chef) Evan (Deluty) and I absolutely work on getting the food and drinks in tune. We have a brunch drink, Scorpino, in which we mix sorbet. You've been to Italy, you know the Amalfi coast has lemons the size of your head. We use a lot of lemons here in the cooking and the drinks. This drink is citrus vodka, mint, simple syrup, and lemon sorbet, topped with Prosecco. Big hit. Things like this become staples. We don't stick to all Italian, we make a house Sangria, Spanish, and Cuban Mojitos. I personally think Mojitos are passe: have a Caipirina! (Brazilian cachaca, ground sugar, muddled with lime and topped with gingerale). My background is in Latin restaurants; I love the culture, music, everything: 4 years at Bomboa, and before that Calle Ocho (NYC), with it's great Cuban chef, my friend Alec Garcia. Coincidentally, Evan worked with Alec another time.
NAME YOUR DRINK If you know what goes into a drink, I can make it. Tell me the ingredients, and I can break it down into what the formula should be. There are only a few measurements or 'pours': the margarita, the martini, the cocktail, the rocks. The ratios are the same, the 5:3, the 8:2. But if you make it up, I won't take it back. I think the chef feels the same way, if a customer wants something and you can make it for him, do it. We're in the business of making dreams come true.
CONSTANT LEARNING I'm certified in teaching, and I'm best with little kids, kindergarten through fourth grade. I don't enjoy kids once they reach puberty. But I would love to turn people onto Shakespeare. When I was an exchange student at Stratford on Avon, students got the best seats to every play. But here at Stella we're not here to educate, but to keep an open environment where people can feel comfortable. Our menu is simple, classic, you don't need to know what foie gras is.
MODEST MARKUP Our martinis come in very large (7 ounce) glasses and are only $8, an excellent price, for elsewhere in this neighborhood you'll pay $11to12. (If you want Grey Goose, yes, it'll be $11.5O)
FAVORTE HANGS I'm a late diner, rarely before 1O. Franklin Cae, Chinatown, Ivy - across from Mantra - serves 'til midnight.