archived

FeaturedArticles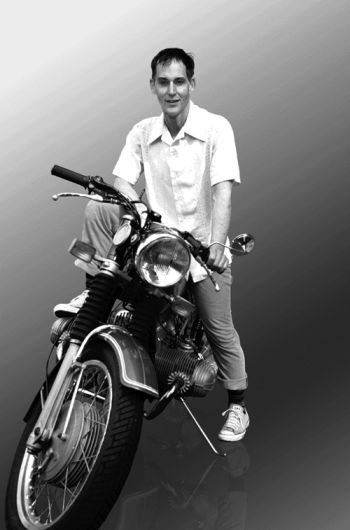 Article By: Fred Bouchard
SCOTT HOLLIDAY • 43 • Wine Buyer/Bar Manager • Chez Henri • Cambridge, MA
The holiday Monday (eve of The Fourth) is a day Scott Holliday suggests to drop by for a chat at the bar at Chez Henri, because he predicts it will be a 'slow night'. Not really! By the time we finish our first glass of Vin Mousseux, an hour after their 6pm opening, bar and dining room are filling fast, Scott has muddled a score of mojitos and the bar-waiter served up a dozen mighty Cubano sandwiches. Holliday, a versatile bartender, bar-manager and wine buyer for Paul and Lisa O'Connell's always-crowded Franco-Cuban Harvard Square bistro, has a long history in Cambridge dating to Chris Schlesinger's original Salamander, a vintage BMW motorcycle, excellent taste in value wines, and unusually informed views on organic and biodynamic wines.
LIFELONG RESTAURANT GUY Some kids get paper routes when they're kids; I washed dishes and prepped in a restaurant. That was my college summer job, full-time until I paid my bills. As I'd studied Biochemistry and Russian, I never intended this work as a career. But I got caught up with the crazy, idealistic super-talented people who opened The Blue Room in 199O - Chris Schlesinger, Stan Frankenthaler, Bob Sargent, Michael Peternel (Cafe; Panisse, Oakland), Bridget Batson (Hawthorne Lane, San Francisco), Jim Stringer (Salamander's first chef de cuisine). They had deep knowledge, good working and life philosophies, and very strong opinions about food. When I told Stan I wanted to work for him he said, 'Great, you can be my general manager.'
FIRST LIST We opened Salamander in 1994; the Globe wrote about us before we opened! I was there five years; it was my first serious wine-buying job. It was a combination graduate school and finishing school for me. The list's best sections were Alsace whites and Spanish reds, then quite delicate and not overly extracted - they really worked with Stan's cuisine. There was a beautiful transparency to Riojas back then, literally translucent and texturally subtle. I remember in particular a Vina Alberdi 1982 Rioja Gran Reserva, with a high-toned spicy flavor profile. The cult of red wine was in its ascendancy, and people wanted red wine with fish, and Spanish worked well. I had to sell wine on the floor and talk about it, to educate staff. I read a lot, took lots of notes. As a high-profile account I had salesmen swarming over me; it was an amazing experience as a buyer to be rushed like that. I hope I've not forgotten too much, and been able to build on it.
HEAD 'EM OFF To me, organic wines always had seemed a contrivance, a market strategy. Not that there's anything wrong with that: this is a business and people need to position themselves to make money. While organics leave me indifferent, I came around to biodynamics through the incremental process of discovering that many of my favorite producers use biodynamic principles and work with minimal organic intervention. They repeat incessantly that their wines are made in the vineyard, not the cellar. They include Marcel Deiss, Domaine La Romanee Conti, Anne-Claude Leflaive, Gaston Huet. When I started connecting the dots, I realized that they made better wines biodynamically than they did conventionally or organically.
COMPLETING THE ANALOGY I guess you could say that I even sell the wines in this fashion: I do all I can to assemble a good list, then step back, let people discover them without prompting. I like wines with a point of view, a sense of place. They're not overly eager to please - they have an air of mystery, hold something back, something that needs to be teased or sussed out. I also like wines that are true to varietal character. If I try a big, rich California Pinot Noir that's wonderful as wine, but atypical for the grape, I won't list it. Know why? Because I can't be there every time to explain to the customer that it's terrific but atypical.
SOFT SELL People don't come in looking for organic/biodynamic wines. I only started marking them on the list this year. I'm not stumping for them, just calling attention to them. I want to start a discussion so people may appreciate truly handcrafted artisanal wines. I use biodynamics as shorthand for that. I don't proselytize the way I used to, but if a customer wants to hear it, I'll preach fire and brimstone about unheralded wines. Most people don't want a lesson, they just want to be happy. Having said that, some wine lists that most impress me are the preachy ones. I remember The Slanted Door, a pan-Asian fusion place in San Francisco, had not a single chardonnay, California or otherwise! Amazing! I give them credit, but I don't want to fight their battles. I don't want to challenge people that much. It's not my style.
WAITER'S DILEMMA The dilemma in staff training is this: tasting is good, but you need to talk more and taste less! They need a set of verbal tools to convey info to customers. It may seem counterintuitive, but tasting is less important than problem solving for a customer's needs and meeting his/her expectations. We've all eaten apples, but how do you explain what it's like to someone who's never had one? I've eaten bushels of apples, but I still have to convey some idea of what it's going to be like. Training staff - like most learning - is best when it's conversational, low-key, on-going. I've been in situations when there's a huge once-a-year tasting, and two days later nobody remembers anything. Eventually the staff gets it on their own, and may tell customers what I'd have said in their own words.
HOT WINES I'm behind the bar, but the wines our staff sells (or sell themselves) are mostly Bordeaux and Burgundy. I have California Cabernets, but they're not big, maybe 1 for every 4 French reds. Things you wouldn't think would sell, sell: Saumur, Faugeres, Languedoc. Even the Alsace wines, often arm-twisters, sell. Wines by the glass are usually five reds and five whites, with 11O to 12O bottles on the list. We've met demands by slanting the list towards the reds, and put our inventory dollar where the customers are likeliest to appreciate it.
BIODYNAMIC WINES Domaine de Roquefort in Provence makes an amazing Clairette (retail $11 to $12) that's so pretty and expressive. A German ex-hippie couple in Languedoc, huge Jim Morrison fans, who call their vineyard Les Portes (The Doors) make a phenomenal rose I just tried at Green Street. Rateau (Cotes de Beaune) started in the 197Os, even before Nicolas Joly, the big name in biodynamic wines. Mike Benziger's estate wines, like Tribute, are biodynamic. Another reason why these wines tend to be expensive is that to keep an ecosystem in balance costs a lot of land - Benziger's 85 acres are only 5O% planted to vine; the rest makes room for swamp, pond, an 'insectory', and forest for beneficial predators. He pushes his growers to achieve 'sustainability'; that may not be enough to benefit the wines, but from a humanistic standpoint, it's a great step. Bonterra, Lolonis, Frey, Ceago del Lago also make biodynamic wines. Some achieve fetish status.
TRUE VALUE There are no short-cut, bargain biodynamic wines. What these producers do is labor-intensive, extra tasks. They value hand over machine harvesting. They value slow, wild-yeast fermentations (that tie up your equipment for weeks) over boutique hot yeasts that ferment in seven days. We have a $3OO wine, but when we get over $1OO honestly I get nervous about inflated expectations. There's diminishing returns on everything in life. When I dine out, anything over $6O to $7O is pretty expensive. I question whether I can get $1OO worth of enjoyment out of a bottle of wine. For some people, part of that enjoyment is bragging to your friends the next day how much you spent. There's more of that mindset in the brassy, masculine - and more conventional - steak houses. Most of Chez Henri's 12O wines are in the $3O to $5O range.