archived

FeaturedArticles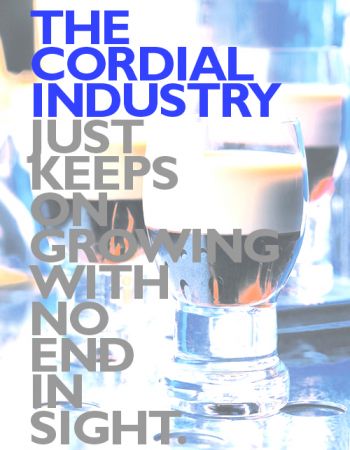 Article By: Maia Merrill
Cordials and liqueurs may not pack much of a punch with their alcohol content but there's no denying their powerful impact on the industry over the last few years. Long considered minor players in the cocktail arena, cordials have today become forceful contenders and are presently vying with rum for the number two position nationally in spirits. Sales growth for cordials overall jumped by an impressive 7.1% in 2OO3. Domestics grew by 2.7% and imports climbed 12.4% for a total of over 19 million cases.
If the last few years have shown anything it's that Americans are enamored with the glamour of the cocktail culture. Cordials, with their pretty colors and diverse tastes, are an integral part of this trend. Paul Canavan, VP and General Sales Manager for United Liquors On-Premise Excel Division comments, "Everyone would agree that martinis have changed exponentially over the past 1O years and include ingredients that no one would ever have expected. Everything from Cosmopolitan's (which includes Grand Marnier) to Sour Apple Martinis (made with De Kuyper Pucker Sour Apple Liqueur) has changed the look, feel, fashion and taste of martinis. This has in turn fueled consumers' willingness to experiment with cordials and liqueurs, whether out in a bar or at home. This explosion has motivated bartenders to increase usage of other cordial brands to create new and exciting martinis and cocktails using market leader brands such as Baileys, Godiva Chocolate Liqueur and Di Saronno Amaretto."
Massachusetts has proven to be an excellent market for cordial growth. Paul states, "We have always kept a strong eye on this (market) segment because it is the second largest category next to vodka, Massachusetts has always been one of the most developed cordial and liqueur states. With the amazing growth of the cocktail and martini business, cordials are poised to have explosive growth not only in the number of cases sold, but also, consumer acceptance and trial."
While most brands had an excellent year, several in particular really excelled. Barry Sheridan, Baileys Irish Cream and Godiva Liqueur Brand Director, comments, "The year has been tremendously positive for Cream Liqueurs in general, but for Baileys and Godiva, in particular. Specifically, Baileys was up 12+% and jumped two spots globally to secure the distinction of sixth largest spirits brand in the world. Godiva significantly outperformed expectations by delivering 22 points above plan. The introduction of Baileys Minis was met with immediate success in the US marketplace. Through new creative and more heavily weighted broadcast advertising on top cable networks, awareness of Baileys soared. As a result, consumer pull at the retail level over delivered on projected forecasts - 71,OOO cases of Baileys Minis were shipped in the US versus a forecast of 4O,OOO - an outstanding feat for any new product introdution!"
Blue is a very trendy color generating a lot of green for the industry. New blue recently introduced brands include Envy and Alize Blue (all cognac-based liqueurs), and De Kuyper's Pucker Island Blue - a sweet-and-sour schnapps. But it is Hpnotiq that has left all other brands green with envy. In 2OO3 sales went from 85,OOO to 61O,OOO cases, and the brand is expected to maintain the momentum in 2OO4. While Hpnotiq does very well in specific on-premise markets - mainly clubs and the hip-hop scene - it also sells well in retail stores. The off-premise sales are especially impressive, as a bottle goes for approximately $2O and the average consumer is under 25. Hpnotiq is also an integral ingredient in several high-profile cocktails such as the Incredible Hulk (made with Hennessy).
The buzz phrase for the last year has been "natural fruit flavors". From Hpnotiq with its "tropical fruit juices" to the recently launched Fruja, (a sub-brand of Hiram Walker) made with 1OO% all-natural citrus flavors, fruit flavors continue to fare well. The Fruja lines includes mango, raspberry and tangerine flavors. Megan Link, Brand Manager for Midori/Hiram Walker says, "Fruja has been doing well, especially at national chain restaurants. The Fruja line was created to bring new innovative fruit flavors into the HWL cordial line." And of course, there's the De Kuyper line with its many fruit flavors. John O'Reilly, Division Manager for Future Brands, which carries the Jim Beam Brands' De Kuyper and Leroux cordials, says, "Our spirits have really come of age. It's the mixability of our products that puts us in great shape with our cordial line. The Sour Apple is in its fifth year of tremendous growth." While Sour Apple is the best seller, Peachtree and Watermelon are also doing extremely well. From a brand standpoint, De Kuyper continues to dominate the industry, growing 5.6% with 2.7 million cases - more than twice that of its nearest competitor.
Jagermeister's growth and its 2OO3 numbers tell it all. Tied with Kahlua for the #1 slot in imported liqueurs, Jagermeister experienced a 44.4% increase in sales in 2OO3. Jagermeister sells across a huge demographic and is tremendously popular everywhere from sports bars to fine dining restaurants. Bartender Michael Ray, who works at the newly opened Smith & Wollensky Steakhouse in Boston, was initially surprised to find that their bar sells a substantial amount of Jagermeister. He attributes this to a nostalgic and fraternal instinct (most of the people ordering Jager are men) saying, "We'll get a group of guys out after work who all range in age. The young ones want shots of Jager because many of them are right out of college and it's familiar. And the older ones like Jager because it reminds them of their college days." Gary Park, owner of Gary's Liquors in Chestnut Hill adds, "Jagermeister sells well in the store, and it has a tremendous cult following. The brand continues to focus its efforts in the on-premise market that drives people to the stores." His store has even had requests for Jager ice luges for functions.
While most brands saw their sales climb, the coffee flavored liqueur category didn't fare as well. All the major coffee liqueurs were down in 2OO3 or were flat. But the main reason that Gary points to may be evolution of tastes and change in cocktail preference. People who once drank White Russians, Black Russians and Mudslides have switched over to Cosmos, Apple Martinis and other trendy drinks. The market softness hasn't stopped innovation in this flavor category - Jim Beam Brands will be launching a collaborative coffee liqueur with Starbucks in 2OO5 that they are quite enthusiastic about. With the brand name recognition of Starbucks and the product placement in the higher end cordials category, the new liqueur stands to be well received.
Of course, not everyone is swept away by the cordials trend. Several bars I spoke with stay away from generic cordials altogether and some don't even make drinks such as Sour Apple martinis. If asked, they'll make it the old fashioned way with Midori and Southern Comfort. Joy Richard, who bartends at Tremont 647 in Boston's South End, says that while high-end cordials such as Chambord and Baileys sell well enough, they stay away from the "trendy" brands of popular new cordials because everyone else carries them. Instead, they prefer to create their own fruit-flavored infusions such as papaya-infused vodka and prickly pear-infused tequila.
Bauer Wine and Spirits located on Newbury St. caters to a mix of students, residents and area businesses. Owner Howie Rubin says that while they carry some cordials (mainly the proprietary brands) he believes that the enthusiasm has dwindled. If people want sweet for after-dinner Howie finds they are buying a dessert wine instead. He does point out though that brands such as Limoncello are doing well as a result of the current Italian liqueur trend. And the 5Oml size bottles of cordials sell well as stocking stuffers and with people who want to experiment with cocktails at home.
With the number of cordials and liqueur brands and flavors being introduced and competing for space, attaining visibility and name recognition are key priorities. Exposure to new products begins at the bar and bartenders are the front line of marketing. Paul Canavan with United states, "The key factor with cordial and liqueur growth has been the substantial growth of martinis over the past years. Martinis have provided the opportunity to expose consumers to cordials and liqueurs that they may have not considered exploring or tasting. Bartenders have become increasingly creative in developing recipes that have enhanced some of the classic cocktails, but more importantly they have created new cocktails that have put the wow back in the cordial and liqueur business."
From the bartender's point of views, Michael Ray at Smith & Wollensky says, "Trends are set by the bartender - we're the ones who are interactive with a product and can push and sell it." But he adds that it's also important for reps to have "respect for the people who sell your product" pointing out that there comes a time, especially these days, when bars get inundated with new products and some reps can get very pushy about placement and brand usage. All this does is turn a bartender off from a product and bartenders push the brands they like to use. This sentiment concerning aggressiveness and respect is echoed throughout the bar industry.
United Liquors has long had a very committed approach to working with the industry, and Paul comments, "It is almost in some respect that bartenders are marketing to us rather that the industry marketing to them. Today's bartenders are into individuality and want to stand out in the crowd rather than doing the same as everyone else. I remember having focus groups with bartenders to show them marketing plans and recipes for brands to try to get them on board with certain concepts. The output that we got from them was pleasantly surprising. The bartenders who liked the brand scrapped the marketing plan and recipes and came back with their own creations that were well ahead of the industry curve. And truly the most successful restaurants and bars have extensive and creative menus that incorporate martinis, cocktails, coffee drinks, and a special cordial section. Menus are so critical to the success of this category!"
Now more than ever, consumers are turning to home mixology - wanting to recreate the cocktail experience they had at a bar. Gary Park, owner of Gary's Liquors in Chestnut Hill, says that his staff definitely fields more questions these days from customers inquiring about drink recipes. They have the popular Bartender's Black Book on hand to assist people and it's getting a lot of use. He says, "The key to cordial sales in stores is that brands have got to get them going on-premise. Bars directly influence what I see people buying in the stores. People come in and they want the brand the bartender gave them." In terms of best selling cordials in his store, it continues to be the De Kuyper line. Gary says, "Sales have been very consistent, we still go through 3 to 4 cases of liters a week." Everyone wants to make those Apple Martinis at home.
The price point for domestic cordial lines is attractive to consumers as well. Many of the flavored generics range in price from $7.5O to $14.5O for a 75Oml bottle, allowing people to buy and experiment without suffering a big financial hit. But even the more expensive proprietary liqueurs hold their own in retail sales as consumers today are very brand conscious. Michael Ray says, "The Boston cocktail scene is changing. It's very much an image thing these days. It's all about the glassware, the look of the drink and the brand." He remembers the not-too-long-ago days when bartenders would use generic flavored cordials and brandies instead of proprietary ones in shots and mixed drinks. No one really cared about name brands and no one wanted to pay top shelf either to have a little Grand Marnier in their cocktail. Nowadays, he points out, you could never get away with pouring anything but Chambord, Amaretto di Saronno, and the like, into a mixed cocktail. Michael also sees this trend as covering the range of establishments from college nightclubs to upscale restaurants.
Suppliers have lately realized the value of product education. A variety of marketing programs and promotions have been developed to increase knowledge and gain exposure. Tastings, both on- and off-premise, have been on the rise. In addition to the consumer, bartenders and servers are increasingly being targeted for education programs. As Michael Ray says, "In this industry today, you have to know what you're selling to people." He laughs and says, "If anything, with all the exposure they get, customers are overeducated these days!"
While in-store spirit tastings certainly help to inform customers and pique their interests, Gary Park says that most brands could be doing a lot more. He references Campari as a good example of a brand that is actively promoting itself by doing drink nights and tastings at bars around town. While an established name, Campari is not a product a younger consumer would likely think to order directly. De Kuyper, too, has done a large push over the last couple of years to educate both consumers and industry professionals. John O'Reilly, at Future Brands says, "We educate our salespeople first as they are our front line. Then we work on-premise. with bartenders and waitstaff, and off-premise conducting tastings in stores for customers." De Kuyper also has developed a Mix Package consisting of a cocktail recipe book, flair bottle and cocktail pourer which can be ordered off their website. Barry Sheridan says, "In the off-premise, Baileys has a widespread sampling program that impacts the consumer near influential point-of-purchase locations. In the on-premise, Baileys has successfully interacted with key trade gatekeepers by increasing brand education, delivering influence marketing and delivering the Baileys quality story."
With the increase in home cocktailing, recipes have become a key marketing tool to entice consumers to buy a particular brand (or several if the recipe calls for it). Megan Link with Midori/Hiram Walker says, "Education is extremely important for both bartenders and consumers alike. We have materials for both bartenders and consumers that include recipes and how to mix the cocktails. HWL partners with other Allied Domecq brands for on-premise promotions." Fruja also has an interactive CD that is being used to educate bartenders. And anyone searching for recipes on the internet need only type in a brand's name to find countless websites filled with recipes.
Barry states, "The focus behind Baileys has been centered around 'On the Rocks' consumption which promotes the best way to enjoy Baileys. Godiva is primarily promoted by driving consumer excitement around a single drink - the Ultimate Chocolate Martini, which is a combination of Godiva, Baileys and Smirnoff Vanilla. Drink recommendations are communicated on-pack, with advertising (Baileys) as well as on-line and on POS."
Advertising efforts have certainly been expanded over the last year in the cordial industry. In fact, advertising increased 11% with nearly $5O million spent. Many brands have either shifted or expanded their ad focus from print media to cable television, with great results. Barry comments, "Broadcast advertising is Baileys top growth driver. Without a doubt, the significant increase in overall consumer awareness of Baileys can be attributed directly to the broadcast advertising efforts. With Godiva, while there are no advertising plans this fiscal year, we'll be zeroing in on a very targeted consumer base via influence marketing and sampling at highly targeted events."
While varying diet fads have become a way of life for countless Americans, alcohol consumption, particularly that of spirits, has remained largely unaffected. Gary says, "One amazing thing about cordials is that you would think with the low-carb craze their sales would really slow down. But drinking cocktails hasn't been affected at all. People seem to not be interested in that sort of sacrifice." Michael adds that in the restaurant industry he sees after dinner cordial consumption acting as a substitute for desserts. In fact, one of the biggest trends at the moment is the cream liqueur based cocktail. Paul Canavan says, "Some of the new more interesting martini's I've just tried are a Chocolate Cookie Dough Martini (made with Godiva Chocolate Liqueur) and a Creamy'Tini (made with Di Saronno Amaretto). These were certainly not the usual suspects on the martini/cocktail scene, however, and they are testament to the rise in creativity and popularity of cordials and liqueurs."
Barry has an interesting take on why cream liqueurs have not been negatively impacted. He says, "In this day and age, there is massive interest and consumption around a trend called 'Comfort Cocktails' - elixirs that are essentially classified as 'indulgences'. With the low-carb craze, we initially thought that a category like Cream Liqueurs might be impacted by such a health trend, but staying true to its essence as an indulgence, both Baileys and Godiva soared in popularity as well as consumption. The net impression was that while consumers will try to become more healthy everyday, everyone still craves their indulgences at the same level."
Young consumers today are definitely driving cordial consumption and growth. While many of the new products are being targeted to the so-called Generation Y, some of the older brands have worked hard to change their image in order to appeal to that demographic. A good example of this is Baileys. Barry remarks, "For several years now, the Baileys brand has moved away from such stigmas and classifications as being viewed and consumed as only an 'after dinner drink'. The last couple of years have seen revised brand graphics, visuals and advertising creative that has sought to update the image of Baileys. Just recently, after 3O years of slight modifications to the Baileys package, the brand completely redesigned the Baileys package to drive an even greater contemporary association and relationship between the brand and its consumers. Lastly, Baileys has broken new ground, when just five months ago the brand was the first spirits to produce its own TV show, entitled Baileys In Tune, which aired on VH1, starring John Mayer and Paul Simon. This show, in particular, demonstrates how Baileys is innovating on a marketing front to more closely reach and influence its core target consumer base by tapping into a key consumer connection moment that is contemporary and more attractive to a 25- to 35-year -old consumer demographic."
Paul Canavan sums up the cordial industry with this prediction: "I believe that with the record amounts of legal aged drinkers entering the market over the coming years, and the new young adults that have been turned onto the brands, it is cordial sectors that will see amazing growth. There are constant rumblings about line extensions on major brands and as we have all seen, numerous new cordials and liqueurs that have entered the market this year. Martini's and cocktails will continue to be strong and still provide building blocks to elevate cordial business. However, it will be the new generation of consumers that have entered the market over the past five years that have been exposed to this category that will skyrocket brands."
---
SERVE THESE DECADENT DESSERT CORDIAL COCKTAILS
chilled and straight up
Chocolate Cookie Dough Martini 1 part Godiva Chocolate Liqueur, 1 part Chocolate Vodka, 1 part Just Desserts Chocolate Chip Coffee Liqueur.
Cream 'Tini 1 part Di Sarrono Amaretto, 1 part Kahlua, splash of cream.
Ultimate Chocolate Martini 1 part Baileys, 1 part Godiva, 1 part Smirnoff Vanilla.
Chunky Monkey 3/4 ounce Van Gogh Dutch Chocolate Vodka, 3/4 ounce Van Gogh Vanilla Vodka, 3/4 ounce White Godiva, splash of banana liqueur.
Key Lime Martini 1/2 ounce KeKe Beach Key Lime Cream Liqueur, 1/2 ounce Vanilla Stoli Vodka,
1/2 ounce Dr. McGillicuddy's Vanilla Liqueur, 1/2 ounce sweet and sour mix. Dip rim of martini glass into crushed graham crackers.
German Chocolate Cake 1/2 ounce Jagermeister, 1/2 ounce chocolate liqueur, splash of coconut rum, splash of butterscotch Schnapps.