archived

FeaturedArticles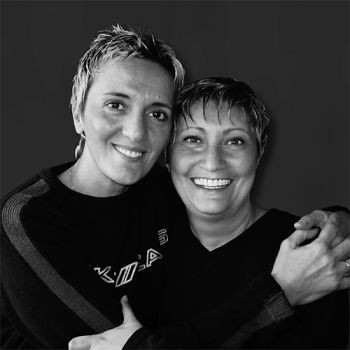 Article By: Fred Bouchard
MARISA IOCCA and RITA d'ANGELO • 4Os • EXECUTIVE CHEF and GENERAL MANAGER
of BRICCO and UMBRIA • BOSTON

---
PROFILE Marisa Iocca and Rita d'Angelo get a gleam in their eyes when they talk food and wine, which is almost constantly - they get possessed, conspirational, gleeful. These two Adriatic women from near Pescara are abrim with daring and fun - they are dreamers of creative dishes, poets of matching them with drink. Not two years into their successful tenure at Bricco, as chef and general manager, they've expanded their horizons by launching Umbria, a restaurant exploring the unsung cuisine of that green, misty province between Abruzze and Toscana. Umbria is the five-story space in restaurant impresario Frank di Pasquale's original Il Panino. Bricco has a lively bar scene even for the North End, but Umbria is dedicating two entire floors to dining and three to socializing. General manager Rosemary Sharry and club manager Frank Recupero fill out the front ranks at Umbria, where the wine list focuses on Central Italy and beer and spirits range internationally.

---

MAKING MAGIC We're home-gals from Orsogna, Abruzze - our families and we are lifelong friends. When Marisa came to Boston it was just a matter of time before we opened Galleria Italiana in 1989. We opened for breakfast and lunch, introducing the Combat Zone to pasta buffet; pretty soon Afro-Americans were saying 'ciao!' and 'grazie!'. It was a big deal! We served a glass of wine with buffet - unheard of in 199O! We'd pour Trebbiano, Pinot Grigio, Argiolas Vermentino (we still love it!), Chianti, Dolcetto, hearty Monti Montepulciano d'Abruzzo. Later we opened for dinner; Barbara Lynch and Cat Silirie joined us from 1994 to 6 (after Rocco, before Nine Park). Cat taught us a lot, especially American wines - Sky and Ravenswood Zinfandels, French and Australian Syrah/Shiraz - that work so well with Marisa's cuisine, Italian with an upscale American twist. We had fabulous wine dinners, like a white truffle dinner with Battaioli of Piemonte, a Pugliese dinner with Leone di Castriis. We kept it going until 2OO1.

OLD and NEW VENTURES We opened La Bettola in the South End in 1997. Since it was an upscale fusion of Marisa's Italian with Rene Michelina's Filippine cuisine, we wrote a totally different wine list, featuring Rieslings, Gewurztraminer, Alsace. Umbria is the first time we're not owners, that we're working for someone. Frank gave us a blank canvas that we can paint on. He's passionate about food, has a platinum palate and is a gentleman.

WINE CULTURE TAKES HOLD Rita: Growing up in Abruzze, I drank Montepulcianos, mostly made by my father. When I was barely one or two, at table with family, they'd ask, 'How do you like papa's wine?' I'd stick a finger in the glass, lick it and say 'mmmmm!' (She pokes her cheek with her index finger.) At home we drank wine - if it was fish, it'd be light; if pasta, another one; if game or rabbit, a third one. In America, people used to drink Coca Cola or coffee with Italian meals. That doesn't happen much any more - thank God! People realize that what used to be offered as Italian food in the States really wasn't Italian food, but Italo-American.

the REAL DEAL Marisa: Our dishes are all about authenticity - we make all our pastas, breads and desserts in house. Our vegetables come from Verrill Farms (Concord), our pork from Corabuta, fish from Captain Marden's. Umbria to me is earthy but elegant. I'm redefining luxury by simplicity. Tuscany has got all the attention, but next to my region, I love Umbrian cuisine the best. Some of the best agriturismo olive oils come from Monte Rosello. I use only EVOO all the time! The wine list at Umbria will focus on central Italy. Umbrian cuisine has game, truffles and lake-fish. The best Umbrian chefs revisit old food with a modern touch, present ancient dishes in a chi-chi way. Umbrians have a flair for heavy foods, but they really want to make lighter foods because it's less familiar, exotic. Just as world foods are becoming accessible to Umbria, Italian products are becoming available to Boston. Chefs are seeking boutique produce, not just wholesale, so this recent push for a new food market is valuable.

DISH MEETS GLASS At Bricco, I chose an all-Italian list to suit Marisa's cooking. It was exciting! Her chef's choice menu changes daily, and I always recommend wines by the glass with each course. Favorite combinations: T-bone veal chop with ribollita and Tuscan kale, with Travaglini's Gattinara (I bought it all!) or Produttori di Barbaresco. Good bargains, great year (1997)! Fresh cod loin roasted in garlic served with dry tomato flan and salad of arugula, prosciutto cotto and green apple, served with Jermann's Dreams, Valentini's Trebbiano or Bruno Verdi's Riesling. Maine lobster cracked on fresh a shell-bean guazzetto, cheek-prosciutto gnocchi and poached fennel - this may sound crazy, but with a tasty Dolcetto d'Alba, Seghesio or Sottimano.

PERSONAL WIZARDRY Sometimes I choose a wine after I meet the maker. Wines may take on the personality of the producer - if the winemaker's personality is flat or monochromatic, the wines may not excite me. Two women from Piemonte - Elena and Cristina from Brovia - make Arneis, Dolcetto and Barolo that are unbelievable! Roberto and Massimo, brothers from Ferrando, do great work up near the Aosta border - their Carema and Erbaluce are superb, and they are fun people! Let's not forget Au Bon Climat's Viognier. Jim Clendennon, a crazy person who runs the winery, is a favorite of ours.

BEERS and SPIRITS We serve Peroni and Moretti beers, of course, and lots of handcrafted bottles. We are strong in aperitifs: Montenegro, Averna, Cynar, Vecchia Romagna brandies, the Limoncello you have to stock! Bricco has a lively bar scene, unusual for Italian restaurants in America, but in keeping with bars in Italy. Having a glass of Prosecco before dinner at the bar is just what happens in the Veneto and elsewhere. You can also have a post-prandial at our bar. After 11pm, we go into a lighter mode, serving gourmet pizza. Marisa: I make a Rain Vodka martini with organic amarene (wild cherries) and ratafia, wild cherries with Montepulciano d'Abbruzzo.

STAFF of LIFE Marisa: Since Rita, the bartender and the waiters are my voice to the customers, I want them to taste and explain to them every single dish. I want them to ask questions, say what's their favorite, what's not. Rita: We want them to be able to gently recommend wines that they think best suit the dishes.

WINES at WILL We have a long list of wines by the glass at Bricco, and will continue it at Umbria. Since Bricco is an enoteca (wine bar), we'll open any bottle we have. If you want a glass of 1997 Brunello, I'll open the bottle - but it'll cost ya! Our corkage fee is $3O.

PURE POSTPRANDIALS Our grappa list is long. Sometimes I make desserts with grappa, like semifreddo or poached fruit and torta. I usually prefer Jacopo Poli's grappas - they're the best. People flinch because they think it's too strong, though the flavors are pure. But if you pour grappa with different desserts - the sweet and the powerful - people are more open to try it.

PHILOSOPHY We've been in this business 17 years, and we still love it. We dream and talk about food all the time; learn about food, revisit the wine list, and flavors every day. We want to improve our wine and food knowledge, because knowledge is power.