archived

FeaturedArticles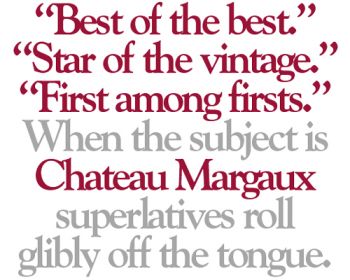 Article By: Sandy Block, MW
As a recent vertical tasting at the inappropriately named California Wine Experience in Chicago clearly established, the Chateau has over the past twenty odd years produced a series of impeccably structured, absolutely delicious wines which rank among the most thrilling in the world. Expectations at this level, at the pinnacle of Bordeaux' classified growth hierarchy, are always high, but the consistency of Margaux over the past two decades has been nothing short of amazing. Some of the vintages already rank as modern classics that those fortunate enough to savor will doubtlessly discuss in admiring tones for decades. One can only marvel at their core of unmistakable quality despite the vagaries of weather in the Medoc during this time span. Surely, it's reasonable to think, there is something magical about the vineyard that unfailingly stamps its character on the wine every year. But the fact is that this has not always been so. As with many other storied Bordeaux properties Margaux went through a period of darkness in the not too distant past, a time when the Chateau's pedigree and reputation far exceeded the reality of wine that it produced. I remember eagerly approaching vintages of Chateau Margaux that I thought were bargain-priced and turned out to be excessively thin, weedy and astringent. But this all changed abruptly in the late 197O's with a momentous transfer of ownership and management to the Mentzelopoulos family, whose investment in quality at all levels has been responsible for the Chateau's glorious revival.
There are a number of reasons for Margaux' renaissance under the Mentzelopoulos regime, not least of which is the consistent guiding hand of regisseur Paul Pontallier, who began work at the property in 1978 and has been responsible for each vintage since 1983. Pontallier was on hand in Chicago, along with proprietress Corinne Mentzelopoulos, to guide the thousand or so tasters through eight of the finest vintages produced since the legendary 1982. Pointing to the ineffable nature of wine quality, Pontallier frankly pronounced that the contributing factors are so complex that we can hardly specify exactly what weather patterns create greatness in a wine. Sometimes, he admitted, the quality level of a vintage comes as a complete surprise. Pontallier's review of the seasonal variations, however, was highly instructive in piecing together the often-fine stylistic differences among the wines that were presented.
The most exciting aspect of the vintage comparison was the opportunity to put the wines in their proper context. Most often tasting, or drinking, a First Growth is a humbling experience. So much seems to be at stake, not least of which is the cost of the wines, that sometimes, as I've discovered in conducting tastings of this sort, there is a nerve-shattering element, as collectors experience with varying degrees of satisfaction, what they have purchased on faith. Experiencing the wines young presents a special additional challenge: extrapolating to how they might taste at some unspecified point in the future when they are "ready" to drink. But as all of the famous Bordeaux properties have invariably been on their game, so to speak, since the early 198Os, the primary objective is to recognize and appreciate, if not put into words, what it is that makes each growth unique and distinctive. The question we ask is not, How good is it, but, more crucially, What is it? Margaux is Margaux and crucially, but perhaps subtly, unlike any other wine in the world. Lining up eight vintages affords a rare chance to note how each season's particular growing conditions effected the expression of its signature flavors and aromas. For instance, several of the vintages possessed a beautifully heady violet perfume that in some years was overlain with more "sauvage" and herbal or gamey elements and in others seemed just faintly distinguishable from the equally omnipresent tobacco-ey black fruit accents. Some vintages were silkier, others more forceful on the palate. The distinctiveness of each stands out in greater relief by virtue of being able to compare them directly. Of course, if there is one regret at a tasting of this type it's that each wine in and of itself would have provided an evening's worth of contemplative pleasure in a setting with appropriate food on the table where the time and attention devoted to every sip would not have been abbreviated by the necessity to move on to the next bottle. This is especially so for me since I am often much slower to pronounce judgment on what it is I even experience in the glass when the subject is a wine of First Growth caliber. Given their reputation, we demand more of these wines, and tasting them we should demand more of ourselves. It seems appropriate to gaze beneath their surface at an unhurried pace, to ask more searching questions and to apply higher standards of criticism. The pace naturally should slow, rather than accelerate with the need to move on to our next encounter with magnificence in the adjacent glass. Still, to me, if the purpose is learning rather than sheer pleasure, the most valid context for assessing a First Growth like Margaux is juxtaposed against other vintages of itself and so this tasting presented a remarkable opportunity to look more closely not only at the property and the personalities who guide it, but also at the evolution of winemaking in Bordeaux in its most recent Golden Era.
We started off with the most recently anointed year of the century (at least, that is, until the 2OO3s hit), the millennial 2OOO vintage. It was indeed a monumental wine, worthy of its famous year. In this notoriously early, hot season, Chateau Margaux was somewhat put to the test because of its penchant for late harvesting. Often the Chateau is among the last of the Medoc properties to finish picking - as Pontallier's belief is apparently that the longer the grapes are left to ripen, the better the resulting wine will be. Part of the reason for this may reflect the reduced percentage of earlier-harvested Merlot (currently just 1O%) that Pontallier and his team include in the Grand Vin in most recent vintages. The hallmarks of the 2OOO growing season were all in evidence here: aroma, concentration, exceptional ripeness and balance. Equally typical of the year, the flavors of 2OOO Margaux are accessible and forward. This most likely will be one of those magical wines that tastes delicious from the start, never goes into the closed up "dumb" phase that is standard among the best quality wines of the Medoc, and just keeps getting better.
The 2OOO spent an especially long time in the new oak barrels which are used every year (over 24 months), but the concentration of fruit was such that it showed barely a trace of vanilla or other obtrusive wood tones. The fragrance was at once understated and quite complex for so young a wine. There were fleeting nuances of sweet herbs, flowers, underbrush, and wood smoke which promised a glorious future. But the real stunning element was the lush texture. Richly endowed with ripe black currant Cabernet fruit, slightly edgy yet seemingly soft in tannin, this is one of those rare wines whose flavors are so luminous and glowing they're difficult to break apart and analyze. Nothing really stands separate from the glorious stylish whole. The 2OOO, which to me was marginally my second favorite of the vintages, despite its youth, also exhibits a signature of resonant sweetness that echoed through all of the other selections to one degree or another. When a vintage is hyped this relentlessly, one approaches it with understandable skepticism, but if anything the Margaux 2OOO's capacities to delight on all levels - its aromas, its texture, its promise of flavors to come and especially its length - exceed all reasonable expectations. To me the major surprise was how balanced this wine tasted given the potential for over ripeness and excessive alcohol that is always a danger in years with such hot, picture perfect autumns.
1996 has a reputation for having produced bold, powerfully structured, highly extracted wines at its highest levels in the Medoc. If its 2OOO was surprising for its balance and elegance, Margaux 1996 provided an even bigger shock: it was positively velvety, with subtle tones of smooth black cherry and violet, grace notes of green pepper and spice. Many critics regarded this as the finest Bordeaux of the vintage, which it may well be, but the big intense tannins that I had read about were not in evidence. As with the 2OOO, Cabernet notes are dominant, although the acids seem even softer, the tannins interestingly less intense. This is a wine made from perfectly ripe fruit, the beneficiary of one of Bordeaux' magnanimous Indian summers. Weather in 1996 was unexceptional until September. Toward the end of this crucial month it rained and then dried out again. October proved exemplary, which was quite beneficial to properties like Margaux which had the faith to delay harvesting until the return of good weather.
The 1996 is still youthful and somewhat muted in expression, but its class is evident in the length of the finish, the fineness of the tannic structure and the sweet, almost exotic lushness of its fruit. Altogether the wine struck me as slightly richer but at the same time less powerfully extracted than the 2OOO, at virtually the same level of quality. I rated it a half step behind, third most desirable of the great vintages on display, and felt that its fleshier fruit would suit it even better to New World Cabernet palates than the equally delicious 2OOO. If I were guessing as to which would have more ultimate staying power it would be 2OOO, but the 1996 is a wine that will be with us for quite a long time as well. Like the 2OOO, it is deceptively forward and irresistible now.
The 1995 vintage experienced rain at the harvest as well, with a similar drying and return of sunny weather afterwards. Summer weather was hotter than in 1996, so ripeness was already assured, but again the late harvesters like Margaux benefited from extra degrees of concentration and flavor development. To me this wine, spectacular as it was, showed a slightly different character than the 1996 and 2OOO: equally sweet, it was a bit rougher around the edges. The alcohol level seemed a bit higher, the tannins marginally stronger and acidity proportionately less pronounced. 1995 Margaux to me showed a more understated floral aroma, with slightly mentholated, green herb and jammy notes. There was a slight dash of alcohol apparent as well.
The omnipresent sweet ripe fruit flavors were punctuated with gamey, earthy tones, and perhaps a suggestion of clove and other dark spices. Pontallier suggested that at the time of harvesting he did not expect the 1995 to evolve in the manner that it has, he did not foresee its concentration and depth. I rated the wine very high, fourth overall, complete in its own way but perhaps just a shade behind the 1996 because of the slightly more aggressive texture. I think that it will be a long distance runner and, interestingly, to me it is less opulent at this stage than its two younger siblings, less revealing of its charms. If I had to guess I would place its peak ultimate drinking time to be somewhere further out on the spectrum than the 1996 and perhaps even the 2OOO.
So many vintages of the century compressed into so short a time period! 199O would have been an amazing, unprecedented year in Bordeaux, were it not for its immediate predecessor. 1989 was the earliest harvest since 1893, and yet 199O trumped it. Both have since been eclipsed by 2OO3. In all three years there were massive summer heat waves coinciding with drought conditions which threatened to shut down vine maturation. Whereas the weather in 1989 was so unexpected that it left some producers at a loss for how to achieve balance in their extremely ripe, somewhat heat stressed grapes, by 199O many had learned from the experience of the previous vintage and were better prepared. Cabernet dominant producers like Margaux, in fact, held off harvesting until the vines recovered balance. If anything, acidity levels have always tasted to me slightly more muted in the 199Os, which is interesting because I also find the wines more classically structured than many of the 1989s.
There is a freshness to the 199O Chateau Margaux that is surprising in a wine that is now 14-years-old. The Margaux florality is there in all its glory, accented with smokey tobacco-like scents, oily herbal essences and a perfume of cedar, mushrooms and earth. On the palate the tannins have softened to the point of creaminess. The wine is fully extracted, but somehow a bit more blunt than its three younger siblings. Balanced, delicious, but somehow less nuanced in my estimation, the 199O Margaux strikes me as a wine of sensual charm, fully pleasurable but less challenging and intriguing in the end. Interestingly, it tastes ready to drink at this stage, beautiful and harmonious in its own right but somewhat behind most of the other vintages in terms of depth and interest. I rated it seventh among the eight on display, although it certainly would have ranked much higher if the question were which one would you choose for dinner tonight.
1989 and 199O are destined to be discussed together, just as 1995 and 1996 are. This was the year that broke all of the records, and Pontallier recalled how there was a sense of well being in Bordeaux at the time - that the vintage provided perfect conditions. Then, afterwards, proponents of the classic, or traditional Bordeaux style, leveled criticisms that the intense heat produced wine that was too ripe and perhaps out of balance. This has actually always been my feeling about 1989: a great, but flawed vintage, where the extract and sheer immensity of the fruit somewhat overwhelmed the balance. There was also the problem of dilution, as the crop was enormous, although to be fair, it has never surfaced in my tasting of any wines at the top levels of the Medoc.
1989 Margaux, fine as it is, pales somewhat in comparison to the other vintages on display. The bouquet was somewhat weaker, with flashes of cedary fruit, but the real problem to me was the somewhat pruney quality of the flavors. Acidity seemed less prominent than tannin and the rather overripe fruit extraction, and this was the one wine among the eight that at times struck me as a bit out of balance. The characteristic sweetness did not have enough in the way of a supporting cast, and I did not see how, at fifteen years of age, this wine was going to improve. It was shown, of course, in very august company, but still I expected more in the way of depth, structure and nuance.
1986 was, according to Pontallier, an amazing vintage which combined high yields with extraordinary concentration and quality. Pontallier noted that this was first vintage where he thinned the crop, a costly practice that is almost standard practice now in all but the most meager vintages. At the time of release the wines were characterized as classically austere and somewhat raw boned, but possessing the depth of fruit necessary to last for a long time. Tasting 1986 Margaux now confirms the truth of these earlier impressions. The wine is still somewhat youthful and compact, although it has shed whatever hard edge of tannin it once may have exhibited. Its reputation, while always high in the US, has always stood at the very pinnacle among Bordeaux insiders who appear to prize structure over opulence.
My sense of the 1986 was that its aroma comprised a pure and impressive melange of herbs, berries, tobacco, and plums. Its soft, silky and sweet, balanced fruit profile exuded harmony and characteristic Margaux finesse combined with a lush sensuality that reminded me of the 2OOO. Somehow it struck me as a wine that, while fabulous today, was still holding back some of its charms. Quite impressive, I ranked it just slightly behind the 1995 in quality, or fifth in this context, although, unlike some of the other wines, it does appear to still be on an upward evolutionary slope. I would expect it will not peak for another ten years at least.
If you look at the charts, the 1983 vintage in Bordeaux ranks far behind each of the seven others that Chateau Margaux chose to present, and yet the wine they produced that vintage was, to me, the greatest of all. It's no surprise to students of Bordeaux that 1983 was something special in the Margaux appellation, where the slightly lower volume of rain it experienced at critical points late during the season made for more concentration and finer, cleaner fruit expression. I had tasted the 1983 Margaux, as I had most of these wines, before, but I can't say I was prepared for how amazingly beautiful it has now become. A profusion of currants leaped out of the glass, underlain with a perfume of pure sweet, mint-accented herbs. But the really most stunning attribute of this wine, that was my highest rated of all, is the thick, luscious, almost fat black fruit flavor. Low in acidity but very high in extract, the finish of the 1983 kept expanding, with new sensations of anise, blackberry and mocha alternating for center stage. The amazing thing is that this wine was so complete that it tasted as though it could not possibly improve any further, yet it showed no signs of approaching maturity. Perhaps now at twenty one years of age it is at perfect peak drinkability. At any rate, it's hard to imagine a wine any better than this, although some of the younger vintages may rival or outdistance it when they evolve further. If I had to guess I would say that the 1983 Margaux will remain at this marvelous pinnacle for at least another ten years.
In retrospect the late summer heat and early harvesting that took place in Bordeaux may have seemed exceptional at the time, but were actually mild in comparison to many of the seasons that have followed in the past twenty odd years. To me the 1982s have always had one foot in the past and one in the present, but they are not a fully "modern" vintage. Techniques of harvesting and winemaking were more traditional, the region was less prosperous, and there was less confidence that some of the quality decisions that are costly but have become routine since among the region's royalty, would pay dividends. Therefore I have always had a more skeptical feeling about the 1982s than some of the more recent great vintages, while at the same time acknowledging the impact their ripeness and opulence made at the time in the context of the region's history.
Margaux 1982 is a wine I have tasted many times over the years and it has frankly struck me as all over the board in terms of quality. For the first several years I found it so incredibly tannic and closed that it was one of the hardest wines I've ever had to evaluate. The bottle I tasted in Chicago last November was wonderful. It showed the signature sweetness and ripeness of the Chateau as much as any of the other vintages on display. But it did have a more rustic, barnyard-like, leafy earthiness than any of the other vintages. It's something I happen to love, but I always associate with more traditional wine making than any of the other vintages displayed. The fruit was brilliant and spicy, very ripe, but somehow not supple. Acids were quite low in comparison to the high extract and alcohol. To a certain extent I felt that the fruit was just beginning to dry out, that it had seen the crest of the hill and was beginning a long downward ascent. Certainly in comparison to the glorious 1983, this wine seemed more mature, less vibrant and sumptuous. It ranked sixth in my estimation, ahead of only the 199O and 1989, although I'm not sure if the issue of bottle variation that I've noted before might have had an impact here. The older the wine we taste, the more the bottles seem to differ.
The tasting left me with a clear sense of what Chateau Margaux has been and where it is headed. Overall these wines were all exemplars of their region. There is an extra dimension of length and depth that Margaux exhibits, a sweeter, riper fruit profile that sets it apart today. Whereas one might once have pointed to Chateau Latour as the Bordeaux with the finest track record in the marginal vintages, Margaux often now takes that honor. In the great vintages it particularly shines where the Cabernet is king. What never fails to strike me about Margaux is its layering of flavor, its tantalizing length. Less massive than its counterparts in the Pauillac, Margaux is often deceptively agreeable in its youth. It's probably been the consistent best bet among the First Growths for restaurant consumption prior to its fifteenth birthday: a wine of opposites, elegant and strong, forceful and charming.