archived

FeaturedArticles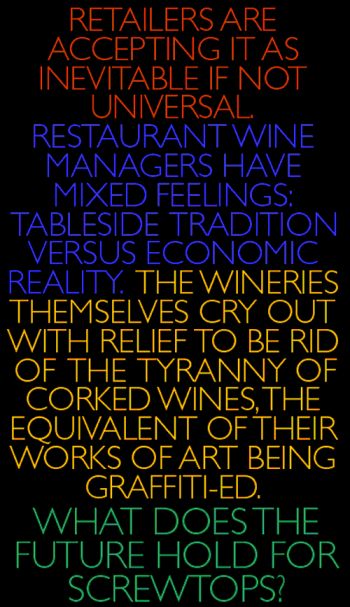 Article By: Fred Bouchard
Pro-Stelvin testimonials, trickling in from wineries worldwide, are raising voices against all corks, natural and plastic. We report the findings and learned commentaries of three respected wineries, Bonny Doon from Santa Rosa, California, Mitchell from Clare Valley, Australia, and Kim Crawford from Marlborough, New Zealand.
But first, let's begin with an oft-quoted voice from retail, Roger Ormon of Brookline Liquor Mart, and hear from on-premise in a statement from Scott Jellins, manager of Fleming's Steak House in Park Square in Boston.
Ormon speaks from his office at Brookline Liquor Mart on Commonwealth Avenue. "Screwcaps won't have any strong, direct impact on the industry as a whole. If it does, it'll be one more aid to desnobbification for the masses. 'Say, these guys open wine bottles just like I open my bottle of ketchup!' Stelvin seems to be the closure of choice. With silicon cork replacements, we're seeing people with difficulty in inserting the screw, and needing extra muscle power to extract it.
"Most customers are open to an explanation of the reasons for the change. We explain what we can; some wineries take a web page to inform consumers, like Tin Roof Wines from Murphy-Goode in Geyserville. In the broader perspective one may well ask, 'What industry in its right mind would accept a 4 to 7% defect rate?' However, we can still expect a handful of snobs not to buy a recommended wine because it does have a screwcap.
"Now that Hogue, one of the bigger players, has embraced the concept, you'll gradually see screwtops appearing on all but the snobbiest of grand crus. Meanwhile work continues in the industry on sniffing out the problems with processing and bleaching natural corks."
Jellins sees more pros and cons in the restaurant market. He admits that while "we still get our share of corked bottles," he is "no fan of screwtops. Synthetic closures do eliminate the corking problem," he adds, "but at a cost. The anaerobic situation is not good for the wines and their development as living, breathing organisms."
Another problem is the anti-climax of tableside presentation. "The waiter presents a bottle and then goes through the cork-pulling procedure, and presents the cork to the customer for inspection. This is now minimized and beside the point with screwtops."
But he acknowledges the necessity of screwtops. "Wineries that are turning out only small quantities need to do all they can to minimize cork taint. It's a constant challenge." Fleming's 1OO-bottle wine list (all available by the glass) features several screwtop bottles, such as Kim Crawford and Brancott Sauvignon Blancs from New Zealand.
CLARE CORK STORY The wineries, always on the cutting edge of the action and innovation, are more universally optimistic about the future of screwtops.
Jane Mitchell, wife of winemaker Andrew of Mitchell Wines, Clare Valley, Australia tells her story. "We started planting our vineyards in 1975, and bought Shiraz vineyards, too. Most of our grapes are estate grown. We produce about 3O,OOO cases, mid-Oregon sized. The Clare style is not over-extracted or American oaked. Our Shiraz is Rhone-styled, soft and velvety, using French oak. We seek varietal fruit flavors. We keep away from the locally popular Chardonnay and go with other grapes that we feel do better in our region."
"We do meet resistance to our putting reds in screw caps. Importers have no problem, consumers want it, fine wine stores understand it, but it's the wholesalers who are balking. They think it's too hard for consumers to understand, but it's they who are overly familiar and enamored with corks.
"They tried to introduce synthetics to Australia 3O years ago - that was much too soon, and it got booed down. But today in Australia, it is the quality wines that are using Stelvin closures. Our most expensive whites are now in screw caps. We've not experienced the stigma of cork snobbery down under.
"The bottle we use is one we imported from France in 2OOO. Andrew and the Clare Valley grape-growers - sixteen of us - got together with the French and said, 'Look, we're sick of corks tainting our Rieslings; make a bottle for us.' It cost us $1, but the Riesling was preserved. We had exclusive rights to it in 2OOO. But we started the trend, for everyone wanted it in 2OO1. Now we have a new bottle facility in Adelaide called Amcor, and a similar bottle costs us just 45 cents. The French bottle has slightly higher shoulders than our new one from Adelaide; they're essentially the same color.
PROOF of the PUDDING "By 2OO2, all our production was in Stelvin. We still make 2O% of our reds for export - to US and Europe - with corks. In Australia, most producers are happy with Stelvin. With Stelvin, the wines will age at the rate that we want them to. Take two 1993 reds, for example. They will both have 11 years' bottle age, but the Stelvin top will be much fresher, more vibrant and in better condition. Zero oxygen! All Stelvin is is 'the perfect cork', which doesn't exist as cork. People say, 'Well the oxygen won't get in.' Well, you don't want the oxygen to get in and age it prematurely. This way there's no possibility of taint from without. Parallel tastings have borne out the facts."
Mitchell red wines have exhibited no reported ill effects from Stelvin closures, but do take longer to age. The 2OOO Old Vine Grenache, made from 6O-year vines, shows spicy cherry fruit to the fore. Unblended, it undergoes long skin contact and carbonic maceration. Very ripe fruit attains alcohol of 15%, but it is not overwhelming. No wood, it sits a year in tank until egg-white fining, and bottling. Chilled in hot weather, it's well suited to curry and spicy Thai dishes. Mitchell's 2OOO Cabernet Seven Hills shows ripe blackberry and rich cedar notes. Loam over clay makes it concentrated.
"Stelvin is not going to replace corks," admits Mitchell, "but it will gradually have its share. Some older people say: 'Thank you! Look at these hands! They cannot pull corks out of bottles any more!'
"The problem with corks is not so much one of poor quality through over-cropping than it is though a disease inherent in the cork tree. It cannot be eradicated from the trees, and must be treated. You can't tell the problem is there until the cork affects the wine. The effect is instantaneous, and only gets worse the longer the wine stays in bottle, or is opened to oxygen.
Mitchell recounts an anecdote attributed to fellow Aussie winemaker, Jeffrey Grosset. "When Jeff was being interviewed on the radio, a caller called in and said, 'You can say what you like about your Stelvins, but I love the romance of cork!' Jeffrey paused a moment, then retorted: 'If that's your idea of romance, I think you'd better get out a bit more!'
SCREWTOP YOUR VINS de GARDE Randall Grahm, corquistador extraordinary and proprietor of Bonny Doon Vineyards, Santa Cruz, returned your reporter's phone-call promptly, despite being preoccupied with harvesting. As the witty winemaker of the eruditely hilarious newsletter explained, "Well, it's crush time - funny thing, it happens about this time ever year - and I'm up to my ears in Aligotés."
Grahm waxed eloquent on the closure issue. "We love screwtops. They're working out every bit as well as I'd hoped. We've got them in 98% of our wines now, even for Cigare Volant [high-end Rhone ranger]. The exceptions are a sweet Viognier in 5OOml and a Port - neither bottle works work with stelvin. Our distributors are fine with them now; it's a virtual partnership. Laggards are still the odd unenlightened retailer or restaurateur, who are not yet with the program and are worried about their customers balking.
"There are so many good points: ease of opening, lack of cork taint, wine preserving its own freshness longer. It may seem counterintuitive, but screwtops are perfect for vins de garde, because they are more exclusionary of oxygen than corks. The freshness factor amounts to drinking a wine from a double magnum - without having to buy one! Screwcaps let wines preserve themselves, age slowly and gracefully and live longer.
"The Darwin awards are right, erasing idiots from the gene pool. (Your reporter quipped: "and should be extended to include corkamamies.") We may post overall awards for those people who attempt to open a Stelvin top with a corkscrew. With the imminent demise of the corkscrew, of course, some entrepreneurs will be selling various apparati to open screw-tops! Lots of the Californians are using them now: Calera, Murphy Goode, Sonoma Cutrer - the list is growing."
To read Grahm's witty top ten reasons (twice over!) for ridding the world of wine corks, log on at www.bonnydoonvineyard.com/dooniversity/content/screwcap.
KIWIS CONTRA CORKS Further evidence that the 'third' hemisphere is fully apprised and increasingly aboard on the no-cork issue comes from Erica Crawford, wine-wife and spokesperson par excellence for Kim Crawford Wines Ltd, Auckland, New Zealand, arguably the Julia Child (tall, witty, elegant) of Kiwi winedom.
"We're newcomers, buying grapes and making wine only since 1996. We got really tired of buying bad corks, including the long, expensive ones. We wondered, did we get the worst ones being down in the bottom of the world? A full 1O% were bad. By 2OO1, we'd gone to all screwtops, including our super-premium line."
Crawford's two major arguments for Stelvin screwtops are cork taint and oxidization. She presented them as part of a highly entertaining Power-point presentation which also explored New Zealanders' charming quirkiness and punchy candor. She claims 1O to 2O% of all cork-closed wine is either ruined by cork mold, or - more subtly and insidiously - has its flavors scavenged by the chlorine bath (2-4-6 trichlorasinol TCA) used to counteract the mold.
Crawford's model for a Stelvin cap is one made by Pechiney of France. "Like other screwtops made especially for wine," read her notes, "it is an aluminum capsule that houses the seal liner, which consists of a layer of expanded polyethylene. The seal is created through firm compression of the seal liner [against the bottle's mouth]."
"With Stelvins," she jokes seriously, "winemakers have no place to hide. If a freshly opened bottle tastes off or dull or flat, you can't blame the cork any more!" (No problems at all were noted with Crawford's 2OO3 Marlborough wines; especially appealing were a super-crisp, lacy, lime-scented Dry Riesling, a golden and viscous, ripe white-peach, polished unoaked Chardonnay, and a lean Sauvignon Blanc, grassy as a meadow, with asparagus and Cranshaw melon notes and resonating length.)
Oxidization is always a potential problem with cork-stopped wines, especially those kept a long while and those left standing on retailers' shelves. "Plastic corks are not the answer," avers Crawford. "Plastic stoppers are planed absolutely straight, but the bottle bore - the glass in a bottle's neck - is subject to all sorts of ups and downs. These stoppers lose their elasticity in time, and are subject to 1OO% mortality by three years. What's more, they may impart plasticky flavors and aromas to the wine."
ANTI-CORK COMMUNITY GROWS Californian wineries, from the large to the boutique, are embracing the non-cork toppers. R.H. Phillips' CorkAmnesty marketing program has been hanging corks around the necks of their distinctively high-shouldered screw-topped bottles. Marketer Marta Rich tells us that Josh Jensen now screwcaps Calera's superb Viognier.
In Amador's Shenandoah Valley, the Sobon family's venerable Shenandoah Vineyards and Sobon Estate wineries continue to lead the industry in implementing screw cap technology on their award winning wines. Their first six screw cap-sealed vintages have just been released. "Today's advanced screw cap technology totally eliminates the possibility of 'cork taint' in wines," explains veteran vintner Paul Sobon. "This change assures our customers a more consistent wine experience. We have always put the best wine possible in the bottle. Now it is going to stay that way."
Ken Onish of Southern Starz - consortium of Southern Hemisphere wineries from Australia, New Zealand, and South Africa - lately wrote a memo regarding the use of plastic corks in South Africa. Local area representative Chris Zoski affirmed that over 3O% of Southern Starz clients' products are now closed with screwtops.
Cape Classics, another major South African importer, sent out a New Year's postcard introducing the screwcap initiative from Brampton, the winery named after a prize bull. The card showed a cartoon grinning bull with the caption "No more of that cork bull!" The winery's conversion covers most of its line: Sauvignon Blanc, unoaked Chardonnay, Viognier, Shiraz, and a Cabernet/Merlot blend (OVR).
ZOUNDS! it's a ZORK! Speaking of champion quadrupeds, The Footbolt (Australian winery d'Arenberg's old vine Shiraz named for the winery's founder's prizewinning racehorse in 1998, the centennial of its birth) is now sealed with a Zork. No, that's not the underground kingdom of gamesters; it's a screwtop-like seal that requires neither corkscrew nor wrist twist. The two-piece device uses a slip of aluminum foil that sits between cap and plunger, thus preserving the screw-cap's proven metal barrier technology against oxygen transmission.
Positive features of the Zork are several. Zorks: a adapt to any bottle shape; B can reseal the bottle once removed; and C are totally recyclable - and little energy is used in their manufacture. For more information, visit the Zork website at www.zork.com.au.
To remove a Zork, you pull on a tab that unwinds to reveal a polyethylene plug. This plug, when extracted from the bottle's neck, emits a very cork-like pop!
Perhaps that's what Jane Mitchell had in mind for maintaining the audio portion of the wine opening experience.

---
THE SHORT CORQUESTIONNAIRE
Your curious investigator answers FAQs about the emergence of alternatives to the common wine cork.
Is the current wave of wines stoppered with plastic 'corks' or metal screwtops due to a cork-tree plague in Portugal?
There's no shortage of corks harvested in Portugal and Spain. The plague is one of an increasingly intolerable percentage of corked or flattened wines.
Do corks grow on trees?
In a sense, but not as fruit, but rather bark! Cork trees take 25 years to reach sufficient maturity to grow the bark coating. The cork is stripped from mature cork trees in circular sheets every 8 to 12 years, depending on varied thickness for varied cork lengths.
How are corks made?
The harvested cork sheets are boiled and flattened. The corks are punched from the sheets in perpendicular cylinders, like elongated cookies. The leftover hole-riddled sheet is ground up for composite corks.
Yes. Plastic corks cost from 4 to 8 cents, and aluminum screwcaps 6 to12 cents, while natural corks range from 12 to 25 cents (plus the cost of the capsule), depending on quality, from medium grade shorties (1.25") to best-grain quality and maximum length (2") for wines due for long-term aging. These prices exclude printing and branding costs. (See Randall Grahm's more complete answer below).
Is it simply a matter of economics?
Not at all. The more important reason is that a sometimes prevalent cork mold imparts a musty smell and/or 'horsey' taste to a small percentage of cork-stoppered wines.
Can't they treat corks so mold won't form?
They do, especially large companies with thorough quality control. Corks are treated with a chlorine bath that gets rid of most - but not all - mold problems. Best estimates vary, but such treatment lowers corked wine incidence to from 2 to 8%. The chlorine bath itself may contribute to dulling the fruit flavors of uninfected wines.
So how do wines closured with neo-corks compare in testing alongside cork-stoppered wines?
Synthetics have been passing with flying colors most critical performance tests associated with the number one and two reasons for corks: keeping wine in (no leakage) and air out (oxygen exclusion).
What about the image problem associated with this 'newfangled' bottling?
Most day-to-day drinkers - especially in new and/or New World markets. - eg, Oregon, and the Southern Hemisphere (Australasia, South America) - don't seem to mind synthetic closures. They're clean and simple; they never attract mold. And the fact that screwcaps require no corkscrews hews to the youth mantra of 'pop and pour'. Ironically, it's the connoisseurs, who you'd think would know better,who have their hang-ups, especially with 'big red wines' and 'collectibles'. They associate top-quality wines with ageability, and deem cork to be the only viable 'traditional' closure on a 'traditional' product.
Well, is there something to that argument? Do synthetic closures really protect older wines?
The jury's still out for much older wines (over 2O years), but evidence is looking good in most cases that non-cork closures can keep pace with cork over long cellar hauls, and in fact may actually slow the aging process more than corks do. Watch for more conclusive reports in coming months.
So are non-corks really here to stay?
The trend seems to be outlasting fad status. Today hundreds of wineries worldwide are - at some level - squeezing non-corks into their bottling programs. Many start cautiously with whites, later add reds. Vocal advocates include industry 'heavy hitters', like California's Sonoma Cutrer, Robert Pepi, and R.H. Phillips. Other yea-sayers are joining forces: from New Zealand Kim Crawford and Villa Maria; in Oregon Argyle and Willakenzie.