archived

FeaturedArticles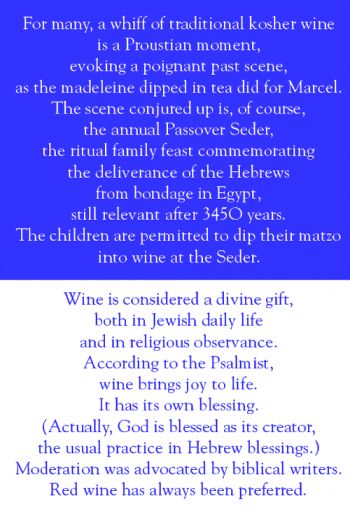 Article By: Harvey Finkel, MD
Traditional kosher wine in the United States has been most often based upon Concord grapes grown in New York State, sweetened after fermentation (now often with less expensive corn syrup most of the year, but with cane sugar for Passover wines, because grains are not considered kosher for Passover by most observant Jews in America). Grape concentrate may be used in addition to or instead of fresh grapes. Because it is so special, almost holy, wine is subject to stricter rules than other food and drink. Unless "mevushal" (literally, "cooked"), it may not be handled by other than observant Jews from the time the grape skins are breached. Once "cooked" or "boiled", the must and wine may be handled by anyone. In modern practice, the "mevushal" process is flash pasteurization to between 168 and 19O degrees F, depending upon the certifying authority. This requirement goes back to avoidance of wine that might be used as sacrifice in idol worship: if already cooked or burnt, the wine would have thereby become disqualified to be a burnt offering. There are also a few restrictions of which materials may be added, for example, which fining agents are allowed in kosher wines.
Only in the Holy Land must, according to some, the vineyards be allowed to lie fallow one in seven years, perhaps analogous to resting on the Sabbath.
Most producers make a number of wines. The traditional ones are generally more or less sweet, usually red, although there are all sorts of variations. Once, home and neighborhood winemakers predominated, with lesser or greater success. The plentitude of commercial producers (I recall, for example, Mother Goldstein wines) that followed has contracted to a few. Some have been acquired by large conglomerates. The wines are inexpensive, and occupy a small special niche, which has been subject to some derision, in part because of foxiness and sweetness. Careful tasting, however, reveals that many of the wines are worthy possessors of fruit purity and satisfying vinosity. If one is not enchanted by the style, so be it. For modern tastes, there is now available a wide array of kosher wines indistinguishable from standard types - from California and elsewhere in the US, Canada, France, including Bordeaux, Burgundy and Champagne, Spain, Portugal, Italy, Hungary, Republic of Georgia, Israel, South Africa, Australia, Argentina, Chile, and no doubt beyond. Kosher Sake is brewed in Berkeley.
Shapiros' House of Kosher Wine was founded in 1899 by Sam Schapiro, an immigrant from Polish Galicia, as an adjunct to his little restaurant on Attorney Street, on the lower east side of Manhattan. The wine was a success, the food was not, so in 19O3 Schapiro abandoned the eatery and established a winery nearby on Rivington Street, where it thrived for much of the last century. The winery, which moved to Monticello, New York in 2OO2, maintains long-term contracts with growers near Marlboro, New York, in the Hudson Valley. Schapiro's has always used fresh grapes exclusively - Concord, Catawba, Niagara, Ives - for the 22 wines made. Armon is the division suitable for the ultraorthodox. The firm has an impeccable reputation for quality and kashrut (kosherness). Norman Schapiro, Sam's grandson, now runs the company, which, despite tries at both importing and exporting wines, seems less vigorous than it had been. He continues to promote his wines in a retail stall at the Essex Street Market, around the corner from the Rivington Street site, perhaps now out of place amidst predominantly Hispanic colleagues and customers. Norman had hoped that one or more of his three sons would follow him in the wine trade, but each pursues another profession. He still has hopes for a successor from among his grandchildren. The Schapiros have conceived slogans that remain etched in memory: "Passover comes but once a year. Schapiro's goes on forever", a twinkly-eyed rabbinical-type enthuses, "Such a wine!"; "Imported from Rivington Street, New York City", "C'est bon", "C'est kosher" and most famously, "So thick, you can almost cut it with a knife."
The well-known Mogen David Wine Company was founded in Chicago in 1933, as Prohibition ended, by the Cohen and Marcus families. It was acquired during the 196Os by a private entrepreneur, who soon sold out to Coca Cola of New York, part of that company's ill-fated venture into the wine trade. (A trade tale, which I could not trace, has it that one of the first two sales of the Mogen David Company followed a family squabble over an advertisement suggesting the pairing of the wine with Easter ham.) In 1981, the Coca Cola wine appendages, including Mogen David, split off and grew into what is now known as The Wine Group, a very large, closely held, private California company that keeps its own counsel. The Mogen David winery in Westfield, New York, on the shore of Lake Erie, produces Concord, blackberry and cherry wines. Grapes are supplied from vineyards near the lake in New York and Pennsylvania. The wines are distributed throughout the world.
The Manischewitz Wine Company was never operated by the Manischewitz family. In 1935, Leo Starr and Meyer Robinson, both former employees of the pre-Prohibition wine company Gafen Industries (of New York City), now only of misty memory, made a deal with the respected Manischewitz Matzo Company to use the brand name for the startup kosher wine enterprise, the Monarch Wine Company. They were a great success, with a large winery at the Bush Terminal in Brooklyn. Constellation, the huge drinks conglomerate that evolved from the Canandaigua Wine Company, bought Manischewitz in 1986. The winery was moved to Naples, New York, near Canandaigua Lake, one of the Finger Lakes, also the source of Manischewitz's grapes. Manischewitz's array of wines, having attracted a large following, is widely distributed. It may be the most recognized of those herein discussed. Still remembered is the advertising slogan, "Man-o-Manischewitz. What a wine!"
The Royal Wine Corporation is a great American success story. The Herzog family, winemakers in Czechoslovakia since 1848, had been supplier to the Austro-Hungarian emperor, Franz Joseph, who bestowed a baronage upon Phillip Herzog. After the Nazis occupied Czechoslovakia and confiscated the winery, the Herzogs survived World War II in hiding. They moved to the United States after the Communist takeover in 1948. Eugene Herzog went to work for the fledgling Royal Wine Corporation that year, receiving part of his salary in company shares. The company was at first a retail store in the Lower East Side, with a tiny winery in the basement. By 1958, Eugene, now majority stockholder, bought the company, and began marketing its wines labeled Kedem (refers to the time of the Garden of Eden). He remained active into the early 199Os. The Herzog family continues as proprietor. Progressively outgrowing successive quarters and jettisoning the retail shop, Royal moved to the Bronx, Long Island City, the Williamsburg section of Brooklyn, finally, in 2OO1, to its headquarters-bottling plant-warehouses in Bayonne, New Jersey. It has a winery in Marlboro, New York, supplied by vineyards in the state, and facilities for other sorts of wines in California. It produces and/or markets an amazing profusion of strictly kosher wines (and grape juice) from all over the world, including, among numbers of others, new brands Rashi (after the eleventh-century sage and scholar) and Kesser (means "crown"). These two lines are generally light in body and alcohol (often 7 to 9 percent), and perhaps restrained in their sweetness. Royal makes wines that are acceptable to the most pious.
Also expansive in purview, though on a smaller scale, the Abarbanel Wine Company of Cedarhurst, New York, was established in 1992 by Howard Abarbanel to produce and import kosher wine. Most, from sites in both hemispheres, are dry wines of standard types. Two traditional-style kosher wine brands are imported from Israel: Streit's, named for the celebrated matzo producer, and Don Yitzhak Sacramental, named in honor of an illustrious ancestor, Don Isaac Abarbanel, a leader of Spanish Jewry prior to the expulsion of 1492. Most of the wines in the Abarbanel portfolio are estate bottled and estate grown.
In preparation for this article, 27 wines were tasted, of which a few representatives have been selected for description, as the conclusion. Reds seem, in general, more successful than whites or pinks. None is vintage dated. All but one are more or less sweet. The highest "residual" sugar acknowledged is 17 percent. Surely many are less. Some may be higher. Don't forget that the plentiful acid of Concord tends to balance, even mask, some of the sweetness. Alcohol levels vary widely, from as low as four percent up to the usual table-wine concentration of twelve or more. Some of the very low alcohol wines lack body, are hollow.
A few descriptive words or phrases appear on labels with some frequency. These have no legal or technical definitions, but may suggest stylistic variations. Most indicate generous sweetness: "specially sweetened", "yummy sweet", "lusciously sweet", "extra heavy". "Naturally sweet" may indicate a lesser degree of sweetness, but likely means nothing specific. "Malaga" usually means plenty of sugar and perhaps more body and alcohol, almost certainly never the Spanish fortified wine of that name. "Cream" may be a sign that the wine is sweet and of smooth texture, without any harshness of high alcohol or tannin or acid.
Shapiro's Extra Heavy Concord Nice Concord fruit. Very sweet.
Shapiro's Blanc de Blancs From Catawba and Niagara. Dry, almost, and tart, clean, balanced, with long finish. The only wine that isn't sweet.
Mogen David Concord Light in color and body. Has the Concord foxiness, but not much fruit concentration or finish.
Manischewitz Cream Red Concord Label asserts it's "Specially sweetened, cream-smooth, double blended," for what those are worth. Modest color. Forward Concord nose. Sweet and smooth; not intense of fruit.
Manishewitz Concord Grape, Specially Sweetened Nose more muted than the preceding. Deeper fruit, with greater fruit: sugar ratio. The most satisfying of these three Manischewitz wines.
Manischewitz Extra Heavy Malaga, Specially Sweetened Thick and syrupy.
Kedem Concord, Extra Heavy, Specially Sweetened Concord character, with good body, acid balance, and finish.
Rashi Concord, Extra Heavy Good structure and finish. Has backbone, unusual among the sweeties.
Don Yitzhak Sacramental Made in Israel from Carignan at the Noah Winery in the Judean Hills near Hebron. Dark, sweet, grapy-fruity. Finish OK. No foxiness. Streit's Premium Israeli Kiddush (ceremonial blessing) Wine From Carignan grown in the Judean Hills. Made at the Jerusalem Winery, which dates to 1858. Tawny hue. Very sweet and thick - dessert wine.
Sales of the traditional kosher wines continue steadily at their now modest level, with bumps before the High Holidays in the fall and, especially, before Passover in the spring. As consumption of increasingly available kosher wines of more modern mien increases, the proportional share of the market occupied by Concords and the like is decreasing.