archived

FeaturedArticles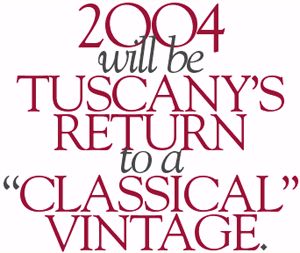 Article By: Bill Nesto, MW
Tuscany's 2OO4 vintage now rests quietly in containers of steel, oak and concrete. In February 2OO5, at a series of tastings organized in Tuscany by the consortiums of Chianti Classico, Montepulciano and Montalcino, I sipped barrel and tank samples of 2OO4s. I sensed their future profiles. I can't say that these profiles were clearly outlined. The precise images of their taste will take time, two years or more, to crystallize. They will emerge like the faces of swimmers rising from the depths of a pond. The 2OO4s that I tasted already seemed to show a refreshing and clean fruity taste allied to enough body and color to remind me of tasting experiences that I had had about a decade ago.
A refreshingly vivid black-cherry perfume is the hallmark of good Sangiovese. It should have moderate alcohol, lively acidity, and a blend of astringent and bitter flavors that makes one sense a tonic within the wine. I have to go back to 1996, albeit not a great vintage, to remember a vintage of this type. The 1995, however, remains the highest quality example of the classic profile that I am talking about. This was a vintage saved by an unusually dry and sunny weather which extended into October and November. Late picking in temperatures cool enough to preserve aromatic precursor compounds and acidity left the wines simply brimming with sour black cherries. Today those wines still show youthful vivacity within the context of more mature flavors. They are mature, yet hard and bright.
As I go back into my memory to the same series of tastings that I have frequented in preceding years, I peel back the taste memories of those baby vintage wines. At first the images are hard to define as if they are stuck-together like pages of a book. With more thought, each vintage vividly separates itself from the next. The infant 2OO3s had been lacking in fresh fruit yet so concentrated in body as to make me wonder if it were Tuscan Sangiovese that I was experiencing. The vines in 2OO3 had tried to bring their fruit to maturity in lingering, sweltering heat and desperately dry conditions. The baby 2OO2s had the modest alcohol of the Sangioveses of old but lacked vibrant fruit and structure. Due to incessant rains of August and September of that year, they had been heavily treated with chemicals to prevent the occurrence of botrytis and acid rot. After tasting them, I had a splitting headache. I was as treated as the wines. More recently, tastings of the 2OO2s show that levels of whatever had been irritating me have abated. They have become pleasant, simple wines which are ready-to-drink. The baby 2OO1s were very good wines according to an international point of reference for quality wine. To me, however, they were a bit too alcoholic and too concentrated for classic Sangiovese. The 2OOOs were fruitless and alcoholic, the progeny of vintage weather that in late August of that year had suddenly became a dry, searing oven. In my mind's eye, I have trouble distinguishing the infant 1999s from the 2OO1s. The 1998s were heavy and lacked freshness. August had been too hot and too much rain had fallen during the harvest. The 1997s, however, showed their complexity and richness at an early age. These infant wines had a combination of richness and balance remarkable for infant Sangiovese. They were the product of a harvest period that was uniformly warm-to-hot, dry and sunny. But they were too rich to meet my standard for "classic". Before them came the 1996s, a vintage of sappy, typical Sangiovese, classic in profile but too light to be grand and classic at the same time.
At the February tasting in Tuscany, the first consortium to present its case for the 2OO4 vintage was Chianti Classico. The enological director, Daniele Rossellini, explained how a combination of cool temperatures and rain during May resulted in an abundance of vegetation. The high humidity made growers fear an attack of peronospera, more commonly referred to as downy mildew. Because of the sodden condition of the soil, they had been unable to drive their tractors into the vineyards and apply protective sprays. The persistent cool temperatures (about 5O degrees Fahrenheit), however, did the job man could not - limiting the peronospera. By the middle of May the atmosphere and soil became drier and farmers were able to enter the vineyards, provide treatments and tend more generally to the vines. In previous vintages, flowering had occurred from the end of May to the middle of June. In 2OO4, cool temperatures, less-than-normal sunshine, and the drag of excess vegetation slowed down vine growth. Vines went through flowering late - at the end of June. Veraison, too, was late, by as much as over a week, occurring in the middle of August. September, however, brought the heat needed for the vines' final sprint towards ripening. Unusually high diurnal temperature variation during the final maturation kick kept grapeskin pigmentation in the blue spectrum and acidities unusually high. The cool temperatures additionally preserved aromatic precursor compounds in the grapeskins. The Merlot, usually the first red variety to be harvested, was brought in after September 2O in excellent condition. October brought some sporadic rain. Producers who had worked well in the vineyard avoided the negative impact of the rain on the quality of the grapes. The harvesting of Sangiovese and other late ripening grapes such as Cabernet Sauvignon and Canaiolo began on October 1O, a date consistent with average harvests of the 196Os, 197Os and 198Os. Harvests would have been unusually abundant had not the Chianti Classico consortium required a 2O% reduction of yield from its members. This reduction meant that members not only made green harvests in the field but declassifications in the winery. Lower quality juice was largely directed toward IGT and Vino da Tavola wines. High acidities in many wines led to some difficulties finishing the malolactic fermentation - some wines were still going through malolactic fermentation at the time of the February tasting. Rossellini believes that the 2OO4 vintage wines will resemble the 1995 ones in character. Average 2OO4 wine samples have 13 degrees alcohol or higher. Fermentations have been very pure resulting in very low levels of volatile acidity.
Giovanni Manetti, of Fontodi in Chianti Classico, confirmed Rossellini's description of the vintage. He had not brought his 2OO4 to the tasting because the malolactic fermentation was not completely over. His wines were between 13 to 13.5 degrees in alcohol. Marco Firidolfi Ricasoli, of Rocca di Montegrossi, told me that his Merlot harvest began on September 28, followed by the Sangiovese and the Cabernet Sauvignon. The Canaiolo was picked one month later - as late as had ever been seen at Rocca di Montegrossi. He summed up the vintage as "Generous in quantity and quality".
Moving south to Montepulciano, a report released by the Vino Nobile di Montepulciano Consortium noted fairly low temperatures and frequent rainfall during April, May and early June. The long, extended spring gave way to a cool summer. Temperatures rose somewhat in July and August, but without the high temperatures of recent years. Maximum temperatures rarely exceeded 86 degrees-F. July and August had periods of heat alternating with cloudy periods and occasional heavy rains. There was less sunlight than average. The weather patterns during September and October continued this pattern. Most wineries harvested in the middle of October. Wines on average had 13 to13.5 degrees alcohol, high levels of acidity, medium-to-high polyphenols, and satisfactory anthrocyanins and "sweet" tannins. The consortium gave the vintage a 4 out of 5 star rating.
Resident winemaker Roberto da Frassini, at the Fassati winery in Montepulciano, noted hot temperatures in March, which had favored the early growth of buds and vegetative growth. Slow-down of growth began in April. He outlined the 2OO4 vine growth cycle in the following manner:

---
March 1O Budbreak
April 2O Emergence of shoots
May 8 Flowering
June 15 Fruit set
August 4 Start of veraison
September 2 End of veraison
Mid-October Optimal ripeness of Sangiovese achieved
---
With degrees in both viticulture and enology, consulting enologist Stefano Chioccioli is perfectly positioned to assess the character of the 2OO4 vintage. He has clients all over Tuscany. This gives him a "big" perspective. I interviewed him in Montalcino's medieval town square. As we talked, the Brunello di Montalcino consortium was installing a tile designed by American actor Peter Weller, who is also a Brunello aficionado. The tile celebrates the 5 star (out of 5) rating that the consortium had awarded the vintage. While there was quite a bit of fanfare surrounding the vintage assessment here in Montalcino, Montepulciano made a low key announcement of its rating. The Chianti Classico consortium prefers to release its own rating later, after the wines have developed more and under less journalistic scrutiny.
Chioccioli told me that he agreed with Montalcino's 5 star rating. Chioccioli echoed what I had been told in Chianti Classico and Montepulciano, though from his description of the Montalcino's harvest period made seem a bit hotter, sunnier and drier than that of Montepulciano to its east and Chianti Classico to its north. The harvest of Sangiovese began there in during the second half of September and went on until October, but he added that those producers who harvested before October 1O reduced the potential quality of their wines. He noted that the high fruitfulness of the year was the consequence of the unusually sunny 2OO3 growing season, which poured sunlight on the buds of that year. The buds that pruners in the following winter (2OO3 to 2OO4) selected to generate the 2OO4 vine growth were, along with the rains of April, responsible for a boom of vegetative growth. Those who harvested the best grapes had to diligently, after veraison, perform green harvests at least two times. Leaving one to 3 bunches per shoot had been ideal for quality. He told me that the outstanding characteristic of the future wines would be their aromatic complexity and intensity of flavor. He noted that the 2OO4 wines would also come in handy as a means to freshen up the ponderous 2OO3 wines. The law for vintage declaration in the EU allows for a 15% addition of the juice or wine of another vintage. There was no mandatory reduction here in Montalcino (or in Montepulciano) as had been imposed in Chianti Classico. Stefano Porcinai, consulting enologist at Collemattoni, said that in the final week of October there was some rain, but most Montalcino grapes were already in the cellar by that time. Leonardo Bellaccini, enologist for Campogiovanni said that about 8O% harvested of that estate's grapes were harvested before the rain and 2O% afterwards. Fabio Ratto, manager of Fattoria Pian delle Vigne, noted the difficulty of doing the "malo" that Manetti of Fontodi had noted with reference to his Chianti Classico: "We did the malo in steel in 2OO4 because it was too difficult to do in oak."
Chioccioli also talked about the 2OO4 harvest conditions on the Tuscan coast. Generally harvests there were 7 to 8 days ahead of corresponding ones in the interior, and 7 to 8 days behind those of 2OO3. Rain arrived in the middle of October, a little earlier than in the interior. Tua Rita near Suvereto, one of Chioccioli's clients, harvested its Merlot on the 3rd or 4th day of September. Merlot has a tendency to over-ripen on the coast, but the cooler than normal conditions of 2OO4 will, according to Chioccioli, assure a great vintage for that estate's Merlot, Redigaffi. Paolo Valdastri, director of the Consorzio Strada del Vino Costa degli Etruschi, represents appellations such Bolgheri and Suvereto along the central Tuscan coast. He told me: "There were some problems with the maturation of the Sangiovese which by the time of its harvest had developed some botrytis problems. Cabernet Sauvignon, Merlot and Syrah, however, were harvested in excellent condition." Bolgherian Michele Satta, an expert producer of Sangiovese wine, said he had "obtained his best results ever."
The 2OO4 reds that I tasted were like wild baby animals. Their raw, immature noses were brimming with the impacts of tooty-fruity fermentation esters, naked oak and match-smelling sulfites. At the same time, I witnessed their bright hue, clean fruity smells and solid weight on the palate. Listening to the accounts of the 2OO4 growing conditions has bolstered my hope that I will, in a few years' time, be sipping refreshing Tuscan Sangiovese. It's been awhile!
Lovers of Tuscan wines not only have the 2OO4 reds to eagerly wait for. The cool weather conditions, which had enough humidity to refresh the vines without encouraging fungus, and the substantial diurnal temperature variation spell great results for wines made from early maturing white grapes such as Chardonnay and Sauvignon Blanc. Wines made from later harvested white varieties such as Trebbiano and Malvasia, however, will likely not be great examples of their type. Rains arrived during their harvests. Vin Santo, largely made with Trebbiano and Malvasia grapes, had its own unique problem. According Chioccioli, November and December were warm, humid and without wind. These conditions opened the door for rampant botrytis infection during the indoor drying period of Vin Santo grapes. Marco Firidolfi Ricasoli who makes excellent Vin Santo at Rocco di Montegrossi said that his own production would almost be halved.
Chiantis are better than ever, says Jordan Mackay in the Los Angeles Times. In the past decade, Chianti Classico has undergone a "quiet revolution". The Tuscan standard-bearer has long been based on Sangiovese grapes, blended with other varieties, including white grapes. But under a change in Italian wine laws in 1996, Chianti Classico must now be at least 8O percent Sangiovese, and white grapes are not required. That change, along with modernized vineyard practices, has made for more complex, supple reds. Here are some top picks.
FELSINA 2OO1 A full-bodied wine with a touch of floral and chocolate aromas. $16
MONSANTO 2OOO Tart and medium-bodied, this may be "too tangy for some," but its hint of cherry is terrific with food. $17
CASTELLO di BROLIO 1999 A "deep and flavorful" full-bodied wine, with berry and black licorice texture and a "long, sweet finish." $46 -THE WEEK