archived

FeaturedArticles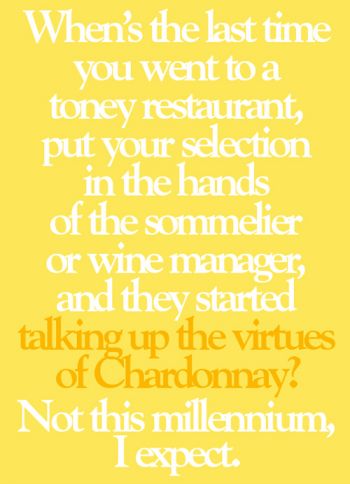 Article By: Sandy Block, MW
The idea even seems a bit quaint. Having recently sat on a blind tasting panel composed mainly of sommeliers from around the world, I can report that it's not a popular grape among many of the young guns in the field. Not that anyone comes out and actually says they don't like it, mind you. That would be closed-minded. Instead you'll likely hear declamations against "over-oaked" Chardonnay, "high alcohol" Chardonnay, "unbalanced" Chardonnay, "pretentious" Chardonnay, "egotistical" Chardonnay, sometimes even "California" Chardonnay. If it weren't so funny it would get tiresome. Upon finding out that they were assigned to taste flights of Chardonnay from the US, many of the panels let out a collective groan. "What did we do to deserve this?" one of my twenty-something colleagues asked. "You should have been around fifteen years ago," I told this European whiz kid. "Then you would have seen some serious oak, Jacques."
Maybe it's my contrarian nature but I'm coming back around to Chardonnay. Not that I ever really left, but I do think that many of the wines I'm tasting today, in all price and style categories, are outstanding. At the international tasting I certainly felt compelled to defend what I thought were superior quality wines that others kept disparaging, even if they weren't exactly my style. "Why do you think this grape is still so damn popular?" I finally had to ask a dinner companion who was frothing with rage at the mere mention of one of the more commercially (and critically) successful forty-dollar retail Chardonnay brands. "Marketing," he said, as though I were an idiot, which granting him the benefit of the doubt I may well in fact be. "So people don't really like it," I asked, seeking enlightenment, "they're just fooled into liking it?" He just looked at me like even trying to explain this was beneath him. But I pressed on: "Do you think it's possible that you don't like it," I asked, "because when customers order it, or other Chardonnays of this type, you don't really have anything to talk to them about?"
That, I am beginning to believe, may be it in a nutshell. Being the overwhelming white wine choice of the masses, as well as the well-heeled classes, Chardonnay's very popularity works against it when it comes to some restaurant people (or some retailers, for that matter) who are eager to share their latest obscure passion with customers. The attitude is, 'How dare these bozos waste their money on this superficial bimbo of a wine when there are so many intriguing choices I could tell them about?' I have to disagree. Professional wine buyers constitute a special coddled breed of humanity, their palates romanced with all kinds of exotic flavors on a daily basis. Marketers of all kinds are in frenzied competition to titillate their highly evolved, often-idiosyncratic tastes. It takes a really electrifying story to spark some of these people's jaded imaginations. While there is a miniscule proportion of the wine drinking public who aspire to be in the wine industry so that they can participate in these arcane rituals of sniff-taste-gurgle-spit-and purchase, for most of the rest, there is Chardonnay. No doubt some of the people who buy it do so out of habit, because they're comfortable with the way the name sounds when it rolls off their tongue, but many of the others know exactly what they're getting when they choose a Chardonnay, because they've learned through experience that the flavors and textures and aromas are pleasing to them. In other words, I think it's a really popular wine because people like it. Radical thought, perhaps, but to believe otherwise is to lapse into the Homer Simpson position: "Everyone's stupid but me."
But here I go talking about "Chardonnay" as though it actually were one thing. Among the grape's most magical attributes is its protean nature. In reality there's a Chardonnay to fit every taste and palate. The range is quite dramatic: bone dry to frankly sweet, acidic to mild, lavish to lean, toasty to fruity, light to medium to full. Respecting its market leadership position as the number one, two and three most popular white wines rolled into one, I have been blind tasting like crazy lately to unearth the crème de la crème, in several of these different categories, and here is what I've discovered: it's not hard to make a good wine. Outstanding ones are fewer and far between. The following, in my estimation, deserve that accolade. They are listed in ascending order of ranking, without consideration of cost. (For comparative purposes, prices quoted are average retail.)
Graham Beck "Pinno"
Coastal Region, South Africa
2OO4
A very fine example indeed of one of the increasingly more available "unoaked" Chardonnays which are revitalizing the category at this value price range. It's something new that's actually something old. Unwooded Chardonnays, as they're inelegantly described, never really went away, we just forgot about them. Now they've been re-discovered and are gaining in popularity. This wine shows brightness, pure apple blossom aromas, straightforward but low key fruit flavors and a clean, engaging texture. It's quite dry throughout and its medium long finish is quite satisfying. $9.99
Thelema
Stellenbosch, South Africa
2OO2
Medium deep straw in color, this wine has a real earthy, stoney, mineral-like aroma. Big and fleshy, but with a sophisticated use of wood tones that are integrated into the fully ripened fruit flavors, it's a real mouthful. Impressive velvety texture with mineral notes continuing on into the long finish. This is one of the more complex South African Chardonnays I've recently had, with one foot stylistically in France and the other in the "New World." $24.99
Alois Lageder
Alto Adige, Italy
2OO3
An impressive entry in the growing ranks of the aforementioned unoaked Chardonnays that have begun to appear with regularity on shelves, this wine is very pale in color, with a fresh, bright, sweet herb aroma. So it's engaging right off the bat, and the initial impression carries through to a seamless, crisply acidic flavor profile that is all about spring fruits. Ripe, balanced, soft and peachy, this is what I'm drinking with cold seafood salads and loving every sip. Much as I crave Sauvignon Blanc and Riesling, sometimes you want something a little milder, but with structure and integrity. Here it is, for a mere pittance. $1O.99
Silverado Vineyards
Napa
2OO2
This barrel-aged wine shows a vibrant, slightly vegetal, green apple and mushroom aroma that had me thinking of a cooler climate than Napa. The acid is soft and creamy, and the flavors are relatively mild and understated. It strikes me as one of those all-purpose Chardonnays that have the politeness and style to fade a bit into the background with a wide variety of fish and fowl dishes. Something to shut down the ideologues that fulminate about Napa Valley being red wine country. $18.99
Yalumba "Unwooded"
South Australia
2OO4
This is my overall winner in the "I can't believe it's only $1O or less" category. Talk about a surprise. If our friendly sommeliers were down on California, can you imagine what they have to say about South Australian Chard? Everything about the category seems to be a cliché piled upon a travesty, wrapped inside an abomination, or something like that. But here it is: minerals, flowery fruit, even a touch of earth, all wafting from the glass in palpable waves. Soft and mellow, but with real authentic Chardonnay character, hints of apple, pear and honey. Everything is understated in this wine and absolute quality is very high. Perhaps a new Australian paradigm? They do adapt quickly to changing tastes down under. This is the best I've had in this price range in memory. Don't chill it too much, you might miss some of the subtlety. $9.99
Travis "Unfiltered"
Riverview Vineyard, Monterey
2OO2
This unoaked Chardonnay is a real slim beauty. Well integrated with fresh apple, even slightly citric aromatics, it's nonetheless velvety on the palate, with smooth, beautifully balanced fruit. The flavors show considerable subtlety, but come on in waves and layers, hinting of peaches and apple again. I was frankly wowed with its purity, especially since I'd never heard of Travis or Riverview Vineyard before. They're both high on my radar screen now. $16.49
Neyers Vineyard
Carneros
2OO2
Just when I was beginning to despair of Carneros Chardonnay (green, green, more green, and honey) I taste this wine, which is an undisputed winner in all senses. Okay, so the great Robert Parker's not always wrong. The Chardonnay style here is an in-your-face defiant answer to those throwing rocks at California's ability to make world class white. Yes, the aroma features butterscotch and caramel. Yes, the texture is oily. Yes, it's intensely ripe. Oh, and it's not shy on oak. It just works. Perhaps because, to quote one of Mr. Parker's typically elegant turns of phrasing, it has "loads of length". In my own original formulation it has loads of deliciousness. Bring me a lobster, quick, but hold the butter, I'll dip it in this. Viva California! $29.99