archived

FeaturedArticles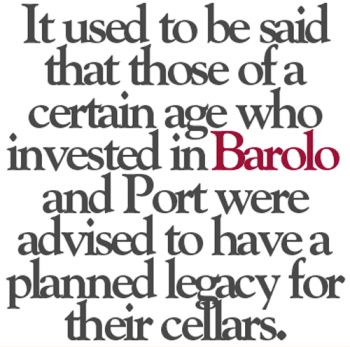 Article By: Fred Bouchard
Yet styles have evolved demonstrably in both regions over the last generation, due to economic constraints as well as contemporary taste evolution. Since the wine industry's watershed 199Os, certain vintners are sidestepping traditional austerity seeking for an easier complaisance. Moreover, the millennium vintage of Barolo, as elsewhere throughout Europe, was considered a rich, ripe vintage, touted widely as the 'best' since 1997. With hue and cry both loud and persistent on these wines, they have arrived on these shores as hot items and are expected to sell rapidly. 'Hot' is literal as well as figurative: Barolos are rarely envisioned for immediate drinking pleasure, but both the 1997 and 2OOO vintages have been regarded as forward, ripe and open.
Here's how Brookline Liquor Mart in Allston ran a Barolo tasting. This brief report talks more to the tasting process than prognostication on the wines' rose-y (if not tar-ry) futures.
the SET-UP Elizabeth Kane explains how the tasting came about. "When I arrived at MS Walker from Veuve Clicquot in Manhattan last year, I came with the understanding that to move an expensive portfoilio of wines, you have to crack eggs to make an omelet, so to speak. We were going to have to run tastings to move in retail. MS Walker has a large Italian portfolio, and our Piedmont selections are huge. I had about 3O Barolos to choose from!
"Claudia Davis is national brand manager for Mark di Grazia; they created the job for her, and she started last fall. She'd worked at Skurnick, a well-respected wholesaler/importer. She'd worked with these wines for years.
"We chose to partner with a few stores around the state. Not only was BLM willing - Roger Ormon and his team were enthusiastic about working with us - they also had a really good client base that cellars wine, and also a great tasting space out back. It was really a perfect store.
"We also partnered with Hingham Wine Merchants. Dick Graham has a lovely big house, and we held a walkaround tasting for 8O of his clients. Both Dick and Roger know how to speak to their client base. Both tastings really worked and we sold a lot of wine - and built some great partnerships. We decided to make them a special offer to grease the kitty."
BLM's veteran salesman, taster and newsletter writer, Roger Ormon announced a tasting of eight newly released 2OOO Barolos via email to his customer base. Those interested prepaid, by phone or by web, a $2O fee by credit card. The 3O projected slots filled up in a day or two. Even though most of the wines had been landed and warehoused at MS Walker, BLM offered them at the tasting itself at 'pre-arrival prices', about 2O% less than the wines would be advertised the following day in the newsletter and the same price as they would be on the floor, if indeed they had not been all snapped up before they could be binned.
TASTING CONDUCT and COMMENTARY At 6pm on a Wednesday - typically a slow day in the slow week following Valentine's Day - tasters assembled in BLM's spacious showroom, and were led to the back room for a tasting of eight of the crop of 2OOO Barolos. Sharing emcee duties were Ormon, MS Walker representative Elizabeth Kane and Claudia Davis, whose firm (Mark di Grazia) imports several of the wines. BLM staff had laid out platters of cold cuts, cheeses, fruits, olives on a sideboard, and placed baskets of baguette rounds and communal spit buckets at strategic points on the extensive connected tables. Tasters were both seasoned BLM clientele and new faces, such as two enthusiastic interns at Harvard Medical School. The wines were presented in approximate ascending order of weight, complexity, price, and Wine Spectator point count. Prices and ratings are omitted from this report. One Riedel glass was afforded each taster; since servers poured the undecanted but lightly aired wines at about one every 5 to 7 minutes, alongside interesting running commentary, tasters had to make relatively swift assessments. The genial commentators competed neither with each other, nor with the wines. Kane drew some general notes, remarking on the Barolo region's typically cool summers and its never-over-the-top fermentations, increasingly done in stainless steel among the younger generation. She noted that the law dictates 24 months minimum of barrel aging, but that various producers may opt to age their Barolos longer; further variables are whether the oak is old or new, large or small (botte versus barriques). Ormon, an ardent follower of Barolos since the 197O, waxed eloquent about the 1982 vintage (lovely, not powerful) and its softer tannins. Davis was particularly adept at calling attention to the characteristics of the various villages' terroirs. She also had had sufficient firsthand exposure to Piemontese lifestyle to mention the softening of social relations among centuries-old winemaking families that may well parallel such directions in winemaking. "The youngsters talk to each other," she noted, in contrast to the longstanding stuffy antipathy widely attributed to brothers Aldo and Giacomo Conterno - or, to the Northeast, Livio and Marco Felluga. "They hang out, hold weekly tastings, discuss their new winemaking toys." There were even intimations that communication fault lines are forming in Barolo, as elsewhere, along generational rather than family lines: as youngsters exercise more contemporary tastes and styles, they're likelier to irk their own fathers than annoy their peers in the neighboring vineyard.
The DEAL The sweet, on-the-spot-only discount deal favored big spenders, as it was offered only on full case orders. Several modest purchasers (this writer included) banded to cobble together a mixed case order. The ad-hoc coalition provoked continued amiable discussion on the relative merits of the two Grassos, Ratti, Vietti, and Alessandria. While the staff cleared the tables and husbanded the leftover wine, we munched cheese rinds, pate, and grapes, plumbed the dregs of the pre-tasting Barbera, and talked when the wines' dumb periods (elegantly termed by Davis as their 'cocoon phase') would kick in and how long they might last. Meanwhile, Ormon retired with carefully preserved portions of the bottles to taste in peace and write up his own notes for BLM's on-line newsletter; some of these are excerpted below.
AFTERTHOUGHTS In years past, Barolos were considered blockbusters of alcoholic, but today many of them are being tamed and refined, carrying their 14 to 15% with considerable grace, especially vis à vis recent olfactory onslaughts of Amador and Cucamonga Zinfandels and heavenly hosts of Aussie Shirazim.
Ormon said in his tasting summary, "As a group, they showed considerable saturation and black hues, ripe fruit aromas and flavors, and broad mouth-feel rarely found in just-released examples of the 'king of wines'." I recalled that, mid-tasting, Davis, though preaching to the converted, couldn't resist telling us insiders that her dictum to uninitiated Barolo-tasters - "Trust me! It'll taste great in ten years!" - usually met with blank stares. Ah, yes, we think piously, ten years must seem eternity to America's pop-'n'-pour culture. And yet the burning question for those of us who traditionally hold traditional Barolos ten - yea, verily, even twenty! - years before popping their corks remains: "Will these modern Barolos age as well as their forebears?" The consensus opinion was tantalizing, maddening: "We'll have to wait and see!"
The Wines
2OO2 Barbera, La Spinetta "Cadi Pian"
The only wine not a 2OOO Barolo was poured as a starkly contrasting lagniappe. Comments: Giorgio Rivetti makes single vineyard Barbera only in the best years; he skipped 2OO3. Asti is widely regarded as the best Barbera town: all vineyards face SSW to SE. The saturated violet Barbera proved rich, savory, luscious, and food-friendly, but was shortly upstaged by its larger cousins.
Vietti Barolo Castiglione Village
Castiglione Falletto is known for its fine balance of power versus softness, with its tannins under wraps. Vietti house style: Gentle, elegant. Regarded by some as feminine, likened to Pinot Noir in several respects: its difficult cultivation and murky weather, a heartbreakingly thin-skinned varietal producing precious few 'bankable' vintages. Wine Spectator: "Silky, refined red with plum, strawberry and light cedar character . . . lovely." My notes: Strawberry hue reflected in flavor. Lean but sappy and appealing finish. Roger Ormon volunteered that he has followed the house since 197O; extracts from his notes: high-toned and penetrating, with lots of spice. Plenty of ripe berry/dark cherry fruit on the palate, with cedar and brown spice; good balance, with a long finish. A flavorful wine with youthful vitality and surprising harmony. I can see this taking on Burgundian elegance over the years. Note: this wine (somewhat ironically because of its lightness) is one of very few Barolos consistently available in both full and half bottles.
Renato Ratti Barolo Marcenasco Village
La Morra, produces soft and lush wines, even from traditional hardliners. Vinification notes: long maceration and stainless steel fermentation; aging in older, larger botte thus less likely to absorb wood aromas. My notes: rich violet hue, leggy, cranberry and tar in nose, white pepper and vanilla notes, with sweet, pleasurable finish. From Ormon: Lively and penetrating for all the plump character. There's plenty of blackberry-like fruit in the mouth, with the vanilla and spice as an undertone. Good body with a plush quality that shows over the good structure.
Giacomo Conterno Barolo Cascina Francia Village
Serralunga is the least developed of the five main townships of Barolo. Comments: Widely regarded as a house achieving wines of "heroic proportions," G. Conterno wines have a reputation of excellence like Vega Sicilia. Ms. Davis mentions the well-worn analogy "iron fist in a velvet glove". My notes: deep, saturated velvety violet, concentrated tannins, black currant and plums to fore. From Ormon: Sweet cherry-like aroma with harmonious overtones of pine. A gentle, suave bouquet. In the mouth the fruit is muted and blended with the cedar-like spice and aromatics. This has good body, is rich, with some creamy texture; well balanced for its big size. In flavors this is somewhat like the Vietti, though bigger and richer.
Gianfranco Alesandria Barolo San Giovanni Village
Monforte D'Alba wines usually have power in reserve. Alesandria's tiny (2 hectare) estate produces only 4OO to 5OO cases. Comments: This young, passionate winemaker uses a high proportion (6O%) new barriques; 'every year' he wins Gambero Rosso's Tre Bicchieri (Italy's Wine Spectator's top award). GR rave reads: "terrific aromas of cinnamon, cloves and crushed berries follow through to a full-bodied palate, with super silky tannins and a tight finish." My notes: rich purple, unctuous texture; substantial tannins and oak flavors do not interfere with forceful expression of plummy fruit. Sumptuous body and lengthy finish. From Ormon: Open nose; ripe blackberry aroma has good sweetness, fresh and spicy pine-like overtones. A vibrant, tingly feel. The wine has ripe black berry fruit in the mouth, with lots of spice, and some toasty oak. An aromatic and flavorful wine, with good substance and structure.
Silvio Grasso Barolo Giachini Village: La Morra
Floral overtones are typical in most producers' wines from this vineyard. "Grasso achieves the epitome of La Morra style: soft, perfumed, classic structure." Comments: 3O-year veteran winemaker uses old ways but new tools. Wine Spectator: "Extremely grapey and soft, with lovely berry, coffee, chocolate and light raisins . . . Super quality. Beautiful." My notes: Violet, floral, balanced; sappy, not cloying syrupy fruit; silky texture, lingering cocoa and toasty notes. From Ormon: On the palate the wine is very sweet with ripe dark berry fruit, blended with dark chocolate and coffee flavors. The flavors are delicious and long, with good tannins providing structure. This proved to be the most popular wine of the tasting, which translated to most sales, value versus price-point being an issue.
Silvio Grasso Barolo Manzoni Village: La Morra
Wine Spectator: "Lots of plum skin and dried flowers . . . Elegant and refined." My notes: Darker, garnet; meatier nose, leathery, more power and tannin (barrique?) but less acid. From Ormon: The dark berry flavors follow on the palate, subtle but rich, with good concentration and intensity, backed by toasty oak. Good body, rich, with persistent matte tannins.
La Spinetta Barolo Vigneto Campe Village
Comments: "Rivetti spent millions on his state-of-the-art winery. He is passionate, thoughtful, outgoing, fastidious, does not consider himself a modernist. He uses 1OO% new French oak." My notes: viscous, deeply saturated purple, concentrated aromas; long keeper. From Ormon: Reminiscent of blackberry turnovers in the oven. Light cedar spice and tar notes. Very rich in tone. There's lots of fruit in the mouth; juicy with dark jammy tones, dark chocolate, and a subtext of very spicy new oak. The flavors are rich, broad and long. A big - and tasty - mouthful!