archived

FeaturedArticles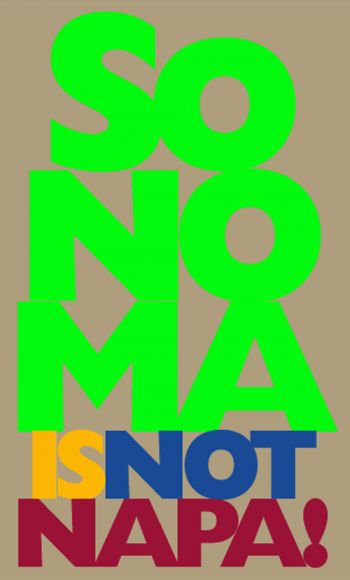 Article By: Harvey Finkel, MD
Less chic, less compact, it sprawls over a much larger area of bewilderingly diverse terroirs, which, when properly fit with grape variety and growing methods, yield wines as fine as anywhere.
Sonoma County, now with more than a dozen appellations, can offer cool sites suitable for sparkling wines and delicate Burgundian varieties, hot spots for ripe Zinfandel, and just about everything in between.
Sonoma can be said to be the cradle of the California wine abundance, an oft-told tale with beginnings in the early 19th century, but with no conclusion in sight. I get many opportunities to taste wines, often serially, and naturally find some consistently especially pleasing to me (not necessarily to you). I keep no secrets, so will own up to what I've been liking from Sonoma. These are some of the producers who have most pleased me.
Hanzell Vineyards is truly of the few in California producing wines at the grand cru level. The site, in the Mayacamas Mountains overlooking the Sonoma Valley, then called Weathery Heights, was purchased in 1948 by industrialist-diplomat James Zellerbach, who planned to produce Burgundy-styled wines. He named the property Hanzell, after his wife Hana. Chardonnay and Pinot Noir were planted in 1953, the distinctive winery built in 1956, the year of the first tiny vintage. Cabernet Sauvignon was produced in addition from 1979 through 1992, otherwise Chardonnay and Pinot Noir exclusively, estate grown, estate bottled. No wine was made in 1963 and 1964, the two years immediately following the death of James Zellerbach in 1963. The 1961 and 1962 wine stocks were sold to Heitz. Brad Webb was winemaker from 1956 to 1973, succeeded by Bob Sessions, who retired after 2OO1, but who remains as consultant. His French protege, Daniel Docher, ascended to the job in early 2OO2. I just learned of the appointment of a new winemaker, Michael Terrien. The staff is stabile, the work hands-on.
The steeply sloping, partially terraced vineyards lie between elevations of 65O and 9OO feet, consist of 27.5 acres of Chardonnay and 14.5 of Pinot, with vine age averaging 25 and 36 years, respectively, and generally face south. The soil is rocky clay loam of volcanic origin. Yields are low. Total production, now about 27OO cases of the two wines, may rise as high as 6OOO within the next three years.
Winemaking here has been innovative, yet with artful moderation. Hanzell pioneered, in California, the use of temperature controlled stainless steel fermenters, French oak barrels for fermentation of the Chardonnay and for aging, controlled malolactic fermentation, on-site enology laboratory analysis, and preserving nitrogen during bottling.
After James Zellerback died, the estate was sold in 1965 to Douglas and Mary Day, who sold to the de Brye family in 1975. Alexander de Brye now presides over expanded vineyards. Jean Arnold Sessions is the company president.
The wines demand and benefit from bottle aging. I have drunk the Chardonnays for about 3O years. They are remarkably good: balanced, durable, elegant, with substance and finish - delicious - all one could wish. I have tasted fewer of the Pinot Noirs. They are weighty and ripe, with sweet, long fruit, long-lived, intense, sometimes with a hint of mushroom.
Dry Creek Vineyard was born in 1972 when David Stare, a Bostonian who had qualified in civil engineering at MIT, experienced a vinous epiphany. He transformed prune trees to grape vines in the Dry Creek Valley, establishing the first new winery there since Prohibition, thereby stimulating a revitalization that continues. There are now more than 3O wineries and growers in the valley. Stare's son-in-law, Don Wallace, and daughter, Kim Stare Wallace, now play large roles in managing the estate. Bill Knuttel joined as winemaker in 2OO3. He had previously made wine at Chalk Hill Estate and at Saintsbury.
The estate draws from vineyards in Dry Creek Valley, Alexander Valley, Russian River Valley, Knights Valley, elsewhere in Sonoma, and, for Chenin Blanc, Clarksburg in the Sacramento Delta. The sites fit the varietals growing thereupon. Annual production is about 1OO,OOO cases. Knuttel has deemphasized the vague "reserve" designation in favor or specific vineyard sourcing, and has reduced production of some wines, especially Sonoma Chardonnay, instead focusing on vineyards ideally suited to particular grape varietals, for example the cool Russian River Valley to Chardonnay and Pinot Noir.
Inexpensive Chenin Blanc 2OO4, always a pleasure and so versatile, has mineral notes and balanced fruit and acid - one of the too few in California. Fume Blanc 2OO3 is perfectly balanced, lively, lemony, long, and delicious - a great value, an under-appreciated treasure. DCV3 Estate Fume Blanc 2OO3 had more body and substance, needs more time. Taylor's Vineyard Musque 2OO3, made from a selection, perhaps a clone, of Sauvignon Blanc, has silky texture, very long finish, and dash. Saralee's Vineyard (Russian River) Chardonnay 2OO3 is intense of fruit, balanced by oak, long. Beeson Ranch Zinfandel 2OO2 (vines over 1OO years old) evokes dark plums, is intense and long. Somers Ranch Zinfandel 2OO2 tastes of blackberry, and also promises a fine future. Both are from Dry Creek Valley grapes; both contain a bit of Petite Sirah. Meritage 2OO1, composed of Dry Creek Cabernet Sauvignon, Merlot, Cabernet Franc, and Petit Verdot, is dark, ripe, and suave. Malbec will likely be in future mixes. Endeavour Cabernet Sauvignon 1999, the winery's best effort, contains 15 percent Cabernet Franc. It spent 38 months in French and American oak. Only 5OO cases were made. It is dark and fragrant, full of flavor, of fine texture, long in finish. In addition to these eight wines, Dry Creek currently offers a Chardonnay, two other Zinfandels, a Merlot, a Cabernet Sauvignon, and a Late Harvest Zinfandel. I expect more changes.
Iron Horse Vineyards makes wines that are thoroughbreds, lean and long of life and finish. Owned by the Sterling/Tancer family amalgam, Iron Horse was founded by Barry and Audrey Sterling in 1976. Grower-winemaker Forrest Tancer married Sterling daughter Joy Anne, a former Los Angeles television reporter who had become the public face of the estate, in 199O. (Her book A Cultivated Life, Random House, 1993, is an informative account of a year's cycle in the vineyard.) Tancer had planted the original Green Valley vineyard for Rodney Strong, and brought his own T-bar-T in Alexander Valley into the estate. The bulk of Iron Horse's 244 acres of vines lie in the very cool Green Valley, really a subsection of the Russian River Valley. Here are grown Chardonnay and Pinot Noir, particularly for a sterling family of elegant sparkling wines unsurpassed in California. They do not undergo malolactic fermentation. The still versions are lean and crisp. Cabernets, Viogmier, Sauvignon Blanc, Merlot, and Sangiovese are grown in the Alexander Valley. Plots are selectively harvested. The signature Iron Horse leanness is detectable here too, despite the higher temperatures. Upwards of 4O,OOO cases are produced each year.
Marimar Torres Estate, also located in Sonoma's Green Valley, is devoted to estate-grown Chardonnay and Pinot Noir of selectively varied clones. Marimar, one of those few instantly identifiable by first name alone, is, of course, the scion of the illustrious Torres family of Cataluna, of international wine fame. The estate was acquired in 1983; the Don Miguel Vineyard initially planted at about 2OO to 4OO feet in 1986; the adjacent winery was built in 1992. A second vineyard, the 12-acre Dona Margarita, was planted to Pinot Noir on a hillside on the even cooler Sonoma Coast (Freestone Valley) at 435 to 625 feet in 2OO1. Both are densely planted and lovingly tended by organic methods. Yields are kept low. There are now 3O acres of Chardonnay, 42 of Pinot, giving a total production of about 13,OOO cases. The maximum produced so far was 16,OOO in 2OO1; the least was the 8OOO in 2OO4, when April frost visited disaster upon the cover crop and grape buds. The grape quality was, however, excellent. Ultimately, about a 17,OOO-18,OOO case production is expected.
A number of significant changes are planned. Starting with the 2OO3 vintage, a small bottling of Earthquake Block Pinot Noir from the Don Miguel Vineyard, all Pommard clone, will be kept separate. A separate barrel selection called Cristina, after Marimar's daughter, was inaugurated with the 2OO2 vintage. It spent its time in 8O percent new, 2O percent one-year-old oak. The first vintage of the Dona Margarita Vineyard, the 2OO4, will be bottled. Each of the three will be released at an appropriate time. The name of the enterprise is to be shortened to Marimar Estate. A strip label will further identify it as a Torres Family Estate.
The winegrowing team is composed of proprietor/winegrower Marimar Torres, technical director Bill Dyer, well known from his work elsewhere, cellar master Tony Britton, and vineyard manager Ventura Albor. The Chardonnay is barrel fermented in French oak, and goes through malolactic fermentation. Is is aged on lees in barrel until summer bottling. A few barrels are selected for Dobles L'as (double lees). After initial barrel aging, lees from other barrels are added, and the wine remains on them, being periodically stirred, for a second year. Pinot Noir ages in French oak until the summer or fall after harvest. Bottles are released the following spring. The barrels for both Chardonnay and Pinot Noir are one-third new, sometimes more.
With the skill and uncompromising attention to detail brought to bear, it is no wonder that the wines turn out well. They combine impeccable fruit with just the right touch of highest-quality oak, and seem elegant and self-contained and reserved in a European manner rather than showing the exuberance of California. They are delicious with food. They endure. The Dobles L'as possesses extra fragrance, richness, complexity, and finish.
Finally, a note on the notable Sonoma doings of Gallo. After sourcing grapes from Sonoma for decades, Gallo bought the old Frei Brothers winery and vineyards in Dry Creek Valley in 1977, and has been expanding ever since. I believe that Gallo is Sonoma's largest landholder, now owning about 6OOO acres in several Sonoma appellations and a modern winery on the Frei site, and producing about a million cases of wine annually in Sonoma. Half the acreage is in producing vineyards; the rest is reserved for wetlands and the like. The emphasis on vineyard development has extended in some cases to reconfiguring the land. Gallo, which has long demonstrated that it can do superbly whatever it sets its mind to, has developed or acquired a number of Sonoma properties. Its Sonoma wines are found behind a number of labels, including Gallo of Sonoma, Gallo Sonoma Single Vineyards, Gallo Estate, Frei Brothers, MacMurray Ranch, Ranco Zabaco, and Turning Leaf Sonoma Reserve. Gallo has just purchased Barefoot Cellars. Contributions from Sonoma are part of other Gallo products of California appellation. Venerable Louis Martini, acquired by Gallo recently, although based in the Napa Valley now produces a few wines from Sonoma grapes.
I can't claim firsthand familiarity with every wine Gallo touches. I've often found Gallo Estate Cabernet Sauvignon and Chardonnay, made from highly selected lots, too oaky and too pricey. The Gallo Sonoma Single Vineyards line is consistently most satisfactory and of good value, as are the wines of Rancho Zabaco. The latter makes two single-vineyard Zinfandels from Dry Creek Valley, Chiotti and Stefani, that are intense and flavorful, two inexpensive and tasty Zins, Dry Creek Valley and Heritage Vines, and one outright bargain, Dancing Bull Zinfandel (the last mostly not of Sonoma grapes), as well as a Syrah from Dry Creek Valley and one from elsewheres. Rancho Zabaco's winemaker, Eric Cinnamon, continues his winning streak. The Frei Brothers and MacMurray Ranch wines, which I just tasted for the first time, are tasty and balanced and finish very well, an auspicious sign.
We have seen from just one overflight a bird's-eye view of a broad spectrum of makers of estimable wines: tiny productions of Burgundian varieties of character, elegant sparkling wines, Californian versions in the spirit of Bordeaux and the Loire, virtually autochthonous expressions, and the progress of a supple giant. Let's plan another flight before long.