archived

FeaturedArticles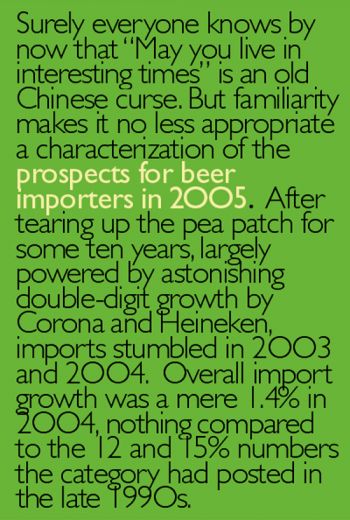 Article By: Lew Bryson
What happened?
Hard to say. Promotions remained big, there were no blows to consumer loyalty. The beer market in the US overall was weak, but that never slowed the overseas brigade before. There is a possibility that things just reached a natural ceiling, but that doesn't seem likely.
A likely candidate would be loss of focus. The major import companies have had a lot on their minds and on their plates recently. Let's take a look at what's been going on, and what's coming down the pike, to get a better picture of the interesting times.
We'll start with the biggest fish in the pond: Corona. Corona has become so large, a major brand in the American market by virtue of sheer volume, that it has been argued that the brand has transcended the import category into a zone of its own. There's certainly something to be said for that, and it has certainly transcended the "Mexican beer" category.
Corona's importers, Barton Brands and The Gambrinus Company, have successfully marketed the beer as "a vacation in a bottle". It's not about Mexican beer any more, it's about relaxation and recreation, a state of mind in which the beach and languid leisure play a large part. Corona did so well that its coattails have brought along success with other Modelo brands: Corona Light, Modelo Especial, and Negra Modelo.
If only that were true on a business level. The relationship between Grupo Modelo and Gambrinus (the importer for the eastern U.S. and Texas) has turned sour. Modelo first tried to purchase Gambrinus, a private company owned by former Modelo executive Carlos Alvarez, "as a means to improve Modelo's profitability," according to a Gambrinus press release.
At that time, Modelo said the action was unrelated to Gambrinus's performance, which was called "outstanding", as indeed it had been, by any reasonable measure. Gambrinus responded that the company was not for sale, that it valued its independence, and that Gambrinus would continue devoting its entrepreneurial efforts towards achieving further growth for the Modelo brands.
Modelo has since informed Gambrinus (and the media) that their importer agreement would not be renewed after its December 31, 2OO6 expiration date. Gambrinus, in turn, has initiated an arbitration against Grupo Modelo and its US subsidiary, Procermex, Inc., before the International Court of Arbitration of the International Chamber of Commerce. The company expects a decision by the fall of 2OO5, and refuses to make any further comment on the issue. No similar action has been reported with Barton at this point.
Corona may have transcended the Mexican beer category, but FEMSA (Fomento Economico Mexicano, S.A. de C.V.), brewers of Dos Equis and Tecate (among other brands) embraces it whole-heartedly - just not as a partner with InBev any more. Things have shaken up there, as well.
FEMSA was imported through Wisdom Imports in the early 199Os, but that importer was absorbed by Labatt USA, who then took over distribution of FEMSA's Tecate and Dos Equis brands. Labatt was taken over by InBev (Interbrew at the time, but we'll just say InBev throughout to avoid confusion), and ownership of Labatt USA was split between InBev and FEMSA, 7O/3O. FEMSA apparently got what InBev was willing to give; former InBev head Hugo Powell noted that "FEMSA had never been happy with this relationship."
Things got worse when InBev acquired German brewer Beck's in 2OO1 and decided to merge Beck's United States importer with Labatt USA to cut costs. FEMSA wasn't happy, and got a court order to halt the merger in May of 2OO2. InBev fought back, but lost in the courts.
The solution to this bad blood was for FEMSA to buy back the FEMSA shares owned by InBev, at which point InBev agreed to "unwind" FEMSA's relationship in Labatt USA, which as of September 2OO4, is now InBev USA. FEMSA regained its US importing rights, and is now represented by Heineken USA.
Heineken USA's almost ready to go to market with them, according to spokesman Dan Tearno. "We now have Tecate, Dos Equis Lager, Dos Equis Amber, Sol, Carta Blanca, and Bohemia," he said. "We doubled the size of our portfolio in one chunk. The key brands nationally are going to be Tecate and Dos Equis. The others will get local focus where they are already moving. We've brought in a new marketing group and new agencies for the Mexican brands; we expect it will be a comprehensive set of marketing and promotional activities. Not everything's done yet."
What does all this mean on the street? Probably not much in day to day: different faces with order sheets, different names on the checks, same beers. The only significant difference will come in changes or lapses in importer focus on brands. Will Heineken be able to give full support to FEMSA's brands? Will the arbitration proceedings and apparent friction between Gambrinus and Grupo Modelo cause their focus on the brands to slip in the East?
If that happens, watch for bold moves by InBev USA. InBev, as the Belgian-based Interbrew had a fairly low profile working through Labatt USA. Now that they have merged with Brazilian megabrewer AmBev, a move that made them the world's largest brewer, InBev USA is ready to move into the US, the world's largest premium-priced beer market, in a "world's largest" kind of way.
"InBev USA had an excellent year in 2OO4, with depletions up over 4%," noted InBev spokesperson Brenda Williams. "Some of the highlights included another exceptional year for Stella Artois - up more than 5O%. Stella Artois continues to be the fastest growing major European brand in the country, for the third year in a row. It is also the number one draft beer, in the number one draft market, New York City. Stella Artois will continue its roll out to national distribution in 2OO5."
It's not just Stella. InBev has quite a large portfolio. Besides Stella Artois, they have the Beck's brands, Rolling Rock and Rock Green Light, Labatt Blue and Blue Light, and the English staple, Bass Ale, as well as a host of smaller, specialty brands like Hoegaarden, Leffe, Staropramen and Boddington's. With the defection of FEMSA, they do not have a Mexican brand, but they are already leaning hard on their European roots as a source of quality beer.
For instance, InBev will continue to push their other flagship brand, Beck's, with their "Life Beckons" campaign, and will add some serious marketing oomph to the new Beck's Premier Light. "We are very excited about early enthusiasm from retailers for Beck's Premier Light," said Victor Melendez, the importer's head of European brand marketing. "It's a fantastic tasting beer that stays true to its German roots in both taste and its brewing process. Not only does the beer have incredibly low calories, but it is the lowest low calorie import to hit the US market." A truly astonishing 64 calories per 12oz. bottle is the figure given. The national roll-out will be complete by summer.
InBev has also found new life in Bass Ale. The brand was skidding after a total loss of focus when it changed hands a couple years ago. InBev has made a nice recovery, and Bass saw growth in the second half of 2OO4, success Williams attributes to "a renewed focus on quality and freshness."
But the big unknown in the InBev corner is whether they will bring out their big Brazilian, Brahma. Brahma is huge in Brazil, but virtually unknown in the US, and it's not clear what InBev intends to do with it here. Williams was somewhat reticent on the subject. "Brahma will be introduced to the US in 2OO5," she allowed, "but it's too early for any additional details about that brand."
What's Brahma likely to do in the U.S.? Some of us remember a couple of attempted launches for the brand in the past 2O years that went nowhere. But a big launch in 2OO5 will have several points in its favor. First, Latin influence is hot right now.and most Anglos can't tell the difference between Spanish-fueled Latino culture and Brazil's Portuguese samba beat; it's all Latin America to them. Add to that the growing popularity of Brazilian rodizio restaurants that will almost automatically provide a base market for the beer.
Now, add to that the marketing power of the world's largest brewer, and you have a real X-factor in a possible Brahma launch this year. InBev has an unusual opportunity as the focus of Mexican brands may be directed elsewhere. Interesting times.
The interesting times don't all focus on interactions with Mexico, though. Some of it is purely about America; the American dollar. Currency exchange always affects import sales, and the strong-as-steel dollar has been helping imports pick up a big chunk of the US market. Now that the dollar has slumped dramatically, things have changed. You notice it at the gas pump, at the Toyota dealer, at the grocery store. It's something the beer importers have to face as well.
Are prices headed up? Importers are holding the line as much as possible. "I can't discuss pricing issues," admitted Dan Tearno. " It's our plan to do the best we can with what we can control: exciting packaging and promotions for beer drinkers 21 and older. Currency is what it is."
Bill Wetmore, marketing head for Scottish & Newcastle Importers, had a similar "wait and see" message about Newcastle Brown. "We have not taken a price increase of late, and we don't have one scheduled," he said. "Of course, we are sensitive to currency changes."
It's probably going to be a case of waiting for a major leader in the category to break ranks and raise prices, at which point everyone will follow. Currency fluctuations don't help anyone.
Well, actually, they do: they help domestic producers. That's one possible explanation for the very impressive performance of the craft-brewed sector in 2OO4. Craft-brewed beers grew at a rate that was over four times faster than imports in 2OO4.
Before anyone brings up the point that craft-brewed beer is working on a much smaller base than imported beer, and so it doesn't take as much to make a big percentage increase, let's take a look at the real numbers. Craft beers aren't that much smaller; they have about one-third the market share and volume of imported beers. So a big percentage growth rate is actually significant in comparison of the two categories.
And in this case, it doesn't even matter what size the two categories are. Why not? Because craft beers grew at a higher rate and chalked up bigger actual numbers. Imports grew 1.4% in 2OO4, or 332,1O8 barrels. Craft beers grew 7%, which gave them an increase of 46O,19O barrels.
Was it currency exchange favoring craft brewers on price over imports? Maybe, but craft brewers had price pressures of their own from healthcare and energy costs. It's more likely a matter of the category finally getting their message through and brewing consistently high-quality beer.
Or it could be that consumers see imports and crafts as two sides of the same coin, and craft brewers won the toss this year. "It's a situation where people have been willing, and still are willing, to pay more for what they feel is a better beer," Tearno said, rather even-handedly. "That started in the early 199Os with the micros. Then in the late 199Os and early 2OOOs, the imports grew on the same idea. But a quality beer is a quality beer, whether it's brewed in Colorado or Amsterdam. If people are willing to pay a premium price for it, I think that's good news for everyone in the industry."
Bill Wetmore had much the same to say. "There's not a clean line between Sierra Nevada Pale Ale, Fat Tire and Newcastle," he said. "Consumers will move back and forth among those brands. They're all high-quality, with good taste. Those products, and smaller products on the regional scale, have done a good job. The craft beer business has helped Newcastle by broadening people's horizons on the kind of beers they'll try."
Wetmore also pointed out that the craft brewers have helped drive retailers to carry a broader selection of beers, both on- and off-premise. "It provides the consumer with a greater range of options," he said, "and in turn it allows more competition. We've done well there, and we're grateful for the opportunity."
Wetmore was pretty happy about Newcastle, and represents the other side of interesting times. "We finished up about 8%," he said. "We had a very good year, particularly in off-premise. We finished the IRI's up about 24.8%, a really strong year. We moved up to number 14 overall in imports - and what was really great, in dollar sales we were 11th."
While 2OO4 was not as strong for imports, Wetmore feels his brand has a unique strength in that respect. "We are able to ride it out better because we have a unique proposition," he said. "There's not another beer like us, that offers more flavor and drinkability. We're unique as a brown ale for the most part. We've got new advertising out in April that reinforces that message; we're the brand that fits in that slot. If you want a beer that isn't just lawnmower beer, but doesn't abuse your tastebuds, we're there. It really ties into our "Best of Both Worlds" promotion."
Not to be overlooked, Heineken USA is coming off 2OO4 with solid 5% growth, and is ready for 2OO5 with some innovative promotions and packages. "It would be premature to talk about 2OO5 with only one month done," said Tearno in early March. "But we're quite optimistic. We have some packaging innovations coming online. We have a 4.75 liter draft package coming on, and it's not just a big can. It's really draft, with a CO2 widget in it. We did fridge packs for Amstel Light that were very successful, the roll-out kind of pack, and they're coming for Heineken."
The Heineken promotions center on music, a follow-up to the Heineken Downloads program. "We have the Music for Life program," said Tearno, "a consumer sweepstakes. Music has become even more part of people's lives in the US with downloads, it's part of the enjoyment of life. Heineken is as well, and it's complementary."
There may be some surges, there may be some new players, there may be some strange goings-on, there may be price changes. But imports aren't going away. It shows just how solid imported beers are when a growth rate that still outpaces the general market is cause for concern. When your annual growth is "only" 4.5 million cases, that's the kind of "wrong" most salespeople would be glad have a truckload of. Even in interesting times.