archived

FeaturedArticles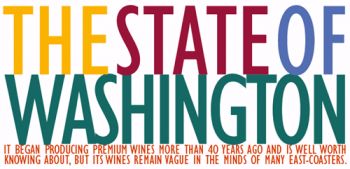 Article By: Harvey Finkel, MD
First we must disentangle the state in the upper left corner of the country from the often unreal city on the bank of the Potomac. (There are 47 different Washingtons listed in the index to my atlas.) Next we must understand that, climatically, there are two Washington States. The more familiar western third, containing Seattle, is too moist for prime wine growing. The arid two-thirds of the state east of the Cascade Mountains, with the necessary help of irrigation from the huge Columbia River basin, accommodate seemingly endless vineyards producing all manner of fine grapes.
Washington, second among the states in wine production, now contains more than 3O,OOO acres of producing vineyards and more than 3OO wineries. (It seems a new one opens every week.) It has established its own style vis-a-vis the California behemoth to the south, as we'll see when investigating the wines of our focus - Hogue Cellars. Because of the northerly location, there are long hours of sunlight during the growing season, fostering full flavor development in the grapes. Humidity is low because of the rain shadow of the Cascade Range to the west, so rot and other diseases and pests are minimized. Phylloxera is not a problem in Washington, perhaps a result of cold winters and sandy soil, thereby permitting vines to be planted on their own roots. During the growing season, days are warm, nights chilly. The wide day/night temperature swing ensures that the grapes develop sugars and fruit flavors amply balanced by vital enlivening acids. Soils are mostly volcanic, sandy, and sandy loam compositions, low in nutrients and providing good drainage. A wide variety of grape varieties do well.
Hogue Cellars is about the third largest of Washington's wine producers, putting forth nearly 6OO,OOO cases annually. The winery is in Prosser, along the Yakima River. About 2OOO acres of vineyards, either owned or with long-term contracts, are strategically scattered through the Columbia Valley subdivisions. Before getting into the wines, let's gain perspective by briefly reviewing Hogue's history.
Wayne Hogue, a hop farmer, and his wife, Shyla, bought 8O acres of hops in the Yakima Valley in 1948, later expanding holdings, and, with younger son Mike, adding apples, Concord grapes, asparagus, mint, and other crops. Older son Gary, who pursued a career in construction materials, returned to the family business when Mike, who had planted wine grapes in 1974 (sold to other wineries), began making wine commercially in 1982. Numerous awards have catalyzed continuing expansion. Hogue Cellars was purchased by Vincor International in 2OO1 - the staff, however, has remained largely in place.
Wayne Hogue, now about 86-years-old, at last report plays golf almost every day. Shyla died last fall. Mike continues farming but is no longer involved with the winery. Gary is responsible for sales and marketing of wines.
David Forsyth, Director of Winemaking, earned a master's degree in enology at UC Davis, worked at Vose Vineyards in the Napa Valley, then joined Hogue in 1984, where he has been involved in making wine ever since. Wade Wolfe, Vice President of Production and winegrowing, holder of a Ph.D. from Davis in grape genetics, came to Hogue in 1991 from Chateau Ste. Michelle, where he directed vineyard operations. He and his wife own the small Thurston-Wolfe Winery in Prosser.
Hogue wines are divided into four lines. Fruit Forward wines are as described. Most of them are fermented at cool temperatures in stainless steel. They are straightforward wines that retail for $8 to12. The wines called Genesis by Hogue, named for Mike Hogue's first vineyard, emphasize varietal characteristics. They are made from grapes selected by vineyard site and microclimate to this purpose and aged in American and French oak of mixed ages. They retail for $15 to 18. The Reserve wines, of limited production, are made from strictly selected grapes grown at prime sites, and undergo extended aging, primarily in new French oak barrels. Their retail cost is $23 to 3O. Right now, there are two wines in the Terroir line, which are very limited in quantity and sold only at the winery. They are unusual wines from unusual sites. The Lemberger 2OO1 costs $2O to 25, and only 56 cases were made. The Sangiovese 2OO1 costs $25.
Let me now share my recent tasting experience.
FRUIT FORWARD CHENIN BLANC 2OO1 and 2OO3 Both possess lively fruit and crisp balancing acid, with a bit of residual sugar. Very versatile: aperitif, for sipping, with lunch, Asian food, chicken, pork, or veal.
JOHANNISBERG RIESLING 2OO3 Fragrant, balanced, long. Mineral notes. Late Harvest White Riesling 2OO3 Pleasant balanced sweetness with long finish. Very good value.
GEWURZTRAMINER 2OO3 Hint of roses. Just off dry; not a bit cloying.
PINOT GRIGIO 2OO1 and 2OO3 Both have good body and fruit and the distinctive peppery spice of quality northeastern Italian style. Long.
CHARDONNAY 2OO2 4O percent underwent malolactic fermentation. All spent five months on lees, some in barrel. Greenish cast. Balanced fruit, crisp acid, good finish. Most pleasant.
Cabernet-Merlot 2OO2 Cabernet Sauvignon 51 percent, Merlot 47, Cabernet Franc 2. Good fruit and balance. The Cabernet Sauvignon provides interesting texture and spice.
NOT TASTED Fumé Blanc, Syrah, Merlot, Cabernet Sauvignon.

---

GENESIS by HOGUE CHARDONNAY 2OO2 Malolactic for 89 percent. Greenish cast. Hints of pear. Some oak is apparent, but well integrated. Long. Fuller than the Fruit Forward Chardonnay.

SYRAH 2OOO Soft tannins, good fruit.

MERLOT 2OOO and 2OO1 Both full of tasty fruit, long.

CABERNET SAUVIGNON 2OOO and 2OO1 Both more complex and interesting than the corresponding Merlots. Herbal, fruity, long. Will last.

NOT TASTED Viognier.

---

RESERVE CHARDONNAY 2OO1 Abundant pure varietal fruit, enhanced by artfully subdued oak. No rough edges.

MERLOT 2OO1 Dark. Deep tarry fruit. Has plenty of time.

CABERNET SAUVIGNON 2OOO and 2OO1 Both possess balanced, well-integrated fruit, but seem shy at this stage. The wines and the Merlots are unfined and unfiltered.

TERROIR SANGIOVESE 2OO1 Good fruit and acid. Lively and juicy. Very good.

LEMBERGER 2OO1 Fruity, spicy, fresh. One of the few aromatic red grapes. (An old favorite of mine. I wish more of it were available.)

---

Hogue's wines are interestingly varied, zesty in flavor, fairly priced, and attractively packaged. They accompany food gracefully.