archived

FeaturedArticles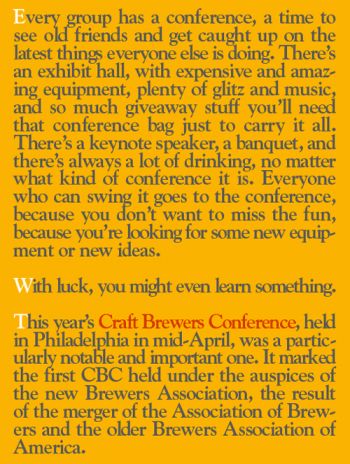 Article By: Lew Bryson
The Brewers Association (BA) is a natural combination, one of those things that makes you ask "Why did it take so long?" It brings together the craft brewers and the regional brewers in one group, and there was a lot of optimistic talk about combined efforts, particularly in the legislative arena. The BA has plans for a legislative office in Washington, DC, to lobby the federal government.
That's the kind of getting serious, getting down to business things that set the tenor of this conference. The industry is firmly on its feet after some years of drifting and consolidating, and it showed in the success of the conference. A record attendance of over 13OO brewers and industry representatives made the Philadelphia conference a great opportunity to find out what's going on in this industry, and what's coming up in the future.
DEFINITELY NOT DEAD Gary Fish, president of Deschutes Brewery (Bend, Oregon), delivered the keynote address, hitting a theme that resonated with many attendees: "Didn't You Know You Were Dead?" It was a triumphant cry of a resurgent segment of the brewing industry that had gone from being written off as a fad to being the leading segment of the entire alcohol beverage market in 2OO4, "the lone shining light in the beer market," as Fish put it.
Craft brewers feel that the press closed the books on them back in the late 199Os, starting with a string of "Microbrewing Fad Is Over" stories in 1996 (something that never happened in these pages, of course). "I remember thinking, 'Gee, we just had a great year. I don't even feel sick,'" Fish said.
He pointed out that the media had gone to the breweries that were having problems, chasing the story of bad businesses when the good businesses were chugging along, unnoticed. "A couple of bad businesses closed," he said, "and all of a sudden they are what we are being judged by, terrific!" Now, he added, "the media is talking about us as though we are some kind of big surprise, that we have somehow come back from the dead."
Fish held up the conference attendees themselves as proof of the industry's maturity. "These conferences have been a great study in the evolution of the industry," he said. "There were days of high attendance at the Craft Brewers Conference, filled not so much with industry people as with 'tire kickers,' people looking to get into the business under the assumption there was a fast buck to be made. Most of these people were not really serious about beer or the business, but, frequently, the media looked to them as the barometer by which to measure our success."
Now, Fish continued, the conference is populated by "people who have largely survived their own, as well as the industry's, learning curve, and realize that there is true value to be derived at these conferences. And the conferences are better too, full of relevant content for all aspects of your business and your industry. The enthusiasm is back, but now with knowledge that only experience provides. We are beginning to look like we're not just lucky."
He also touched on the job the BA had ahead of it, setting the political goals and the public perception of the industry. "What we now need," Fish said, "is our own healthy self-respect blended with a rationing of humility. What I'm not talking about is the irresponsible, entitlement attitude that the national brands suck, and my beer is the best, therefore I am owed something from the market. That attitude was the attitude of the past and is what created some of the problems we still suffer with today."
What else should brewers be doing? Legislative and community outreach, Fish said, and it's not going to happen unless individual brewers joined together to make a substantial impact. "No matter our size," he said, "we run important businesses, employing many people, with high overhead and capitalization costs, in a heavily regulated industry. But it is only together that we begin to look big. There is an old Chinese proverb that says, 'Enough shovels of earth - a mountain, enough pails of water - a river.' We are that mountain and that river."
Fish also spoke about the relationships between small brewers and the big players in the business: large brewers and wholesalers. "I'll try and dispel one myth that has plagued our industry for a while," he said. "Wholesalers and the large brewers are not our enemies. They have businesses and priorities, payroll, rent, etc., just like we do. Their priorities are sometimes different from ours, and their business models are definitely different, but they do not wake up in the morning thinking of how they are going to screw small brewers. We need to have the business maturity to understand that. If we can construct win-win situations, they'll not just listen, they will act in concert with us."
Winding up, Fish moved into a more comfortable gear, and talked about the benefits of beer. "We all too frequently hear of the cost alcoholic beverages extract from society," he said. "We never hear of the benefit they provide. I am speaking specifically about our health as a society. I am talking specifically about the value of the neighborhood tavern or public house. I feel proud to be part of an industry that has, in our own way, a profound impact on such a fundamental thing as the public discourse. I believe this is a real benefit, as real as the reduction in heart disease, or other ailments and, perhaps even more valuable because the quality of our lives and our society is at stake. You should all be very, very proud of that. We, as an industry, should be proud of that and not afraid to speak about it."
He wrapped up with a reminder of the challenge set by New Belgium Brewing's Kim Jordan a few years earlier, that craft brewing strive for 1O% of the beer market. "I remember people saying a variety of things like, 'it couldn't happen' to 'that's too large a goal' to 'it can't happen in my state,' among others," Fish said, and broke a big grin. "Well, this year Oregon topped 14%. Until you believe it can happen, no one else will either, particularly our friends in the media who wield so much influence. So, on behalf of the Oregon brewers, so Oregon doesn't have to drag the rest of you along, I suggest we all begin to believe and then, truly, 1O% will be modest indeed."
Kim Jordan spoke briefly this year as well, as chair of the Brewers Association. She set a goal of 5% of the market by 2O1O, something that looks attainable in light of the industry's growth and the flatness of the overall market. She also announced the BA 2OO5 awards: the annual Brewers Recognition Award to Carol Stoudt of Stoudt's Brewing (Adamstown, PA), the F.X. Matt Award for Industry Defense to the BA's counsel, Marc Sorini, and the Russell Scherer Award for Innovation to Greg Noonan of Vermont Pub and Brewery (Burlington, VT).
TRY TO LEARN SOMETHING Seminars available to the brewers showed the wide range of interests and directions for the industry. There was a series of Export Development seminars, focused on different markets and regulatory requirements. Craft brewers are successfully exporting to markets in Europe and Asia, markets that are eager to buy these boldly brewed beers. Brooklyn Brewery's Eric Ottaway explained how the brewery had capitalized on recognition garnered in England by their brewmaster, Garrett Oliver, to grow their exports to the point where 5% of Brooklyn's sales are now outside of the US. "It takes some thought," Ottaway said. "Some countries have a well-developed beer culture that can support import sales, others do not."
A number of Massachusetts brewers were spotted at a seminar on Adding Packaging to Your Brewpub, given by Dale Katechis, owner of the Oskar Blues Brewing Co. in Lyons, CO. Katechis is celebrated in craft brewing circles for putting aggressive beers in cans: Dale's Pale Ale, a hoppy American-style pale ale, and Old Chub, a big, malty Scottish ale. "It seemed funny to put a 65 IBU pale ale in cans," said Katechis, who opened the presentation with a tongue-in-cheek home video documentary. "Then it wasn't funny any more." He said that simply being in a different package "has helped a lot; I can't say that enough."
John Fahimian, owner of The Tap brewpub in Haverhill (whose brewer, Dann Paquette, was the subject of a profile in the February, 2OO5 issue), was at the seminar and sees packaging as a great thing. "We have a lot of brewing capacity, and we're only 3O miles from Boston," he said, "but no one comes up. Bottling or canning would be a great marketing tool to get our place better known, but I want to sell more beer, too."
One of the standard sessions at the CBC is Robert S. Weinberg's statistical presentation of trends and numbers in the beer market (though this year he delivered his talk by speakerphone from his office in St. Louis). Weinberg has been following the beer industry for decades, and uses strict statistical methods. They have always provided him with good models for predictions, he said. "For 39 years, I knew what was going to happen in the next year in this business," he said. "Now, I don't."
Things are changing rapidly, and Weinberg sees that as a climate of great opportunity for craft brewers and Anheuser-Busch. "It is possible that the Big Three brewers will have no growth over the next few years," he cautioned. "That is the first time I've felt this way. But Anheuser-Busch's performance will be like sex: even when it's bad, it's good." Meanwhile, this represents a window of opportunity for the craft brewers. "The smaller brewer has a greater opportunity, because they are faster on their feet," Weinberg said in conclusion.
There were also a number of technical seminars: Optional Cell Growth and Fermentation Management, Micro-Filtration and CO2 Purification, Fluid Dynamics and Beer Transfers, and a panel discussion on draft systems. Most journalists skipped these in favor of things like Sustainability: 1O% Market Share and its Impact on Brewer, Distributor and Retailer Profitability. This sobering panel discussion started off with a cold assessment of what the industry would need to get to 1O% of the market, and the first thing was 8 million barrels of brewing capacity.in addition to what already exists. This capacity comes at a cost of approximately $942 million in 2OO5 dollars.
But Rogue president Jack Joyce quickly asked the question, do we think about market share in terms of barrels of volume sold, or dollar sales? "'Market share' is commodity thinking," he said. "We're not a commodity. If we're talking dollars, we're at 5% already! And there is room in the market for a price increase. If we can add value to the market.we'll take all of it. Let the big guys take the barrels, we'll take the money."
Bump Williams, the popular executive VP at IRI, the supermarket information consulting group, pointed out some important numbers that craft brewers often miss. "First," he said, "craft brewed beer is very responsive to promotion. Second, retailers are not giving these beers enough shelf space. Why? Craft beer will turn over 15 times - at 15% margin - in the time it takes wine or spirits to turn over 6 times at 1O% margin. Those are numbers you can take to retailers."
There was disagreement on the panel about discounting: everyone but Williams said it was a bad idea. "You don't let your dumbest competitor set your price for you," said Joyce. Williams countered by saying he wasn't advocating deep discounts. "But promotions are good: with only 2-3% lower cost to the consumer, you can get up to five times your regular sales, and it builds brand loyalty. You have to be smart about it, a buck a six-pack is too much. It's important to remember that it's not the volume you move, it's the quality of the sale."
And after Saturday's banquet, and the announcement of Seattle as next year's site, everything was over but the drinking. Attendees were pleased with the conference. Contacts were made, the seminars were well-received, and Philadelphia was a big hit with the brewers. The local bars and brewpubs went all out to have their best foot forward. It was a great showcase and opportunity for a segment of the beer industry that is finally taking its place as a respectable player.