archived

FeaturedArticles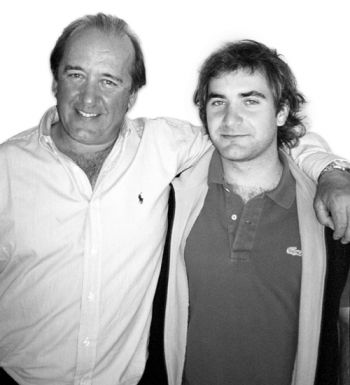 Article By: Fred Bouchard
JULIO & JULITO VIOLA • 51 & 25 • Winery Impresarios • Bodegas del Fin del Mundo • Patagonia, Argentina
---
Founders of a handsome, high-tech, space age winery, and developers of two (and counting) turnkey satellite wineries for investors, the Violas are riding the gold rush wine wave in Southern Argentina. Viola senior comes from a successful career in big real estate, buying land near Neuquen (the capital city) and building housing and malls. His mass-produced vineyard lands sprung up like Topsy, scratched out of the Patagonian desert. Viola and Son's big plans for this big country are already largely realized. Beautiful architecture, on the ball. Julio's stentorian voice and hail-fellow smile are tempered by his son's genial modesty and incisive wit. Bodega del Fin del Mundo translates colorfully to 'winery at the end of the earth' but there's nothing outlandish about the relatively rich wines. BFM's US importer is Gaucho Imports, who also handle the prestigious Luigi Bosca winery in Mendoza.

---
SOLID BACKING The Neuquen government is helping finance us wine investors. If petroleum should fail, they fear the economy would collapse. Wine is the fallback or fail-safe plan for this region. They made it easier for us by supplying guaranteed loans. Our investors are not agriculturists. They just wanted to own wineries and make a good investment, but knew nothing. We did it all to set them up properly: made plantations, irrigation, built the winery, bought machines, brought in winery staff, trained the workers, and gave them the key. For two years, I showed them how to run it and give technical assistance freely.
STRONG TEAM Agricultural engineer Jose Antonio "Pepe" Barria is the most recognized agricultural man in this region. He's serious, intelligent, resourceful. Having him around is important for investors, no? Our company has its own good background now, and a good reputation built on the work of Pepe in the vineyard and Marcelo Miras in the winery.
DECISION by COMPUTER In 1998, when we were making our proposals, Argentina was facing a big crisis in agriculture. The question was which crops to plant in this region. There were these big bills I had to pay; there were all our people needing work; so I needed some things that I can sell, no? We started thinking very hard, and then put all the thinking into the computer, metaphorically speaking. What is the climate? What is the humidity? How many hours of sun do we have? What kind of soil do we have? How much water can we get? What happens with the wind? With all that information, what is the best thing we can plant? The answer was - wine grapes.
SCALAR PREDICTION There were oenological scales that helped us with the decision. Winkler and Fregoni, which showed by soil and weather, that's why Bordeaux, that's why Napa. We used those scales too to know that we were in a very, very good region to make wines.
PRICE POINT We want our best wine today to be found in restaurants in the USA with a price for less than $50. Your average drinker, not a wine expert, in maybe Cambridge, New York, San Francisco, will want to have dinner for him and his wife and not spend more than $50 for this bottle. If you go to other countries, you may have to spend more - do you understand what I'm saying? For your average tourist traveling around the world, It's not easy to choose a wine that's less than $50 and is more or less good.
BIG PLANS When you come back in a year or two, more or less, we will have offices, a tasting room, and a restaurant. But they won't be complete until the winery is finished because without good wines, long-term marketing is impossible. Right now we are buying time. We are making 1.3M liters of wine, and our capacity is 1.7M. This is an estate: we buy no one else's grapes. We are looking at our empty spaces to see what we might grow next year.
GOOD GRAPE Neuquen's very unique climate is dry and windy with temperatures ranging between day and night by 20 degrees C. This thickens the grape places. That is why we have wines with such rich color and fruit extract. We've planted grapes and clones in test plots: Cabernet Sauvignon, Malbec, Merlot, Pinot Noir, Syrah, Cabernet Franc, Petit Verdot, Chardonnay, Sauvignon Blanc, Semillon, Viognier. You can say I'm a liar, but not one of them has failed us yet. In fact, we've won medals (international and national) with most varietals. The youngest ones, Cabernet Franc and Petit Verdot haven't had their first vintage yet.
BIG BROTHER We are like a big brother to NQN and Familia Schroeder. We show them the way and open some doors. We don't think of them as competition as we work together, and if we succeed in making Patagonia a well-known wine region, the demand will be bigger than the offer so we will all put our products on the shelves. Also, having good neighbors who work as hard as we do is good for the region and general morale. In fact, we are just now founding the Neuquen Wineries Association so we can put our efforts together and be much more effective in this promotion business.
BACK to BACK Julito: My father is owner, president, developer of all this investment, and founder of this new wine region. He's the one who put everything together and made it work. He has enormous common sense and the ability to surround himself with the best people for each task. I am his son; my name is the same. So I help him with his agenda and back him up at meetings and events. I do marketing, fly to wine fairs, and take care of some COMEX markets, like the USA. I write back labels, brochures, and press releases.
HOBBIES Julio: My best hobby is coming to the vineyard and trying to make the - pruning? Not as work, you understand, just to try to understand what is going on - the plant, what is coming, how it all works. I try to have my own rows, and listen to what Pepe is saying, and why it is growing up better or not. I like very much those things. I come to the fields on weekends, drive around in the truck, look at the vineyards, no?, and drink mate (tea). I used to play golf or something like that, but it's better for me coming here. No, no more golf, in this moment. Yes, ha ha! Maybe I can open a golf course. Later! Much later. Julito: I like sports, any kind. In winter I snowboard, in summer I water-ski. Football and tennis all year long. Music I like a lot, to listen and try to play. Writing, too.