archived

FeaturedArticles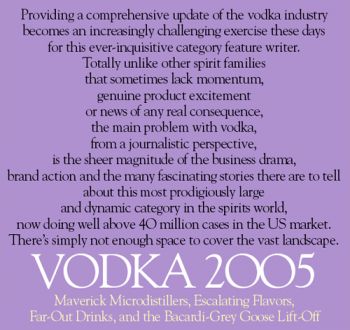 Article By: Robert Bradford
It's a little like being in your car, stopped at one of those railroad crossings when the gates go down, and here comes a freight train, moving fast, but seemingly without an end.The engine is large and powerful and pulling a multitude of box cars of different shapes and heights, painted in many colors. Names fly by quickly, sometimes faster than you can read. Some have instant recognition, like Absolut, Grey Goose, Ketel One, Smirnoff, Stolichnaya, Skyy, Belvedere, Finlandia, Svedka, Tanqueray Sterling, Chopin, Ciroc, Three Olives, Van Gogh, Vox. Others are more obscure or totally unknown and are almost unpronounceable like Armianskaya, Kamchatka, Kutskova, Luksusova, Monopolowa, Moskovskaya, Pomarancza, Wyborowa, Zubrowka, and Zynthia - sounding like a listing of qualifiers in an Eastern European tennis tournament or the roll-call of a Russian-Polish foreign legion. After a while, you stop counting all the freight cars and begin to wonder if the caboose will ever appear. Eventually it does. But perhaps the most remarkable thing about this metaphorical vodka-loaded freight train is that it has never stopped buzzing with excitement nor even begun to slow down for several years now.
TO PIECE TOGETHER AN ACCURATE PICTURE of how and where the train is presently headed, I sought out a number of the key railroad engineers intimately familiar with its route maps and timetables, including two Massachusetts distributors who carry large and diversified vodka portfolios, the brand director of the category's most illustrious cachet import, a number of on-and off-premise store/bar/restaurant front-liners in Massachusetts and, finally, two visionary and colorful product architects in the emerging ultra-premium micro-distilled domestic niche-brand vodka segment, which some experts feel has started to produce some of the finest vodkas in the world and presents a promising future benchmark for the category.
The topic of most immediate interest, of course, was checking out how Grey Goose has been faring since the blockbuster $2.2 billion Bacardi acquisition deal with Sidney Frank last August. It was the all-time record price ever paid for a single spirits brand and positively startled the entire industry. Has Bacardi been getting some bang for this astonishing outlay of bucks? You better believe it. This past year's growth in Massachusetts (the sixth largest Grey Goose US market) was 39.4%, with volume sales of more than 71,OOO 9-liter cases - and the brand's national growth average was not far behind.
"Here in Massachusetts, we've been doing a little fine-tuning with distributors, but nothing of major consequence," says Jim Whelan, Bacardi USA's Massachusetts Regional Director. "But on the consumer side, we really haven't changed anything. Quite honestly, we're not messing with a formula that's been successful. How many major brands selling over 1.5 million cases are growing at the 36% to 39% rate we've experienced this past year? What they recently showed us at a Bacardi meeting in Puerto Rico is that the brand, before last August's purchase, was growing in the 28% to 32% range, which isn't at all shabby, of course. But since the company bought it, it's been consistently averaging in the middle-to-high 3O%. So if you look at it on a time line, and put an arrow on last August, you have to say, 'Holy Smoke! Something pretty solid is happening there'.
As to whether Bacardi might have overpaid for the brand, as some people have suggested, Jim quickly dismisses the notion this way. "Just consider that 9O% of the brand's volume was US-based when Bacardi bought it. The huge opportunity that hasn't even been touched yet is the great worldwide distribution network that Bacardi has in place with brands like Martini-Rossi. This gives us the ability to roll out Grey Goose and grow it in all these world markets. And, if you do the math, $2.2 billion suddenly doesn't seem an extravagant price to have paid for such extraordinary growth potential."
Bacardi's Miami-based Grey Goose Senior Marketing Manager, Aleco Azqueta, takes this point even further. "Nationally, it's just been a monster first year all around for Grey Goose. The primary focus for us is to really manage growth while always promoting the brand's super-premium image." And despite Grey Goose's size and success in the US the brand is in different stages of development in different parts of the country, necessitating a number of different regional marketing approaches, he points out. In most East Coast markets, the Original Grey Goose brand already has huge equity and is well established. In these markets, the marketing concentration has now shifted to developing the brand's three flavors, especially Grey Goose l'Orange. Nationally, and particularly on the West Coast, the brand is very underexposed and underdeveloped, so a mammoth territory like California presents enormous growth opportunities for the Original Grey Goose, while the flavors remain a secondary priority. "Of course, the brand had almost no legs at all internationally" Aleco emphasizes, "so, in Europe, the Caribbean, Canada, and a lot of other global destinations where Americans go, the opportunities are simply tremendous."
Aleco points to a few of the innovative marketing initiatives that Bacardi is now focusing behind the brand with considerable success. "We like to be at the forefront of what we call branded entertainment," he explains. "For example, on the Golf Channel, we have a show that's actually called the Grey Goose 19th Hole. And we've just finalized a two-year worldwide sponsorship deal with Retief Goosen, who's agreed to use the Grey Goose logo on his apparel, make appearances on the 19th Hole show, and do several meet-and-greet sessions at PGA Tour events. He's currently the #4-ranked golfer in the world, and the defending US Open champion, who's known, appropriately, as The Goose."
Aleco points out that Bacardi is convinced the world of golf is a perfect demographic fit for Grey Goose, since it's a natural filter for targeting upscale consumer audiences. It's also a very social high-end sport. "Whenever you see these multimillion dollar football, basketball, and baseball athletes taking time off from their own sport, they're playing golf," Aleco observes. "And a golf course is also the venue where a fair amount of high level business deals and relationships are made. So, Grey Goose is currently sponsoring several PGA tournaments this year including, the Bank of America Colonial in Ft. Worth, Texas, the Booz Allen Classic in Maryland, and the International in Colorado.
The brand has also developed sponsorship relations with the National Thoroughbred Racing Association, which is another connection to the world of luxury sports. "Thoroughbred racing is known as 'The Sport of Kings'," says Aleco, "and we're targeting horse people like owners and suite holders. We just sponsored the Kentucky Derby, and Grey Goose was the vodka served at the official Derby party." Bacardi has significantly increased the ad spend on Grey Goose. Last year, the brand spent a very hefty $14 million on media. This year the ad-spend is up over $16 million, with more of an emphasis on broadcast TV. "We were the first spirit sponsor to be on CNN this spring," Aleco underscores, "and we're partnered with the Sundance Channel in the fall, doing a six-part show series titled 'The Iconoclasts'."
At the retail level Grey Goose will feature a new high-profile brand ambassador, Nick Mautone, the author of the bestselling cocktail and entertainment book "Raising The Bar". "On-premise, bartenders want to know what are the newest drinks and are always looking for cocktail ideas and best ways of mixing them," Aleco points out. "We want to help educate them about the latest trends in cocktails. It's the same with off-premise customers coming into a retail store. So, with Mautone, we're putting together in-store displays and demonstrations and offering free recipe books with different holiday cocktail and food match-up suggestions, which can serve as home entertainment reference guides. Let's face it, everybody loves being a bartender," he emphasizes, "and the more creative, the better."
Mark Fisher is the President & Chief Operating Officer of United Liquors Ltd., and Vice President of The United Group. A vodka drinker himself, Mark is bullish about the category and has nearly 3O vodka brand names under his command. We discussed how and why United selects their brands, and what he finds particularly interesting in his portfolio. "A vast majority of the brands we carry are selected because of relationships with our suppliers, but there are always exceptions," he explains. "One recent example is Jean-Marc XO. It's a small-batch, hand-crafted French product that's at the real high high-end of the price spectrum, and the only vodka I've seen that's received as high a rating as Grey Goose. One of the things that attracted us to the Jean-Marc product was another of their brands, X-rated Fusion, which looks like it might be able to compete in that Hpnotiq-type vodka-liqueur crossover category with a special appeal to women. Fusion has a sexy hot pink color, an extremely attractive package, and has a very high quality vodka spirit with blood orange mingled with mango and passion fruits. It's actually been doing fairly well so far. Anyway, these are examples of some of the products we select that are not from a traditional supplier, but which we feel have some solid growth potential."
One of the vodka giants that United carries is the category-leading import Absolut, and its new ultra-premium brand, Level. "Absolut is arguably one of the single greatest success story in the spirits business ever. They reinvented the vodka category and brought an aura of style and sexiness to what was a fairly mundane product. They introduced the first flavored-vodkas that had universal taste appeal and that grew into powerful brands in their own right and they look like they're on the right track again with Apeach." Despite the unequaled success of the brand, "Many people feel that Absolut made a mistake years ago, when they let other brands come in over them, because they owned the high-end of the category and were the real deal. Their once unassailable brand image has been pushed down as other, higher-end brands climb in above them" says Mark. The introduction of Level gives Absolut a chance to fight back and to try and regain some of the image high-ground. "It's Absolut's second foray into the ultra-premium category, and I'm watching closely to see how it does," he says. Absolut tried introducing a high premium called Sundsvall six or seven years ago, but dropped it. Level is relatively new and they're certainly investing a lot of money behind it, so I think it's just a question of time and getting distribution out there."
Ketel One is a super-premium that Mark is particularly impressed with. "It's just been a killer for us!" he exclaims. "The Nolet family have been producing it in Holland for over 11 generations, and have traditionally been extremely low-key, genteel and fairly conservative about their marketing. But in the last few years, they've broken out with some significant ad-spends. It had always been built as a word-of-mouth brand. But the advertising now is both clever and dignified and targeted mostly to brand loyalists."
He feels that what's especially unusual about the Nolet family's brand philosophy is that they've stayed true to their original product, only coming out with one flavored line extension, Ketel One Citroen, and haven't tried competing with the flotilla of flavors that are out there today. "They've just continued to stay focused on their base brand as their bread-and-butter, which I think is a very sound business strategy. Here in Massachusetts, the brand has experienced just phenomenal growth, and been running at about a 2O% clip since we've taken it on exclusively the last two or three years."
Mark feels the key to Ketel's success is their unusually effective on-premise trade initiatives, including exceptional wait staff and bartender training they've done to put all these on-premise professionals solidly behind the brand. "You can't say enough about the importance of this," he emphasizes, "because once you've imparted this education and knowledge about the quality of your brand to these in-house people, they'll sell the product for you. And, of course, once consumers drink it on-premise, that's what drives the off-premise sales. As Mr. Ray Tye is always reminding us here at United, brands are made by the drink. Ketel One is a perfect example."
Belvedere is another of United's high-end super-premiums Mark sees doing a very good job, and believes that the quality and visual packaging plays a huge role. "It's an example of putting a great vodka and a great-looking bottle together, and you've got a success story right there," he points out. "But they did make one mistake they've admitted to when they came out with the two flavors that are somewhat odd to read and very difficult to pronounce. One is their orange flavor Pomarancza; the other is Cytrus, a citrus flavor spelled with a 'y'. These are splendid products, but not too many people go into a bar and order something they can't read or even pronounce. So, they're actually in the process of doing some packaging changes with more traditional names that will undoubtedly help. Later this year they're breaking with a major advertising campaign that will give them a big boost. Remember that before Grey Goose began dominating the high end a few years ago," Mark adds, "Belvedere was the image vodka in that category segment. But it's still a very, very solid brand that's showing decent growth and profits for all segments of the business, and it grew double digits for us this past year."
Mark views Ciroc as another interesting brand because of its uniqueness. It's produced from snap-frost grapes and, therefore, may have a particular appeal to the wine aficionado who's looking for a distilled spirit to drink. "First, it's a grape base," Mark observes, "secondly, it's something that's definitely different, and not a traditional vodka. The packaging is spectacular, and obviously Diageo knows what they're doing when it comes to marketing brands. We have been very pleased with its performance. I think there's a bright future for Ciroc, because you're seeing a lot of people starting to get into the grape vodka kick and we know there are going to be some new grape product entries in the very near future.
"The truly amazing thing about this category," Mark marvels, "is that every time you start thinking it may be getting saturated or is starting to lose momentum, along come amazing new products, new growth brands, new opportunities, new excitement. There just seems to be no end to it. And let's face it. Everyone likes to have a martini glass in front of them. And what they like in it, for the most part, is vodka, maybe mixed with something or maybe flavored, but they want that image of sitting there with a martini shape in front of them. And if anyone had ever told me this was going to happen 15 years ago, I'd have told them they were out of their minds. But it has happened, and the phenomenal thing is that it keeps on happening even more and more, just as more and more niche brands keep on proliferating.
What turns out to be one of the vodkas that Mark respects the most is none other than the category's dominant leader, Smirnoff. "We're talking about a domestic vodka," he says, "which often is perceived as having a lower level of quality than the imports. But let me tell you something about Smirnoff that may surprise you. First off, it's as high a quality vodka as is produced worldwide, and I'm really not kidding. Did you know earlier this year the New York Times did their own blind taste test of vodkas? And guess what the results were? Smirnoff was picked #1 over every single vodka in the tasting, including imports. And you got to know this wasn't paid for, certainly not with the Times.
"I'm a huge believer in this brand," Mark re-emphasizes. "And they've done a particularly spectacular job on the flavor end of the business, especially with their raspberry twist, green apple twist, and watermelon twist and they've just broken in with a new black cherry. It seems they're always doing something interesting and newsworthy. Smirnoff is all about extremely good marketing, because their business is more skewed towards the off-premise consumer. It's true that at the lower price points, they're not perceived to be as good a quality or have the high class image of many pricier competitors. But the truth of the matter is the product in the bottle is as good. Sure, people will order a Ketel One or a Stoli in a bar. But guess what many of them are pouring for themselves at home where image really isn't an issue? It's likely to be Smirnoff. There are just a huge number of Smirnoff customers out there who are day-to-day vodka drinkers and only really interested in spending less of a buck for excellent quality."
Seagram's is another United brand Mark feels is a sleeper on the domestic premium end. Like Smirnoff, the name has tremendous brand equity with day-to-day consumers, he points out. They're also doing the flavor thing big time, and recently introduced their own black cherry. "This is a brand that we'll undoubtedly be seeing more and more out of," Mark declares, "as new owner Pernod Ricard becomes a bigger and bigger player after their acquisition of Allied Domecq. So, from now on, keep your eyes on Seagram's and a lot of interesting head-on-head competition with Smirnoff at the premium level of the flavored category. Right now, Smirnoff is predominately a 1.75 brand in the $19.99 to $23.99 retail range. Seagram's is a couple of bucks below, maybe $14.99 to $18.99, slightly about the Gordon's/Gilbey's price point level. Not that Seagram's will ever have the draw of a Smirnoff, but I see some very decent growth opportunities for this brand."
Before closing, I was perhaps indiscreet enough to ask Mark how much United might be missing the two major vodka brands that got away in the recent brand trade reshuffling among Massachusetts distributorships. "I guess you must be referring to Grey Goose and Stolichnaya," Mark responds with a thin laugh. "Do we miss them? Wouldn't you? Not only are they very good brands, but also consider that we were exclusive on both of them for many years and had a great deal to do with really putting them on the map and developing them in this market. But here's how I react to this kind of thing. You don't know how much you're going to miss something til it leaves you. And, actually, Stoli was a tougher loss than Grey Goose in some ways, cause Goose doesn't do a lot of volume in flavors. Most of the Goose business is base brand. But Stoli does a huge amount of flavored business, and also is huge on-premise where they've got a better image than Smirnoff, as does Absolut. On the other hand, off-premise, Smirnoff has enormous volume, plus it's an easier sell. So, all things are relative when you evaluate these things. And when it comes to any sense of loss, you learn to realize that a new love is equally important to you. It's sort of like missing old girlfriends. You get married and have to forget about them. Same thing in the wholesale liquor business. You have to let go and move on."
The other distributor I huddled with is M.S. Walker's Sales & Marketing Director and Vice President, the always gregarious Mike Brody, who's built a reputation for discovering and developing hot and unusual brands in many spirits categories - vodkas very much included. "As I like to say in this business, 'If it's white it's up, if it's brown it's down'," Mike explains with a characteristic hearty laugh. Absolut is the biggie in his portfolio, but our discussions centered on the excitement he feels about some of his lesser-known recent vodka brand adventures, the most prominent being the phenomenally successful premium-priced Swedish import Svedka.
"Talk about something that's caught fire," Mike exudes, "I hardly have words to describe what this brand has been doing for us. Last year, it grew nationally over 6O%, and Massachusetts was higher than that. This year, our Svedka business has been doubling even over last year, and is presently somewhere between 25,OOO to 3O,OOO cases in this market. Consider that in its first launch year, 2OOO, when it was with Whitehall, the brand did 6OO cases. Then, we took it on and did 75OO the first year we had it, and the last two years it's just exploded." The Spirits Marque One suppliers have done a particularly clever thing with price-positioning, Mike emphasizes, since this a high premium quality import, but is being sold at a domestic premium price-point around the Smirnoff level. A Svedka 75Oml usually retails around $11.99 to $12.99, the 1.75s go for about $19.99 to $22.99, and the liter size that bars and restaurants especially like to use, sells in the approximate $14.99 to $15.99 range.
From a distributor's viewpoint, this is also truly a dream brand, Mike points out, because it's such an easy sell and requires very little special attention. "We don't have to do anything unusual with it," Mike says. "On a monthly basis, we just keep taking care of the refills, and basically buy it and sell it. The brand has beautiful packaging and is heavily supported by shelf promotion materials from the supplier, and it's a great profit-maker for retailers. It's also very competitive on the flavor battlefront, having just added a Svedka Citron to the brand lineup, the most popular vodka flavor of all of them. This gives them an entry in all the major flavors like vanilla, mandarin, raspberry, and now citron. So, they have the four fastest flavor movers." Among his unusual high-end brand discoveries, Mike talks about success with a Scottish vodka that Wm. Grant & Sons produces called Armadale, pointing out it's their vodka equivalent to their enormously successful new gin product, Hendrick's, and retails in a similar $3O to $35 range for a 75O. Another small-batch super-premium import from France he likes is Citadelle, produced by the makers of Pierre Ferrand cognac. "It's made in a pot still in cognac, and I have to tell you, their raspberry and apple vodkas are by far the most spectacular flavored vodka profiles I've ever encountered. When you smell these bouquets they're almost unbelievable, like finest quality eau de vies. Restaurants Grill 23 and Excelsior uses Citadelle Apple for their signature apple-tinis. We supply four or five cases every couple of weeks to just these two on-premise accounts."
Another very stable product in his super-premium import portfolio is Luksusova, the original Polish potato vodka, which he says draws interest among real vodka connoisseurs, and does very decently at a $28 to $3O price level for a 1.75. And still another French specialty vodka he carries is Vertical that sells in the $25 to $3O/1.75 range, and is made by the Chartreuse monks who produce the classic liqueur. "It doesn't have any of the familiar Chartreuse spiciness in it," Mike points out, "but it's four-times distilled and a very clean, pure super-premium. We're in the process of developing it. So many of these smaller brands are all about guerilla marketing. You get them into a few stores and some on-premise accounts, get some people try them and find them unique, then make them their own, and, then, you hope, word of mouth will spread. We have still another specialty brand I have hopes for called Ston from Estonia that we're starting do some things with. Part of the product's appeal is it's from the Old Russia."
On the domestic side, he is especially intrigued by a new small-batch discovery out of Texas called Tito's. "What an amazing success story!" Mike enthuses. "The product was first made with a little pot still in this guy's garage in Ft. Worth. He's now expanded into a larger facility, has his own bottling line, is up to something like 5O,OOO cases a year in the Texas market, and is now picking up distribution all over the US. When I was at this year's WSWA in Orlando a few months ago, a couple of people kept telling me, "You've got to check out this product." I found it spectacular. It has an exceptionally clean micro-distilled-type taste because of it's very small batch pot still production where you're able to remove all those impurities. So, we've taken it on for Massachusetts and will have it on the market this summer. It would be fun to get it on WEEI-Sports Radio when they interview Tito Francona before Red Sox games and say, 'Gee, Tito, we see you've got your own vodka'. This is the kind of thing I just love to get involved with. It's similar to when we first started to handle Skyy, when we were one of the first distributors in the US to get behind that brand."
And Skyy, of course, is another high premium domestic that's continuing to go well for Mike. Nationally, they've been a double-digit growth brand since the late '9Os. "Here in Massachusetts, we're more of a price-sensitive market than a lot of places," he explains, "and when we finally broke above that $2O price-point for Skyy last year, it's taken about a year to level. But this year the brand has been showing significant increases, and is attracting customers who don't want to spend quite what an Absolut or a Stoli is going to cost them. So, in the low $24 to $25 category for a 1.75, with Skyy, they're getting a nationally recognized brand of excellent quality with a nice image and a great-looking bottle. And they, too, have done some interesting flavor things with citrus, orange, melon, vanilla, and berry, which they've now changed to raspberry. I'm just amazed at how strong that Skyy Blue label continues to be, and the brand is really back on the growth track this year."
Mike feels that one of the most exciting current vodka opportunities is none other than the low-priced domestic premium Heaven Hill Burnett's brand lineup, which is moving well, not only in Massachusetts, but all over the country. "It's strength lies in its ability to have established itself as the price-sensitive value brand well below Smirnoff with every single flavor you can imagine, including raspberry, orange, citrus, vanilla, coconut, sour apple, lime, cranberry, cherry, watermelon, and mango. Without a doubt, they have the most complete flavor line in the industry, and these are products of very decent quality. And this is the thing about vodka and all the different quality claims. If you are going to mix it, with tonic or juices or anything else, the price value factor is an important selling point. So, no one should thumb their nose or get uppity about the low-end vodka business. It may not be particularly glamorous or exciting, but it's a very strong and, more importantly, extremely stable part of the vodka industry.
Among all the flavors in his portfolio, Mike is exceptionally impressed by Absolut's new Apeach flavor launch which, he says, has been an instant hit here Massachusetts. "It's just doing phenomenal business. And one very smart thing they've done with this is use it to reinforce their brand position. It's as if they're saying, 'We may have lost some ground in the vodka image department, but we have always been the import category's volume leader by a very wide margin, and were the first to introduce flavored vodkas with Citron many years ago. So, we've always been in the forefront of developing this category, and here's a new flavor product that could be the best of them all.' Clearly, what they've decided to do this year, and in the future, is to concentrate effort on regaining recognition and reinforcing a leadership position. And here they come with peach, which is a very palatable flavor, tremendously mixable, and makes a fabulous peach-tini. It's been doing an amazing business since we rolled it out the first of May. Within the first month, we were getting all kinds of repeat business for it, both on- and off-premise."
Absolut has also added a lower-end Danzka import from Denmark that Mike believes is the only grapefruit vodka flavor in the market. It's packaged in a unique new metal container that holds the cold for at least an hour longer than a normal glass bottle. "This category is all about packaging," Mike points out, "and this package is totally unlike anything you see out there on the vodka shelves. Danzka also has a citrus and cranberryraz flavor at 75-proof." Right now, the brand is only available in liters and 75Oml, and sells in the $15 to $2O range. But next year they may be coming out in 1.75s, and seem to be going after competitors like Skyy from a price standpoint. The larger size will make a big difference for this brand, Mike predicts, and so far it's already had some notable sales success in the Boston market.
When talking about the category's escalating flavor craze with on- and off-premise retailers, you'll discover surprising differences of opinion that you're not hearing at the distributor and supplier levels. While bartenders are predictably welcoming as many different flavors as possible for an increasingly exotic variety of drinks, many off-premise liquor store operators are not all that impressed. Says Atlas Liquors' president, Peter Fine, "In my vodka business, the higher marques and super-premiums are doing well, but I don't see the flavors really flying out of any of my three stores. For instance, Absolut regular is one of my popular high premium brands, but the flavors aren't really doing much of anything. Stoli regular also does a good business, but you're seeing sales on Stoli flavors slowing down, because Smirnoff has really been making some inroads in the vodka flavors market at a lower price point. And I have a feeling that the people who drink something like, say, Grey Goose on the rocks, they're not looking for a flavored Grey Goose. So, yes, we're seeing all kinds of flavors, and people definitely buy them, but it's not anything compared to the straight vodka business. I myself am a longtime vodka drinker, but personally have almost no interest in flavors at all.
"Ketel One is a brand that seems to have gotten all this figured out correctly. It's an excellent vodka that's also priced right. And you'll note they only have the single Ketel One Citroen citrus flavor, which has become pretty much the standard base flavor in the whole category, if you wanted to add just one flavor to your line. And this is a wise move, if you look at other brand performances. I mean, you get your regular and your citrus, and then it really falls off fast as far as sales go."
Peter feels strongly that what this flavor business is really all about is getting a larger presence on the retail shelf. "This is the name of that game," he firmly declares. "Brands are looking for the biggest spread possible to attract attention. A consumer walks down the vodka aisle, and if you have a big spread of a particular brand out there on the shelf, the chances of a purchase are significantly increased. It's not that suppliers don't care if a particular flavor or product sells," he adds, "but the primary objective is all about increasing the real estate. Basically I see the flavor thing as a monkey-see, monkey-do business, where one flavor comes in and the competition is quick to respond with other versions. You might launch the only kiwi vodka in the market, but I'd almost guarantee that a month or two later there will be three other ones. But these things tend to come and go, and to me the flavors craze is just a temporary thing if you keep focused on the long-term view of the marketplace. Ten years from now I have little doubt that a brand like Grey Goose will still be a powerful and popular brand, but it won't be because of its flavors. The same goes for other quality vodkas. If you want it to be orange flavored, you can always add something orange to it. There's a world of good mixers out there."
About his vodka sales in general, Peter says, "The higher end stuff is great, but it's mainly all about image, especially with a powerful brand like Grey Goose. In my business, these are the specialty products that you see really taking off during the holidays. But there's always a market for a good vodka that's moderately priced and has obvious good quality. Smirnoff is an excellent case in point. Something around $2O that you can drink yourself and pour for company, and you don't have to worry about it."
Don DellaGiustina, the Beer & Liquor Manager for massive retailer Big Y's Table & Vine outlet in western Massachusetts, also questions the value of all these flavored vodka products at the upper super-premium and luxury levels. "You're seeing all these high-end brands jumping into flavored lines," he observes, "but, honestly, they aren't moving all that well. If you want to talk flavor business, it's the lower super-premium and high premium levels where the action is, like the Absoluts, the Stolichnayas - also the Smirnoffs and the Skyys - among several others. I think people buy the straight high-end vodkas for their nice martinis or straight-up drinking. This is where you really appreciate clean smoothness that top-level vodkas deliver for a higher price. But this quality superiority isn't so significant when you get into flavors, so maybe the higher price on the flavored product isn't worth it."
However, there are a few exceptions to this, he emphasizes, such as the ultra-small-batch, handmade flavor products of the micro-distillery Hangar One brand, produced out in California. Last summer, in fact, the Big Y featured Hangar One in all their store newsletters. "This brand is still one of the world's best kept secrets," Don declares. "It's just a clean, luxurious, truly ultra-smooth super-premium, and the distinctive purity of it's three flavors just blows everything else away. So far, the brand hasn't gotten the sales recognition it clearly deserves, but at our approximate $3O selling price for a 75O, dollar-for-dollar, it's probably far and away the best super-premium value we have to offer, and it's worth every penny."
Hangar One turns out to be a collaborative niche product venture by a small California company called Craft Distillers. The two principal brand architects are master distiller Jorg Rupf, celebrated for making extraordinary high quality eaux de vies, Aqua Perfecta liqueurs and St. George Single Malt Whisky, and Ansley Coale, the man behind ultra-premium Germain-Robin domestic alembic pot still brandies, recognized as some of the finest small-batch brandies in the world that critics compared to the finest cognacs of France.
In a previous article I referred to Ansley Coale as a "mad scientist", "an industry maverick", "an impossible dreamer", which were just some of the wild man titles bestowed upon him by many friends and industry colleagues. He laughs when reminded of this. "Well, I don't know if I'm really crazy, but I will tell you that my desire to produce one of the best vodkas in the world out here in California is not an impossible dream. To tell the truth, I think we've already done it." The story behind the Hangar One brand is indeed a wild one.
It all got started back in 2OO1, when Ansley and his friend Jorg noticed there was a new and serious market out there for high-level super-premium vodka. "Here, we were suddenly seeing Grey Goose and Belvedere selling over 1.5 million cases at a $3O/75Oml price point," Ansley explains. "I said, 'Well, Jesus, Jorg, why couldn't we produce a truly great domestic vodka, using your handmade, fruit-distilling eau de vie production expertise and your little Holstein pot still? I've had a fair amount of marketing experience with my hand-crafted pot still brandy products. We might even make some money.' Jorg agreed. We both felt it was an enormous and irresistible opportunity, and it's exactly how the brand got started. And if you think I'm a 'mad scientist' in the spirits business, you should have taken a look at Jorg's lab and distillery that was operating out of a little low-rent building on the Alameda Naval Air Station. This is how we came up with the Hangar One brand name.
"We decided on a really simple package," he goes on, "cause you sure don't want to dress something all up with a lot of hype, when what you're really trying to do is focus a consumer's attention on unusual contents inside the bottle and talk about how it tastes. And what was really important to us was using ingredients worth talking about. "For our vodka," Ansley continues, "we wanted a wheat base, because it's softer and has nice mouth-feel. But it was our choices of fruit and the production of our flavors that makes these products particularly unique. What we ended up doing is making our flavored vodkas the way the highest quality eaux de vies are produced. We crush and mascerate the fruit and let it steep in the wheat vodka, first making a wine out of it, and then put it through a redistilling process in the pot still for blending into the final product. This also leaves some slight coloration from solids in the fruit as well, which is pleasing to the eye."
Ainsley explains that for flavors, he and Jorg chose intensely aromatic fresh fruits like "Buddha's hand" citron that's not at all like a standard lemon. It's an Asian fruit with no center, and no juice, which has become a hot item in trendy upscale restaurants for its remarkable citrony aromatics, but it possesses none of all that powerful lemon-taste acidity you find in most other lemon flavors. "In China this fruit is used to perfume dwellings," says Ansley, "and it's not easy to obtain these guys. It also costs us three bucks per fruit, but it's just what we were looking for. For another flavor we use a Kaffir lime, which is a knobbly unattractive Indonesian fruit. But it has lovely flavor, and is well known in Thai cuisine. In our vodka, it's beautifully soft and fragrant. The third Hangar One flavor is Mandarin Blossom, where Jorg decided on using mascerated fresh flowers of tangerines. And, actually, our unflavored Hangar One vodka product turned out to be the toughest challenge of all. What Jorg does is to distill a very high-proof eau de vie out of voignier wine and then blends it into the wheat vodka base. It's the damndest thing because it just takes away all that ethanol hit that you get in most other vodkas products."
The first huge business breakthrough happened three years ago, when Ainsley showed the brand to Vern Underwood, who owns the distributorship giant Young's Market Company in Southern California. "Vern has a great reputation for recognizing and building quality brands," says Ainsley, "and what he said to me after our first tasting was, 'I'm really going to get behind this, because, in time, I believe I can sell 2OO,OOO cases.' Then, he looked at me, and said, 'Of course you know the vodka market's already crowded.' I nodded. 'Well, what are you going to do?' he asked. I told him, 'All the category is showing us is stuff we don't want to do. We want to do everything the way the big guys don't.' He leaned back in his chair and smiled. 'That's just what I wanted to hear from you,' he said. And would you believe, since that meeting, he's gone ahead and has opened over 15OO accounts for us in Southern California, alone, and we're now in key markets all over the US."
All this has been happening so fast that Jorg and Ansley's heads are still spinning. "Our first full year out was really 2OO4," Ansley points out. "We've now moved into a new 6O,OOO square-foot hangar space, bought new distilling equipment, and purchased an automatic bottling line that has really heated up production. This year we think we might even be approaching 5O,OOO cases. Yet, we've completely bucked normal methods of creating brand recognition. We ship no free goods. We do no print advertising. The ingredients in our products are expensive and our prices are fair, so we offer no volume discounts, deals or giveaways that are so prevalent in the marketplace. We're in this for the long haul, looking way ahead, and we want to protect the margins for our trade customers to enjoy 1O years down the line. We think all this comes down to having respect for the brand itself. We want people to buy what's in the bottle, and we believe that customers like this are what create a solid brand."
One other notably remarkable brand discovery, which illustrates this new and promising micro-distilling vodka movement, happens to be right here in Massachusetts on the upscale getaway vacation retreat of Nantucket Island.. It's a high-end super-premium vodka called Triple Eight, selling around the $3O level for a 75O, its only available size. The brand also has two flavors in the lineup, Cranberry and Orange, which just scored bigtime by winning the prestigious Chicago Beverage Tasting Institute's "World's Best Orange-flavored Vodka Award" earlier this year. It's the same kind of boost that Sidney Frank received back in 1998 when his new Grey Goose won the BTI's "Best Vodka In The World" honor. And if you haven't yet heard of the brand in the marketplace, you soon will. It is already all the rage in every Nantucket resort, bar and restaurant. In fact, currently, two Nantucket package stores, alone, are selling 6O cases of it every week at both locations, and tourists coming here from all over the country and abroad are starting to badger their local retailers back home to somehow get it for them.
The Triple Eight idea was evolved a few years ago by the very imaginative small and youthful production team at Nantucket's Cisco Brewery, already well-known for their signature microbrew Whale's Tale Pale Ale, who mused, why not get into spirits, using an organic corn base, an exceptionally pure water source from a filtered glacial aquifer thousands of feet below the surface of the island, and really get something going? And how about giving the brand the same name as the #888 water-well the water comes from? And what was a seemingly improbable pipe-dream for a hand-crafted, seriously upper-premium, Nantucket-produced vodka of superb quality only a few short years ago is now a startling reality.
I spent a laughter-filled hour chatting with fun-loving Jay Harmon, the 3l-year-old Chief Operating Officer of this Triple Eight Distillery project, and a remarkably savvy boyish entrepreneur who clearly loves his work, the way you might say same-aged Theo Epstein enjoys being the General Manager of the Boston Red Sox. Both young men have a common purpose going for them, namely a commitment to produce a world class product in the their respective fields. Theo managed to achieve it last year with a World Series championship. Jay, it seems, is well on the way. "You've heard of the Nantucket Nectar juice guys?" he asks. "Well, we're the Nantucket booze boys."
He first arrived here to work at the Cisco facility with brewmaster Randy Hudson and the enterprise's founder-distiller-winemaker Dean Long, while researching a college master's thesis on microbrewing production. He's never left. It's been a closely-knit team effort ever since. "We started distributing Triple Eight locally with our own truck in 2OO1," Jay remembers with a chuckle. "It was a 1975 VW camper decorated with Eight Balls like on our label, and looked sort of like our vodka bottle label on wheels. In the first six months, we picked up 3OO accounts in the metro Boston area and received considerable interest from major distributors. The truth is that no account really said 'no' to us. It seems people were intrigued at the sight of a producer pulling up in an ancient VW and trying to sell a product. Some might have wondered if it was even legal. But, the neat thing about Massachusetts is that, when you get a so-called "farmer's distiller" license that we have, you also get a wholesaler's license, which has allowed us to go direct and do the hand-sell thing. It sure helps keep some of the money in your pocket, when your trying to build a small brand, and you can represent yourself on the first two tiers. "We were the first in this state to actually obtain a micro-distillery license and we've grown rapidly to a point where we've now partnered with an outside distributor, opting to go with a smaller house, Commonwealth Wines and Spirits, who also do a lot of hand-selling of high-end wines. We're getting widespread demands for our product and are now in 14 states.
Jay strongly believes that one development that can have a big impact on future success and continued interest in the vodka category is this business of licensing smaller distilleries so that they can get into the game. Many of them have great products and wonderful stories to tell. He feels that eventually it could build into something like the microbrew phenomenon and all these regional high premium beer products that have been coming on the market, which can compete directly with the high-priced imports. "This will always be a small portion of the market, of course," he underscores. "The vodka market is so large that you're always going to have your big guns and major players out there. But having a well-represented market segment of small innovative distillers can only add tremendous interest to this category. But I have to caution anyone involved with a small distillery that just decides to pop up and expects to just get into the business. With a distilled spirit, you really have to get out there, and it's fairly expensive to be considered a competitive brand."
"We went through a couple of marketing phases," he remembers. "The first year we did a lot of print media, but now we're finding that the majority of our marketing dollars are best spent for direct tastings at liquor stores, telling customers our story, putting our product in their mouth. In fact, this is the first year we've really had a major presence in a lot of retail stores, including Luke's Liquors on the Cape, Marty's in Newton, Martignetti's, Blanchard's, Big Y, Yankee Spirits, and Kappy's - Bob Selby was just here last week making a huge buy for all his stores. Our Commonwealth distributor has really been giving us this kind of breadth, cause there's no way we'd be doing this in our old VW."
"On-premise exposure around the state can be tougher and has a lot of room for growth," he points out. "We're in the top 2O to 3O on-premise accounts and upscale establishments like No. 9 Park, Spire at Nine Zero, The Fireplace. But there are so many accounts in Boston that are affiliated with larger restaurant groups. But we have a hard-working brand ambassador, Matt Lambo, buzzing around the territory, and people find it difficult to say no to a very pleasant persuasive guy doing door-to-door sales and focusing on just one brand."
"Anyway, it's been a ton of fun," he says. "And the real fun part of it is just the joy of brand-building and getting people to recognize what your doing. That's the true fulfillment for me. We have no desire to get too big, too quick. In fact, we are committed to this quaint keep-it-small mentality, but also are developing a professional approach to selective off-island niche brand distribution on a national scale."
Checking out any category with frontline bar chefs, as creative bartenders are now called, is always the best resource for assessing brand performances, consumer trends and products of special interest in the on-premise marketplace. And, with the ever-expanding universe of specialty vodka brands and flavors, one never knows what might be happening next when it comes to creative new drink lists and signature cocktails. For example, consider the ethereal signature bartender creation, "Jeremy's Perfect Love", that's presently being featured at downtown Boston's always-busy high-profile Radius Restaurant & Bar near the South Station. "Visually, it's a spectacular cocktail," says head mixologist and bar manager, Joe Gonzalez. "We use Ciroc vodka with Parfait Amour, which is a French orange liqueur that has a violet base to it - so it has a nice purpley, flowery, orange finish to it - and a dash of peach schnappes, and it's garnished with a beautiful orchid." Ciroc, says Joe, is one of the new vodkas that's been generating a lot of on-premise interest. It's being featured more and more on signature drink menus in a number of bars. Typically, it's mixed with wine, since it's produced from snap-frosted grapes, he points out. "The producer claims that adding wine makes for a smoother, more interesting martini than using vermouth, and so the whole product concept is targeted as the wine drinker's vodka. It took the brand a few years to catch on, but now bartenders are having a lot of fun with it, since it's fairly easy to market, and comes in a strikingly attractive bottle that has a purple tinge and can really stand out in your top shelf lineup." Like most on-premise drinking establishments, vodka is by far our best selling spirit here, he says. "When it comes to a martini, customers routinely just assume it's a vodka drink. A couple of years ago, it was estimated that one out of four drinks poured were vodka drinks. Right now, I'd say that's more like one of every three drinks in our business. If it's not a cosmopolitan, it's regular martinis or dirty martinis or vodka & sodas, vodka tonics, vodka gimlets, all these signature drinks, and the list just goes on. Our most popular call brands are Ketel One and Grey Goose. These are the two big favorites. Grey Goose is of course today's most powerful image vodka, but Ketel One also has considerable drawing power with sophisticated vodka drinkers where you almost find a cult following for the brand. These are people who aren't buying into the higher-priced Grey Goose image, but they still want something that has distinctive super-premium upscale quality. Belvedere and Chopin are two others that do very well for us and have that beautifully designed long-bottle package presence on the back bar. And Belvedere has one flavor I especially like called Pomarancza, which has an incredible orange blossom bouquet that I love using in classic cocktails. "But here at Radius we're not into a lot of the exotic trendy stuff," Joe emphasizes. "It's an afterwork clientele. Most customers know what they want and they are extremely knowledgable consumers. We of course have a full line of the Absoluts, including their new interesting Apeach flavor, and Absolut Citron is the standard pour we use in all our cosmopolitans. And one of our popular signature drinks is called the Connelly Cooler, named after our amazing sous chef Patrick Connelly. It's 3/4oz. Absolut Citron, 1/4oz. Absolut Peppar, with a heavy pour of lemon, a dash of lime, a touch of sugar, shaken, poured on the rocks, topped with a dash of soda, and garnished with a jalapeno pepper. This might sound a bit hot, but the cure to heat in a drink is sugar, so we give it a good balance of sugar, and the finish doesn't burn your tongue at all." Joe also has a great many Stoli customers, carries their full product line that are featured in a number of signature cocktails like a Blood Orange Martini. "It's an unusually complete and versatile brand," he says, "with orange, peach, vanilla, mango, raspberry strawberry, and I could go on. Bartenders love this flavor variety for encouraging creativity, particularly when you want to concoct a special drink for someone. The interesting thing about Stoli is that it doesn't have that much of an on-premise image, it's not an especially pretty or trendy package, and it's not something you often see on a back bar in an upscale establishment like ours. Yet, unflavored Stoli is an exceptionally clean vodka and, frankly, is my personal favorite when I'm making a vodka drink for myself. I've done several blind tasting events with unflavored vodkas, and Stoli is always consistently judged the lightest and