archived

FeaturedArticles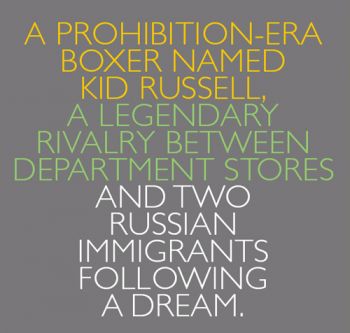 Article By: Maia Merrill
This is just some of the history belonging to Gimbel's Liquors in Brookline's Washington Square, presently celebrating its 4OTH anniversary.
Longevity in the retail business is no easy task to accomplish. Few stores survive ten years, let alone forty but Gimbel's has stood the test of time even as neighboring businesses have come and gone and the neighborhood has evolved. In addition to commemorating its 4Oth anniversary as Gimbel's, the store's license has the distinction of being the very first in Brookline, dating back to the end of Prohibition. Owned by a man named Hymie Goldfarb, the store was originally called Russell's Liquors. Hymie was a local semi-professional boxer from the West End with the ring name Kid Russell. After Prohibition was repealed he purchased the town's first liquor license and named the store after his alter ego. Hymie ran Russell's for over thirty years until 1965 when he sold it to Steve Berenson who changed its name to Gimbel's Liquors.
DOES MACY'S TELL GIMBEL'S? So what, exactly, is a Gimbel? I must confess to having Googled it several times with no success. Though I came across the word referencing a department store, I made no connection until Steve Berenson clarified it for me. The original Gimbel's was indeed a department store founded by the Gimbel brothers back in 1894. During the early twentieth century there was a famous rivalry between the Macy's and Gimbel's department stores in New York City. The saying, "Does Macy's tell Gimbel's?" stems from the legendary competition between the stores that sat directly across the street from each other and means: Does one store share its business secrets with its competitors? The phrase became quite popular during the 3Os and is still sometimes used today. When Steve got into the liquor store business during the early sixties he had a friend who owned Macy's Liquors. Steve chose Gimbel's as the name of his business, creating a friendly local rivalry. Both Macy's and Gimbel's liquor stores are still in existence today though the Gimbel's department store folded in 1987.
PASSING the BATON For 37 years Steve ran Gimbel's Liquors, specializing in wines and building an expansive and loyal clientele. Then a few years ago, two Russian men, Lenny Kan and Alex Oks, approached him with an offer to buy Gimbel's. The store, however, was not for sale and Steve wasn't particularly interested in selling. He had had plenty of offers over the years but not one that was able to sway him. But persistence, and the right offer, finally won him over. Still, Steve didn't simply sign the papers and hand over the keys to the store he had run for almost 4 decades. He actually stayed on behind the scenes and trained Lenny and Alex for about 6 months, showing them the ropes of the business and helping them to establish ties with vendors and customers. After their "apprenticeship" was complete, Steve went into retirement.for a total of six days. Restless and bored without a job he quickly got into new career: the mortgage business, an endeavor he is quite enthusiastic about. And of the business he ran for so long he says, "I miss my customers, but not those hours!"
NEW CHALLENGES As Steve pointed out, owning a liquor store is more than just a full time job; it really is a 7-day-a-week commitment. To many people the very prospect might be daunting but for these two immigrants, buying Gimbel's was a dream come true. This was something they had both always wanted to do and they set their minds to succeeding at it. And even though they had never owned a liquor store before, it wasn't as if they completely in the dark as to running a business. In the US since 1979, Lenny is a former piano player who owned a fast-food restaurant near Northeastern University. Alex's background in Russia is in the medical field but he worked in a liquor store here in America. They both had some of the fundamental tools but were nonetheless fortunate to have Steve stay on board to see them through the beginning.
In addition to the tutelage of Steve, Alex and Lenny inherited the store's Wine Director, George Hark. George jokes that he actually came with the store as part of the deal. According to owners old and new, he is an integral part of the store's success, managing the wine department, specializing in functions and events and teaching wine classes at nearby Dalia's Bistro and Wine Bar. Priced at an average $25 per person, the classes are quite popular, particularly with local graduate students who want to learn more about wine. George also has a call list of regular customers and often phones them when there are great deals or new wines he thinks they might like.
BEYOND the SALE Although Lenny and Alex were novices in the beginning, they immersed themselves in learning the business and quickly developed strict standards when it comes to what they carry. Just because Robert Parker or Wine Spectator says something is great doesn't necessarily mean you'll find it at Gimbel's. A product doesn't make it onto their shelves unless they have tasted and approved it. In fact, they pride themselves on having a reputation for being tough to sell to. Tom Kelly, the Vice President for Key Accounts with United Liquors, comments, "Yes, they are picky but once they like something they will take it on. They don't want anything marginal, just A-1 quality." Lenny says that big name brands don't matter at all if the product is inferior. He will readily carry an inexpensive, little-known brand if it tastes better than its high priced big-name competition. George echoes the sentiment, saying, "We don't necessarily buy what Robert Parker says is good. We're not interested in just making money on a sale, we want to build trust so that people come back. You're only as good as your customers." Following in Steve's footsteps, Lenny and Alex have continued to focus on wine though the store also carries a diverse selection of spirits and beer including a wide array of Russian and Kosher products. Tom says that they are very good at bringing in esoteric, hard to find products for customers. He also notes that they have really overcome the hurdles of a language barrier, which can be a substantial obstacle, particularly when dealing one-on-one with as many customers as they do. For Lenny and Alex, the personal element of being in a store and tasting wine is vital and they host tastings several nights a week. They say: "Some people want to read books about wines. We tell them to throw the books away. You may learn a bit of history and geography through a book but no matter how good it is, you can never taste a description."
NEIGHBORHOOD TIES Even though Gimbel's was a well-established and popular neighborhood liquor store, there was still a chance that the transition would not be successful. When a business changes hands it can often mean a quick downfall for any number of reasons. Sometimes customers feel betrayed by the change or the owners have different ideas as to what direction they want the business to go in. Gimbel's has not only survived the changeover, it has thrived. For Alex and Lenny keeping those ties with the existing client base while creating new relationships is paramount. Under their ownership the store has continued to prosper as they have worked hard to cater to the neighborhood business. Since taking over Gimbel's the two men have devoted themselves 1OO% to learning about the business as well as the industry, establishing neighborhood connections and becoming involved with the community. This June the store was given Honorable Mention in the Brookline Tab's People's Choice Awards. Their chosen charity is the Jimmy Fund and they have been donating to it regularly since taking over the store. Tom Kelly comments, "These guys have really added to the community. They've bridged the gap between keeping the existing customers and reaching out to new patrons." Today the store caters to a diverse group of customers, including transient graduate students, older neighborhood residents and a substantial Russian clientele.
Ultimately, you need to have more than great specials on wine to stay in business for forty years. According to Steve Berenson, networking, adapting to change and knowing the wants of the consumer are all vital keys to the long-term success of Gimbel's. Being busy in the scene and networking at every chance brings in more than just walk-in business. Over the years Steve expanded to doing special deliveries and functions. Forty years is the equivalent of two generations and that's a lot of weddings and bar mitzvahs. Steve also comments that when Brookline's rent control was abolished, it completely changed many of the area neighborhoods. Suddenly there was a new clientele that had different tastes so he worked to find out what those were and catered to them. Today, the new owners are endeavoring to continue on with these tactics.
Gimbel's is much more than just a store; it is a neighborhood fixture, a place where the customers know the owners and staff. And in turn, the owners make every effort to discover the likes and preferences of the patrons. By all appearances, things are on track for Lenny and Alex to enjoy 4O more years of success with Gimbel's

EVERY PICTURE TELLS A STORY It would appear from the above circa-197O photo that Gimbel's was just having some renovations done but there was more going on behind that plywood exterior than meets the eye. Originally, the site of Gimbel's was much smaller than it is presently. When the fruit store next door went out of business back around 1969 Steve snapped it up before anyone even really realized it was for sale. But before he could expand he had to have the town's approval. Unfortunately, Brookline residents were adamantly opposed to the notion of a larger liquor store, fearing that it would help foster an unsavory neighborhood. Steve was unable to get the approval but that didn't stop him from being resourceful. As he couldn't do the necessary renovations to expand his store he simply boarded up the store front, posted specials on the plywood, painted the name on the outside and left it like that for about a year. Eventually, Steve's tenacity and the store's less-than-attractive appearance wore the town down. The townfolk gave in and Steve won his fight. He adds that it was far from the only time he went up against the town of Brookline over the years but proudly notes that every battle he fought in court, he won.