archived

FeaturedArticles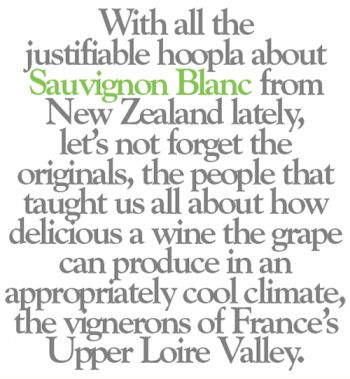 Article By: Sandy Block, MW
Of course, the French drive us a bit insane with how inconsistent their wines remain despite the supposed guarantees of the AOC system, and Loire Sauvignon is no exception. But when a Sancerre or Pouilly-Fume hits its target there is something so clean and penetrating about its flavors that whatever bother it takes to find the right ones all seems worth it. Because when one of these wines is right there is nothing better. Nothing. And the Loire is still a place where you can find stunning value.
Why do they remain values, even as the dollar has been in free fall against the Euro? Because, at least in my opinion, outside of aficionados the wines are totally overlooked. This is easy to do since their attraction lies in their elegance and balance, subtlety and understatement, rather than dramatic flavor impact. Unlike your typically flamboyant Marlborough Sauvignon Blanc, the fruit rarely explodes from the glass. And yet, although the wines have been around seemingly forever, they are still waiting to be discovered in the US. The time is ripe. As fashions change and our collective palate shifts toward greater appreciation for wines with vibrant acidity to balance the fruit (a transformation confirmed at numerous public tastings I've conducted over the past few years) Loire Sauvignon Blanc is an obvious choice.
There's a seasonal, perhaps ephemeral element too. Warm weather generally suggests a lighter diet, more fish and vegetables, less rich sauces. The Loire is a region where you can find un-oaked Sauvignon Blanc with the right profile to complement these dishes and leave your palate refreshed. Although price may put them out of the range of most everyone's picnic wines, they are wonderful choices for summer dinners on the deck. And there's a bittersweet quality to the wines too: although you'd like to see how they change in the bottle and put some away for a years, the results are generally disappointing. They're so good young they generally have nowhere to go but down after an appropriate period of perhaps 3 or 4 years after bottling. So buy enough for current consumption and then buy again next year.
My list of current finds, selected in blind tastings over the past few months, are in ascending order of preference, with cost not a consideration. (For comparative purposes, prices quoted are average retail.)
Domaine Fournier, Pouilly-Fume "Vieilles Vignes," Grande Cuvee, 2OO1
There's an absolutely classic element to the nose of this wine &endash; grapefruit, mineral and cooked green vegetables. It's textbook Pouilly as perhaps befits the slightly cooler 2OO1 vintage. On the palate the fruit is bright and zingy, reflecting the dominant grapefruit and mineral aromatics. Lush, sharply citric, the wine has weight and also lingers. It lives up to its billing as a product of old vines, and the way the aromas mesh suggests extended lees maturation. A super food wine &endash; it stood out in comparison with many of its Pouilly peers which tended to have one dimensional, middle of the road, fruity flavors without the necessary flavor edge. Theoretically I always want to like Pouilly better than Sancerre (smaller production, most wine estate bottled, south facing slopes, flinty soils), although I have almost always found in blind tastings that the wines have less "cut", or, as the French would say, "nervosite". They may be soundly made but, for that reason, they're disappointing. But not this one! $22
J.C. Chatelain, Sancerre, 2OO2
This an impressive effort from a producer whose heart appears to be in Pouilly and who owns no vines in Sancerre. The wine has a green herb and pink grapefruit element on the nose that is entirely captivating. Its charm is right out front and apparent. The flavors are similarly direct: the balance of green fruit and citrus, the clean, bone dry mineral-like finish. This is what good Loire Sauvignon is all about, elegant light body, plenty of flavor and, above all, purity. There is no hint of oak or other elements of heaviness. In fact, you can almost taste the ancient marine fossils that underlie the soil here in Sancerre &endash; talk about terroir reflection in a wine. As far as food, this would work beautifully for me with a wood grilled or sauteed white fleshed fish rubbed with herbs and oil. It's delicate and yet assertive in flavor at the same time. $22
Chateau de Maimbray, Sancerre, 2OO2
This wine is deceptively flavorful and delicious &endash; deceptive because the initial impression on the nose is all about understatement and subtlety. It is slightly earthy, with some cool green leafy elements and hints of mineral and chalk. Swirling coaxes more volume, but the aromatics are essentially shy. On the palate, though, the cloak of secrecy is pulled away and you're greeted with racy green fruit and sweet lemons. Acidity is brilliant, fine and sharp at the same time. There's an authoritative feel to the flavors are very lingering. 2OO2 produced exceptional ripeness, which is translated here as flavor brilliance rather than heaviness. This would work beautifully with sauteed shrimp or scallops. $22
Domaine du Salvard, Cheverny, 2OO3
One of my favorite selections, and by far the best value. This is an obscure AOC that I threw into the tastings as a ringer, just to keep the more prestigious wines honest, and despite the lesser expectations it shone. That's why we do blind tastings! Cheverny is not, properly speaking, even a pure Sauvignon Blanc. This wine has 1O% Chardonnay. I t's also from the fabulous, but dangerous, 2OO3 vintage, a freakish year where the normally moderate temperature in the Loire reached the same extreme heights they did elsewhere in France. The tobacco, grapey aromas leap right out of the glass. They're very positive, and if there's no hint of the classic Upper Loire combination of citrus and chalk, they're so attractive that it doesn't matter. The flavors are crisp, racy and sleek. The predominant impression is fresh, ripe grapefruit, just this side of sweet. A raw shellfish wine, without question, the Cheverny also works with a goat cheese salad or, for that matter, other dishes with greens. And this one is appropriate for the picnic basket. $12
Didier Dagueneau, Pouilly-Fume "Pur Sang," 2OO2
Okay, it's superfluous, even cliched to sing the praises of Didier Dagueneau, and yet this wine is so incredibly delicious it inspires you to add your voice to the chorus. Everything about it is impressive: the art on the label, the brilliance and complexity of the aroma (honey, pink grapefruit, intriguing spices and herbs), the sheer richness on the palate, the lush citrus flavors, the price. And about the price, is it really worth it? Resoundingly so. In a region that has lacked wine superstars until now, Dagueneau fits the bill. He has brought the same fanaticism about vineyard practices, low yields and minimal winemaking to the region that others have been practicing in regions like Burgundy for the past few decades. Barrel-fermented Loire Sauvignon? Heresy! Yet this wine is so unbelievably rich, and yet so balanced with firm acidity, that there's not even a trace of wood on the palate. You can enjoy this with the most assertively sauced fish dishes, the chef's most creative fusion of multi-cultural influences. Or even just a plain boiled lobster. $75