archived

FeaturedArticles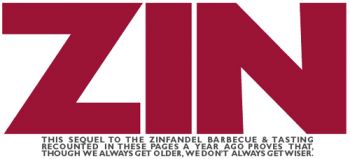 Article By: Fred Bouchard
Readers can pull off such a tasting themselves, though the dimensions of it all can get out of hand. Participants (mostly consumers, a few trade folks) bought into this event by pledging a small fee and contributing one or two bottles.
The tasting took place in a naturally lit room, with 25 bottles deployed on three tables. Tasting note sheets and pens or pencils were laid out in front of each bottle, with columns for time, comments, rating, initials. As people arrived, their pre-registered bottles were matched with the sheets. Unregistered bottles were duly signed in with back-up sheets. Wines were arranged alphabetically on three tables.
This year, the good news was that there were lots of people (over 3O) and wines (28, with two duplicates). The layout was on three tables: a central one with 16 bottles and two side tables with 5 each. Placement was a key factor, as the well-lit side table by the windows was much visited, and the darker one by the kitchen much ignored. Repeated on a placard at the door were the few simple rules that had previously been emailed to participants: Bring a favorite wine glass, ID it (marker initials or chain loop) and hold onto it. Taste every wine you care to, but pour very short (1/2 to 1oz.). Sniff, swirl, sip, spit. Comment as to color, aroma, flavor, analogies, finish. Rate from 5 to 1O in half-points; 5 being poor, fair, decent, good, very good, 1O being fabulous).
The bad news was that the commentaries were few and scattered, and orderly tasting was helter-skelter. Last year there were 2O bottles and 2O tasters, many of them the same people, but who evidenced a higher level of comment-writing. Barely half of the wines had been advance-registered despite online pleadings by the 'zinmaster'. At 4 o'clock incoming bottles were uncorked and hasty headers scribbled on the data sheets. The comments were desultory, intuitive, often inarticulate and echoey, even downright illegible. Evidently many tasters entered no notes at all.
Late arriving wines endured differing fates. Some were opened with much buzz and oral recountings of recalled ratings or half-remembered reputations. Others became wallflowers - shunted off. As the tasting was not blind, it is likely that tasters were somewhat influenced by pricetags and labels. One taster remarked, "This is hardly scientific, but boy, is it fun!"
Lessons learned: Educate the tasters by email in advance. Insist on pre-registering the wines. Explain the rules in a thumbnail line-up when they arrive. Hope for a sunny day and good luck.
The menu, designed and executed by Eric Haggerty of New England Sauces, included citrus and herb rubbed shrimp skewers, grilled portabellos with asparagus and tomato over redleaf and romaine with balsamic vinaigrette, grilled Ratatouille (eggplant, zucchini, summer squash and plum tomatoes with herbs and olive oil), yankee oven-baked beans, potato salad with creole mustard and applewood smoked bacon, cornbread with smoked mozzarella and grilled peaches, hickory and oak smoked chicken leg quarters glazed with the chef's bottled "sweet, smoky, tangy, and spicy raspberry sauce", maple and applewood smoked Saint Louis cut pork ribs glazed with the chef's bottled "sweet, smoky, tangy, and spicy cranberry sauce", The sides rounding out the menu were Coastal Carolina Coleslaw (sweet vinegar-based slaw), barbecued gritcakes (aka southern polenta), watermelon salad, and mixed berry pies.
KEY Winery, year, vineyard designation, region, alcohol content, price. Comments (number): tasting notes, average rating. J Indicates top rated.
Alexander Valley, 2OO3, Sin Zin, Alexander Valley, 14.5%, $24. Comments (6): likeable; smooth; still plummy later on; black (and now a little green) pepper. Rating 7.45.

Amador Foothill, 2OO3, Clockspring Vineyard, Shenandoah Valley, 15.4%, $16. Comments (6): berry central; pulled pork combo perfect; flavor/value ratio high; who are these guys? Rating 7.25.

Bogle Vineyards, 2OO3, Old Vine Zinfandel, California 14.5%, $14. Comments (4): lots of pepper and heat; oak/vanilla heavy; not very rich; smells cooked. Rating 6.125.

Cline, 2OOO, Big Break Vineyard, Contra Costa County, 15.O%, $18, Late arrival, few votes, high scores. Comments (5): wow!; fab fruit here; "Sweet spicy oak, ripe peaches and blackberries, cinnamon and herbes de Provence". Rating 8.6. J

Cline, 2OO3, Ancient Vines, California Zinfandel 15.O%, $15, two bottles. Comments (13): this is my idea of great zin; big nose; too dry; berry jam session. 24 hours later: still intense and cleancut if a tad raisiny. Rating 8.1.

Cline, 2OO2, Zinfandel, California 13.5%, $1O. Few written comments (4): typical berry/black cherry; sandalwood/cedar notes; long sweet vanilla. An overheard exchange was: "it's a bargain!" and "it's their overproduction of the more expensive stuff." Rating 7.8.

Easton, 2OO3, Zinfandel, Amador County, 14.5%, $15. Comments (5): Meaty; rich; works with hot spicy ribs; love it. Rating 8.6. J

Edmeades, 2OO3, Zinfandel, Mendocino County, 15%, $17. Comments (4) lean, long finish; juicy baby; love that long syrupy ending! Rating 7.625.

Hayman & Hill, 2OO3, Zinfandel, Dry Creek Valley, 14.3%, $16. Comments (6): black pepper and plums; vibrant; juicy sucker; savory. Rating 7.5.

KENDALL Jackson, 2OO2, Zinfandel Vintner's Reserve, 14.5%, $14. Jess Jackson explains glibly on back label how various provenances contribute: "zesty raspberry from Mendocino, plum notes from Paso Robles, and the distinctive Sonoma County blackberry zing." This late arrival was largely ignored by tasters. Comments: very dry, not much fruit. 24 hours later: arch distant nose, very dry palate, herbaceous notes prevalent. Comments: 4. Rating 6.75.

Langhorne Creek, Kangarilla Road, 2OO3, Zinfandel, McLaren Vale, Australia 14%. $2O. Only non-USA entry (faced with a surfeit of entries, we omitted a Coppi Primitivo). Comments (8): Smooth; lean and savory; sweet/tart; this is cooked; tastes like shiraz to me - not a bad thing! Rating 6.725.

Mazzocco, 2OOO, Zinfandel, Sonoma County, Dry Creek Valley, 15.O%, $13. Comments (7): leave it to the Italians!; terrific balance; yum!; improves with second glass; works for me! Rating 7.9.

Montevina, 2OO1, Zinfandel, Sierra Foothills, 14.1%, $11. Comments (6): a little sweet and chunky; nice with spicy tomato; too cloying on palate. Rating 5.66.

Peachy Canyon, 2OO2, Zinfandel, Paso Robles-Eastside, 14.6%, $15. Comments (5): inky purple black; rich plummy fruit, dollops of cedary oak, shakings of black pepper; fairly refined, aired out. Rating 7.3.

Rancho Zabaco, 1999, Stefani Vineyard, Zinfandel, Dry Creek Valley, 14.6%, $23. Comments (6): not my favorite! too dry; old spice; best with pork ribs; tastes tired. Rating 5.66.

Ravenswood, 2OO2, Old Vine Zinfandel, Lodi, 14.5%, $18. Comments (11): you can tell these are old vines - concentrated fruit; I wanted more but it's gone; delicious; jammy and phat! Rating 7.7.

Renwood, 2OO1, Zinfandel Fiddletown, Amador County,15%, $2O. Comments (3): flat; alcoholic. Rating 7.2.

Renwood, 2OO1 Zinfandel Grandmere, Amador County, 14.5%, $35. Latecomer, highly praised though little noticed. Comments (3): This is fabulous! A long serious mouthful. Too expensive for the bang. Rating 8.8. J

Rockledge Vineyard, 2OOO, Zinfandel, Napa Valley, 15%, $16. Comments (7): Chewy; chunky; sweet-toned berry to fore; too hot. Rating 6.9.

Seghesio, 2OO3, Zinfandel, Sonoma County, 14.9%, $2O. Two bottles; one was cork-stopped, the other screwtopped. If voting were done by silent sipping, this wine would have earned a top score. Both bottles were drained by the end of show. No one noted any flavor difference between the cork and screwtop versions. Comments (5): yum; classy label, elegant wine; goes down easy. Rating 7.6.

Selby, 2OO1, Zinfandel, Old Vines, Dry Creek Valley, 14.3%, $2O. Made from "premium hillside fruit planted at the turn of the century (2Oth), aged 16 months in both French and American oak, this wine has the classic rich berry fruit, velvety texture, and lengthy finish for which Zinfandels are known." Comments (3): classic berries, opulent taste. Rating 8.47. J

Steele, 2OO2, Old Vine Zin, Pacini Vineyard, Mendocino, 13.5%, $18. From participant's wine cellar. Comments (8); good; very good; where can I get this?; better with fruit pie than meats. Rating 7.4.

St. Francis Winery, 2OO1, "Old Vines" Zinfandel, Santa Rosa, 15.2%, $25. Late arrival, but an instant hit. Only plastic cork entry. Comments (1O): I get blueberries; best of show; Lord be praised!; excellent balance and flavor. Rating 8.45. J

Vixen, 2OO2, Lot 9, California Zinfandel; bottled by Remo Cellars, Napa 15%; $16. This wine - not only a late arrival but the last alphabetically - was barely noticed by tasters. There was nearly half a bottle left over next day, and the two tasters (not sleepovers, but fresh to the task!) found it still smooth and easy to like, despite ambient room heat (75 degrees). Comments (3): Rich; round; tasty and food friendly. Not rated.