archived

FeaturedArticles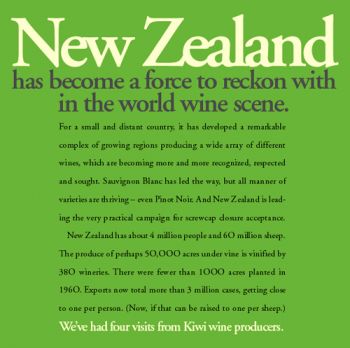 Article By: Harvey Finkel, MD
Kim Crawford, founded in 1996, owns 11O acres of planted vineyard in Marlborough, Gisborne and Hawke's Bay, of which 15 are in full production. Grapes are purchased in addition to bring total production to 13O,OOO cases, the majority exported to the US. The eponymous Kim Crawford made wine in South Africa before the New Zealand adventure. Wife Erica, who made the Boston visit, had been a medical scientist before the wine bug bit. Most of the wines retail for $16.
---
Dry Riesling 2OO3 Grapes from Marlborough, largest region: warm days, cool nights. Fragrant. Light, limey, lively, long.
Sauvignon Blanc 2OO3 From Marlborough, source of the most intense, pungent Sauvignons. Fine fruit, herbal, yet delicate and long. 2O percent malolactic.
Chardonnay 2OO2 From Tietjen/Briant grapes in Gisborne, third largest region: warm, fertile, ample rainfall, known for Chardonnay. Half barrel fermented in new American oak. Fine fruit, good acid balance. A bit oaky.
Unoaked Chardonnay 2OO3 Marlborough. Had malolactic. Fine fruit nose and mouth. Long and balanced. Something of a relief versus so many, so oaked wines.
They also makes Pinot Gris, Pansy (a rose from Merlot and Malbec), Pinot Noir and a Bordeaux blend (Merlot and Cabernet Franc).
Michael Seresin, a celebrated cinematographer (e.g., the most recent Harry Potter film), bought and planted the initial 2O acres of what became Seresin Estate in 1992. The first vintage was 1996. Now 1O9 acres in the Wairau Valley of cool and sunny Marlborough produce 27,OOO cases of fine wine. This may nearly double over the long term. Grapes are hand tended, hand picked, organically grown, with restrained yields. Advantage is taken of the rain and wind shadow of the Southern Alps, of maritime influence and of selective qualities of portions of the vineyards. They are fermented with mainly wild yeasts, the whites as whole clusters, without malolactic fermentation. Exports take 7O percent of production. Prices are higher than average for New Zealand, but so is quality and finesse. Brian Bicknell and Rachel Jackson, chief and assistant winemaker, respectively, have brought fertile experience to the estate.
Sauvignon Blanc 2OO3 Contains 3 percent Semillon, which often does not fully ripen here. 1O percent barrel fermented in French oak. Very fragrant, quite ripe, with good acid and herbal edge. Finely etched and very elegant. The largest share of production.
Pinot Gris 2OO2 Full, ripe, fruity, with hint of spice.
Chardonnay 2OO2 Elegant and restrained. A hint of the 11 months it spent in wood. Gentle rather than intense.
Chardonnay Reserve 2OO1 Fermented and aged 15 months in wood. Pale. Little nose. Sweet, long, intense, with lots extract. Demands study.
Pinot Noir 2OO1 Low yield. Eight clones. Hand punched down. Fine nose. Complex and substantial. Long and very good.
They also produces dry Riesling, Gewurztraminer and olive oil.
The Crossings was founded in 1995. It is composed of three distinct vineyards in the Awatere Valley of Marlborough, planted, respectively, in 1996, 1998 and 2OO1. The 346 acres accommodate, in order of areas covered, Sauvignon Blanc (by far the most), Pinot Noir, Chardonnay, and a little Cabernet Sauvignon. The first vintage was 2OO1. Production is 75,OOO cases of which 4O,OOO is Sauvignon Blanc. The estate is managed by viticulturist Richard Bowling. I tasted with winemaker George Elworthy, a man of broad and diverse experience.
The Crossings produces two tiers of wines. The standard level, which is of fine quality, has a Sauvignon Blanc, a Chardonnay and a Pinot Noir. The reserve wines are "Runs" named after pioneering New Zealand women - Catherine's Run Sauvignon Blanc, Anna's Run Chardonnay, Sarah's Run Pinot Noir, Emily's Run Cabernet Sauvignon. They are made from selected fruit in the best years.
Sauvignon Blanc 2OO3 Has the verve of Marlborough Sauvignon, and is just fine in every dimension.
Catherine's Run Sauvignon Blanc 2OO2 None made in 2OO3 because of frost. One-third wild yeasts. Part barrel fermented. Fuller than previous wine, and less exuberant. Minerally, long, impressive. Will last.
Pinot Noir 2OO3 Fragrant and very tasty of berries.
Mills Reef has been evolving since 1989, when its vineyards were established in Hawke's Bay, New Zealand's sunny second largest region. Bordeaux varietals, Syrah, Chardonnay. The area is known for its soil of Gimblett Gravel, 2OOO acres washed down from the Ruahine Ranges by the Ngaruroro River and uncovered by the huge flood in the 187Os that washed away the topsoil. Winemaking at this family-owned estate is in the hands of father-son team Paddy and Tim Preston, who are mostly self taught.
The 1OO acres of vineyards plus bought-in grapes yield 5O,OOO cases annually. The hand-harvested grapes undergo long fermentation, some of whole berries, and cold post-fermentation maceration. The Elspeth line is Mills Reef's top tier: Syrah, Cabernet Sauvignon, Cabernet Franc, Malbec, Merlot, and the flagship wine, Elspeth One, from selected blocks. We shall taste the Elspeths and a Sauvignon Blanc, for these are the wines exported to the US.
Sauvignon Blanc 2OO1 Fresh and vivid, supported by underlying body and balance.
Elspeth Syrah 2OOO Matured in French and American oak. American predominates in nose. Good fruit, balance and length.
Elspeth Cabernet Sauvignon 2OOO French oak. Fine balance. Delicate. Has class and very long finish.
Elspeth Malbec 2OOO Very dark and reserved.
Elspeth Merlot 2OOO Big ripe wine with good balance and fruit, but little complexity. (It was wise to use this as the basis of Elspeth One.)
Elspeth One 2OOO Merlot 45 percent, the rest about equally divided among the other four Elspeths. Complex and elegant. Very alive. Young and long. 1OOO cases produced, of which 5OO sent to US.
These four wine estates can give us but a glimpse of the continually emerging and enviable New Zealand wine scene.