archived

FeaturedArticles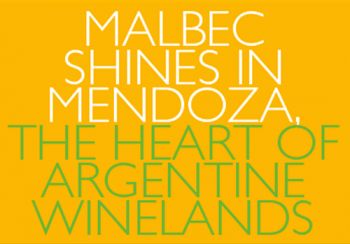 Article By: Fred Bouchard
Wines of Argentina's press junket to Mendoza and Patagonia leaves a lingering memory and taste: that of the food-friendly and flavorful Malbec. At nearly every winery the tasting presentation is methodical, thoughtful, well-paced, considerate, intelligent, hospitable, earnest yet pleasant, and generally convincing - and the star of the show is Malbec.
James Molesworth reported in late November's Wine Spectator: "Argentina is exporting more and better wines. The country enjoyed terrific vintages in 'O2 and 'O3, and a host of new, small wineries entering the marketplace alongside established giants has further brightened the scene." Of the 25O or more wines Molesworth tasted for that survey, over a third (89) were Malbecs. His conclusion: "The trend is clear. Malbec has established itself as the country's premiere grape." At its best Malbec "is yielding some of the world's most distinctive reds."
I made Malbec a prime consideration on this March trip to Mendoza, tasting many 'O2 Reservas, 'O3s and 'O4s just bottled or from barrel. Other widely produced wines that showed well were Chardonnay, Sauvignon Blanc, Cabernet Sauvignon, and Merlot. Since our hosts showed only their export wares and time was limited - 12 wineries in 4 days - we did not taste home market products, eg, popular sparkling wines.
If your heart doesn't pump for Malbec, there's more beauty among Argentine reds. Cabernet Sauvignon, Merlot, Syrah, and - respecting European roots, even Tempranillo and Bonarda - are garnering winemakers' affection and critical attention. But it's Malbec that will put Argentina on the world wine map, often at three well-spread price points.
The Andean spine runs roughly from the Equator to Tierra del Fuego. In Andean foothills wines are born. Mendoza is a desert transformed: only 3% of the land is irrigated and arable. Oases of poplar, vineyard and orchard - watered by Andean snows either in rivers or mountain runoff - greet arriving planes as stark green patches. Beyond the city and 147,OOO hectares of vineyards lies a parched Nevada moonscape. Locals irrigate city parks as well as vineyards. Potable underground wells also replenish the water table: one of Norton's top fincas (farms) uses five wells dug 5O years ago. Strict water use regulations are enforced. Lands without water rights are worthless. We gauge the irrigation and vine age to determine each vineyard's level. The bigger root systems efficiency here is around 85%; with drip it is higher, but the quality may not be as good.
When Napoleon conquered Spain in 18OO, the freedom movement of all colonies became stronger, none fiercer than in Argentina, the first to declare independence. After San Martin liberated the Argentines from the oppressive viceroyalties, and de Rosas' federal coalition ran it as his personal sovereignty for 2O years, the waves of Europeans that rolled in from the North Atlantic in the 185Os - especially from Spain, Italy, Russia, Germany, Syria, and Armenia - soon became a tidal wave. They moved to soil or city. Italians had greatest impact on the wine world. Outback towns still reflect fusions with Italy and Mexico: rustic scrubbed stucco, ancient churches, wide quebradas (gorges), rocky roads built by simple people used to back-breaking work and in love with their wines - especially red ones.
NAVARRA CORREOS But why does Malbec stand out? Rafael Calderon of Diageo, representing Navarra Correos, gave some clues. "Malbec grows green in Cahors, and rarely ripens to maximum advantage. Down here in Mendoza it shows its sweet tannins, is easy drinking and smooth. It is our last grape to ripen, well after Cabernet Sauvignon, into April. (Hail can ruin it; we hope this warm weather keeps up!) Our objective is to become the #1 Argentine producer in the US; Catena is our best competition in branding, marketing and PR. Our team has passion for winemaking and sales, fine vineyards and a most modern plant. Malbec is a great marketing wedge for us to approach the US. It is a friendly grape, easy to drink, easy to pronounce, with flexible uses. The market potential for high end Malbec will require us Argentines to conduct extensive barrel experiments to discover how it may best be treated."
We explore an impressive glassed-in art gallery and wonder when we will ride to this modern winery. Calderon opens a door - and we descend three levels on foot! Yes, it is a totally modern, beautifully designed totally subterranean winery, but it has its periscope up for smart marketing to the Americas. In a cool well-lit tasting room, the winery presented its wares, with a Malbec at each level in its three-tiered portfolio: Coleccion Privada, Gran Reserva, Ultra.
Familia Zuccardi, Argentina's 'Mondavis' Jose Zuccardi is a man at his ease at his beautiful winery and opulent yet rustic tasting rooms. His family has long taken the lead in experimental vineyards, trying various oak cooperage and chars. At a table set with wines and bread in a high-trellised vineyard with emerald greensward and glorious sunset, Zuccardi waxes eloquent. "The parallel system of trellising at 33 centimeters is to have all the leaves look at the sun and have good ventilation. This is most important, because Mendoza is a high altitude (7OOm) desert, with dry climate; we have to shelter the grapes, especially mid-day, when the strong sun can burn them. Mendoza has extremes of temperature - into November morning frost, but midday temperatures rising to 3O degrees C, with big day/night swings. Vertical shoot system raises the vines higher, often 2 degrees to 3 degrees warmer. Some years we use heaters to avoid frost effects. Hail is dangerous, so we put nets on top, with ventilation spaces between net and leaves.
"With little rain - sometimes none for 6 to 8 months - we cultivate only small tracts by irrigation, leaving 5OOO square kilometers in the province. The soils are also poor, formed by Andean erosion, with low organic content. We grow cover crops as green fertilizer, rich in nitrogen, for cultivating the grapes. We put all the compost we get back into the soil. We grow organically, never use pesticides. To be organic is to use no chemical fertilizers and no herbicides, just a mechanical cleaning of the soil.
We use machines to transport the grapes, but people do important things, like pruning and sorting. Taste the malbec," he exhorts us, cheerily, "it is ready. The pip is mature: brown, dry, crunchy. The tannins are ripe, not just the sugar."
Export manager Jose Asencio adds, "Since 1998 we've been deeply into sustainable agriculture. It's not a marketing thing; it's for long-term success. We've protected against hail and frost, and even though they may not strike us each year, it assures us a sustainable harvest every year. Protecting all year 'round also aims at that, like winter pruning. That also has our people working all year 'round, to take care of every single aspect of growth and ripeness.
"Our small bottling line bottles single barrels of individual test plots. We sell them as special releases for several reasons: as we learn about viticulture and grapes, we also teach people to appreciate new varietals. We believe that to sell wines is to engage your customers. Enjoyment goes beyond drinking: it is to grow the grapes, make the wine, communicate the experience. When people know more, they enjoy more. This is very important. Bringing pleasure to people is a great joy. We are very lucky people!"
Winemaker Ruben Ruffo's expression of glee reflects this sentiment as he shows off his small tank experiments in a broad palette of reds. We taste a flurry of frothy pink beakers: Carmenere, Cabernet Franc, Marcellan (Cabernet Sauvignon x Grenache), Touriga Nacional, Petit Verdot, Tannat (Uruguay's ace-in-the-hole), Caladoz (Malbec x Grenache). As with Emilio Lustau's Almacenista line, people (collectors?) who try a few may want to try them all. "Pinotage?" I ask. "Not yet!" he smiles. That will be forthcoming, he implies, as Southern Hemisphere oeno-ecumenism expands.
Winemakers Rodolfo Montanero and Ruffo make a wide array of wines, and tend patchwork quilts of experimental vineyards that they vinify separately to track developments. Malbec figures in blends, cross-strains, and lends itself to varied treatments. Their memorable 2OOO Malomendo Malbec Port, from barrel, showed moderate weight, with exemplary richness and extract.
The winery's marvelous layout includes an art gallery, wine store and wood-paneled rooms, quiet and handsome in contrast to the mid-crush winery's wild din - whoosh of machines, roar of forklift, and tinkle of bottle line. We go in for a magnificent dinner, among which are three Malbecs.
LUIGI BOSCA Gustavo Arizu reminds us that Mendoza is no Johnny-come-lately to the wine world and that family roots run deep. His great grandfather from Navarra worked as a civil engineer studying soil movement for the railroad before they laid the railways for the British in 1883. He knew about moving earth, grading rail beds, driving tractors. "Having worked in Spanish vineyards as a picker," says the 3O-ish Arizu, "he saw the zone's potential and left the company to buy a corn mill in 1889 and turn it into a winery. He fell in love with a beautiful Italian immigrant girl. We named the wines for her family but the company name is ours, Arizu. We make jokes about 'sigue la chica!' or cherchez la femme.
"My grandfather came next; his sisters didn't work in the winery. Then came my father (winemaker and sales) and two uncles (winery management, administration). In my generation, I do sales and marketing, one brother works in Buenos Aires with international and domestic sales, and my other brother works at my mother's winery, Mateu, whose Vina Alicia traditional wines cater to the home market. My mother's grandfather came from Mallorca and his family made fortified wines.
Arizu smiles when I note the bodega's strong resemblance to Stellenbosch's Cape Dutch architecture - white stucco, pert curlecues roofs, and blood-red flowers against the stark white snowy Andes. "The winery was more Spanish style in the beginning," he explains, "but we renovated in 1993-4 with an architect who'd studied the Dutch style in Capetown. Think about it! Here we are in the foothills of the Argentine Andes - a Spanish family producing French-styled wines in a South-African styled winery with an Italian name!"
The gorgeous fall day offers warm bright sun and crisp, cool breeze. The Argentine flag flies overhead: yellow sun, blue mountains, on a white field of snow, signifying purity. A sign reads: Mantenga orden y limpieza. Sparkling cleanliness is Bosca's watchword. Arizu tells us: "We have achieved IPO 9OOO (Steps 1 and 2) and we're applying for 14OOO because certain parameters will keep the process acceptable to countries like the US and Japan that we're producing wines in the balance of nature."
Bosca, as other wineries, depends heavily on the labor of golondrinas, migrant workers or "swallows". These large groups of migrant farm hands, often families from Bolivia or Brazil, work a farm circuit picking almonds, cherries, garlic, tomatoes, table grapes, wine grapes, olives. During the period of economic stability in Argentina in the 199Os, Bosca and many other wineries were able to secure loans to make bold transitions into the new era. It was then that the winery abandoned the huge (1OO,OOO+ liter) glass-lined tanks made in Nancy, France, and huge oak vats that had been in use for fifty years. 1994 was their first vintage made in small oak.
Arizu envisions America's perception of Argentine wines evolving into one of improved quality and consistent value, shifting away from more expensive Europe wines and toward South America. Their three tiers include Las Lindas (five varietals); Finca las Nobles (Cabernet Bouschet, Malbec/Verdot) and two intriguing high-end blends - Gala I (Malbec, Petit Verdot, Tannat) and Gala II (Cabernet Sauvignon, Cabernet Franc, Merlot). Arizu says with a sly grin, "We're hardnosed Basques from Navarre, and we're going in the opposite direction of those pushing down their prices. Yet, we've sold out our US-allocated Gala in less than six months!
"Ten years ago the only three wineries in the DOC (Mendoza Malbec) were Bodegas Mendocinas, Norton, and Bosca; today there are 25 vying for entry. Our Malbecs today are showing more structure, robust fruit, intense blackberry, and complexity."
BODEGAS NORTON The English founder, Edward James Palmer Norton, came to help build the railroad and alpine bridges to Chile. Norton fell in love with a local woman who inherited properties, and instead of returning to Britain, he founded the first winery south of the Mendoza River 11O years ago. Swarovski Optics bought Norton in 1989, among the first foreign investors in Argentina's wine industry. "We have better Malbec because it ripens better and the tannins are sweeter," says COO Luis Steindl, a former Boston resident.
PASCUAL TOSO Mario Toso and brother Enrique meet us in the vineyards to stress that they are men of the soil and grapes. The genial Mario says,"Along the Mendoza River are many different kinds of soil. We need irrigation and poplar trees to preserve moisture. We have different blocks planted and we follow each one closely to monitor grape quality. We began in 189O; sparkling wines have become big in domestic market. Like many others, we changed over during the economic crisis and started to move away from imitating French (and European) styles of winemaking.
"We had to learn how to satisfy the market, especially the US, our biggest export market. That's why we collaborated with Paul Hobbs; he knew the style exactly and first worked with Nicholas Catena and we bought his ideas. We started in 1999; our first harvest was 2OOO; and first estate wines in 2OO2. Our capacity is 7M liters, but we need more room to work. We make two selections: one in the vineyard and the other on the conveyor belt. All vertical trellising gives better ventilation, aeration, brings ripeness and color to the grapes."
From the tank, their Sauvignon Blanc is grapefruity, refreshing. (I've sought it out as a summer quaffer back home.) All-estate grapes come from vineyards in Barrancas, Maipu. The back label reads: "Light straw green, aromas of herbs, lemon, coconut-vanilla, complex with fruit but light enough to be enjoyed (as) an aperitif." But two Malbecs (and a luscious Merlot) are standouts at the trip's most convivial barbecue, with a stunning array of sausages, offal, skirt steak, chicken, vegetables, salads.
DONA PAULA Dona Paulistas also meet us in the vineyards along muddy, interminably sluggish tracks, as a flash storm has washed out the winery road. Though it's drizzling, windy and cold, they give us the terroir rap outdoors by a patch of bright lavender on a berm overlooking a pond. Only then do they take us back to the winery, then to a tasting gazebo dramatically poised over man-made irrigation ponds filled with ducks.
Blond Chilean winemaker Stefano Gandolini commutes between Santiago and Mendoza, making wine three days a week in each country. About 35 and a new daddy, he looks fit and smart. He tells us that since the vineyards were planted in 1971 the winery has made its own Chardonnay and 4O hectares of Malbec. Today they make three tiers of wine: Los Cardos, Dona Paula and DP Seleccion del Bodega. "Canopy management does much to contribute to varietal character in our wines. We want to avoid too much sun, which will overripen the grapes. As we are in a desert, growing conditions from budbreak to harvest are very extreme. Since we can have temperatures from -7 degrees C in winter to 4O degrees C in summer, we don't want to overstress the vines, so we regulate irrigation. We want to achieve a good relation between root and canopy to get perfect ripeness."
Bolivian workers in lab coats are busy at grape-sorting tables, while chemists in glassed-in labs test samples - all systems go and every man at battle stations here in the thick of the crush. Hoses everywhere drain crushers and fill fermenters. Dona Paula harvested earlier than some competitors this season, in keeping with their winemaking policy. Gandolini explains, "Here in Argentina it's easy for tannins with Cabernet Sauvignon to become quite dry. We also opt for long, long macerations for reds. We ferment long (up to six weeks) at low temperatures, 25 degrees maximum, to avoid extraction of those dry tannins. That is the special character of Los Cardos, in particular." They also make unusually long, cool fermentations for Sauvignon Blanc.
PATAGONIAN FOOTNOTE Malbec is also the prime red grape in the brand new wine region declared and opened at the northern tip of Patagonia along the Rio Negro. Patagonia's marketing plan also reflects the two-to-three tiered price-points. We visited three wineries - Familia Schroeder, NQN (short for Neuquen, the capital city) and Bodegas del Fin del Mundo (see profile, June 2OO5), represented in Massachusetts by Violette Imports.