archived

FeaturedArticles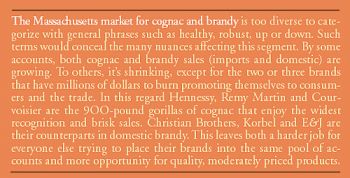 Article By: Ken Sternberg
As energy costs rise almost daily and people worry about the overall economy, it appears that many consumers are spending less disposable income on cognac, at least when it comes to home consumption. And when they do buy it, it's often likely to be VS or VSOP, and not the higher level bottlings. Even modest, lower end brandies like Mr. Boston, Arrow and others are seeing sales flatten out as many consumers abandon them for better, yet still reasonably priced domestic and imported products. "With the cost of gasoline and other things, people might not buy that extra glass at the end of the night. Flavored brandies may get hurt because they're between everything. This may be why cognacs are doing better," says Jim Seely, Vice President-United Division at United Liquors. In fact, he comments, "Hennessy is doing very well for us, and Martell is up double digits in the last 12 months." He points out that customers have a wide range of cognacs from which to choose but there is also a small customer base for the segment. "The challenge is to have an account add another cognac brand," says Seely, especially when most brands offer little or no promotional support. "Martell is a little more aggressive in doing tastings, but the other brands need to be more strategic with their dollars, either with promotions or tastings," he states.
"There are two cognac markets: Brand names like Courvoisier and handcrafted products such as Delamain," says Chile Sullivan, Vice President/Wine Division for Horizon Beverage. The latter group attracts "A different kind of cognac drinker. A certain clientele looking for the best, similar to people who like Single Malt Scotch," he remarks. Sullivan also points out that, despite big name choices, handcrafted cognacs have developed a following, especially in the Boston and Nantucket market.
A saturation of flavored spirits in the market has also affected cognac/brandy sales. "The tastes of customers who were drinking flavored brandies as their staple are changing because of all the other products out there. Massachusetts was certainly overdeveloped for coffee-flavored spirits over the last 2O years," notes Seely. Cognac is 5O percent of United's total brandy sales, and coffee and blackberry brandies make up 8O percent of the other half, he says, although those are down. "With all the other flavored products out there, people have discovered flavors in other categories. The sophistication level of consumers is higher. They're willing to invest in something better now," he says, adding, "Flavors are the driving force behind most of the spirit categories right now."
"Over the past year we've seen a continuation of a three-year trend where the whole (brandy/cognac) category has been declining," observes Michael Cimini, President of Yankee Spirits, which has stores in Sturbridge and Attleboro, Masachusetts. "Courvoisier and Hennessy are growing because of their brand recognition. Everybody else is just falling out because of a lack of promotion and sex appeal. People who like to experiment are looking for something new, they're very brand conscious. If they're spending a decent amount of money they want to know they're buying something drinkable. Quality products really take off and knockoff brands have to discount their products to catch up," he says. With the exception of DeKuyper, which has introduced popular new flavors, Cimini says that brandy lines overall are down. Old line coffee brandies "have decent numbers, but they're falling," he remarks, pointing out that suppliers have stopped promoting them. With Courvoisier and Hennessy, as well as domestics, most customers only buy the VS or VSOP bottlings. When Christian Brothers launched an XO designation a while back, "consumers weren't crazy about it and didn't spend up to it," he says. He also stocks Delamain, Pierre Ferrand, Remy Martin and others. "The numbers themselves aren't bad, but the trend shows it's going down. In brandy and cognac you see suppliers pulling the plug. They just won't sell in Massachusetts anymore." One example is Korbel's XS vanilla-orange flavored brandy. Dale Hytholt, New England Sales Manager for Heck Estates, says the company doesn't focus much on XS, and that "We've not put the marketing dollars behind it." The emphasis is on Korbel Classic Brandy, which he says saw a 5O percent growth rate in Massachusetts in the first eight months of 2OO5, compared with the same period in 2OO4.
Steve Rubin, Wine Director at Huntington Wine and Spirits in Boston cites several factors for the cognac and brandy slowdown. "Price has become an issue due to the economy and the strong Euro. This has really cut into the higher end products. Anything over $1OO is moving slower, everyone is watching their pocketbook," he says. Because of its quality and fair pricing, Rubin does well with Hine cognac, even though it's a hand sell item. "Once someone buys it we have a repeat customer," he states. The others move slower, but you have to stock them, he adds, noting how he sold two bottles of Remy Martin XO on a recent Saturday night. Each cost more than $1OO. Rubin also says, "Flavored spirits have done a number on brown spirits," pointing out that Smirnoff flavored vodkas are "on fire", because of their variety and price. "People are in love with fruit and we're the Pepsi generation. Cognac buyers, though, are over 4O, with no Generation X. There are a lot of new flavored products. Everyone's coming out with new ones to see what catches on," he remarks.
Yet, it can all change depending on where your store is located, as evidenced by Gary's Liquors in Chestnut Hill. "My cognac business is off the charts and has been for three or four years. We've seen a lot of younger people go at it because of things like Hpnotiq," says owner Gary Park, referring to the hybrid cognac-vodka-fruit flavored beverage. Buyers include a lot of customers in their 2Os, he notes, because many hip-hop and rap artists mention Hpnotiq or cognac in their song lyrics. Other customers include the large Russian population in his neighborhood, and "cognac is very big with them," he says. So big, in fact, that many of them buy two or three cases of cognac for weekend parties where they want to place a bottle at each table. Christian Brothers, E&J and other domestic brandies still sell at Gary's but more slowly. "They're not setting the world on fire," he says, adding that, "It seems a lot of people have traded up from brandy to cognac." His store consistently sells many $1OO-plus bottles of XO and higher mark cognacs, but Park has found that Pierre Ferrand and Chalfonte are among the brands offering exceptionally good quality for the money.
Driven by the flavored vodka and hybrid product craze (which includes Hpnotiq, Alize and others with cognac and added flavors), Moet Hennessy USA recently launched Navan, a vanilla flavored, slightly sweet cognac beverage. This augments the company's three tiers of Grand Marnier orange-infused cognac. Crillon Importers, led by Michel Roux, who brought a minor brand called Absolut to America, just launched Chocoviac, a cognac flavored with both vanilla and chocolate. Products like these are aimed at consumers who avoid neat cognac as too harsh, but order flavor-infused vodka or other cocktails when they go out. "We'll promote Chocoviac for the cognac drinker who likes a little flavor, but we'll also go after mixed cocktail drinkers," says United's Seely.
"Navan absolutely was in response to Hpnotiq as an after-dinner cordial brand," says Jim Hickey, Vice President-Century Division at United Liquors. He manages United's Moet Hennessy USA products. Navan is targeting an ethnic base, he adds, such as Asians and other non-Caucasian drinkers. This emulates the driving force behind Hennessy's VS and VSOP sales, which are mainly Asian and African-American men, he says. Robert Fitzpatrick, Moet Hennessy USA's northeast region marketing manager, describes Navan's target consumer as multicultural, pop and hip hop music-loving 25- to 35-years-old, primarily living in urban markets. Print and radio advertising have focused on New York, Los Angeles, Miami, and Chicago.
"Hybrid products garnered a great deal of attention when they were first introduced, which was actually good for the entire category, since it brought added attention to cognac," says Madison Bedard, National Brand Manager for Courvoisier with Allied Domecq. "The popularity of these flavored cognacs has subsided, but you still see consumers experimenting with them in cocktails." To Justin Ames, Senior Marketing Manager at Heaven Hill for Christian Brothers, Coronet and Hpnotiq, this may be wishful thinking. "The key thing about Hpnotiq is being first to market," he states. "Not only do we own the blue frosted bottle shape and look, but we have created a category of one." Spin-offs, such as Kobrand's Alize Blue, "are not too successful because they cannibalize their base products and take shelf space away from them," he says. Consumers, he observes, "have a portfolio of brands, not just one favorite. Hpnotiq fits into this nicely because it fits well with their other favorite brands." Ames also points out that restaurants and bars recognize the opportunity to make higher margins on drinks made with Hpnotiq.
Cathleen Burke, Kobrand's Vice President of Marketing, says Alize is doing well in its category. "What could be happening is that consumers may be switching among categories, rather than sticking with scotch, for example. Hpnotiq is good because it expands the category," she comments. Bedard pegs the cumulative annual growth rate for cognac at 2.6 percent, both nationally and in Massachusetts. She doesn't expect any changes in consumption habits, but adds, "We are seeing a very strong increase in mixing cognac into cocktails, particularly VSOP." Mixed cocktails, such as the Sidecar or an Allied Domecq-invented cocktail called Courvoisier Strawberry Lemonade, help attract more women to the cognac category, she says.
Likewise, Hennessy is expanding its consumer focus. "There's a place for Hennessy and other cognacs in the martini craze," says Hickey. Hennessy holds 7O percent of the cognac market share and has grown over 2O percent on all marks in the past three years. While he credits this growth to brand positioning and aggressive price increases, he says that the key is "a very integrated marketing plan that includes great price position and tremendous quality. We do tastings with the brand in all markets. We do a lot of staff training and give them selling tools. It's an easier brand to sell and to get an extra ring up." Dave Karrake, Allied-Domecq's Vice President for Corporate Communications, points to television as an important tool saying, "The beauty of 'Sex and the City' is it introduced people to the idea of an elaborate cocktail and the concept of a mixologist. Cognac will remain part of that, consumers want cocktails with a slight sweetness to them. We've been saying for some time that vodka will lose its sheen as a 'must have' drink." He admits, however, that this sheen hasn't tarnished yet.
"The entire distilled spirits segment is very healthy. Brandy has had very modest, healthy growth of a couple of percent a year for several years," says Robert Chin, National Marketing Director for Gallo E&J brandy, widely regarded as the best selling brandy in America. According to Chin, the brand has grown over the last 11 consecutive years and is the eighth ranked distilled spirit brand in the US. "Consumers are trying distilled spirits more today, it's part of that mixability-cocktail culture. A lot of people who have not historically gotten into distilled spirits are finding products more approachable," he says. Emphasizing how important versatility is, Chin states, "How many people drink gin or vodka straight? With brandy and cognac you have some who drink it straight, but a lot who mix it. I think this is very important in driving E&J. We try to educate consumers that it can be consumed with tonics, juices, sodas. These are all things we have suggested as uses for our brandy." He also says that they make a point not to alienate people who want to drink it neat or mixed, adding that E&J's target consumer is 25-years-old and up. "You definitely have older drinkers who have always been the mainstay of the brandy category, but a lot of trends are set by the younger consumers." To reach these consumers, Gallo pitches more lifestyle promotions focusing on their interests. For example, E&J worked with Paramount to supply a sample of E&J with DVDs of the film "Ray". There have also been tie-ins with numerous Grammy award musicians. "We're trying to convey a lifestyle to our consumers," Chin says.
Restaurants too are noticing a change in who the cognac consumer is and what the style preferences are. "Cognac is becoming extremely popular, especially among a younger population," says Erin O'Shea, Wine Director at Clio in Boston. Most of her customers drink cognac neat after dinner, although Clio also offers an orange spice iced tea and cognac combination that O'Shea says is getting popular. "I've seen a lot more people inquiring about cognac. Even our servers are asking about it. I think there are more drinkers out there learning to like cognac. We sell a lot of VSOP," she observes. Chateau Fontpinot sells very well at Clio, as it is what Erin calls "the most approachable".
"We've seen a trend toward Sidecars, which have been strong in the last six months and will be a big trend in the next year. People are going back to cocktails," says Eryl Williams, Bar Manager at Laurel Grill & Bar in Boston. He finds that people are willing to try different things and will often ask for a drinks list. Younger clients in their early 3Os often select drinks such as Sidecars, he says, describing such cocktails as "a stepping stone toward straight cognac or brandy". While Williams sees this trend as being in the beginning stage right now, he does have some customers who started with Sidecars and have already progressed to straight calvados or cognac. The restaurant currently sells two or three Sidecars each night. As Christmas nears, customers order more brandy and he makes sure he stocks plenty of Remy Martin and other cognacs. Allied's Bedard supports this, saying: "Courvoisier, and cognac in general, is thought to be an older gentleman's drink by many. While that remains true in many circles, younger audiences are discovering cognac as an 'evolutionary step' as they graduate from lighter taste profiles of whiskies and bourbons."
In many ways cognacs and brandies are perceived to be luxury spirits. As such, they can suffer when the economy drops. "Cognac and brandy dropped off for a while when corporate spending dropped, but cognac is slowly coming back again" says Michael Ray, Head Bartender at Smith & Wollensky's in Boston. "Being a steak house, cognac and brandy go along with the genre, and customers get wrapped up in the whole James Bond mystique. If a customer shows some interest, you've got to gauge their price range because you don't want to scare them away," he says. Ray usually steers them away from Courvoisier because it's going to sell anyway. His favorite cognacs include Pierre Ferrand, Delamain Pale and Dry and Remy Martin XO.
"The bottom line is that it's a battle for the drinks menu," declares Philip Hillman, Massachusetts State Manager for Boisset America Spirits Division, which imports Gautier cognac and Danflou apple brandy. "If you get on a drinks menu the average consumer is going to pick something off the menu. The battle for the consumer is what sells boxes. High image, foreign products are growing the most, at all levels with all products. Middle of the road products are losing their steam and people are buying either the top end or the low end, either Smirnoff or Chopin vodka, for example," he says. Hillman also makes the point that achieving success in today's market requires both creativity and a strong, committed effort. "You win by tasting the brand to store and bar staff, getting it on back bars so customers see it," he says, stressing how vital this is in building relationships. Product education is also key. "We can't just go out and say 'Hey! Sell our cognac.' without a story to tell. You're going to get questions, especially in Boston," he explains, noting that Gautier is one of the oldest cognac makers, started in 1775. Hillman says Gautier sales are about 8O percent off-premise and 2O percent on-premise. "We're trying to grow it, but most people going out order a Remy or Hennessy. We're fighting the battle of the big labels," he observes. Because Gautier is too small to allocate money for promotion, he says he wins this battle by using what he calls "guerilla marketing". "You send a bunch of cool, hip people to accounts where they ask if they sell Gautier. They say no. Two days later you send your wholesaler representative in with a sample." Related techniques include running contests among service staff. Hillman says, "You tell them 'We have a great cognac. Whoever sells the most gets $1OO." Non-cash incentives could include Red Socks tickets, gift certificates to restaurants or stores, or something else of value.
When going to clubs, bars and restaurants, image often holds sway and consumers largely buy the big names, whether in cognac, brandy or other products. But at home, it's often a different story. "Consumers trade up when image comes into play. Out at a club they may order cognac, but to spend that at home? No." says Jon Guggino, Marketing Director of Specialty and Value Wines for Canandaigua Wine Co., which includes Paul Masson Grande Amber Brandy. "In bars, you see a lot of vodka and tequila. Brandy on-premise hasn't been a very hot spirit," he says, pointing out that 95 percent of his brand's business comes from off-premise. Regarding mixed drinks and brandy, "Male consumers are mostly not going down that mixing road. They really appreciate the handcrafted quality of brandy. It's a drinker's drink to be appreciated on its own," he remarks. Of the entire brandy market, including cognac, domestic brandies comprise 6O percent, cognac has 3O percent, and imported non-cognac brandies pick up the rest, he says.
On a national level, Guggino says the domestic brandy segment is growing at 1.5 percent annually and that his brandy is growing in Massachusetts at 17 percent so far this year. "In Massachusetts we do fairly well, largely because of the large African-American customer base." He also attributes this to heavy in-store promotion and keeping Paul Masson's price in the premium range, about $1.5O to $2 above competitors. This suggests to consumers that the "product is superior," he says. Mark Marcon, who manages Fundador and other Spanish brandies for Allied-Domecq, puts the brandy market growth rate in the US at 2 to 3 percent in 2OO4, and predicts the same for 2OO5. "Cognac is a lifestyle brand driven by a super premium image. It's definitely helped the domestic brandy market," states Ames. He also elaborates on the benefits of brand name recognition: "When consumers buy something at home, they fall back on familiar domestic brands like Christian Brothers. In cold weather states many consumers think of Christian Brothers as a standby, they always have a bottle at home to drink there, take hiking or snowmobiling." Ames stresses that merchandising is particularly important, especially for domestic brandies. Among other tactics, Christian Brothers uses value added "on-packs" attached to its brandy with music CDs or 5Oml bottles of another Heaven Hill product to attract buyers, depending on the market. Additionally, Ames says, Christian Brothers is one of the few brandies with an advertising campaign. This focuses mostly on magazines and other publications serving African-American consumers.
Many venues are looking to offer cognac quality at a domestic brandy price, says Korbel's Hytholt. At Marriott, Sheraton and Westin hotels, as well as McCormick and Schmick's or Morton's restaurants, if you ask for a brandy you'll get Korbel, he says. "These accounts want to offer a call level product at a well level price. To the traveling public, Korbel has a good connotation," he remarks. The brandy and cognac market seems surprisingly resilient despite its stolid, pipe-smoking old man with a sleeping dog stereotype. In Massachusetts, the segment's share and popularity seem poised to take off if products are supported with intelligent promotion and marketing.
SELLING TIPS
Have a separate drinks menu. Offer it to customers when they're first seated and again after their meal. Most guests find it less intimidating to order an interesting drink off a list than thinking something up themselves. This makes up-selling easy, since the drinks and their brand components are already established.
Customers love a story and want information. Have your brand or wholesaler representative hold a casual tasting seminar with your bar and wait staff to tell them about the brand so they can get excited about it and talk it up. If a certain cognac producer has a rich history or sources its product from top Cognac districts (Grande Champagne, for example), let customers know this so they feel they've chosen something special. If a brandy's oak barrel aging makes it smoother, tell customers how this sets it apart from other brands. Related to this, few cognac and brandy suppliers promote their brands, so accounts won't know about them unless wholesaler representatives talk them up and sample them. Price incentives are one thing, but winning buyers over because they like your product is far more effective and gets more repeat orders.
Ask the wholesaler or brand representative to offer incentives to the server who sells the most of one brand in a given timeframe (where legal). Such incentives can be money, gift certificates to restaurants or stores, tickets to sporting events or something else of value.
Offer customers a fixed price flight of three to five different cognacs (or cognacs and brandies) in tasting portions, along with brief information about each one.