archived

FeaturedArticles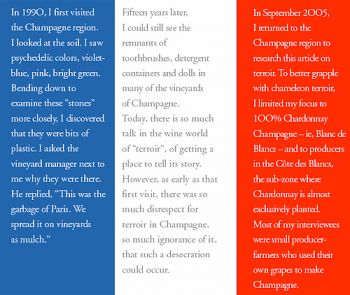 Article By: Bill Nesto, MW
Sophie Larmandier (Champagne Larmandier-Bernier), of Vertus in the southern end of the Cote des Blancs, and her husband, Pierre, have taken a biodynamic course as a way to nurse their land back to health. Pointing down at the ground in her vineyard, she exclaimed, "This soil is alive again. Pierre's father thought that herbicides were progress, but it killed the soil. The roots that feed stay in this thin topsoil. It must not be compacted. Instead of applying synthetic chemicals, we prepare natural ingredients that bring life back to the soil. We mow and plow, instead of adding poison. During the winter, we let the grass grow in the vineyard. It is more work, but that is our choice." Terroir plays an important role in the wines of Larmandier-Bernier. They make what they call "single terroir" Champagnes. Their voice however is a whisper within the Champagne chorus.
Though terroir is important in Champagne production, consumers rarely see beyond the Champagne's brand image, and the knowledgeable trade rarely ventures further than a cursory knowledge of the Champagne blend.
Champagne is located northeast of Paris in one of the most marginal climates imaginable for wine production. There is not enough warmth and sunshine in the short growing season to get the grapes to full maturity. Faced with this reality, for some three hundred years, the Champenois, the people of Champagne, have harvested their immature grapes, black and white, made simple, but subtle, low alcohol white wines, added sugar and yeast, and then harnessed the bubbles by conducting a second fermentation in the bottle. What the blend of first wines, the vins clairs, lacked in power, texture and richness of flavor, the end result made up for with the help of additional alcohol, bubbles and the flavor and texture imparted by the second fermentation.
In order to make a consistent, balanced product from year to year, and to make one producer's Champagne slightly different from that of another, blending has been essential. The farmers of Champagne did not create the industry of, and market for, Champagne - businessmen did. Though many were French, many also came from neighboring countries to the north, principally from Germany and Holland. These foreigners brought the seminal business know-how. They wedded the concepts of branding, marketing and mass production to what the peasant farmers of Champagne had made for centuries, pale, acidic, low alcohol red, white, and rose wines made from Pinot Noir, Pinot Meunier, Chardonnay, and other varieties. These other varieties were eventually deemed less suitable for Champagne production and uprooted.
Merchants crafted the image of Champagne so as to make it appeal to the middle and upper classes, connecting it with the celebration of important occasions. The image of Champagne as a celebratory drink helped obscure the understanding of its character behind its function as a social symbol and lubricator. The Champagne producers wanted so much to assure the public of the style consistency of the product, that individuality within the industry was discouraged. Until the early 199Os, Champagne's connection to the soil, to its terroir, was not something that the merchants wanted to attach their brands to. The concept of terroir was an important concept only within the circle of those who actually made the Champagne. They knew that, in order to make the best Champagne possible, they had to understand the terroirs around the many Champagne villages and to skillfully blend the unique characteristic of their vins clairs.
Champagne's 19,OOO grape farmers own 88 percent of the vineyards allowed by law to produce grapes for Champagne. According to Chantal Gonet of Champagne Gonet, the average landholding is small, less than 1 hectare. Most farmers are too small to make a go of it producing and selling their own Champagne - hence they sell their grape production to merchants and cooperatives. Only about 5OOO grape farmers make their own Champagne and sell it under their own name. A grower-bottler's production is much less than that of a typical Champagne house which amalgamates vin clairs purchased from all over Champagne with the vins clairs it produces from its own vineyards. Limited volume of product, low capital and a narrow, provincial view of the world make it difficult for these small grower-bottlers to tap into international distribution systems, so most of their production is sold within France and to knowledgeable consumers who are several hours' drive away in Belgium, The Netherlands, Germany, Luxembourg, and Switzerland. Inheritance laws that date back to Napoleonic times have resulted in the continual division of land among siblings. Grower-producers usually own multiple plots which they have amalgamated within the confines of the village where their family has lived for generations. They know their land and their village intimately. It is these producers, more than any other, that could most benefit by new consumer and trade awareness of Champagne terroir.
At first glance, it is curious that some grower-producers who have the potential to use the terroir trump card remain content to keep it in the background. For example, one of the more successful and larger grower-bottlers (25 hectares) is Pierre Gimonnet (Champagne Pierre Gimonnet et Fils) located in the village of Cuis. He explained: "Champagne is a complex blend of different expressions. I am against the mono-cuvee, the single vineyard wine. Above all, I am a blender. I vinify parcel by parcel but I see each vin clair as a component in a larger blend. I want a more complex and well-balanced product." Champagne Pierre Gimonnet will soon shed its producer classification from that of an RM (recoltant-manipulant), a grower-bottler, to an NM (negociant-manipulant), a merchant-bottler. This will enable the company to buy grapes so as to ensure volume for his large base of customers. Champagne Gonet in Mesnil, too, is about to make the same transition. In order to grow larger in Champagne, it is almost impossible to buy more land or vineyards. One must buy grapes from other growers or cooperatives and hence give up the RM classification for the NM one. The concept of terroir is a calling card for those who want to or are forced to remain small. There is one other use of the "terroir" trump card. A handful of larger merchants make single vineyard Champagnes as a means of enhancing their luxury image. The addition of an ultra-expensive, limited production terroir Champagne adds cache to their overall brand. The best known example is Champagne Krug, a merchant which makes a single vineyard Champagne, "Clos du Mesnil". A Krug enologist, Nicolas Audebert, was cautious to put Clos du Mesnil in its proper perspective: "Ninety-nine percent of Champagne production has nothing to do with terroir. It is interesting to take note of anomalies like Clos du Mesnil, but you must not forget that Champagnes are mosaics of many terroirs not showcases for single ones."
Audebert emphasized the difficulty of working with only one base wine. "The production process makes a big impact on the resulting product. The original still wine, the wine which most shows terroir, is lacking in so many respects. By itself, it could not be the basis of a complete, balanced Champagne." There are other aspects that complicate a Champagne's direct connection to the terroir. Speaking of Chardonnay, Sophie Larmandier (Champagne Larmandier-Bernier) noted: "Only four or five clones of Chardonnay, all developed in Champagne, are planted throughout the Cote des Blancs. This creates uniformity of character. It lessens terroir. We, however, select and propagate cuttings (a process called mass selection) from our vineyards that meet our needs and match our terroir." That farmers must harvest their grapes before they are physiologically mature suggests that vines have not fully extracted all they can out of the growing environment. The balance of acidity and sugar in less-than-fully-ripe grapes is essential for a proper base wine for Champagne. Many Champenois assert that low yielding vines do not tend to make good base wines. Didier Gimonnet (Champagne Pierre Gimonnet et Fils) knows that journalists want to hear that he prefers low yielding vineyards, so he told me: "I want to tell the truth. I have never produced the Gimmonet style, one which emphasizes freshness and elegance, with a low yield. My goal is 7O to 9O hectoliters per hectare. I get the right balance of sugar and acidity at these yields. At 5O hectoliters per hectare, the vin clairs are too concentrated." Emmanuel Fourny, Enologist (Champagne Veuve Fourny) agreed: "If you go over a certain degree of ripeness, you are not in a position to make fine Champagne. The right rapport between acidity and sugar is essential."
On the other hand, the Champenois I talked to uniformly agreed that it is better to have older vines than younger ones. The ideal age that my interviewees, all top quality producers, identified was between 25 years and 7O years. In my experience, this is quite a bit higher than what quality still wine producers say. The reason they said was that older vines regulate their yields. Walking with Sophie Larmandier in her vineyard, she pointed to the dropped bunches of grapes lying on the ground. "These come from the green harvest of a farmer who does not work well. These vines produce more than they need to." Chantal Gonet of Champagne Gonet told me that: "The roots of older vines go down 1O to 15 meters." This gives them a more constant source of water and nutrients.
Another factor that may be seen to take Champagne away from its connection to terroir is the double alcoholic fermentation. Given the fact that the fermentation process adds a layer of process over fruit characteristics, it is odd that culture recognizes wine's ability to express terroir while it overlooks that of less processed products, such as extra virgin olive oil. But in Champagne production there are two alcoholic fermentations, not one. Some Champagne producers conduct the first fermentation with native yeasts, a factor which is in line with terroir expression, but many more, particularly the larger producers, prefer the security and dependability of purchased, selected yeasts. Sophie Larmandier told me that only 2 or 3 selected yeasts are commonly used in Champagne. Champagne Larmandier-Bernier uses native yeast. Not only can sugar be added to the harvested grape juice, but the second fermentation requires it. Sugar additions destroy terroir. Even worse, there is a third addition of sugar after disgorgement. This final addition, the dosage, helps balance wine acidity. A small number of producers, however, make non-dosage Champagne for discriminating customers, if not for their own home use. Out of respect for terroir, Champagne Larmandier-Bernier adds no dosage to one of its two single terroir Champagne, Terre de Vertus. Most of the producers that I visited, all of them selected because they promoted their interest in terroir, took pride in adding a dosage of 4 or 5 grams of sugar per liter, well below the average for brut Champagne. This dosage is the least they can add without disturbing their clients. Another factor complicating the expression of Champagne terroir is the yeast of the second fermentation. A second fermentation in a sealed bottle at a low temperature in a liquid solution of about 1O.5 degrees alcohol requires very special yeasts. They have to be selected and cultivated by laboratories. These selected yeasts have no connection to the wine's terroir. Another factor much in discussion in Champagne is whether vinification and maturation should be conducted in stainless steel tanks or in oak barrels. I heard, however, little discussion over which option best preserves terroir. During the 198Os, the accepted wisdom was to discard oak barrels in favor of stainless vats. Those in favor of stainless steel pointed out how easy stainless steel was to clean. More recently there has been concern about stainless steel vats' tendency to encourage reduction problems (the smell of garlic or onion in the nose of a Champagne). Most of the producers I visited during my stay in Champagne emulated the use of older oak barrels. Sophie Larmandier pointed out that the pioneer of the return to oak, Anselme Selosse (Champagne Jacques Selosse), had eschewed new oak some years ago. The current generation at Larmandier-Bernier and Diebolt-Vallois are saddled with the stainless tanks their parents had been advised to buy in the 198Os. Both Pierre Larmandier and Jacques Diebolt would love to exchange their stainless for oak. But that costs a lot of money. Jacques Diebolt showed me a barrel made from oak harvested in the Champagne region. The vin clair inside was wickedly astringent. There are hardly any good-sized oak trees left in Champagne and it may be a good thing for terroir Champagne! Delphine Geraud, the enologist in charge of communication for the CIVC (Comite Interprofessionnel du Vin de Champagne), set up a blind tasting of Blanc de Blancs from the Cote des Blancs for me. She shyly identified her favorite, Agrapart et Fils 1996 from Avize, a producer solidly in the barrel camp. The slight mushroom and animal smells and harder texture of oak barrel Champagne, however, does not seem to perturb Champagne producers who respect terroir.
Though they are undeniably the most "terroir" of Champagnes, single vineyard Champagnes are not the best place to start when trying to understand what terroir means in Champagne. They are wines of a single small space, too small, too unique, to give much evidence about a more meaningful, general truth. In seeking out terroir Champagne, the obvious place to look is at the single cru or village wine.
The villages (really, the vineyards identified with each village) of Champagne are rated by a system called the Echelle des Crus, which is not unlike the Bordeaux 1855 classification. The Echelle des Cru dates back to 1919. It delimits villages and assigns to them a quality ranking for grape varieties based on 1OO points. Didier Gimonnet (Champagne Pierre Gimonnet et Fils) told me: "The Echelle de Crus is a good measure of quality." Dominique Demarville, Cellarmaster ( Champagne Mumm) also attested to its accuracy. Daniel Lorson, in charge of Communications (CIVC), commented on its functionality as a basis for fixing the price of Champagne grapes: "There is no reason for it to exist now. From 199O to 1996, there was a recommended price for each village's production based on the Echelle des Crus, but this has been discontinued now." In some quarters, the Echelle des Crus is controversial. Daniel Aubertin, Director-Enologist of Paul Goerg in Vertus stood up for his village: "Above 2O to 15 years (1985, to be exact), the neighboring village, Mesnil, rose from the ranks of the Premier Crus to become a Grand Cru. The president of the Vertus association of growers did not want Vertus to move up too. In case of crisis, he thought it would be easier to sell Premier Cru grapes compared to Grand Cru grapes. Looking at his reasoning now, he was clearly wrong. There is no reason why Vertus should not be a Grand Cru." But let's put politics aside.
For my research, I focused on the Grand Cru villages of Cramant and Le Mesnil sur Oger and the Premier Cru village of Vertus. I also took into account the Premier Cru village of Cuis and the Grand Cru Villages of Chouilly, Oger and Avize. Didier Gimonnet (Champagne Pierre Gimmonet et Fils) remarked: "There is a heart of earth in each village that is the best position for vines. This was planted first. Around the heart, vineyards with lesser soils have since been planted." Emmanuel Fourny, Enologist (Champagne Veuve Fourny), used the same term, "heart" noting on a map where his best vineyards were located, "There, les Barilliers, this is in the heart of Vertus." Some producers call the heart 'Terre', French for earth or land. Champagne Jean Milan has a single vineyard wine, Cuvee Terres de Noel. Champagne Larmandier-Bernier has its Terre de Vertus made from two parcels within what they believe is the best terroir in Vertus. Champagne Salon's Champagne, simply named Salon, along with Krug's Clos du Mesnil, are the most famous and costly Champagnes to come out of the Cote des Blancs. Clos du Mesnil is a walled vineyard, a clos, dead center in the village of Mesnil. Champagne Salon is a made up of vins clairs that come from grapes grown in different sites throughout the village. Salon has grape purchase agreements with about 2O growers in the choicest areas, within what it believes is the "heart" of the village. It returns to these growers year after year for their grapes. In that sense, Audrey Campos (Champagne Salon) asserted that Salon is not a blend.
To understand the terroirs of the villages, one has to first understand the terroir of the Cote des Blanc as a whole. All the villages that I have mentioned, except one, Cuis, lie on a bank of east-facing slopes that descend to a flat plain. Cuis sits on its own slope to the west of this bank of slopes, on thicker, more clayey soil. The top of the bank of slopes once formed the rim of a vast geological bowl called the Paris Basin. It formed about 9O million years ago, when a sea deposited skeletons and shells on an area more or less centered under the present city of Paris. These sediments created a layer of calcareous chalk some 2OO meters thick. The center of this basin sank under the pressure of these sediments pushing up a rim on its eastern flank. The bank of east-facing slopes of the Cote des Blancs noted above are the remnants of the rim of the Paris Basin. On top of the bank at an elevation of about 23O meters above sea level, the topsoil is clayey. As one goes down the hillside, the topsoil consists of a decreasing percentage of clay and an increasing amount of calcareous chalk. The lower third of the slope has the thinnest topsoil, as thin as 2O centimeters thick. Topsoil thicknesses along the bank of slopes, range from 2O to 7O centimeters along the hillside - the thinner the topsoil, the less vigorous the soil. Underneath this topsoil is the deep layer of calcareous chalk. The chalk drains well, allowing the top 2 meters or so to be relatively dry, but below that it becomes increasingly saturated with water. While the topsoil offers the vines nutrients such as nitrogen, potassium and phosphate, the chalk subsoil offers the vines a limitless supply of water. Daniel Lorson of the CIVC told me that in the stifling hot and dry summer of 2OO3, while the vineyards of the Aube to the south suffered from drought, those of Reims and Epernay (all on top of a thick chalk substrata) remained drought free. The vineyards that lie at the base of the gentle slopes descending to the plain are the best sources of Chardonnay grapes for Champagne production.
The exposition of these slopes is mainly towards the east. The producers of the Cote des Blanc prefer eastern exposures over other exposures for Chardonnay. Because the plain spreads out to the east, exposure to the sun is best for east facing slopes. An eastern exposure allows the ground to warm up earlier in the morning than would be the case for any other exposure. Therefore, initiation of photosynthesis occurs sooner. According to Gilles Lancelot (Champagne Lancelot-Pienne), east-facing vineyards in Cramant are harvested before south-facing ones.
The bank of slopes of the Cote des Blanc undulates and bulges out at points along the way, creating slopes and expositions that define unique terroirs along the way. For example, there is a bulge to the east just north of Cramant, creating south-facing to north-facing slopes along a bank that eventually curves up to Chouilly, itself, again on an east-facing slope. The producers that I spoke to uniformly preferred the east-facing slopes on the bulge - the north-facing were least preferred. This was Dominique Demarville's (Cellarmaster at Champagne Mumm which produces a famous Cramant, Mumm de Cramant) view of the intricacies of village terroir: "Within Cramant there are many different Cramants. It is mostly a question of the situation of parcels and blocks. In some years, Cramant at the top is better than at the middle. In other years, a Cramant facing south is better than Cramant facing east. I choose to buy based more on tasting than on the location or the reputation of a specific parcel." Oger is another case. While Avize, just to the north, is a gradual slope that comes down from crest of the bank, Oger sits on a slope that descends at first steeply, then suddenly levels out and becomes rather flat. In Oger, gradients of vineyards vary greatly. The village itself lies in a cavity between a southeast facing hillside just south of Avize and a northeast facing hillside just north of Le Mesnil-sur-Oger. Oger is protected within this cavity from hailstorms while neighboring Avize is not. This situation indicates that there should be more quality and style variation among sites in Oger than among sites in Avize. Vertus presents us with another situation. It has not only varying exposures and gradients, but also varying soil types. It also presents us not only with Chardonnay but with also with Pinot Noir and Pinot Meunier, although less is planted than Chardonnay. There are patches of soil north of the village which are the classic thin topsoil over calcareous chalk. Elsewhere north of the village, and in most locations south of the village, there is thicker and more fertile topsoil. The patches with classic Cote des Blancs soil almost exclusively contain Chardonnay. These are considered to be the best sites in Vertus. In more clayey spots high along the crest of the hills, and in lower areas where there is thicker and richer soil, Pinot tends to be planted along with Chardonnay.
What does all this mean about the flavors of the wine?
Let's hear what those who know it best, the wine producers and enologists of the Cote des Blancs, have to say.
Didier Gimonnet Champagne Pierre Gimonnet et Fils in Cuis
The estate has vineyards in Cuis, Cramant and Chouilly, and recently purchased one hectare in Oger. Cramant and Cuis are not on the same level, Cramant clearly being higher quality. Cramant expresses minerality and elegance. Chouilly expresses fruit and is less well balanced than Cramant.
The wines of Cuis are less noble. They have a lot of acidity, which gives freshness to blends. Cuis does not have much body. I like to cut the intensity of Cramant with some Cuis. To my taste, a 7O% Cramant/3O% Cuis blend is better than a 1OO% Cramant - better because it is less concentrated, but more balanced with vivacity and freshness.
Cramant alone has too much personality. It is difficult to reproduce every year. In my prestige cuvee, I need more flexibility than Cramant alone can give me. Avize and Cramant have the most intensity. Avize wines are less round than those of Cramant.
Cramant is expressive when young. It has a pure and clean taste and always works well in blends. Avize has more potential to age. It needs oak vinification. Vertus is like Cuis - it functions best as a component in a blend. I do not know Oger well.
Jacques Diebolt of Champagne Diebolt Vallois in Cramant
The wines of Mesnil are harsh, not Grand Cru quality. Mesnil became Grand Cru in 1985. Cramant is very different from Cuis, but is similar to Avize. Good Cramant faces east.
Gilles Lancelot of Champagne Lancelot-Pienne in Cramant
The wines of Cramant have more mineral than those of Avize or Chouilly or Oger. The wines of Chouilly are lighter than those of Cramant, expressing acidity with sweetness. Southern exposures in Cramant give more grapefruit and lemon. An eastern exposure in Cramant gives more peach, white flower, delicate flower, and plum. The wines of Oger are more fruity. Avize wines have higher acidity.
Caroline Milan of Champagne Jean Milan in Oger
Mesnil is heavier than and not as fresh-tasting as Oger. Mesnil is more mineral, the wines of Oger and Avize are rounder.
Chantal Gonet of Champagne Gonet in Le Mesnil-sur-Oger
Here the wines are acidic and mineral marked by power and elegance. The wines are a little more acidic than other villages. The taste is so pointed and sharp it wakes you up. The acidity allows the wines to age. Salon, for example, releases their wines only after an average age of 1O years.
Audrey Campos of Champagne Salon in Le Mesnil-sur-Oger
Our terroir produces much acidity which gives "freshness" to the wines.
Nicholas Audebert, Enologist of Champagne Krug in Reims Mesnil has a more mineral taste, with accents of dried fruits and honeysuckle. The wines of Oger are creamier.
Sophie Larmandier of Champagne Larmandier-Bernier in Vertus The wines of Cramant develop better in bottle than those of Vertus. Cramants get more complex with 3, 4, 5 years in the bottle.
Charles Henry Fourny of Champagne Veuve Fourny in Vertus
Vertus wines, in general, show elegance, minerality and roundness. The best balance between mineral and roundness is achieved at Avize. Mesnil has the most mineral character and ages well.
Emmanuel Fourny, Enologist of Champagne Veuve Fourny
The wines of Chouilly and Vertus are both fruity. The wines of Cuis are similar to those of Vertus. Mesnil and Cramant show more minerality. Oger and Avize both express a balance between fruitiness and minerality.
While the concept of terroir is important behind the scenes in Champagne, it has yet to attract the attention of the US wine trade and consumers. Consolidation in the distribution sector in the US wine trade has reinforced the power of the big Champagne houses. There are two few distributors for all the many Champagne houses and grower-bottlers. The well-known Champagne houses can bring attention to - and leverage -their products, forcing distributors to pay more attention to them. The big brands, too, are easier for distributors to sell. The Champagne houses have little to gain from elevating the terroir discussion, as it could undermine the prestige now associated with the Champagne blend and lead consumers to believe that in Champagne "small is beautiful". Their products also flow through powerful international distribution channels created by international drinks companies. There is at least one pioneer here in the USA, importer Terry Theise. He brings in a range of small terroir-conscious Champagne producers.
Sophie Larmandier (Champagne Larmandier-Bernier) told me that as yet unblended Cru Champagnes are difficult to sell, even in 3 star restaurants in France. The sommeliers in these restaurants, usually the very first to bring niche products to the attention of the trade and consumers, have had little success in stirring up interest in "terroir" Champagnes. Unfortunately the signs are not good for the near term evolution of this niche. Still this journalist is hopeful.